This Jalapeno Olive Oil is the perfect blend of rich olive oil with a hint of luscious jalapeno flavors. It's packed with a punch and can make almost any food better. Plus, it's quick and easy to make, like a breeze!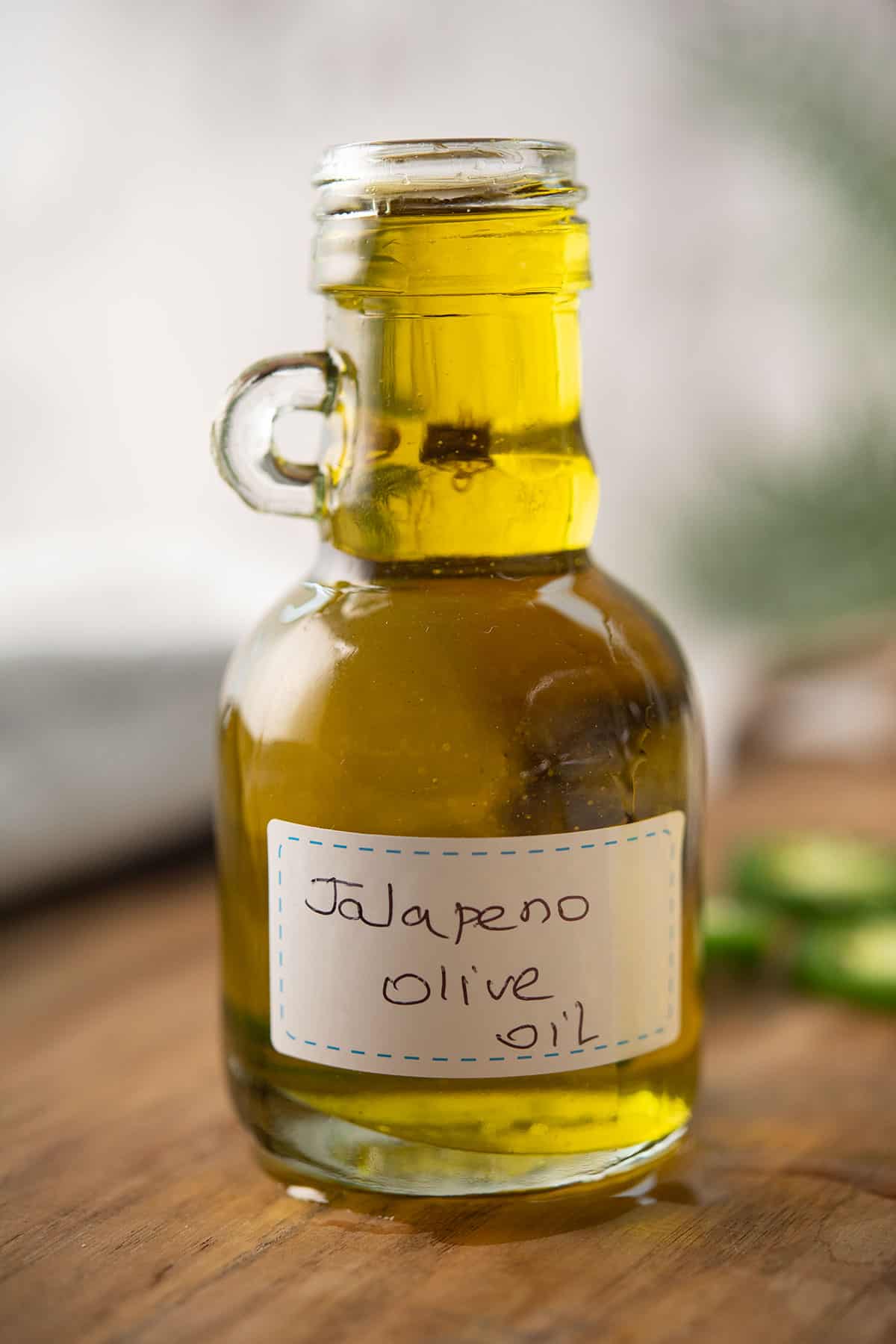 How does this taste? This Jalapeno olive oil has the subtle heat from the peppers infused with the olives' natural taste.
Why we all love this recipe
Versatility in a Bottle: Use this jalapeno olive oil as a marinade for your steaks, toss it in a salad, dunk some crusty bread, or give your grilled veggies a charred goodness.
Effortless Preparation: With just a few simple steps and two simple ingredients, you can quickly whip up something that tastes amazing.
Gifting from the Heart: Want to give a different and delicious edible gift? Make this jalapeño olive oil! Transfer it to a fancy bottle and add a name tag, and you'll have a delectable homemade gift.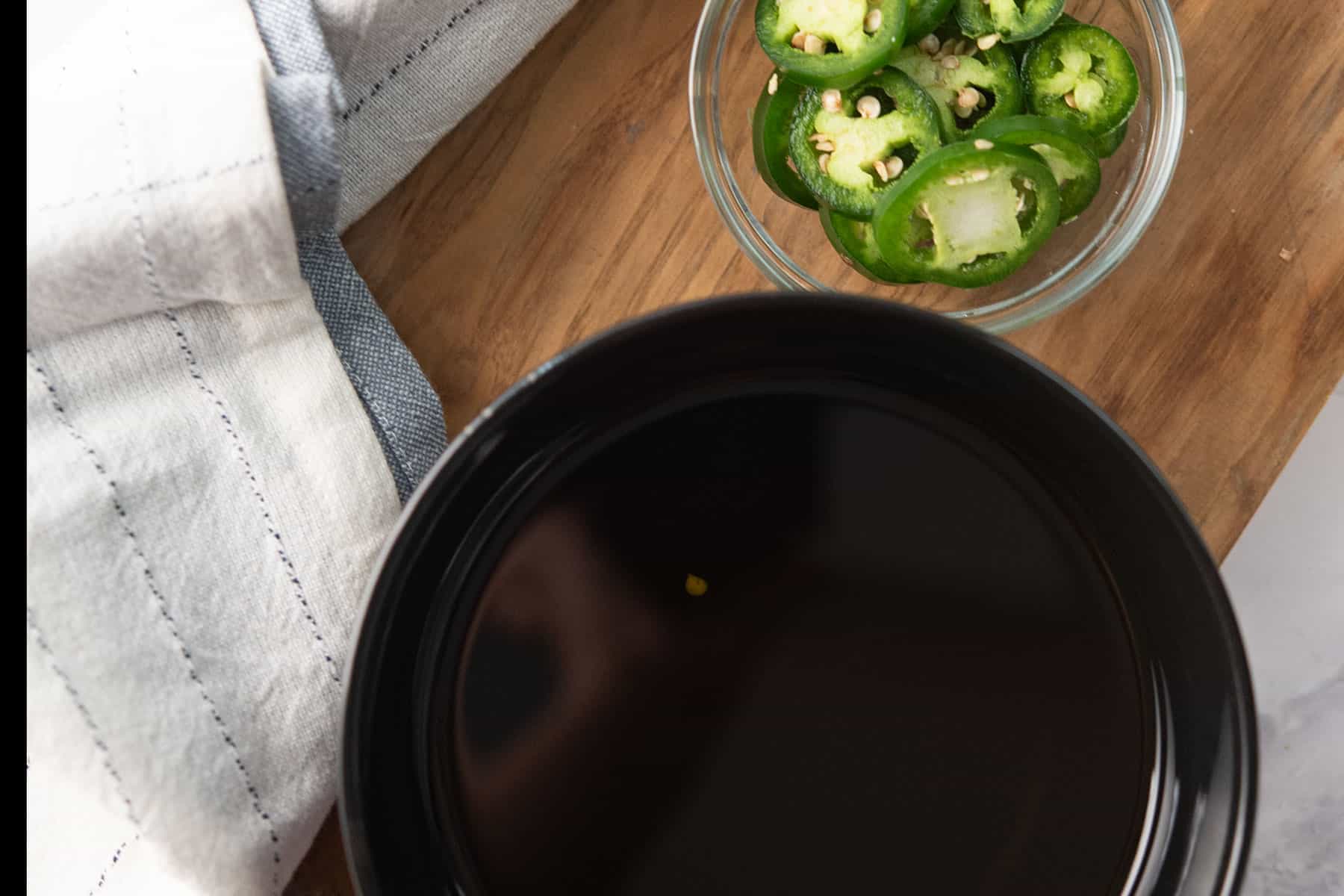 How to make Jalapeno Olive Oil
The ingredients
Extra virgin olive oil: This gives body to this recipe, known for its rich flavors and bold, earthy taste, and works well as both a cooking ingredient and a finishing drizzle. For the best results, use a good-quality olive oil.
Fresh jalapeños: They add a pleasant kick to any dish without overwhelming the palate.
When selecting jalapeños, look for firm and glossy ones without any wrinkling or softness.
If you prefer a mildly spiced olive oil, remove the jalapeño seeds and ribs before adding them to the oil.
Be sure to wash your hands after handling jalapeños, as the oils can irritate your skin or eyes if touched. Refer to Jalapeno Hands for more info.
Citric Acid: Citric acid is essential for acidifying the jalapeños, providing a tangy and slightly sour flavor that balances the spiciness. It also helps preserve the jalapeños and prevents the growth of bacteria.
The Directions
Preparing the Jalapeños: To start, cleanse the jalapeños by holding them under a stream of water. Then, pat them down with a paper towel to absorb any extra wetness. Finally, cut the jalapeños into thin slices or your desired shape.
Prepare the Citric Acid Solution: Add one tablespoon of citric acid and two cups of water to a medium-sized glass mixing bowl. Mix it well until the citric acid completely dissolves. It is one of the essential steps for making infused oil safely(For detailed info, refer to Penn State's guidelines or Oklahoma State University's instructions). Also, this solution helps the jalapeños to stay fresh and taste tangy.
Acidify the Jalapeños: First, cut the jalapeno into slices. Remove seeds and the pith for mild flavors and taste. Then, transfer these slices are transferred into a citric acid solution, and all the pieces must be fully submerged.
Allow it to soak. Allow the jalapeños to soak for approximately 24 hours in the citric acid solution.
Drain the Jalapeños: After waiting 24 hours, carefully remove the jalapeños by using a fine mesh strainer. Using a paper towel, remove moisture and any excess liquid.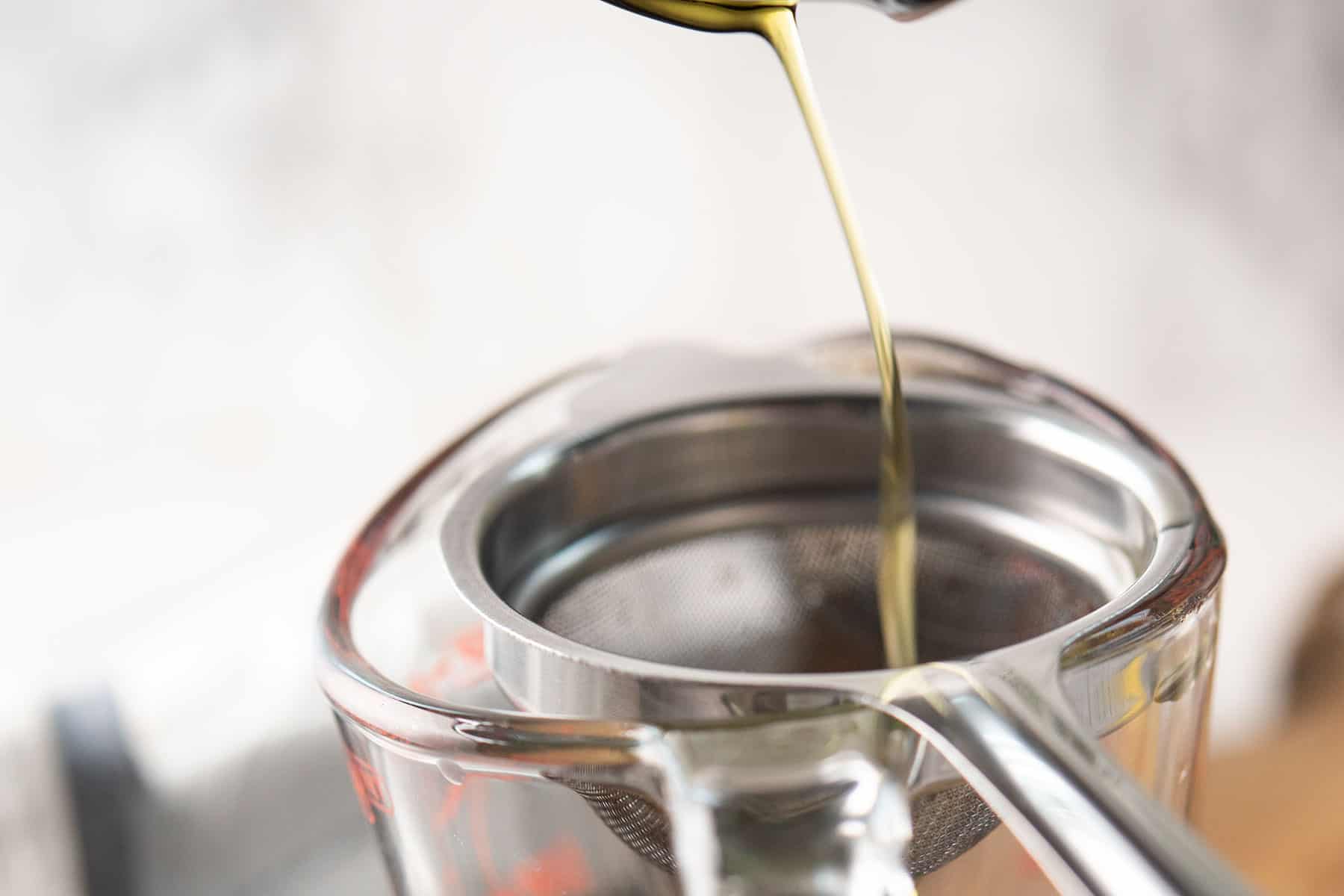 Infusing the Olive Oil: Place a small saucepan over low heat. And add olive oil and the processed jalapeño slices. Let the jalapeno flavors infuse with the olive oil in the simmering heat for about 5 minutes at 145°F. And make sure the oil doesn't start to smoke; if it does, quickly remove the saucepan from the heat.
Resting time: Allow the jalapeno olive oil to rest until it reaches room temperature.
Straining and transferring: Using a fine-mesh sieve or a cheesecloth over a clean and dry container, strain the olive oil with jalapenos. You can reuse the strained jalapenos, toss them in the salad, or use topping for sandwiches.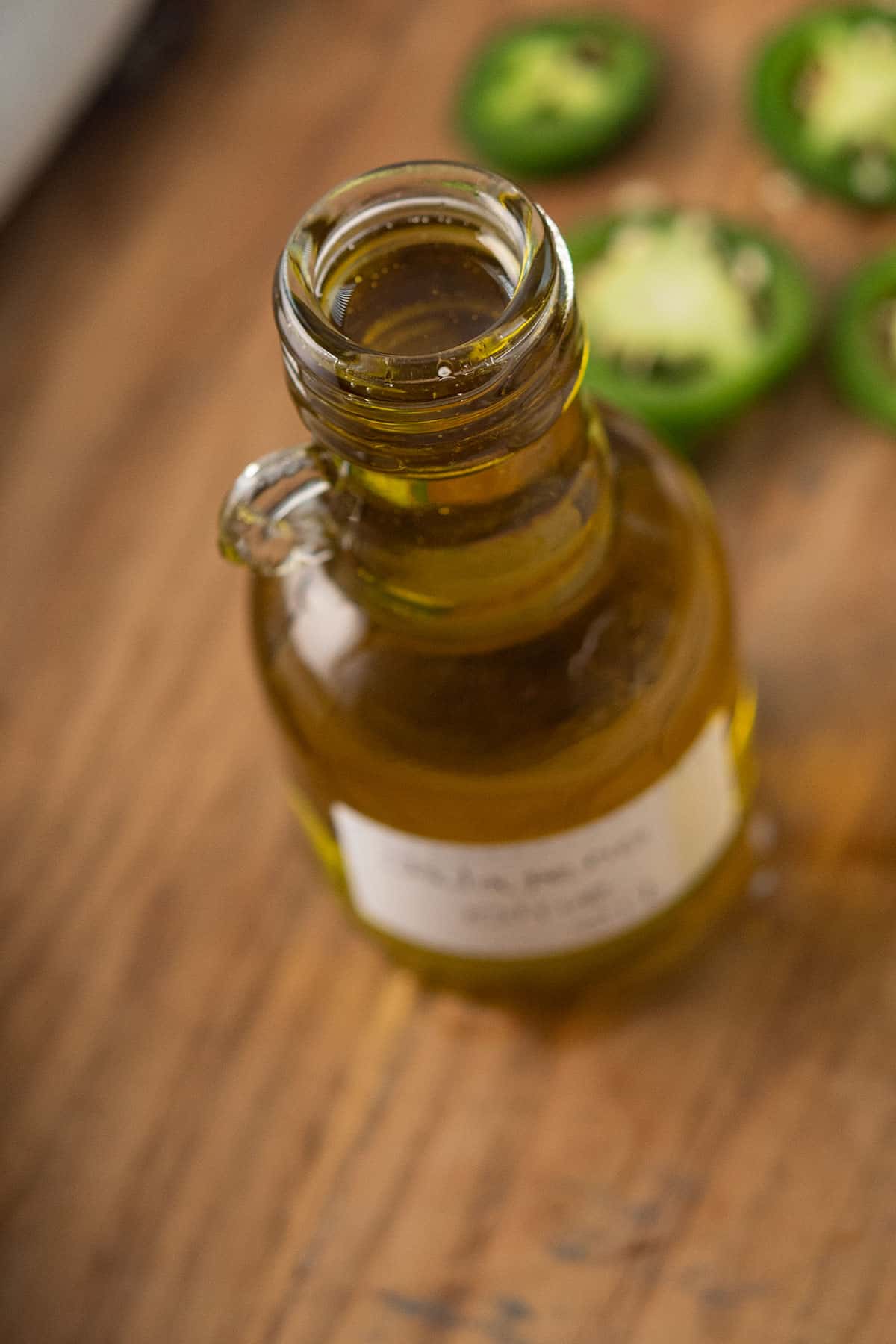 How to Store?
The shelf life: Store jalapeno olive oil in a dark, air-sealed container. Place this in a cool and dry spot so that it is away from heat and sunlight. With these steps, this can remain safe for a month.
In the Refrigerator: When planning to store for a longer time, use the refrigeration method. This way, it is good to use for up to 3 months. However, keep them in batches, as multiple temperature variations potentially reduce the shelf life.
In the Freezer: Fill a freezer-safe container with the jalapeño olive oil, leaving about an inch of space at the top for expansion, and freeze it for up to 6 months. Store it in individual serving packages, as reheating diminishes the flavors.
Thawing: Place the frozen jalapeño infused olive oil in the refrigerator overnight to thaw gradually(this preserves the quality of the oil). If you prefer this to thaw quickly, place the container in a bowl of lukewarm water for around 30 minutes or until it has melted completely.
A Word of Caution: Olive oil infused with external flavors can degrade quickly for multiple reasons. Always taste the olive oil before you use it.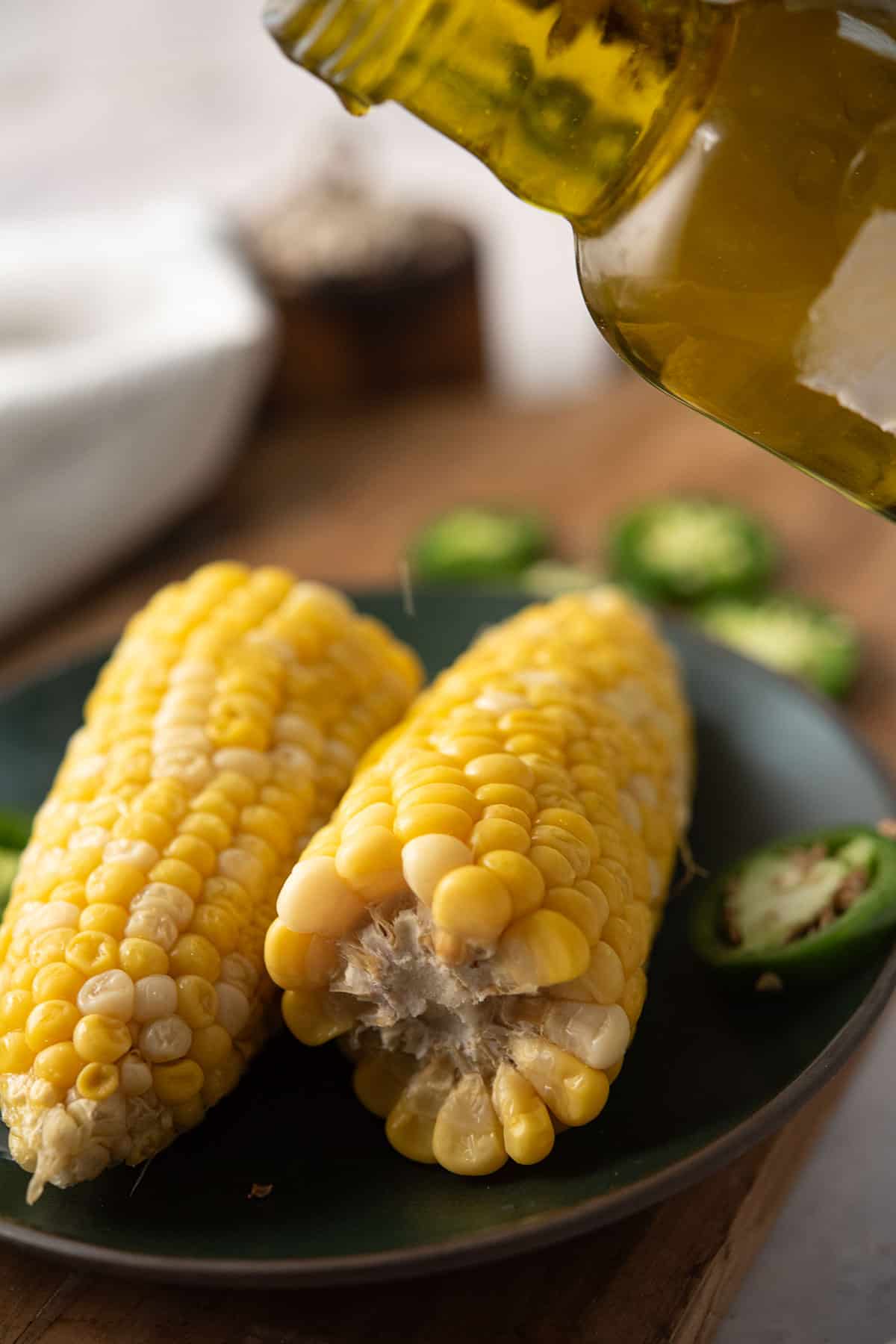 What to serve with?
Grilled Chicken Salad: Arrange some cooked chicken on a plate with fresh lettuce, cherry tomatoes, cucumber slices, and onions. Enhance the salad by adding a drizzle of Jalapeno Olive Oil to make it with a spice kick. And enjoy it with some crusty bread on the side.
Spicy Avocado Toast: Drizzle the jalapeno-infused Olive Oil over the avocado, adding a spicy zing to your breakfast or snack.
Southwest Quesadillas: Layer shredded cheese, sliced bell peppers, and black beans on a tortilla. Fold it in half and grill. Cut into wedges, drizzle with the Jalapeno Olive Oil, and serve with salsa or guacamole.
Spicy Pasta Aglio e Olio: Toss the cooked pasta with this spicy olive oil, minced garlic, red pepper flakes, and Parmesan cheese. Serve with a side of garlic bread.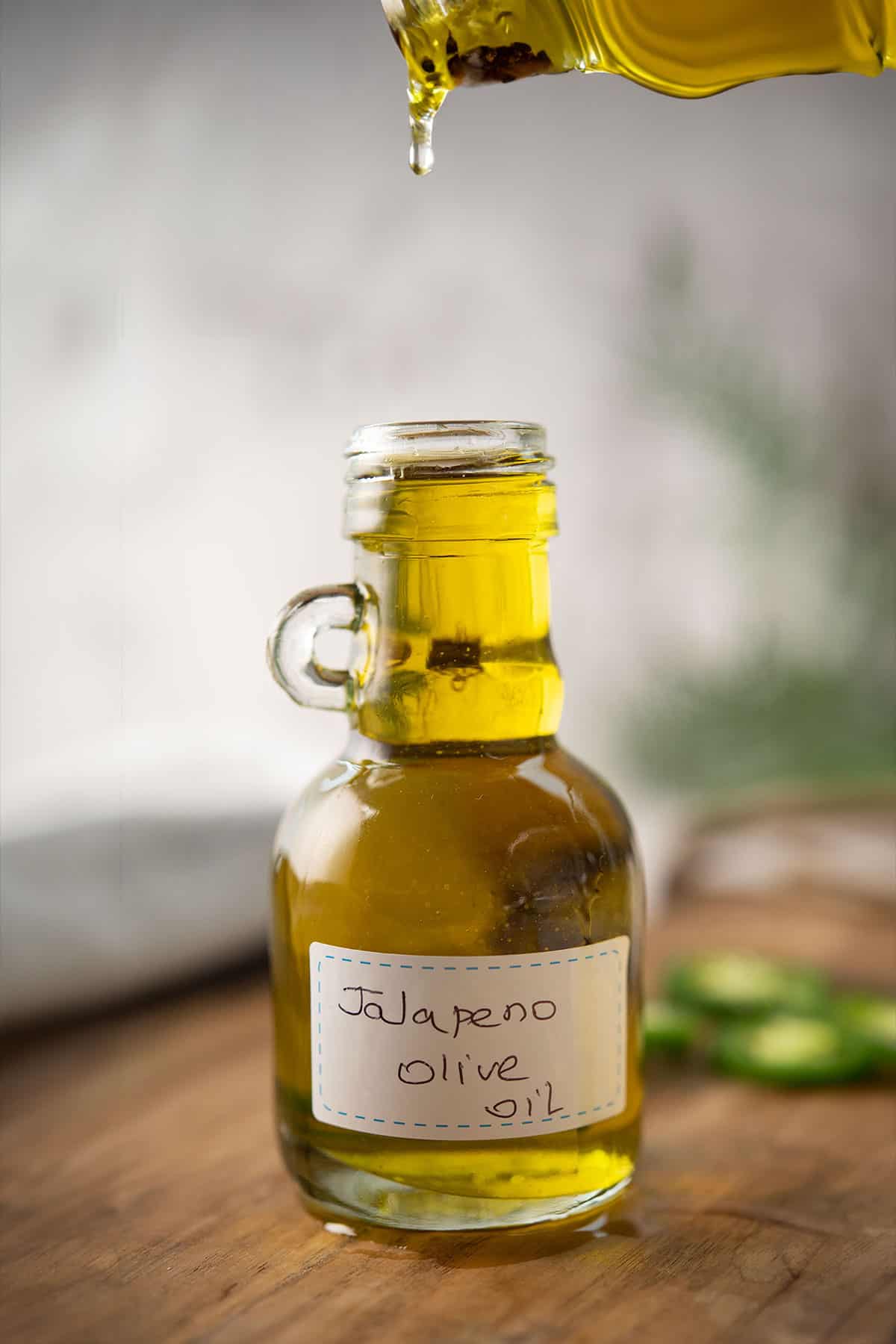 Variations
Hot and Spicy: To add an extra kick to this jalapeno olive oil, increase the amount of jalapenos to 3-4 and leave the seeds in. The seeds contain the most heat, so keeping them will make the oil spicier. This variation is perfect for those who love a fiery heat and want their dishes to have an extra zing.
Mild and Aromatic: For a softer version, use only two jalapenos and remove the seeds before slicing. Removing the seeds reduces heat, creating a gentler and more approachable flavor. This variation is excellent for those who want to enjoy the taste of jalapenos without the intense spiciness.
Infused Garlic: Add minced garlic and the sliced jalapenos to the saucepan for a savory twist. The garlic adds a rich and aromatic taste to the oil, complementing the heat of the jalapenos. This jalapeno olive oil variation is ideal for garlic lovers who enjoy spicy and savory flavors.
Frequently Asked Questions
Why must I use citric acid to acidify the jalapeños?
Citric acid helps preserve the quality and shelf life of olive oil. It also adds a tangy flavor that enhances the overall taste.
Can I increase the temperature during the stove-top infusion?
Maintaining the oil temperature at 140°F (60°C) is essential to quickly infuse the jalapeño flavor without damaging the oil's taste. Going over this temperature can result in a loss of flavor.
Can I skip the straining step?
Straining the oil is necessary to remove any tiny pieces of jalapeños that may affect the texture or spoil the oil. Using a fine-mesh sieve or cheesecloth ensures a smooth and clean final product.
Printable recipe card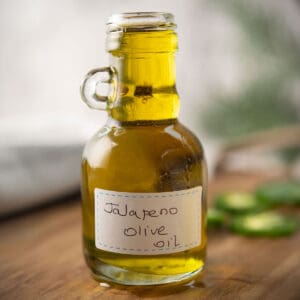 Jalapeno Olive Oil
This Easy Jalapeno Olive Oil recipe yields a perfect blend of flavors of olive oil & jalapenos, packed with a punch + makes any food better.
Print
Pin
Rate
Ingredients
1

cup

extra virgin olive oil

2-3

fresh jalapeños
Instructions
Preparing the Jalapeños
Cut the jalapeños into rounds or long strips, depending on your preference.
Infusing the Olive Oil
In a small saucepan, gently heat the olive oil over low heat.

Add the sliced jalapeños (and optional garlic) to the oil.

Allow the mixture to simmer gently for about 5-10 minutes. Be careful not to let the oil smoke; if it starts to smoke, remove it from heat immediately.

Remove the saucepan from heat and allow the oil to cool for a few minutes.
Straining and Storing
Place a fine-mesh strainer or a piece of cheesecloth over a glass bottle or jar.

Using a funnel, carefully pour the oil through the strainer or cheesecloth to remove the jalapeños and any optional added ingredients.

Seal the bottle or jar with an airtight lid.
Nutrition
Calories:
95
kcal
|
Fat:
11
g
|
Saturated Fat:
1
g
|
Polyunsaturated Fat:
1
g
|
Monounsaturated Fat:
8
g
|
Sodium:
0.2
mg
|
Potassium:
0.1
mg
|
Calcium:
0.1
mg
|
Iron:
0.1
mg
**Disclaimer: The nutritional information provided is an approximate estimate only.