Jalapeno Cheese Sticks is a spicy twist over the classic snack. These are a flavorful fusion of creamy cheese and fiery jalapenos. Each bite tastes delicious with the fabulous combination of crispy and gooey textures.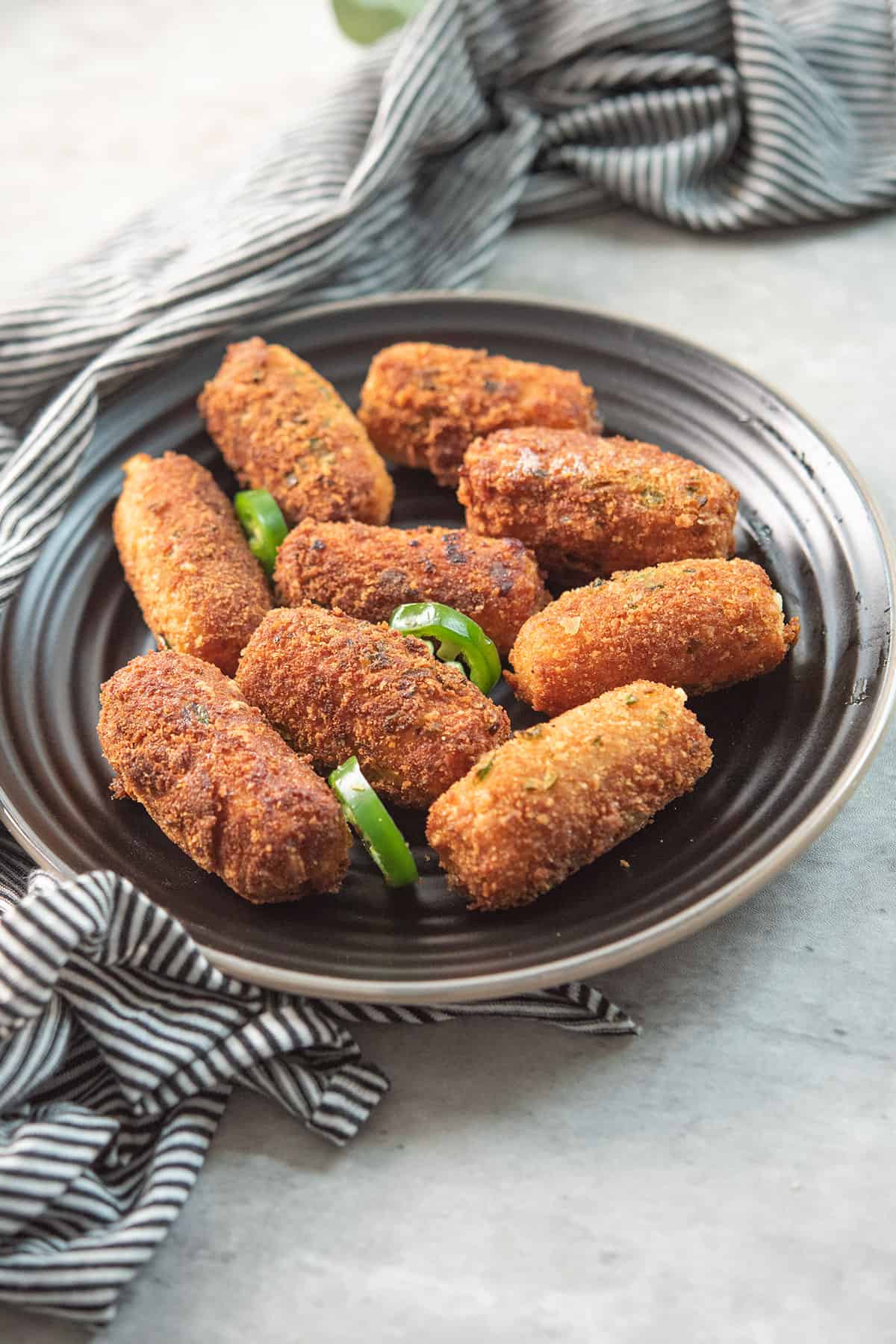 These jalapeno mozzarella sticks are simple to make yet packed with flavor. These are crowd-pleasers with a unique blend of American and Tex-Mex styles.
Why do we all love this recipe?
A Hit with Everyone: It's an addictive finger food. This Jalapeno cheese sticks recipe is a favorite because it's finger-friendly, whether it is perfect for game days, parties, or any occasion. It fits various events when looking for a spicy snack(like this Hot Pocket Cookies or the Spicy Tortilla Chips).
Simple to Make: All you need is some simple ingredients. The steps are also straightforward (try this jalapeno Popcorn).
Make Ahead and Freeze: You can prepare and freeze the jalapeno string cheese for up to 2 months. And enjoy this tasty appetizer whenever you want.
Adjust the Spiciness: You can control how spicy these cheese sticks are by adjusting the quantity of the jalapenos.
Ingredients needed for this recipe
Cheese: I have used mozzarella string cheese. However, you can use blocks of mozzarella or cheddar cheese and cut into sticks.
Flour: It creates a base layer that helps the cheese for the crispy exterior. It is good to swap with almond flour or rice flour.
Eggs: In this jalapeno cheese sticks recipe, the beaten eggs are the "middleman" in our breading process in this jalapeno mozzarella sticks. They stick to the flour and provide a wet surface for the bread crumbs to cling to. If you're vegan or allergic to eggs, a mixture of flour and water or unsweetened plant-based milk can be an alternative.
Bread Crumbs. It forms the outer layer that gets beautifully crispy when fried. We mix them with jalapenos for extra-flavored Jalapeno cheese sticks.
Jalapenos: These infuse the bread crumbs with a spicy zing, elevating this appetizer from "yummy" to "OMG, can I have another?" Bell peppers can offer color and flavor without the spice if you prefer a milder version. For those who like it hot, serrano peppers are a great alternative.
Oil: I have used vegetable oil. However, you can also use canola or peanut oil for frying.
How to make jalapeno cheese sticks?
Prepping. Cut each string cheese stick in half(perfect for bite-sized snacking).
Breading station. Set up your breading station in an assembly line to make the process smooth and mess-free. Place three bowls with beaten egg, bread crumbs, and flour.
Mix the Jalapenos: Mix your finely diced jalapenos into the bowl of bread crumbs.
First dip: Lightly coat each cheese stick with flour. Dip the floured cheese stick into the beaten eggs. Make sure it's fully covered.
Second dip. Again, roll coated cheese in the flour and egg mixture(this is for extra crunch and layer).
Crispy Coating: Roll them in the jalapeno breadcrumb mixture. Press gently to make sure the crumbs adhere well.
Freeze: Place your coated cheese on a baking sheet. Freeze for about 30 minutes(this helps the breading stick to the cheese and prevents it from melting too quickly when frying).
Heat the Oil: Place a large saucepan over medium heat or set the a deep fryer. Heat the oil to 375°F.
Fry in Batches: Carefully place the cheese sticks into the hot oil. Fry them until golden brown, which should take 1-2 minutes. Ensure the oil temperature is consistent at 375°F.
Drain and Serve: Once golden and crispy, remove the jalapeno cheese sticks and drain them on a paper towel-lined plate. Serve them while they're warm, and enjoy!
What to serve with?
Marinara Sauce. A classic pair! The tangy tomato flavor balances the cheese's richness and the jalapenos' heat. Try this spicy marinara sauce for extra depth of heat.
Caesar Salad. A light, crunchy Caesar salad offers a refreshing contrast to the gooey, crispy Jalapeno cheese sticks. Also, try these fiesta salad or jalapeno tuna salad.
Sweet Potato Fries. The natural sweetness of the fries complements the spiciness of the jalapenos. For a spicy twist, try this spicy baby potato.. This spicy roasted sweet potato recipe is a match made in heaven! Or this pepperonata is also good to pair with.
Guacamole. Creamy guacamole adds another layer of richness and a different kind of heat. This jalapeno avocado sauce tastes delicious, too!
Coleslaw. The creamy texture of coleslaw offers a refreshing palate cleanser between bites of spicy, cheesy delight(jalapeno coleslaw and cajun coleslaw are my picks).
Garlic Bread. Because you can always have a little cheese or bread, right? The garlic(jalapeno or spicy) bread adds an extra flavor punch.
How to store?
Before storing them, let your cheese sticks cool to room temperature. (This prevents condensation, which can make them soggy).
In the Refrigerator. Place the cooled jalapeno mozzarella sticks in an airtight container. Good to consume within 3 days.
In the Freezer. For a longer life, wrap each jalapeno cheese snack stick in plastic wrap and place them in a zip-top bag. They'll keep for up to 2 months.
Thawing. If you've frozen your cheese sticks, it's best to thaw them in the fridge overnight.
Reheating. Place the jalapeno cheese sticks on the baking sheet without crowding. Reheat for about 10 minutes in a preheated oven at 375°F. Avoid using the microwave; it can make them soggy.
Make-ahead tips
As the recipe says, prepare your jalapeno string cheese through the breading stage. And freeze for about an hour.
After they're frozen, transfer them to a zip-top bag and store them in the freezer. They'll be suitable for up to 2 months! Label the zip-top bag with the date so you'll know how fresh they are.
When you're ready to enjoy them, there's no need to thaw! Just preheat your oil to 375°F (190°C) and fry them straight from the freezer. You might need to add an extra minute to the frying time, but that's it!
Variations for Jalapeno Cheese Sticks
Bacon-Wrapped: Wrap each cheese stick with a slice of bacon before breading. The smoky bacon adds another layer of flavor.
Sweet and Spicy: Add a drizzle of honey to your marinara dipping sauce. The sweetness pairs beautifully with the spiciness of the jalapenos.
Vegan Delight: Use vegan cheese and a plant-based milk and flour mixture for the egg wash.
Pretzel-Crusted: Swap out the bread crumbs for crushed pretzels. You'll get a salty, crunchy twist that's addictive.
Printable recipe card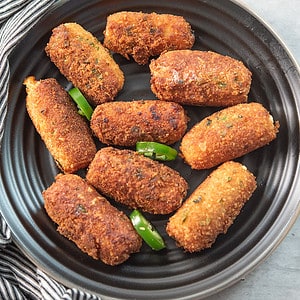 Jalapeno Cheese Sticks
Discover Jalapeno Cheese Sticks. It's a blend of creamy cheese and fiery jalapenos. Simple to make crowd-pleasers with a crispy, gooey bite.
Print
Pin
Rate
Ingredients
10

string cheese

1

cup

flour

2

eggs

beaten

2

cups

bread crumbs

2

jalapenos

finely chopped

vegetable oil

for frying
Instructions
Cut each string cheese in half.

Mix the finely diced jalapenos into the bread crumbs.

Dip each cheese stick first into the flour, then into the beaten eggs.

Double dip-Again dip in the flour and into the egg mixture.

And finally into the jalapeno bread crumb mixture. Make sure each cheese stick is fully coated.

Place the coated cheese sticks onto a baking sheet and freeze them for about 30 minutes.

Heat the oil in a deep fryer or large saucepan to 375°F.

Without crowding, fry the cheese sticks in batches until golden brown, about 1-2 minutes.

Remove the cheese sticks from the oil and drain on a paper towel-lined plate.

Serve warm with a dipping sauce.
Notes
Serve with marinara sauce or your favorite dipping sauce.
To store leftover Jalapeno Cheese Sticks, place them in an airtight container and refrigerate for up to 3 days.
For more extended storage, freeze in a single layer on a baking sheet, then transfer to a zip-top bag and freeze for up to 1 month.
Reheat in the oven for best results.
Nutrition
Calories:
561
kcal
|
Carbohydrates:
66
g
|
Protein:
28
g
|
Fat:
20
g
|
Saturated Fat:
10
g
|
Polyunsaturated Fat:
2
g
|
Monounsaturated Fat:
1
g
|
Trans Fat:
0.01
g
|
Cholesterol:
120
mg
|
Sodium:
978
mg
|
Potassium:
187
mg
|
Fiber:
3
g
|
Sugar:
4
g
|
Vitamin A:
204
IU
|
Vitamin C:
8
mg
|
Calcium:
166
mg
|
Iron:
4
mg
**Disclaimer: The nutritional information provided is an approximate estimate only.
Frequently Asked Questions
Can I bake these instead of frying?
You can. Baking will yield cheese sticks that are less crispy but still delicious. Bake the jalapeno cheese sticks for 10-12 minutes in the oven at 400°F.

Why is my breading falling off?

Press the breadcrumbs firmly onto the cheese sticks to ensure they adhere well. For an extra layer of security, freeze the breaded cheese sticks before frying.
Why is my jalapeno cheese sticks greasy?
This is often due to the oil temperature being too low. To avoid this, maintain your frying oil at a steady 375°F.
Can I air-fry them?

It's a great alternative, too. Set your air-fryer to 375°F and cook the cheese sticks for 8-10 minutes. Make sure to turn them halfway through to ensure even cooking.