Searching for a party appetizer that could steal everyone's heart, this cream cheese stuffed mini peppers could be the BEST one to choose from.
Easy and versatile recipe to serve as an appetizer or main dish. Made with sweet mini peppers, cream cheese, rice, and quinoa.
Each bite of this cream cheese stuffed baby bell peppers will make you feel like you're already been to the game day party.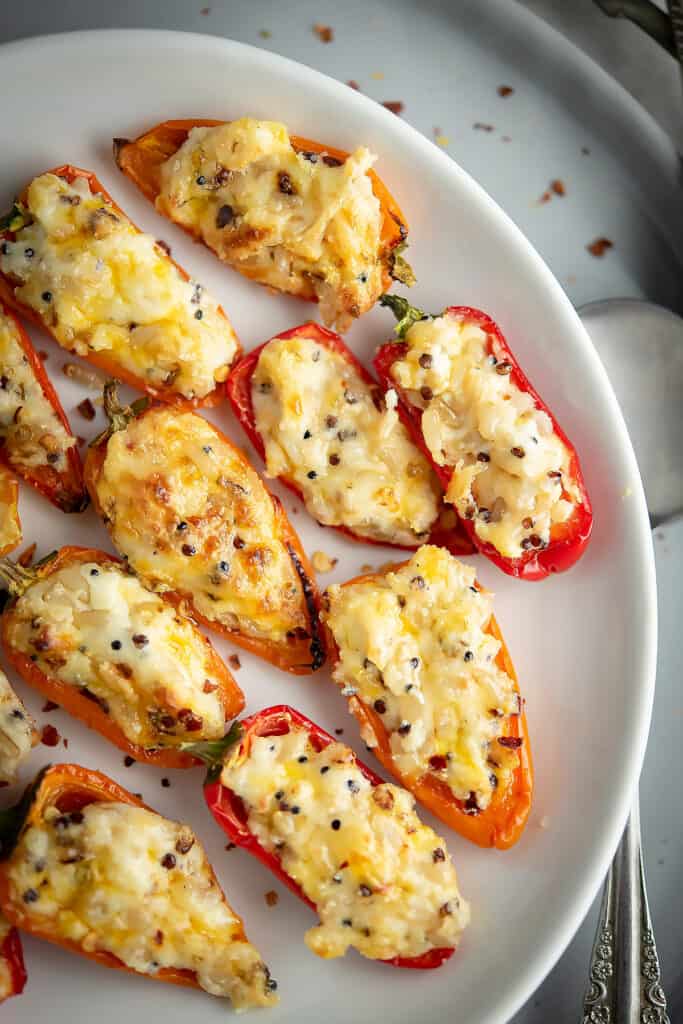 This sweet mini peppers stuffed with cream cheese is light and not quite as large as this lentil stuff bell pepper recipe. But it is just as satisfying as what the regular stuffed bell pepper recipe can provide you with the taste and the flavors.
We wanted the filling for these cream cheese stuffed mini peppers on the light note. So we have added quinoa and rice to give a satisfying feeling like this goat cheese stuffed mini peppers recipe.
This is truly an amazing experience of making and involving everyone in the family in preparing and relishing.
Let's get into the recipe, it's not difficult anymore. Whether a game day party or a family dinner you can create your own stuffed pepper at any day of the week.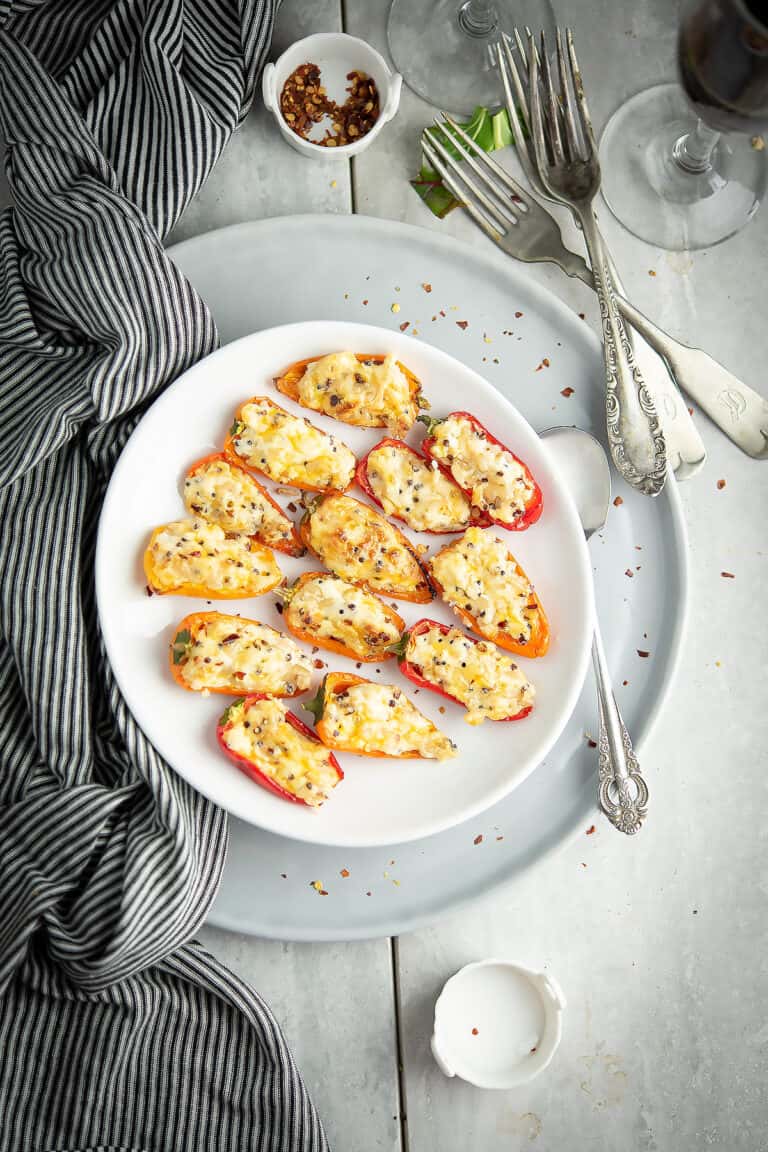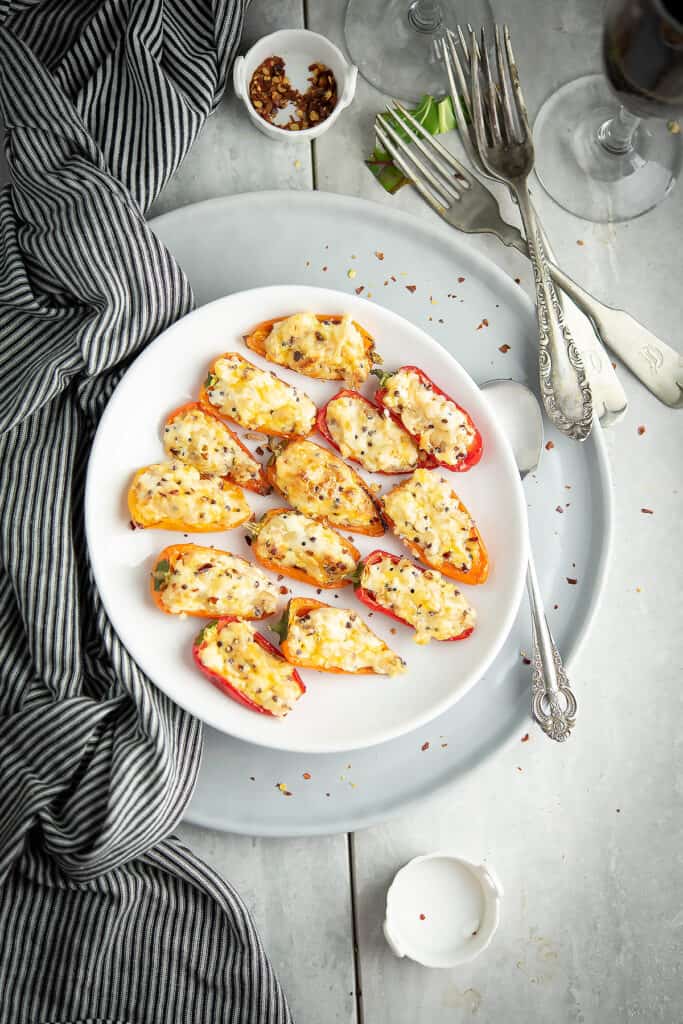 Ingredients required for cream cheese stuffed baby peppers
Mini sweet peppers. Irrespective of the local harvest season, these peppers are available throughout the year. That gives an advantage of enjoying this spicy appetizer any day, any time.
Cream cheese. I opted for low-fat cream cheese in this cream cheese stuffed mini peppers. Yet it did not compromise on the final dish's taste. It provides a creamy interior texture and a pleasant taste.
Cheese. Sharp cheddar is the right choice to match up with the flavors of the peppers.
Mayo. Acts as a binding agent. Looking for a healthy swap? Choose greek yogurt instead.
Garlic powder. An essential ingredient to bring up all the flavors together, plus it is also a flavor enhancer.
Quinoa and rice. I have added this combination as I have it in the kitchen already. The quinoa and the rice both have two different textures that work great in this cream cheese stuffed mini peppers recipe. However you may opt in either one of these depending on the availability or your personal choice.
Red pepper flakes. To spice up the dish that provides perfect heat that matches up our expectations.
How to make cream cheese stuffed mini peppers
Prepping
Preheat the oven to 375°F.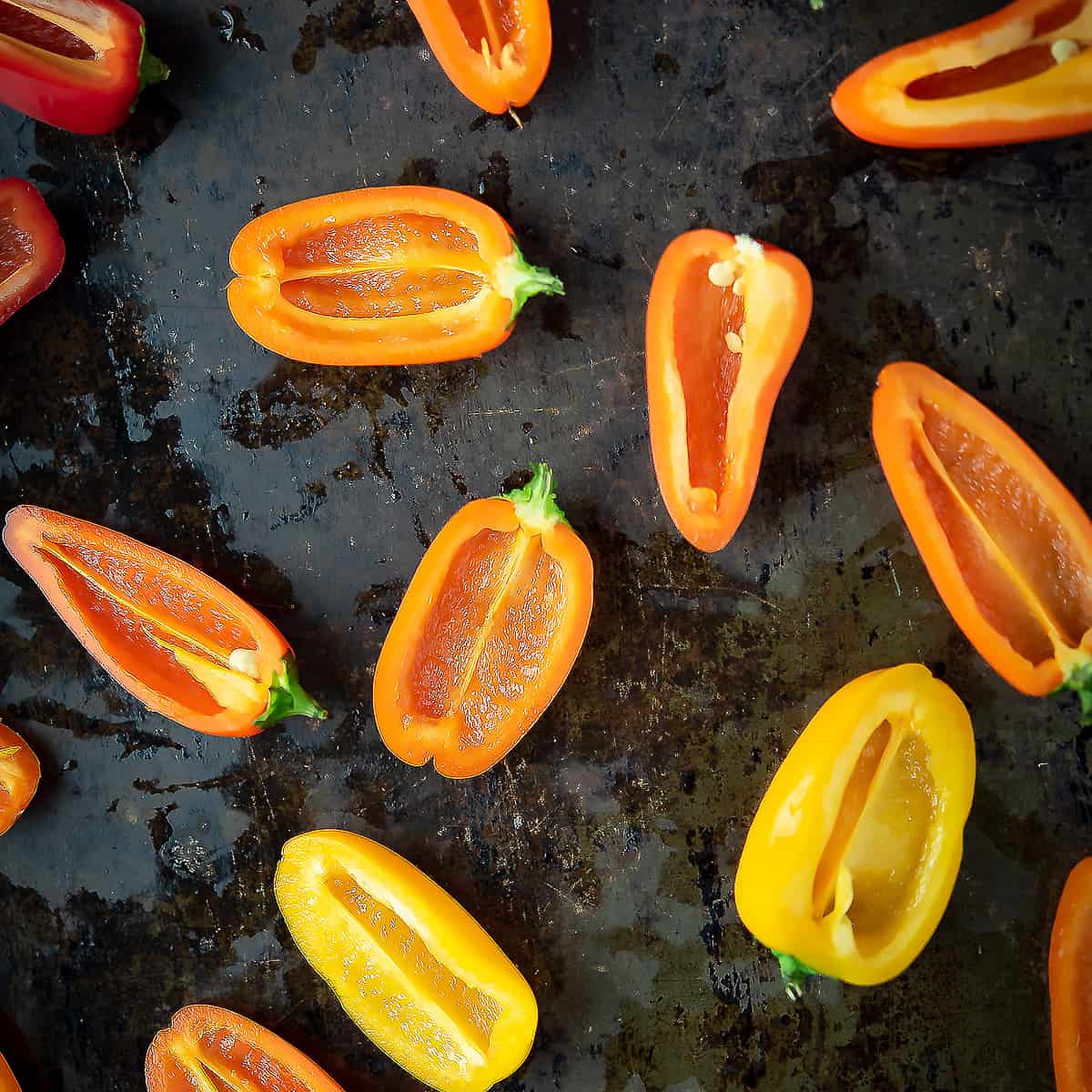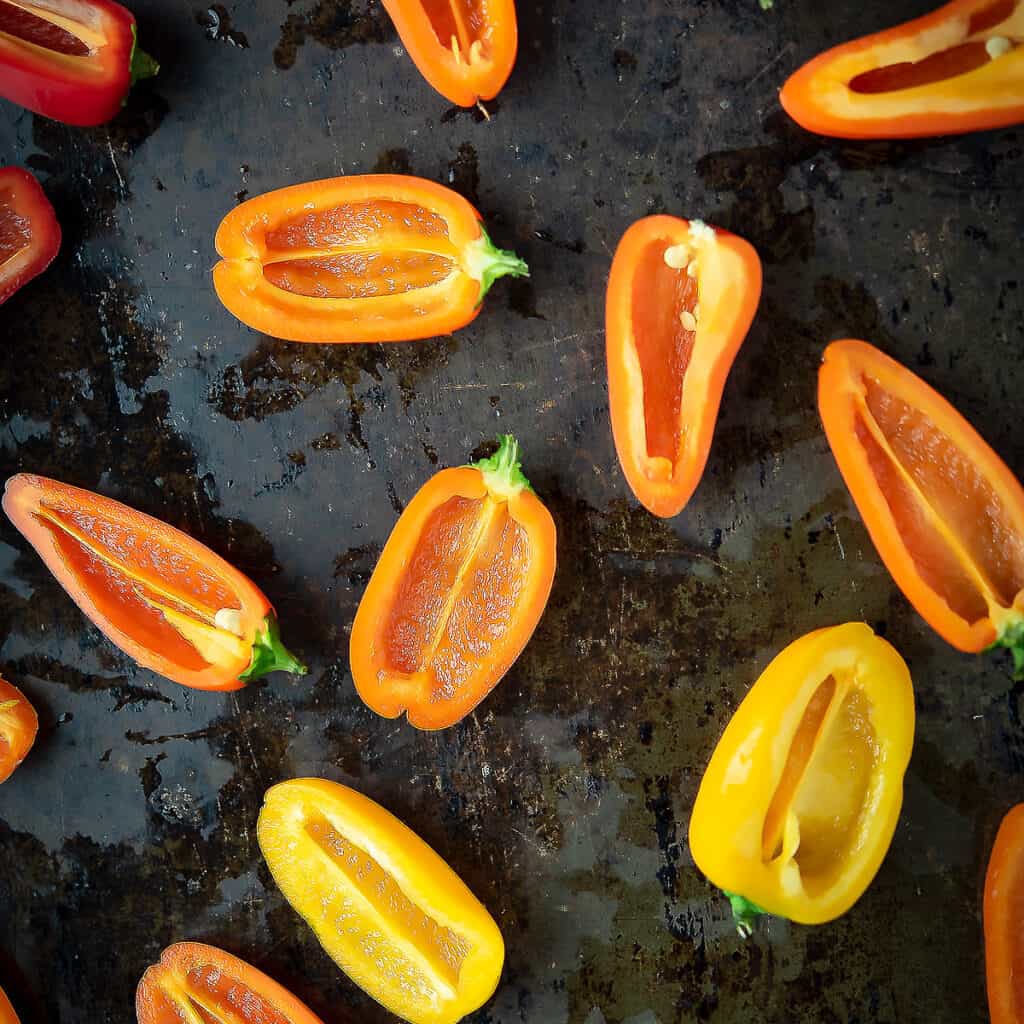 Slice mini sweet peppers into half. And roast them for about 8 to 10 minutes or until the edges appear to shrink slightly. You may look into this roasted mini peppers for detailed instructions.
Allow them to cool down to room temperature.
Making the filling
In the meantime, in a medium sized mixing bowl, add quinoa, rice, cream cheese, mayo, cheddar cheese, garlic powder, red pepper flakes, and salt.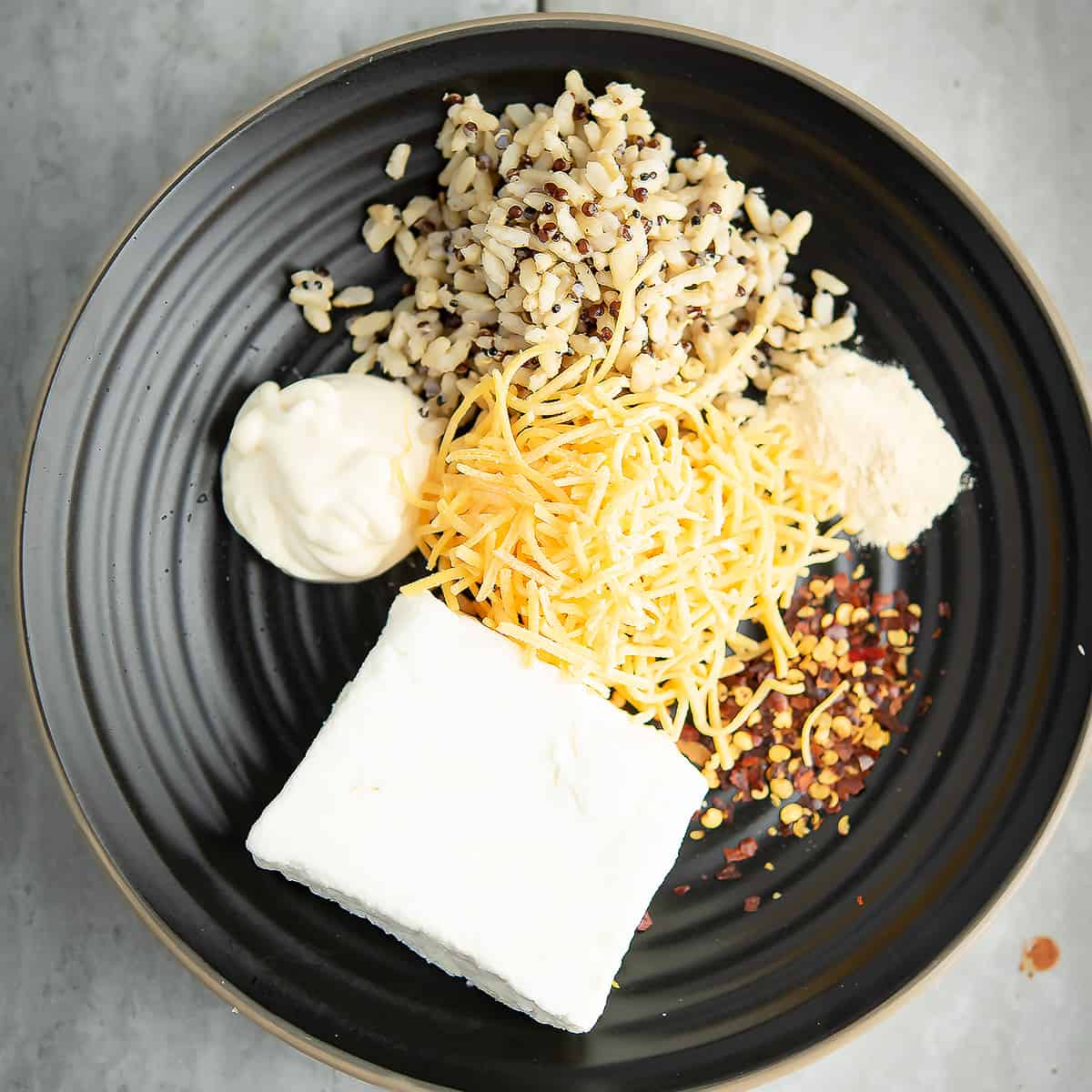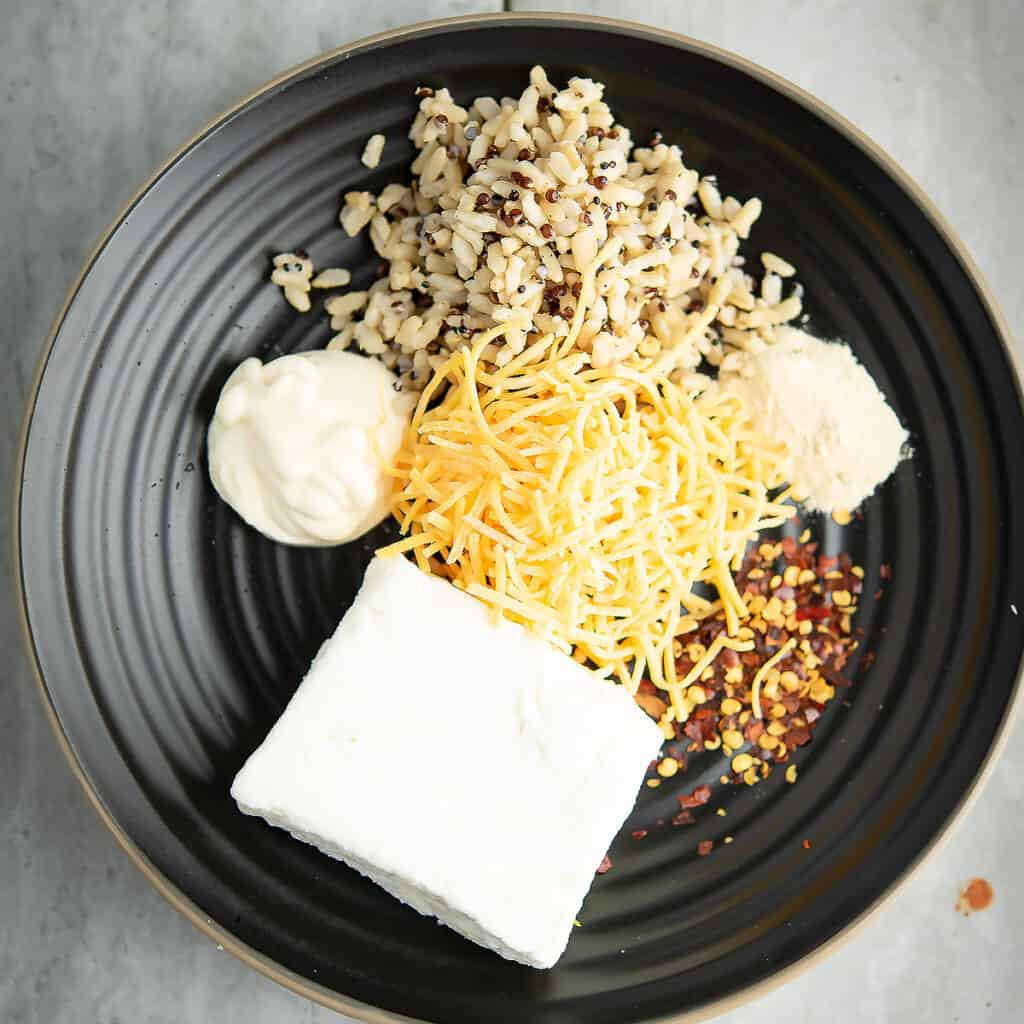 Use a spoon to stir and to combine all the ingredients together and until no clumps are seen.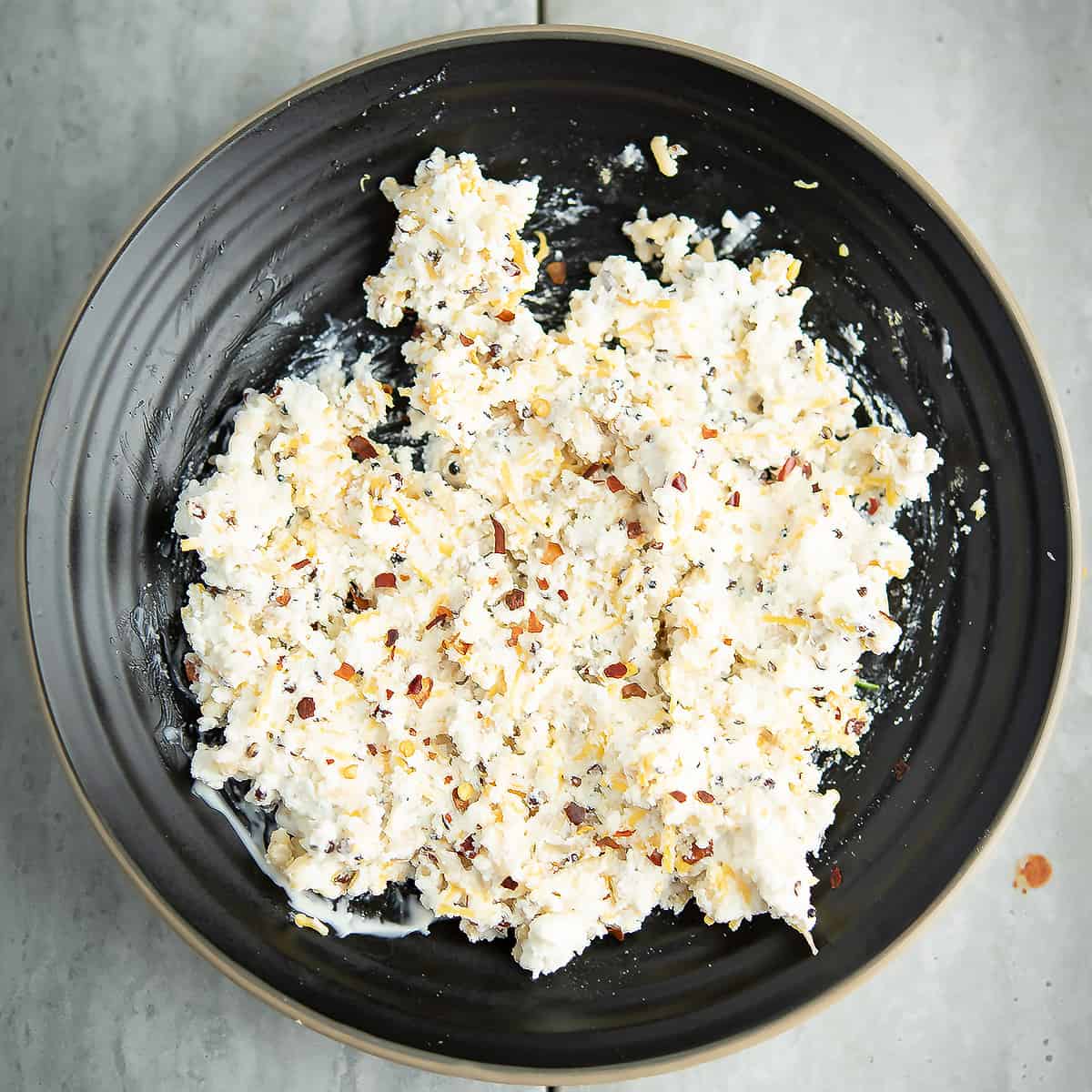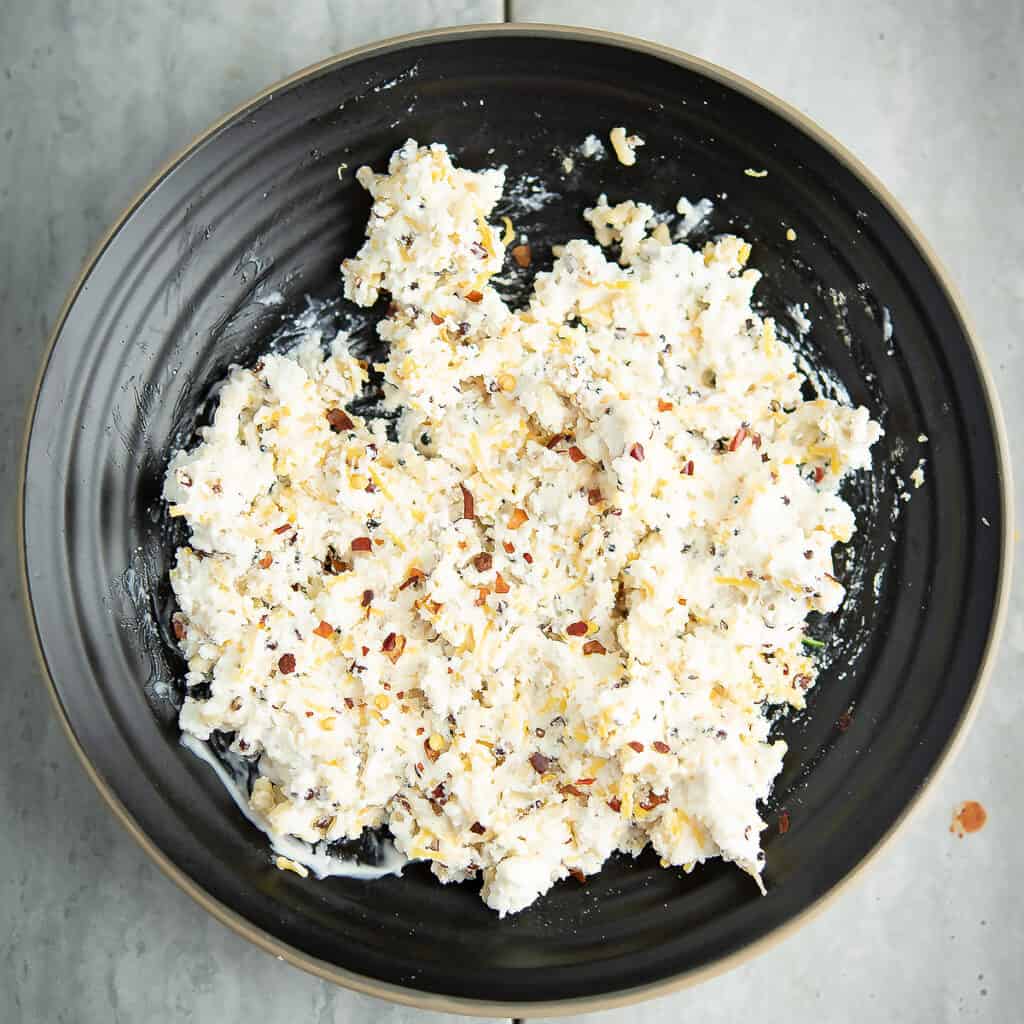 Then using a small spoon, scoop the filling. And start stuffing inside the pepper's cavity.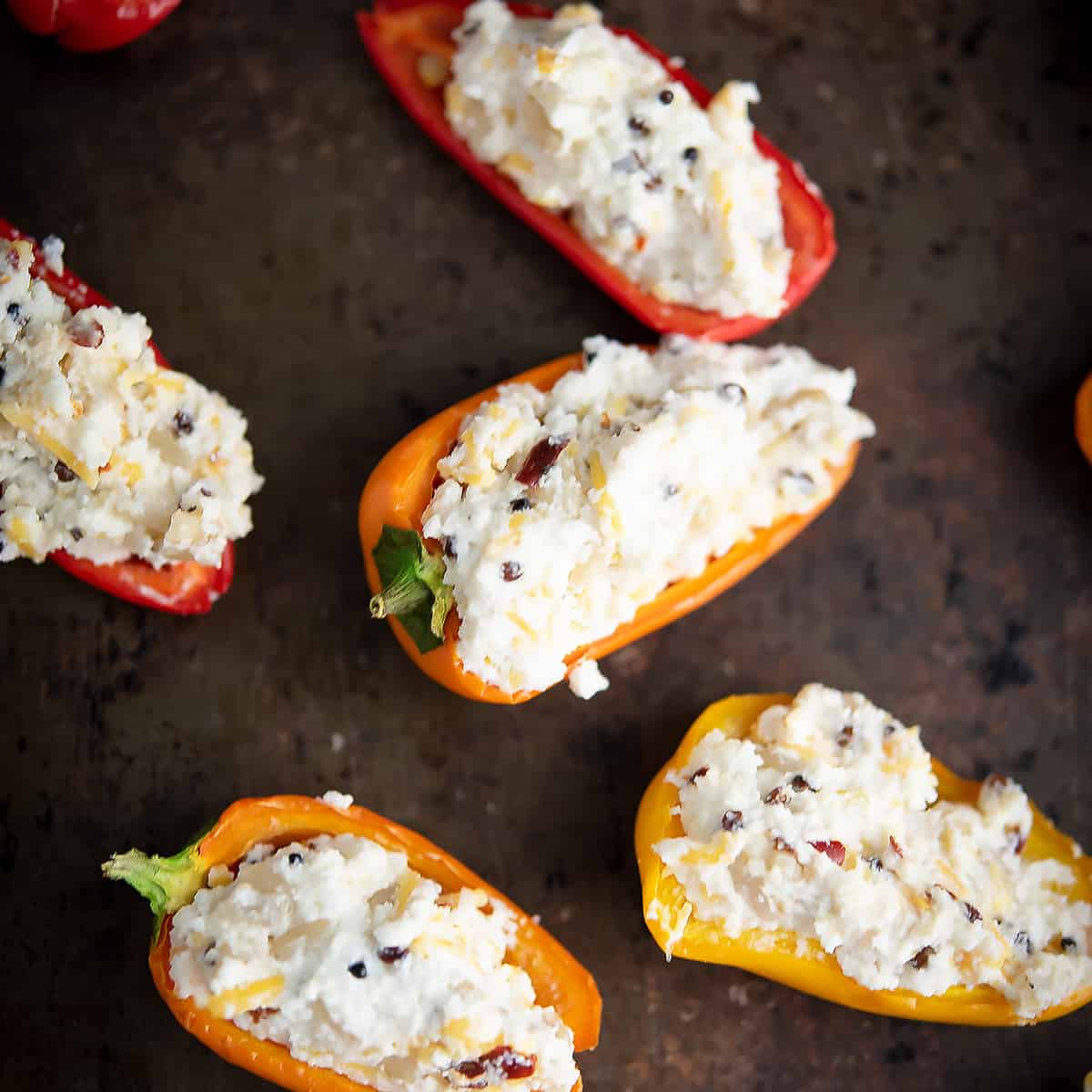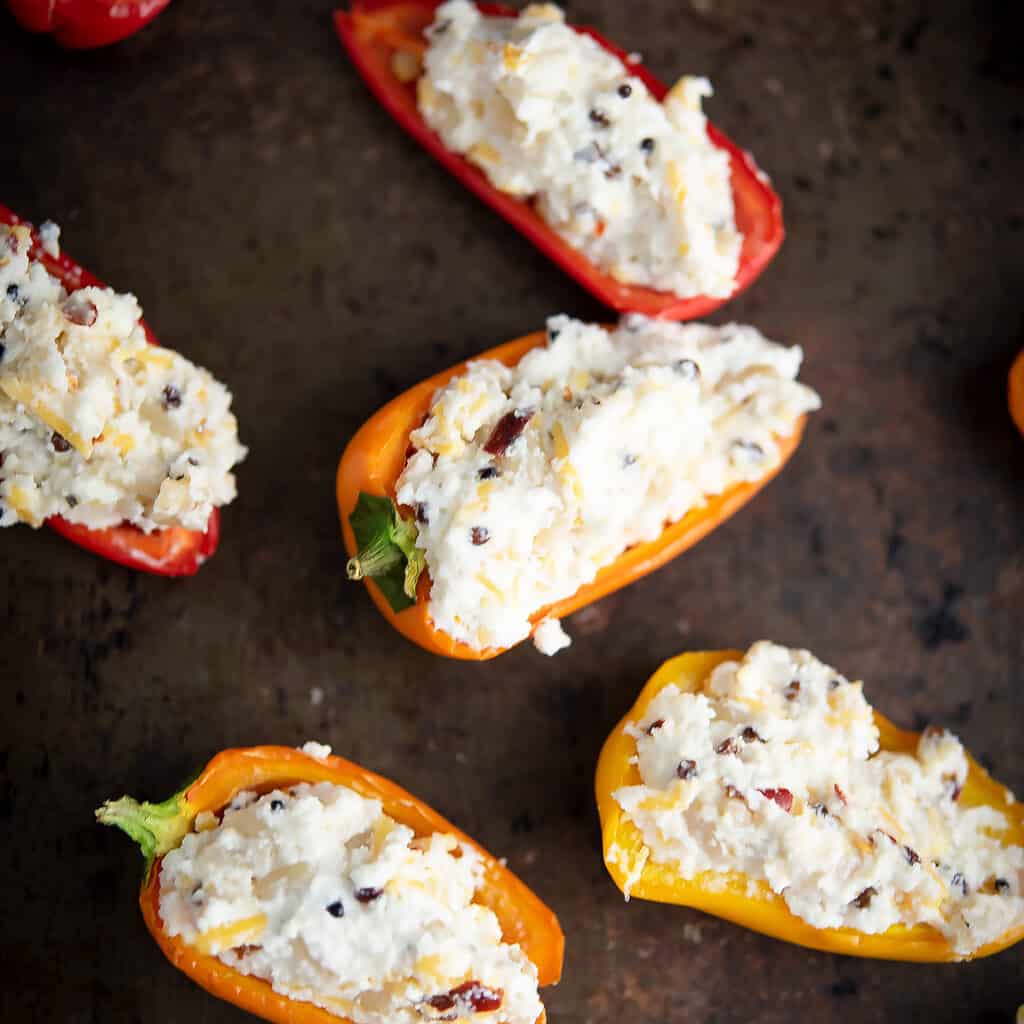 Repeat the same procedure for the remaining halves of the mini peppers.
Bake
Now arrange these stuffed peppers in a baking tray. And bake it for about 5-7 minutes or until the cheese starts to turn golden brown on the top.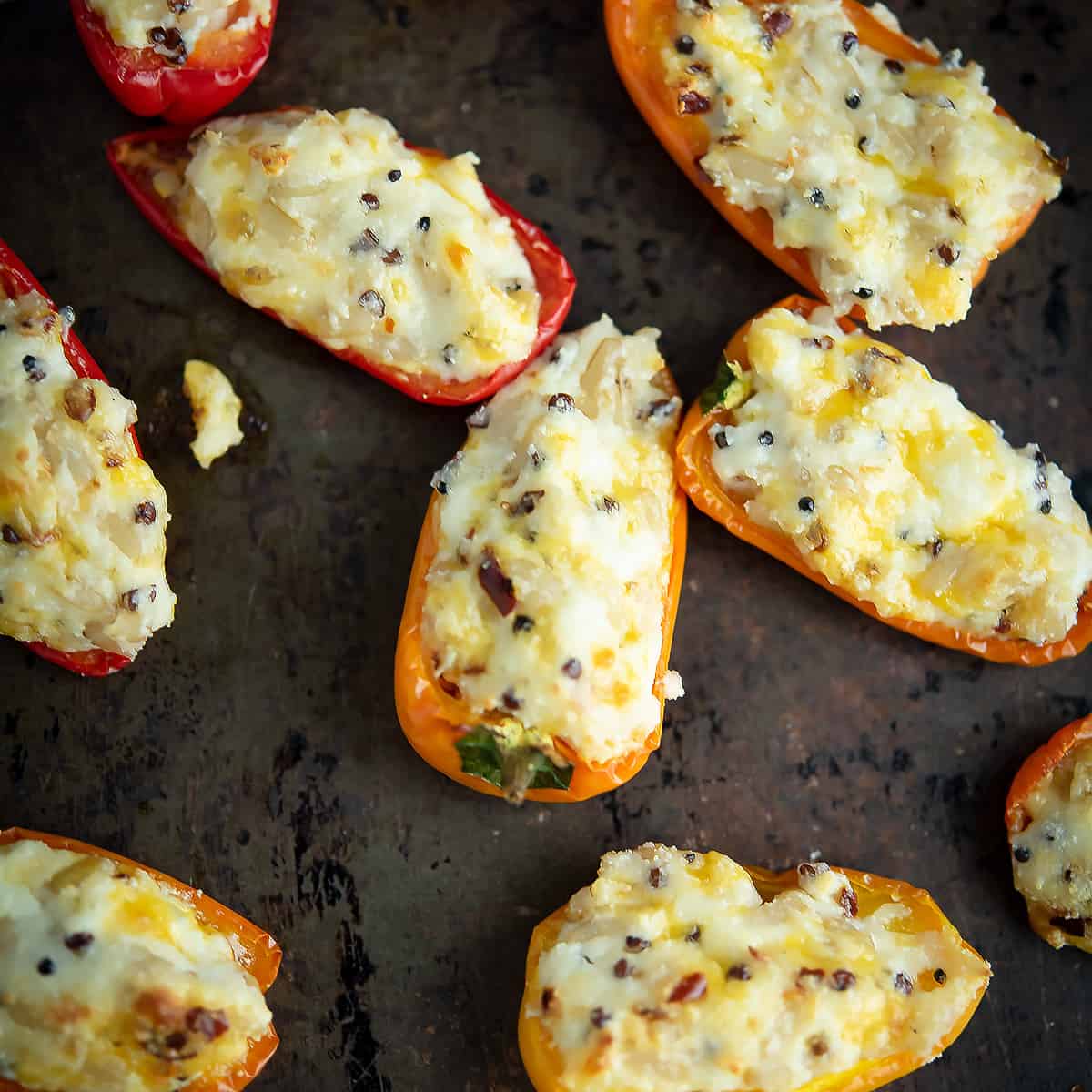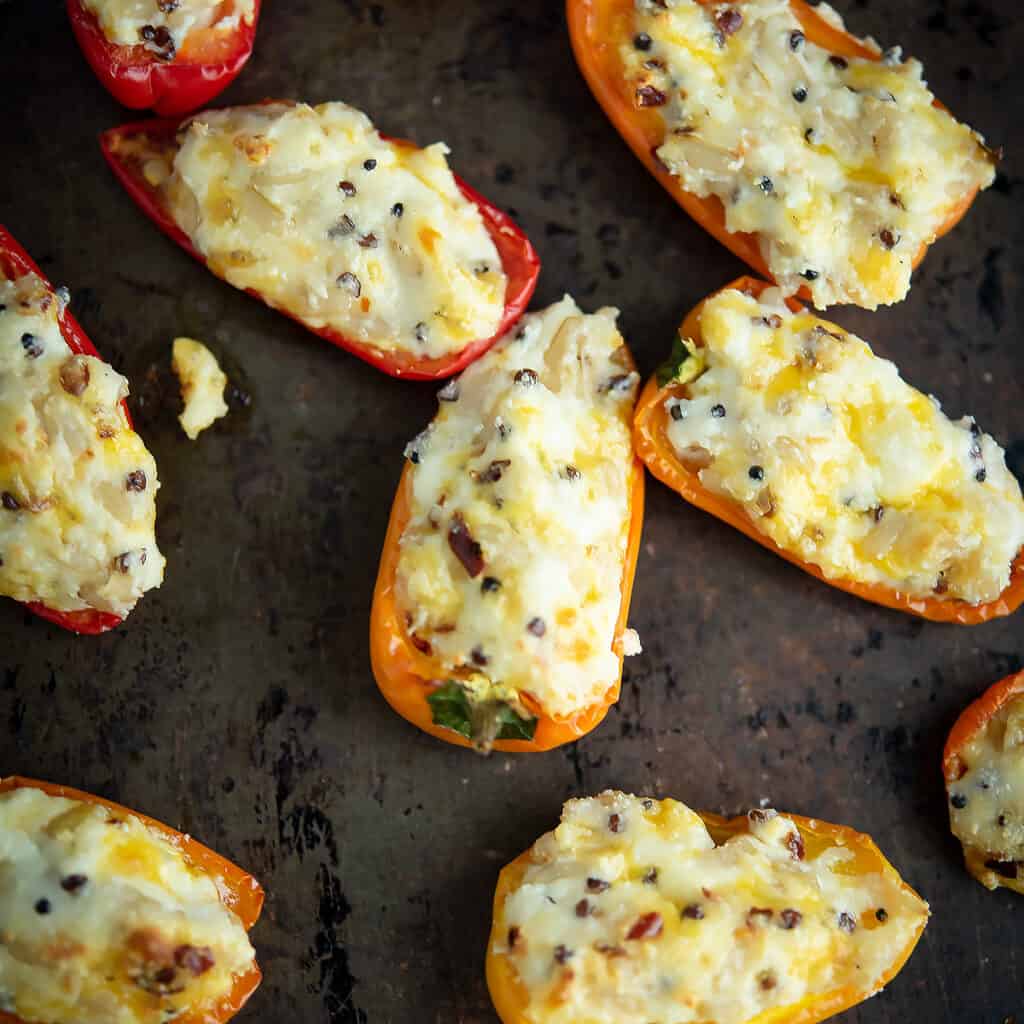 Remove it from the oven. Serve them hot or cold.
Tips and Variations for cream cheese stuffed mini peppers
Yield. This recipe is good to serve for about four servings.
Storage. Refrigerate the leftovers in an airtight container for about 3-5 days.
Freeze. When planning to store cream cheese stuffed mini peppers for a longer time, you may freeze upto 3-5 months. And to thaw, allow them to be in the refrigerator overnight.
Barley. Substitute the quinoa and rice with other grains like barley, and this tastes with great texture as well, like this barley stuffed pepper.
Bacon. Get ready to get applause by trying this bacon wrapped stuffed mini peppers. A party friendly variation.
No cream cheese. To cut down the fat, you may also make stuffed mini peppers without cream cheese, by altering with Greek yogurt, or ricotta cheese. For a detailed instructions check this no-cream cheese stuffed jalapeno recipe.
Tools suggested for making this recipe
Baking tray. The standard baking tray is always the best for baking.
Mixing bowl. Nest mixing bowls are awesome, that does not occupy much of the cabinet space.
Chef's knife. Though we need the knife to simply slice the peppers, the sharp precise knife makes a difference.