It's time to bake some roasted mini peppers. Searching for simple recipes that you can do with a bag of sweet mini peppers that you got from the stores or from your little garden? This recipe is a keeper.
These gorgeous mini peppers are tossed in olive oil, salt, and pepper. And baked to the right texture, is a simple side that you should definitely try out when the peppers are in season.
These roasted sweet mini peppers are flavorful and with no heat, make it loved by all in the family.
Jump to:
You might have landed on this page to use the leftover mini peppers, but you will be getting another bag full of peppers just enjoy it again.
The roasted mini peppers recipe is simple and straight forward with no prep time. Furthermore, it's hands-free and as well as stress-free. And one of my most satisfying pepper recipes like these, spicy roasted vegetables, roasted green tomato salsa.
If you are searching for a method to store extra peppers, you may refer to this roasted jalapeno to have more ideas.
The co-ingredients are a pantry staple, and more potential to upgrade, and adopt customizations. Ready for quick dinner, appetizer, side, or snack? you will adore these oven-roasted mini peppers for their simplicity and their original flavors.
And does not need any other enhances or flavor additives. The sweet mini peppers by themselves can stand alone for its pleasant colors and addictive flavors. Our main idea is to retain them as much as possible, and this recipe a true winner.
How hot are these roasted sweet mini peppers?
These are 0 SHU units on the Scoville scale means, it has zero in heat level that is similar to the bell pepper's heat level. Comparing the sweet mini peppers with the bell pepper's Scoville heat unit could have given you an idea in determining its heat.
Hence, these are good for serving the way you like, that ranges from snacking, to pair with dinner.
How to make roasted mini peppers?
Setting the oven. Preheat the oven to 400° F.
Seasonings. In a baking tray, lay the peppers. And drizzle olive oil, garlic powder, and salt. Gently combine them until the seasonings are quoted well.
Arrange. Place evenly without overlapping one over the other.
Bake. Place the baking tray in the middle rack. Cook for 40 minutes or until tender, by flipping once in between.
Serve. Transfer to a serving bowl. And top with the parmesan cheese, roasted red pepper flakes if you prefer.
Best to serve as
Appetizer/snack. These baked mini bell peppers are mild but with gentle flavors. A better way to include the vegetables on the menu. And these make you game days more memorable. We snack them on just like the regular veggies like carrots, or cucumbers.
Side dish. when making a dinner platter, this roasted mini peppers recipe is very helpful as it does not require your attention or focus. Plus this could turn into a star dish that pleases the guests with its appearance. Best to pair with spicy shrimp pasta, avocado pasta.
For salsa or soup. Make you salsa or soup hearty by tossing these roasted sweet peppers. Or swap the hot peppers in any recipe like this roasted tomato red pepper soup, and feel in the gentle flavors by keeping the heat at the most comfortable level.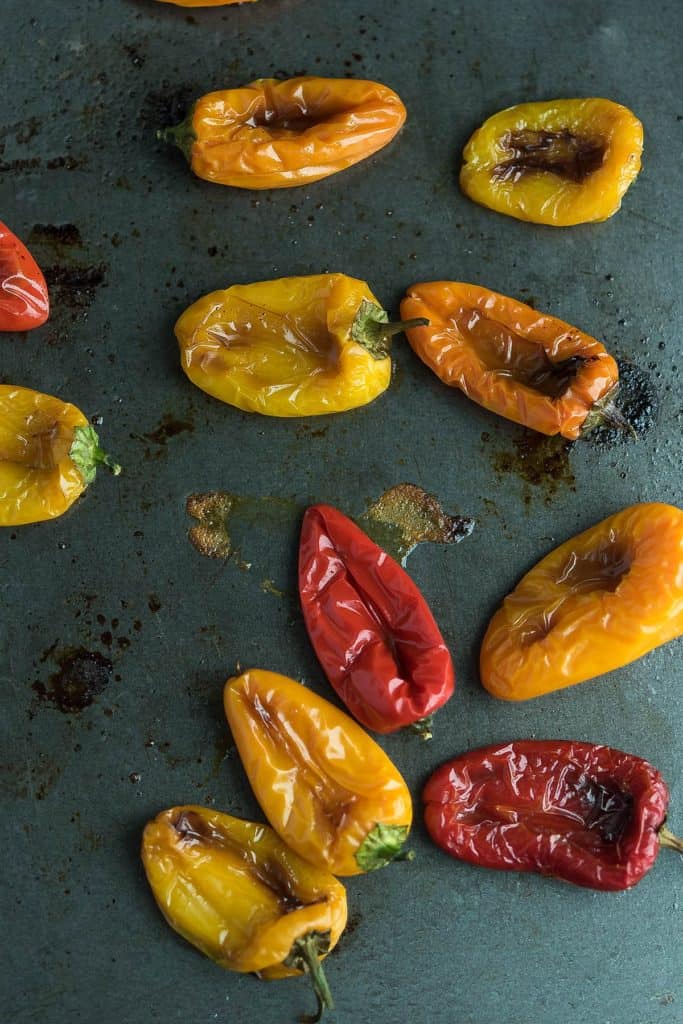 Storing ideas
Refrigerate. Store the leftover roasted mini peppers in an air sealed container. And refrigerate them to use within 3 days.
Freeze. On the other hand, you may also freeze them to increase the longer storing time. These stay good for up to three months. Transfer the storage container to the refrigerator overnight or for 8 hours
Reheat. Reheat in the preheated oven at 375 degrees Fahrenheit, for about 10 minutes or until warm. You may also reheat in the pan over the stove-top. Or gently microwave in 30 seconds increments until it's done.
Variations
Air fryer. Instead of baked mini peppers, you may also use your air fryer for roasting them.
Cheese. For a classic version, garnish roasted mini peppers with parmesan cheese for extra flavors. Or stuff it with goat cheese for an interesting variation.
Balsamic vinegar. Toss the roasted peppers with the star ingredient-balsamic vinegar. Another classic variation that's absolutely a family's delight.
Grilled. The charred edges of the grilled mini peppers make it more delectable and picture-perfect.
Printable recipe card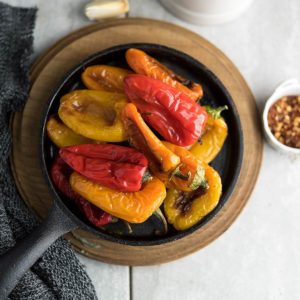 Roasted mini peppers
The roasted mini peppers recipe is simple and easy. Plus, it's a delicious effortless dish that's rightly tender and loved by everyone.
Print
Pin
Rate
Ingredients
2

cups

mini sweet peppers

1

tablespoon

olive oil

½

teaspoon

salt

1

teaspoon

garlic powder
Instructions
Preheat the oven to 400° F.

In a baking tray, add sweet mini peppers, olive oil, salt, and garlic powder.

Gently combine until the seasonings coats the pepper well.

Now arrange them without crowding.

Place the tray in the middle rake in the oven, and bake for 40 minuts or until tender, by flipping them in between.

Transfer to a serving bowl and dig in.
Notes
Topping ideas. Sprinkle p

armesan cheese or roasted red pepper flakes if you prefer.
To store: Refrigerate them to use within 3 days. and you may also freeze them up to three months.
Nutrition
Calories:
94
kcal
|
Carbohydrates:
10
g
|
Protein:
2
g
|
Fat:
5
g
|
Saturated Fat:
1
g
|
Sodium:
395
mg
|
Potassium:
345
mg
|
Fiber:
3
g
|
Sugar:
7
g
|
Vitamin A:
4938
IU
|
Vitamin C:
201
mg
|
Calcium:
11
mg
|
Iron:
1
mg
Other related recipes you may like,
Recommended tools for making this recipe
Baking Sheet. Great to work with this mini peppers. Helps for roast to perfection, turning sweet and slightly charred.
Tongs. My reliable tool for turning the peppers.
Chef's Knife: My go-to tool for halving or quartering your peppers according to the recipe.