This Lentil stuffed peppers recipe is extremely flexible, filling dish. Loaded with rice, lentil, and vegetables make it a wholesome meal. A freezer-friendly recipe, make ahead of time and enjoy your meal effortlessly.
Lentil is a protein-rich, light, and pantry staple. And it converts this simple recipe magically to a fabulous one with its crunchy texture.
Plus this vegetarian stuffed pepper recipe has room to convert to add in meat as well.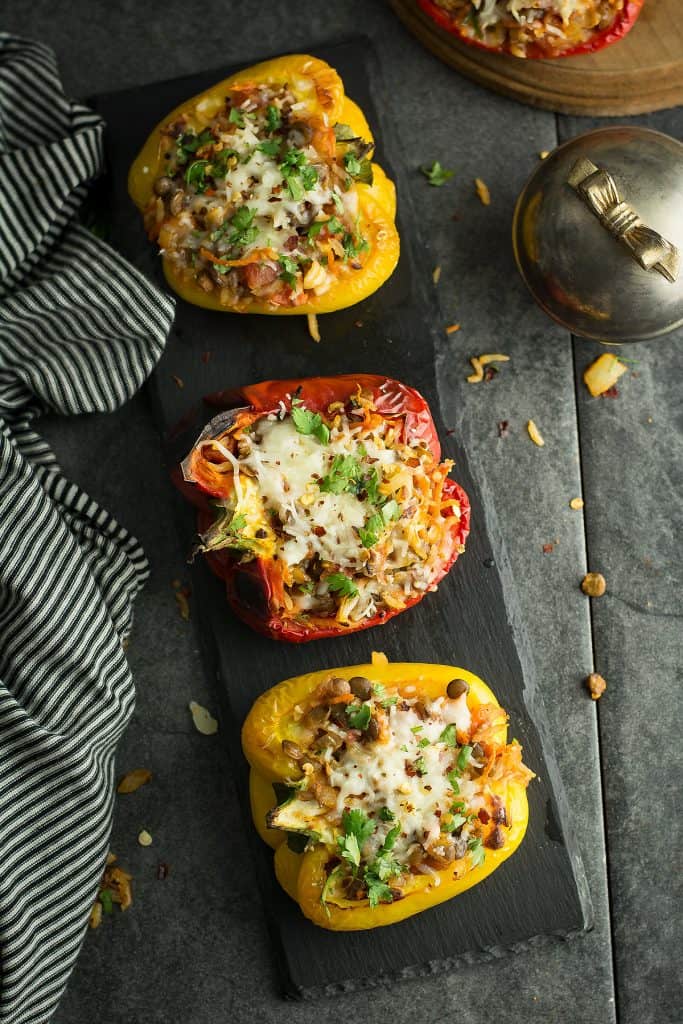 You know each of us has our own favorite food and vegetables. In our family, its pepper-it can range from mild bell pepper to hot habanero. Other hot chili pepper varieties we keep it as a reserve for making a day as celebrations.
Jump to:
Why Lentil stuffed peppers?
It's easy than you think of.
Make a regular meal as a special one.
It looks adorable at the dinner table. Besides, it shows off to be a center of attraction on the party day.
Great to store the leftover. Also, it can be an addition to make soup.
Are you a more organized person planning your meal ahead of a week. You have to bookmark this recipe.
A good relief when you think of having meatless days.
Bell pepper is a good source of vitamins C, A, antioxidants, and anti-inflammatory properties.
Finally, this lentil stuffed pepper is delicious that you never want to miss.
If you are searching other pepper recipes
The ingredients
Lentils. You may use any lentil, it can be red, black, or french bean lentil. But make sure you cook them according to the package instruction. Here, I have used the basic lentil, and I cooked it for 9 minutes in the instant pot with a quarter teaspoon of salt.
Rice. I used brown rice for its nutty flavors and gives a crunchy bite to the lentil stuffed pepper. Substitute with white rice, quinoa, or couscous, when you think of brown rice alternatives.
Bell peppers. Red, green, yellow are all works well. Choosing different colors would make look appealing, and pleasing. Here I have opted to make with green and yellow pepper. I preferred cutting lengthwise for its outer shape and also easy for the stuffing to get baked. Swap with Cubanelle peppers for mild heat.
The vegetables. Zucchini, mushroom, eggplants, squash, pumpkin, carrots are a great choice. Today I'm making with the carrot.
Onion. Yellow onion is the best for its sweetness.
Tomato. I have used canned diced tomato, however, fresh tomato are also perfect.
Olives. Add them as roughly chopped.
Garlic. A must in my kitchen for it brings to the food.
Cheese. I have used pepper jack cheese, feel free to use your favorite.
How to make Lentil stuffed peppers
Prepping
Cooking the rice. Cook the rice and lentils as per the direction on the package. I cooked brown rice in Instant pot for 20 minutes and allowed it to release the pressure naturally.
For the lentils, I cooked in Instant pot for 9 minutes and waited for 12 minutes to release the steam.
Roasting the peppers. Preheat the oven to 400 degrees Fahrenheit. Cut the pepper lengthwise. And arrange them in a tray facing up. Drizzle vegetable oil. And place the tray in the center rack and roast for 20 minutes or until they develop a blister on its skin. Remove it from the oven and set to cool down.
Make the filling for lentil stuffed peppers
Seasoning. Place a pan over medium heat, add vegetable oil and minced garlic. Stir for few seconds until garlic is aromatic.
Add the onion. Add minced onion and carrot, and stir until it becomes soft and transparent.
Stir in tomato. Add in diced tomato, salt, and pepper.
Add rice and lentil. Combine cooked rice and lentils. And cook for 5 minutes in medium heat, by stirring occasionally. Cautious, as too much of stirring can break down the texture of lentils.
Start stuffing. Fill the roasted peppers with this lentil mixture. Sprinkle shredded cheese.
Broil. Set the oven to broil mode, and place this stuffed peppers on the top rack. And broil until the cheese melts down- it took 5 minutes for mine.
Garnish. Remove from the oven and garnish with fresh herbs and roasted red pepper flakes.
Enjoy. Serve lentil stuffed pepper as a side or main dish.
Pro tips
Cook the rice and lentils with vegetable broth for more flavors.
Cook lentil and rice in advance to cut down the preparation time. I always cook lentils in a large batch and freeze it to use later.
Cut peppers diagonally to serve like dinner in the pepper cups.
The pepper size varies and that affects the quantity of the stuffing too. Adjust the quantity of rice plus or minus 10% according to the requirement.
Toss chopped olives for intense flavors.
Some good side dishes to serve with
Potato and fresh salad are the best to accompany peppers.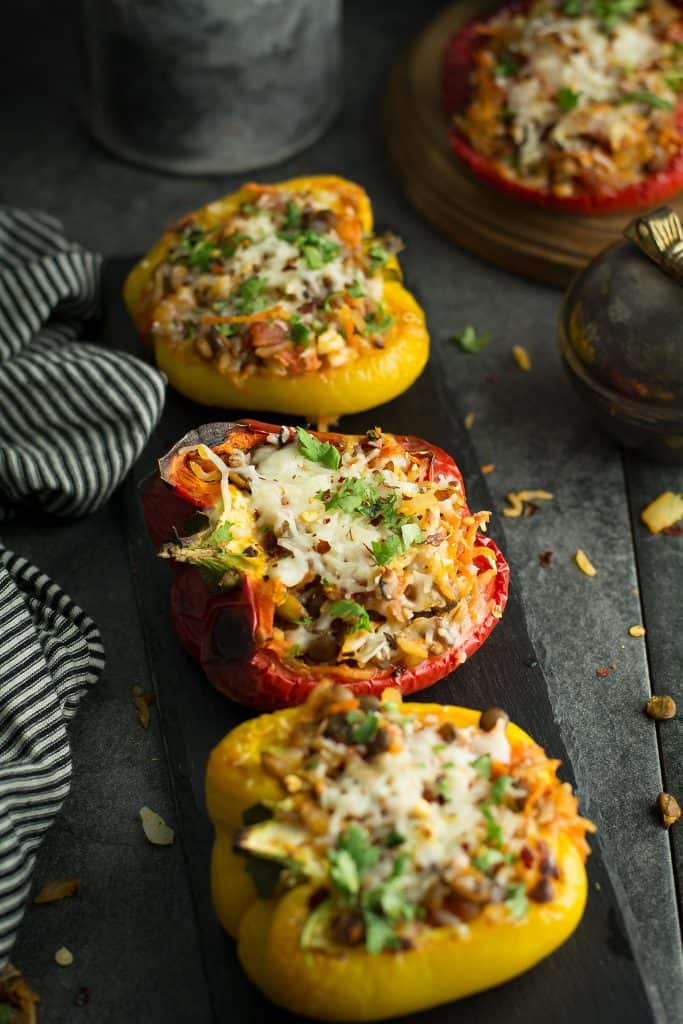 Make-ahead Tips
For this lentil stuffed pepper, make the lentil, and rice in advance-well ahead a week before. And store them in a freezer or refrigerator. And toss with other ingredients when needed.
Or make the entire stuffing, and bake at the final moment.
Or make the complete lentil stuffed pepper and reheat just before eating.
Storing idea
A freezer-friendly recipe, also a meal prep food. Store the leftover in the refrigerator for up to 3 days. When frozen, it stays good for 2 months.
To Reheat. Thaw in the refrigerator overnight and pop them in the over in 400 degrees Fahrenheit until warm.
Variations
This stuffed lentil pepper recipe is fabulous for its adaptability. Customize to choose your ingredients, just to give an idea. The following are my personal favorites.
Old fashion- sausage and crunchy rice. Nothing can beat this alternative. Add in sausage crumbles, which gives an excellent texture.
Couscous stuffed peppers with a greek inspired ingredient. Replace the rice with couscous.
Quinoa. Another popular ingredient to swap rice in here. Make this lentil stuffed with quinoa, you will like all its crunch that brings.
Curried. Stir in some curry powder for the rich flavor and taste.
FAQ
Can I substitute spaghetti sauce for diced tomatoes for stuffed peppers
Yes, usually you can substitute canned diced tomato with spaghetti sauce in the same proportion. But the taste and the sourness differs from brand to brand. So, I advise you to add ½ quantity first and add the later according to the taste.
Can I make stuffed peppers with no tomato sauce
I would say tomato sauce is the must, however, you may substitute with marinara sauce or fresh crushed tomato.
Other appetizer recipes you may like
Printable recipe card
Lentil stuffed peppers
This Lentil stuffed peppers recipe is extremely flexible, filling dish. Loaded with rice, lentil, and vegetables make it a wholesome meal.
Print
Pin
Rate
Ingredients
3

bell peppers

green/red/yellow

1

tablespoon

olive oil

2

tablespoon

garlic

minced

½

cup

yellow onion

chopped

8

oz

diced tomaco

canned/fresh

1

cup

lentil

cooked

½

cup

brown rice

cooked

½

cup

carrot

grated

1

teaspoon

whole black pepper

crushed

½

teaspoon

salt

2

tablespoon

cilantro

chopped

1

cup

cheese

mozzerella/cheddar

½

teaspoon

red pepper flakes
Instructions
Prepping the pepper for stuffing
Preheat the oven for 400 degrees Farenheit.

Cut the peppers into two halves. And arrange them in the tray facing up.

Place them in the center rack and bake for about 20 minutes or until it is done without burns.

Remove the tray from the over and place it over kitchen counter.
Make the stuffing
Meanwhile, over medium heat, place a sauce pan. And add canola oil and minced garlic.

Add chopped onion and saute until it becomes soft.

Now toss diced tomatoes with its liquid, cooked lentil, brown rice, grated carrot, crushed black pepper, and salt.

Cook until all the ingredients combined together and the liquid evaporates. And set aside.
Fill and bake
Now scoop the lentil mixture, and start stuffing inside the bell peppers.

Sprinkle cheese over the top and bake for about 20 minutes or until the edges starts browning.

Remove it from the oven, sprinkle red pepper flakes and chopped cilantro. And Enjoy!!
Notes
Store the leftover in the refrigerator to use within three days. And freeze them to enjoy within three months.
To thaw, place them in the refrigerator overnight or gently reheat in the microwave.
Nutrition
Calories:
326
kcal
|
Carbohydrates:
43
g
|
Protein:
17
g
|
Fat:
10
g
|
Saturated Fat:
4
g
|
Cholesterol:
20
mg
|
Sodium:
327
mg
|
Potassium:
627
mg
|
Fiber:
15
g
|
Sugar:
5
g
|
Vitamin A:
3907
IU
|
Vitamin C:
80
mg
|
Calcium:
179
mg
|
Iron:
4
mg