One of my top prioritized jobs this year is to create fusion recipes with American veggies in the Indian style. This Indian Brussels sprouts recipe is the one I have been waiting to share for a long time, which fits into the fusion recipe category perfectly. This spicy coated Brussels sprouts is a delicious sidekick that will make you feel light and fresh.
Healthy vegan Brussels sprout's flavor is mild and subtle, completely different from typical Indian recipes.
You can serve this nutritive food as a side dish or appetizer. Add lean protein to make it a healthy, skinny, stand-alone meal.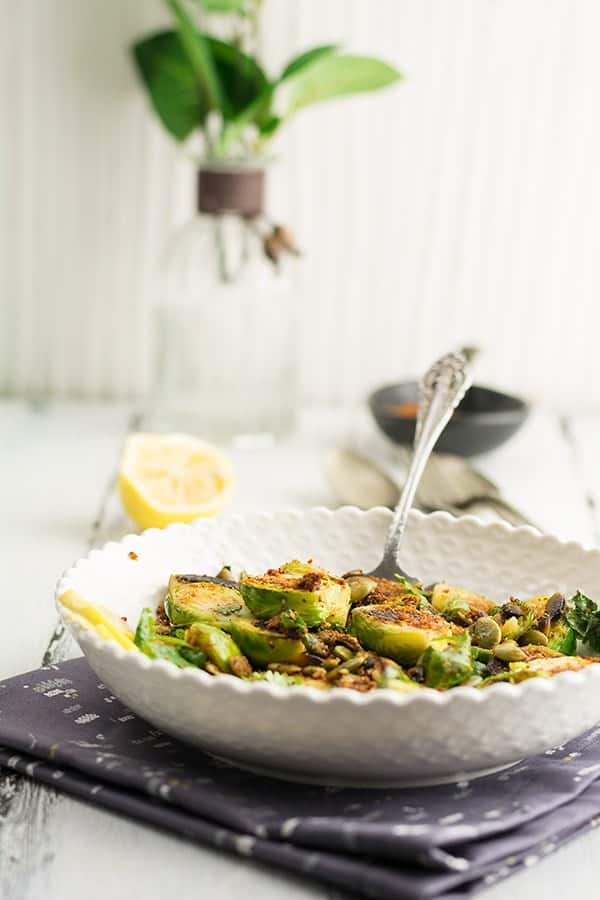 Key ingredients for Brussels sprouts-Indian Style
Brussel sprouts. I do not need to mention the key ingredient. The freshness of the veggie decides the taste of the final dish. So, always choose good quality vegetables, not only for this Indian Brussels sprouts but for the entire cooking. Farmer's markets or the local fresh produce stores are great places to locate fresh Brussels sprouts.
Madras Curry powder. Madras curry powder is available in most grocery stores in the United States nowadays. This is a South Indian-style spice powder that is mild and still with a beautiful aroma.
When considering the spices added to this curry recipe, madras curry powder would be the best of all choices. This masala has a subtle flavor with the right mixture of spices. Everyone in my family loves how the masala is evenly coated with vegetables and justifies it by retaining the original flavors of the vegetables.
If you do not have this spice powder for this Indian Brussels sprouts recipe, we can make it at home or substitute it with other ingredients. Soon, I will come up with the recipe for madras curry powder.
½ a teaspoon of red chili powder and ½ teaspoon of coriander powder will also be the instant substitute for Madras curry powder.
Sunflower seeds. The texture enhancer of all recipes. We have used raw sunflower seeds. If you use roasted seeds, you can add them at the end of the recipe. You may add pine seeds or walnuts as well.
The cooking oil. To preserve the flavors of Indian spices, it is good to use cooking oil like vegetable oil, canola oil, and sunflower seed oil. Butter and ghee(clarified butter) is also the better companion.
How to make Roasted Indian Brussels sprouts
Prepare the veggie. Wash and rinse the vegetable first. Cut them into half and remove the hard stem, if any.
Cooking. Over medium flame, add cooking oil and sunflower seeds. Let them sizzle for a few seconds. Then, toss Brussels sprouts and arrange all the bud's flat surfaces in the pan. Then cover with the lid and cook for 5 minutes on low-medium heat, or until the bottom sides turn brown.
Then flip them to the other side and cook for another 5 minutes or until the veggies are cooked well.
Season. Now sprinkle salt, lemon juice, and Madras curry powder. Toss in high heat until the spices coat the sprouts well but without burning the spices.
Garnish. Garnish with cilantro, which adds flavor and gels nicely with the Madras curry powder.
Serve. Serve hot with Indian flatbreads or meat.
Other Indian-style recipes
Addons and variations
Indian Brussels sprouts have many choices to suit each palate. Cabbage, radish, and asparagus are some other vegetables that blend well with this Brussels sprouts recipe.
Sprinkle garam masala for a rich flavor.
Adding fresh herbs like cilantro mint leaves adds a crisp, natural aroma.
Want to add some heat? throw in jalapeno slices or serrano peppers. Combining some heat elements is an incredible alternative for spicy tastebuds.
Want to subtle down the flavor further? add a blob of butter. This gives a nice, rich feel and brings all the spices together.
Dishes that go well with spiced Brussels sprouts
This Brussels sprouts stir fry is an Indian-style food cooked with warm tropical spices. After we tried once, you know what? I make them often as the family likes this stir-fried vegetable a lot. So, I grab this in usually whenever I see them fresh in the stores.
Meat. The dish is made to match with grilled chicken. The pan-roasted Brussels pairs with the tandoori grilled chicken or lemon grilled chicken like heaven. Cedar plank grilled salmon and garlic pepper shrimp all pair nicely.
Soups. For a nourishing and light dinner, serve the veggie with a big bowl of soup like Roasted tomato soup, clear tomato soup, vegetable tortellini soup, or hibachi soup.
Bread. Indian flatbreads like aloo paratha, onion kulcha, and cabbage paratha, are genuine choices. On the other hand, Garlic bread would be the best.
When to make?
Indian Brussels sprouts recipe is convenient for a party, potluck, or trip. It's very easy to put it together in barely a few minutes. Another advantage is it just requires beginner-level expertise in cooking.
If you have basic cooking knowledge and are interested in trying new things, here you go; you are the perfect person to enjoy this recipe.
This pan-sauteed Brussels sprout has a great chewy texture, perfect for grilled meat or Indian roti rice.
Planning for a grand family reunion or a simple weeknight dinner, these Indian Brussels sprouts completely match both occasions.
Why you should make these Indian Brussels sprouts this week?
This is easy to make.
This simple recipe is best even for beginners.
You can put it all together in a few minutes.
It requires straightforward ingredients that you may already have in your pantry.
Finally, it does taste fantastic, and you will fall in love with it.
Other appetizer recipes you may like
Printable recipe card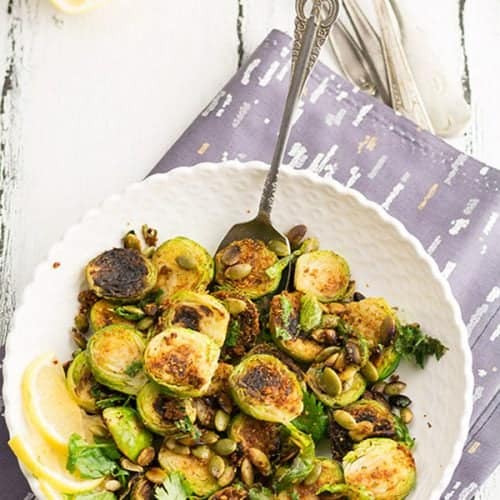 Indian Brussel sprouts
Indian Brussel sprouts recipe is a convenient appetizer for party or potluck. Made with sunflower seeds and Indian spice powder. Very easy to put it together in a few minutes.
Print
Pin
Rate
Ingredients
1

tablespoon

vegetable oil

1

tablespoon

sunflower seeds

raw

20

Brussel sprouts

½

teaspoon

salt

1

tablespoon

fresh lemon juice

1

teaspoon

Madras curry powder

2

tablespoon

cilantro

minced
Instructions
Chop off the stem and slice the sprout into half. Set aside.

In medium heat and in a large skillet, add vegetable oil and sunflower seeds.

Then add the sprouts. Toss them until they spread as a single layer facing the flat surface downwards.

Cook for about 5 minutes until the bottom side becomes crisp and brown.

Flip to the other side and cook again for another 4-5 minutes until the other side turns golden brown.

Sprinkle salt, lemon juice, and Madras curry powder, and toss until the masala coats the sprouts evenly.

Garnish with cilantro and serve hot,
Notes
Always cook in the midium to low heat to avoid any burnt sides.
You may substitute Madras curry powder with ½ a teaspoon of red chili powder and coriander powder.
Nutrition
Calories:
119
kcal
|
Carbohydrates:
13
g
|
Protein:
5
g
|
Fat:
7
g
|
Saturated Fat:
1
g
|
Sodium:
420
mg
|
Potassium:
514
mg
|
Fiber:
5
g
|
Sugar:
3
g
|
Vitamin A:
973
IU
|
Vitamin C:
110
mg
|
Calcium:
53
mg
|
Iron:
2
mg
**Disclaimer: The nutritional information provided is an approximate estimate only.