If you want a soup that fills your stomach without leaving you heavy, you should definitely try this Clear tomato soup recipe. A light, mild, heartwarming soup to serve as a side. Like to add up, It tastes excellent with the hint of mint's aroma.
More choices for making it a wholesome meal. Will not hurt you physically or financially, easy to make a budget-friendly recipe.
Traditionally belongs to the first-course meals category. Usually considered as an alternative to caffeine beverages in India.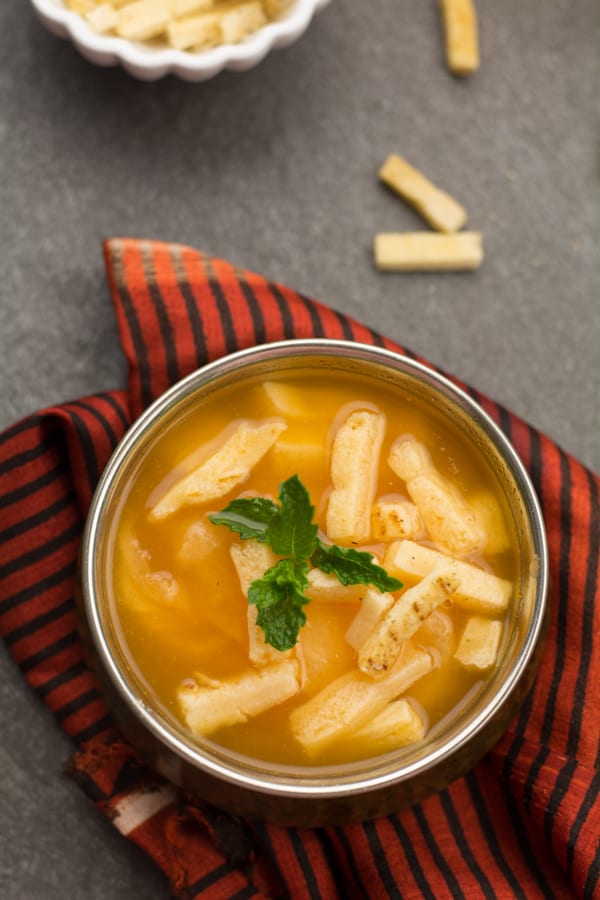 This clear tomato soup plays an integral part in the Indian cuisine in recent days. If you have been to India, there are rare minimum chances of returning without tasting this. You might have tasted in the train travels, as a starter in the Indian restaurants.
There are some days, I chose to travel by train not only for its comfort but also for the Indian railway's tomato soup. Here in the United States also, the Indian restaurants serve this type of light clear soup.
This tomato and herb soup recipe is the simple and straightforward version of tomato soup. Without any troublesome procedure or ingredients.
The ingredients added in here are universal, and taste suits for the universal palettes as well. Another great advantage is that clear tomato soup is made with just 5 ingredients.
I have a small kitchen counter mint plant, which helped a lot in many dishes. I snipped off a few leaves and added to the dish. Which gave a refreshing look and feel to the warm soup.
Other tomato recipes you may like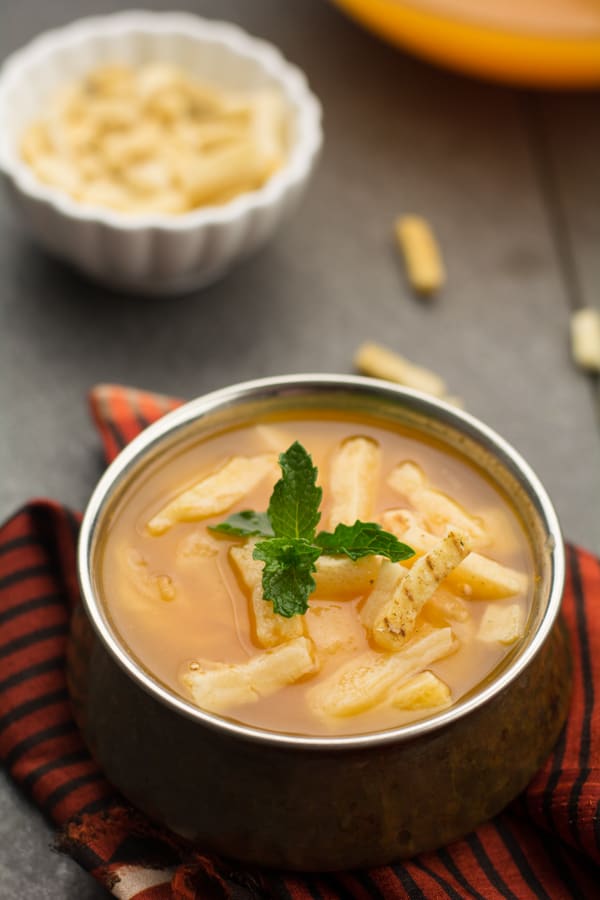 The Key ingredients
Like many vegetable recipes, this clear tomato soup relies too much on the quality and the freshness of the ingredients. The fresher the vegetable, tastier it is.
Tomato. Start with good tomatoes. Every verity of tomato brings a different taste to this recipe. The plum tomatoes add rich color and the tase to the clear soup. The Roma tomato soup is tangy and flavorful.
Onion. Adjust the onion according to the verity you use. In this recipe, I have used the yellow onion. This gives a mild and rich texture to the soup. If you use red onion, minimize the volume. As red onion has a strong and bold flavor.
Garlic. Less is more, according to this ingredient. One small clove of garlic is way more than enough for this recipe. We add here to neutralize the aroma of onion and blend the onion and tomato taste.
Bay leaf. This adds a nice aroma, which enhances the flavor and the taste of clear tomato soup. We added only a small-sized leaf, and we remove it while serving. Even then, it leaves is mild aromatic footprints, that no one can guess this surprising ingredient it white tasting.
Mint leaves. It makes the clear tomato soup vivid and vibrant. As I told earlier, I have a small live mint plant in my kitchen in a smaller planter. It does not occupy much space, but the value it is adding to my recipes is amazing. And surprisingly, it requires low maintenance.
If time and space permits, grow your own near the kitchen windows. Few leaves would be more than enough for making certain dishes. Which definitely will not disappoint you.
Once you have gathered all these ingredients, it is time to start with the cooking.
Serving clear tomato soup
There are multiple interesting ways to serve. The followings are I have tried, tested, loved variations.
Serve as a mid-day drink. I'm not obsessed with coffee or tea. So I always try to find other varieties of beverages that make me thrive all day long. And this energizes me and put me on to the activation mode immediately as soon as I complete a small bowl of soup.
When serving as a mid-day snack, do not limit yourself using the regular boring soup bowls. Try with your coffee mugs for having this soup. I really feel like having more connected with the clear tomato soup this way.
When you serve this in the mugs, it does not need any toppings like crotons.
When serving as a side. Serve with small soup bowl, with mild toppings. pita bread croutons, naan bread croutons, or nonfatty crotons would be awesome to pair with.
When serving as a meal. This clear tomato soup can also be served as a whole meal. But add in your source of protein and carbohydrate. Add chickpea, beans, chicken, or other meat to make it healthy and filling.
For the carbohydrate, you may add cooked pasta, udon noodles, soba noodles.
This is a crowd-pleasing recipe. This tomato clear soup recipe makes your guest feel comfortable, and light with the other heavy filling dishes.
Variations for the tomato clear soup recipe
This is a vegetarian, low carb recipe with fresh ingredients.
Vegan: Substitute butter with any cooking oil or vegan butter.
Egg whites: Adding egg white makes it look grander when it serves. This adds a great texture to the thin and clear soup,
Pasta: Pasta is perfect to combine with. For making it healthy, you can choose to use multi-grain or whole wheat pasta.
Noodles: You may use Asian's soba, udon and rice noodles.
Wontons: Do you have wontons, throw in some. Makes this to call as Asian tomato soup.
Ravioli/tortellini: The ravioli and tortellini make this tomato clear soup rich. The added mint leaves make it a truly inspiring fusion recipe.
How to make clear tomato soup
Make the base for the soup: Add roughly chopped onion, tomato to two cups of water. Cook tomato and onion till it becomes fork-tender. Let it cool down, and grind it until it becomes a smooth consistency. And set aside.
The amount of water and the time for cooking is not significant here. So, what would be the right quantity of water? the water level just right above the veggie is good enough. All that need for rich and silky soup is well done.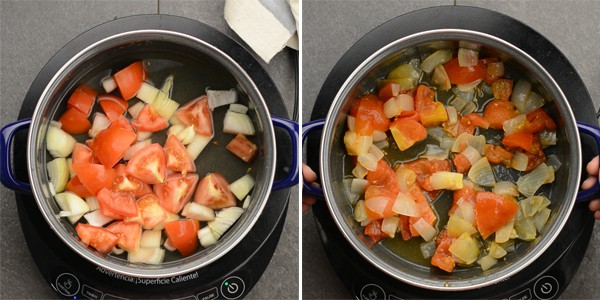 Seasoning the soup: In a pan, add butter, bay leaf, and mint leaves. Saute until mint leaves shrink down. And add ground tomato plus onion mixture. Let it boil for another 5 minutes. This 5 minutes of cooking makes the soup infused well with the seasoning.
I have made with a bay leaf and few mint leaves sauteed in half a teaspoon of butter. Cooking them in low flame. If you think about some variation in the seasonings, think of cumin seeds, peppercorns, cinnamon. Mint, bay leaf, basil, thyme are the few best herbs to go with tomato.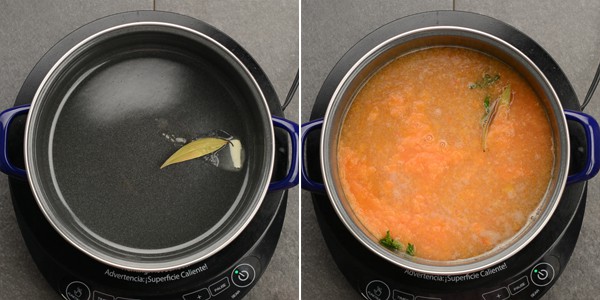 Strain and Serve: Pour the tomato broth to a fine-mesh sieve and strain. Extract the tomato juice and serve hot. Add croutons, baked pita chips as toppings.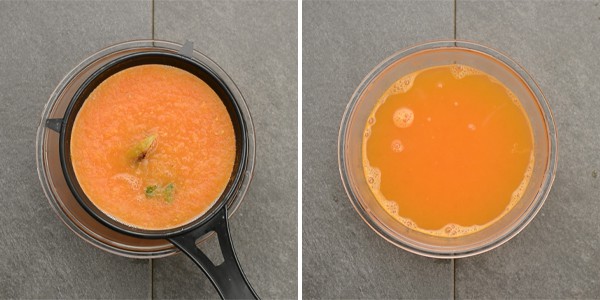 Printable recipe card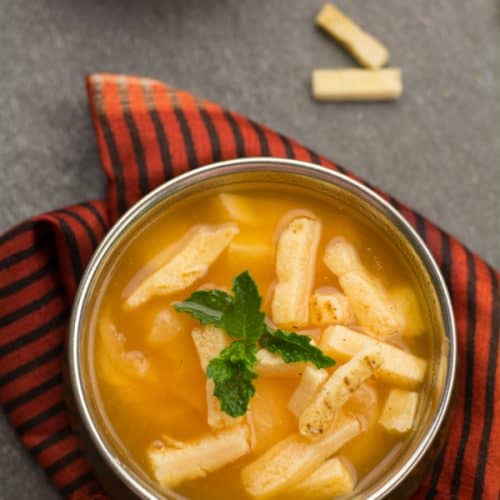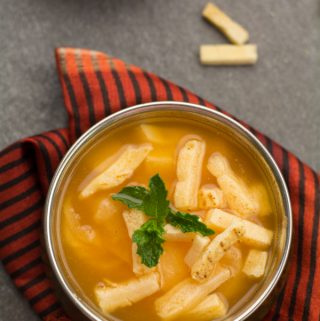 Clear tomato soup recipe
This Clear tomato soup recipe. A light, mild, heartwarming soup to serve as a side. Like to add up, It tastes excellent with the hint of mint's aroma. More choices for making it a wholesome meal. Will not hurt you physically or financially, easy to make a budget-friendly recipe.
Print
Pin
Rate
Ingredients
1

cup

onion

roughly chopped

2

cups

tomato

roughly chopped

1

garlic

clove

3

cups

water

½

teaspoon

butter

1

bay leaf

8

mint leaves

½

teaspoon

salt
Instructions
In a pan, add onion, tomato, garlic to 3 cups of water.

Cook until tomato becomes fork tender.

Cool it down to the room temperature. And add it to the blender jar and pulse until it becomes a silky and smooth. And keep aside.

In a pan, add butter, bay leaf and mint leaves. Saute until mint leaves shrinks and changes its color.

The add the ground mixture and salt. And boil for 5 minutes.

Strain and serve the soup hot.
Video
Notes
Optionally, add croutons as toppings.
Baked pita chips is also a great skinny variation for the croutons.
Nutrition
Calories:
73
kcal
|
Carbohydrates:
14
g
|
Protein:
2
g
|
Fat:
1
g
|
Saturated Fat:
1
g
|
Cholesterol:
3
mg
|
Sodium:
621
mg
|
Potassium:
493
mg
|
Fiber:
3
g
|
Sugar:
7
g
|
Vitamin A:
1442
IU
|
Vitamin C:
28
mg
|
Calcium:
54
mg
|
Iron:
1
mg