This Indian vegetable soup recipe is an inspirational dish that stole your heart. A filling, light, delicious soup made in Indian style, with the right balance of hot and sour in a meaningful way.
Furthermore, this hot and spicy vegetable soup is super convenient in that you can serve a crowd or convert it into a wholesome weekday dinner. Whether it's a family dinner or a party menu, it fills the memories with happiness.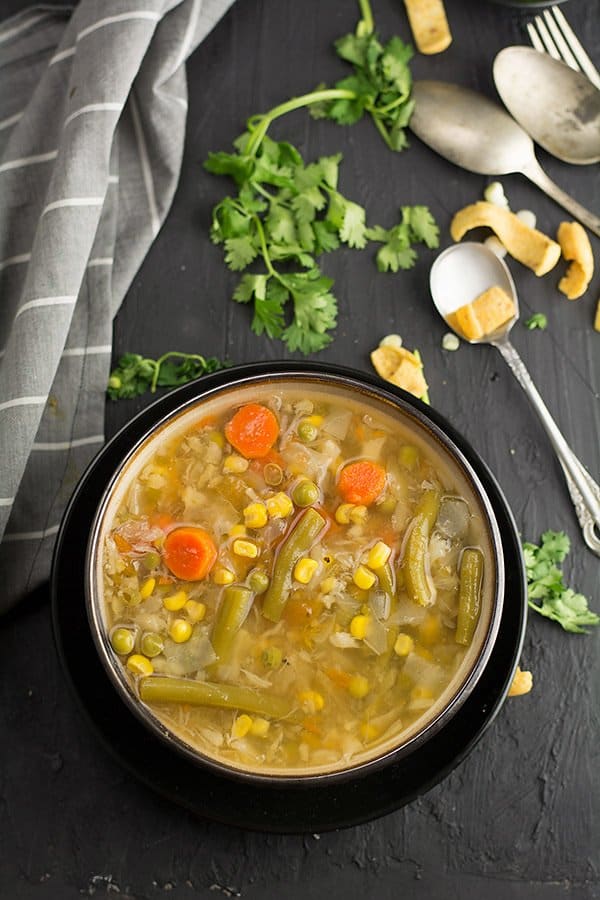 Indian vegetable soup is whole30 compliant, vegan, vegetarian, and loaded with flavors. Furthermore, this recipe is simple. And it's with the minimal ingredients that average stores carry in the U.S.
And most importantly, you can use your Instant Pot, slow cooker, or pot to make this warm, comfortable Indian-style vegetable soup(try enjoying this Instant Pot chicken curry).
Sometimes, you may want to recreate a dish you have tasted while visiting an Indian restaurant. I was afraid of making so because of the long-listed ingredients.
Most of the unique ingredients may not be available in your grocery stores. Or the big bags can make you scared to invest in the elements you will hardly use.
Wait, I can very well understand. I'm here to help make Indian recipes with the least possible investments in Indian ingredients. And utilize those to the maximum we can.
This post will discuss the required ingredients and possible ways to use them in other recipes. Hopefully, this post may give you an idea of many different dishes.
We came up with today's Indian vegetable soup recipe after seeing a massive welcome for other simple Indian recipes like the Madras lentil recipe, Indian cauliflower curry, Indian Brussels sprouts, Indian egg fried rice, and Indian salmon curry. These are some Indian dishes with simple ingredients that you may be able to.
Whether you serve this Indian vegetable soup for weeknight dinner or as a side dish at a party, you will receive praise. Thanks to everyone who tasted this delectable veg soup.
Furthermore, it is a soup you look forward to making every other day.
The recipe is so convenient that you can dump all the ingredients together in the pot, and the dinner is ready for you without much effort and mess. It is an ideal dish to cook on busy, tiresome days or lazy weekend afternoons.
How to make Indian vegetable soup
Indian-style soups are usually thin and not dense compared to American-style dinner soups. Indian-style soup is generally served as an appetizer rather than a full-fledged meal.
But the good part is that this spicy soup has the potential to serve as a wholesome meal with the preferred protein.
The directions
Prep the vegetables. Choose vegetables according to the season and availability. Clean and peel off the skin if required. Then, cut them into bite-size pieces.
Choose the pot. You may choose an Instant Pot, pressure cooker, slow cooker, or soup pot. Pressure cooking is believed to retain the nutrients of the vegetables.
It is also convenient and cooks faster, so my Instant Pot is my first choice for all these criteria. This is easier and more efficient for making this Indian-style veggie soup.
Cook. Add all the chopped mixed veggies to the pot. Add water, yellow moong dal, and curry powder. Cover with the lid and cook for 10 minutes or until the vegetables become fork-tender.
Season. Allow the pot to cool and the steam to escape naturally. Add salt and crushed black pepper. Serve hot, and ENJOY!
The ingredients and their possible substitutions
The mixed veggies. There is no strict rule for choosing vegetables in this Indian vegetable soup recipe. Generally, cabbage, green bean, green pea, carrot, and beet are great for making this soup.
But choose which is possible for us to make that moment. Unused vegetables in your refrigerator? Use them to make this curry vegetable soup.
Yellow moong dal. It enhances the soup's texture and neutralizes all other ingredients in this recipe. Moreover, we have added for its protein content. But you may substitute with chickpea or lentil.
But the cooking time for the chickpea and the lentils varies, so adding them as they are cooked along with the veggies is good. This moong dal is also good in other soups as well.
Curry powder. A spice mix that brings all the rich Indian flavor. A pinch is more for a soup. If you do not have this mix handy, add roasted and crushed coriander and cumin seeds.
Be cautious; too much can be overpowering and potentially spoil the soup. You can use this curry powder as a rub or in the marination to make seafood or chicken.
The variations for Indian-style vegetable soup
Swap the protein-rich ingredient. We have opted for Yellow moong dal here. Instead, you may choose cooked chickpeas or lentils if you prefer vegan soup. You may replace it with egg, chicken, or other meat.
Add grilled tofu or Indian cottage cheese called 'paneer' as a topping; this is also a delectable variation. The trick to grilling them with warm spices is good topping and serves as a side to this Indian vegetable soup.
If you want to serve as a thick, creamy soup, increase the quantity of moong dal and run through the blender to a silky texture.
Use vegetable broth, chicken, or beef broth for more intense flavors. When using the broth, we can make a good amount of soup with a small quantity of vegetables. This broth adoption would greatly help when making this Indian veggie soup for a crowd or party.
Drizzle a few drops of clarified butter(ghee) brings so much flavor to this South Indian vegetable soup recipe. This variation may sound simple, but ghee can boost the aroma and the taste to a greater extent.
As a garnish, sprinkle fresh coriander leaves or green onion.
Make ahead and store ideas.
This Indian-style mixed vegetable soup recipe can be made ahead of time. It can be reheated when needed. However, the tip is to store them in airtight containers to avoid any nutrient losses during storage.
Freezing and refrigeration increase the storing time when planning to consume later. The mixed vegetable soup is best to store for up to 3 months when frozen and the same for up to a week when refrigerated.
When planning to serve for a party, you may make the base of this spicy soup ahead of the day. And reheat over the stovetop and garnish whenever needed.
What to serve with
How to make Indian vegetable soup quicker?
Peeling and chopping the vegetables involve time, which may be tiresome when making a large batch of soup. So, working on one vegetable at a time increases productivity and reduces working time.
The chopping of the vegetables does not need to be precise. Chop roughly just enough to make small-sized pieces.
Chop the vegetables and store them in zip-lock bags to avoid last-minute delays.
Other soups,
Printable recipe card
Indian vegetable soup recipe
This Indian vegetable soup recipe is truly an inspirational dish, that stole your heart. A filling, light, delicious soup made in Indian style, with the right balances of the hot and sour taste.
Print
Pin
Rate
Ingredients
4

cup

mixed vegetable

peeled and chopped

2

tablespoon

moong dal

yellow

¼

teaspoon

curry powder

¼

teaspoon

clarified butter

/ghee/optional

4

cup

water

¼

teaspoon

whole black pepper

crushed

½

teaspoon

salt
Instructions
Add all the vegetables, yellow moong dal, curry powder, clarified butter, and water to the pot.

Cook for 10 minutes or until it becomes soft and tender.

Transfer to the serving bowl.

Add salt and crushed black pepper.
Notes
Yellow moong dal gets cooked faster and best to add it along with the vegetables.
Yellow moong dal and moong bean are different and has different cooking time. Moon bean takes longer time to cook when comparing moong dal.
So substituting yellow moong dal with other lentils or beans, cook it before adding to the vegetables.
Nutrition
Calories:
293
kcal
|
Carbohydrates:
58
g
|
Protein:
16
g
|
Fat:
3
g
|
Saturated Fat:
1
g
|
Cholesterol:
2
mg
|
Sodium:
782
mg
|
Potassium:
772
mg
|
Fiber:
16
g
|
Sugar:
1
g
|
Vitamin A:
18513
IU
|
Vitamin C:
38
mg
|
Calcium:
112
mg
|
Iron:
4
mg
**Disclaimer: The nutritional information provided is an approximate estimate only.