Thinking of trying the homemade vegetable broth slow cooker recipe on your own? You have landed in the right place. The recipe also covers some commonly asked questions and also tips and hints for making veggie broth with lesser expenses and way too healthy as well.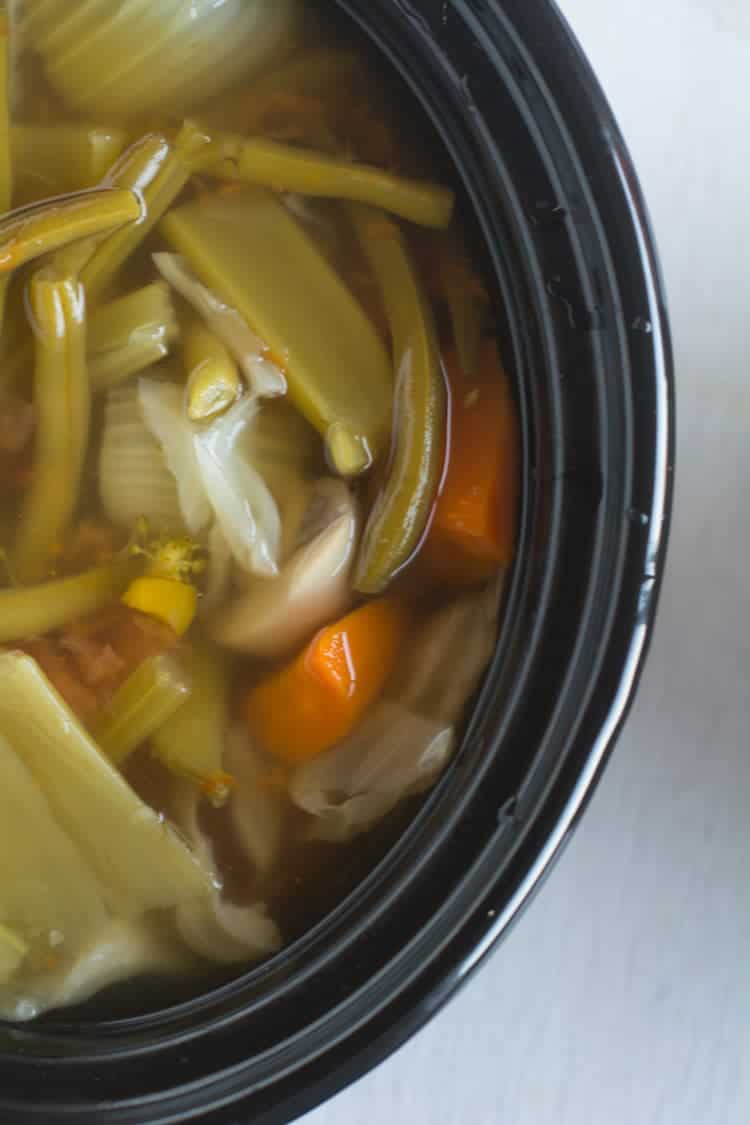 The important advantage of making vegetable broth at home is not only cheaper, healthier but tastier too. The ingredients are very much customizable. If you like celery's flavor add more and skip it if you do not prefer it.
Liked cucumber's fresh flavor, add more. Want the broth to be more orangy color add carrots more. So add and skip the ingredients according to your taste and preference.
Vegetable broth can be made in many ways. And today we are discussing the homemade vegetable broth slow cooker recipe. The important convenience of making veggie broth in the slow cooker is that the slow cooking process makes the broth to greatly infused with all the flavors of the vegetable. And the slow cooking process will not kill the nutrients present in the vegetables.
You can use this vegetable stock to make other homemade soups like Hibachi soup.
How long can you keep homemade vegetable broth?
It stays good for about 6-8 hours at room temperature.
If it is refrigerated immediately after cooking in an airtight container, it stays good for about 3-4 days.
If it is frozen in airtight container it stays good for about 3-4 months.
Can you freeze homemade vegetable broth?
Yes, you can freeze homemade vegetable broth made in slow cooker. For freezing: Once the broth comes down to the room temperature, immediately transfer to an airtight container and freeze it. This way the veggie stock is best until 3-4 months.
Storing vegetable stock is an easier task. All you have to concentrate on packing the broth as immediately possible as soon as the broth reached the room temperature. Transfer it to the airtight container so that it stays secure even in the freezer.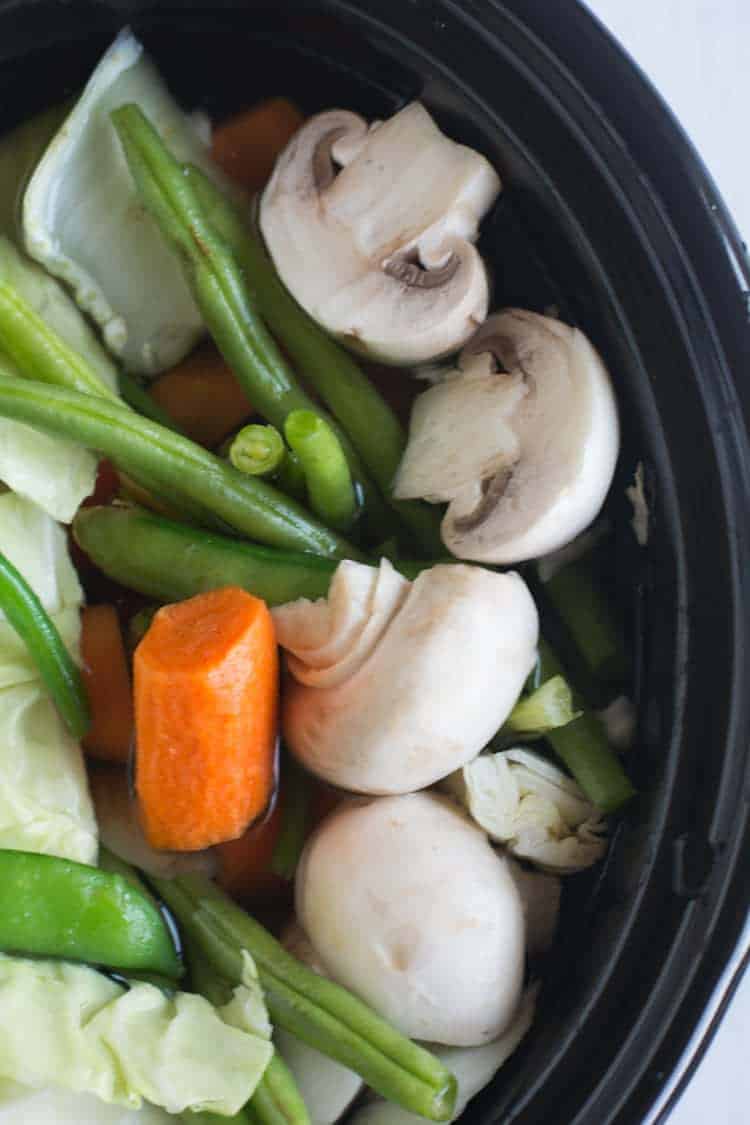 Does homemade vegetable broth have nutrients?
Yes, the broth made with slow cooker naturally infused with all the nutrients, vitamins and minerals. This version is great as it is available only with dense nutrients but without any chemical preservative like one available with store-bought vegetable stock.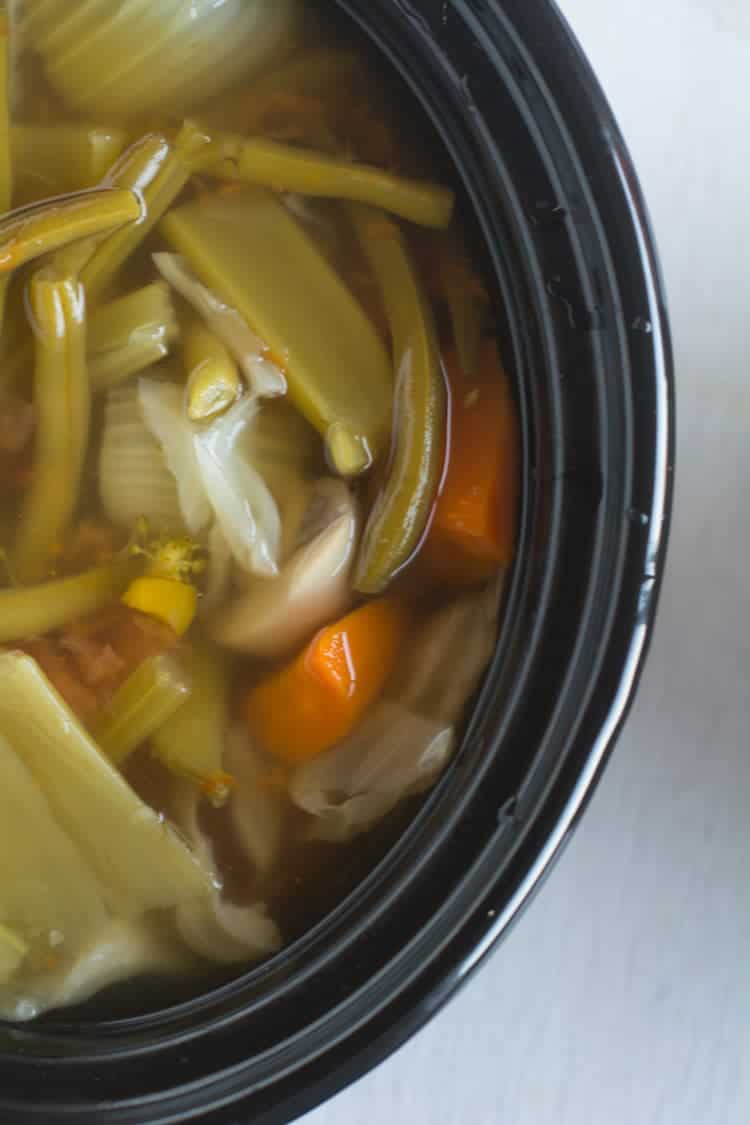 homemade vegetable broth slow cooker recipe
This homemade vegetable broth slow cooker recipe made using scraps of vegetables. Learn how to make this simple and healthy dish.
Total Time
6
hours
10
minutes
Ingredients
For Homemade vegetable broth slow cooker recipe:
1

Cup

Carrots

chopped

1

Cup

Spring beans

1

Cup

Mushroom

1

Cup

broccoli

1

Cup

Cabbage

1

Cup

Celery

1

Cup

Snow peas

1

Tomato

1

tsp

salt

Water as required
Directions
In the slow cooker add all the above said ingredients.

In medium heat setting cook for about 4-6 hours or until all the vegetables cooked completely.

And now healthy vegetable broth is ready at home.
Notes
To extract all the nutrients, the vegetables has be to cooked completely well. It has to be get mashed up if pressed inbetween the fingers.
There is always a great debate is going on about the pros and cons of using a slow cooker.  But personally, I feel slow cooker breaks down the nutrients naturally for our consumption.
Liked this Homemade vegetable broth slow cooker recipe, do follow us on Follow us on Facebook, Pinterest, Instagram