Whenever we crave for Chinese style food, this spicy ramen noodles recipe hits the topmost in the list. This easy, simple, vegan recipe gives me immense pleasure and pride that I brought home a delicious Chinese dish under 30 minutes.
The flavors we have created in this recipe will make you fall in love with ramen noodles ever before. And the fact? this spicy ramen noodles recipe is heavenly, skinny, light and definitely not loaded with tones of calories.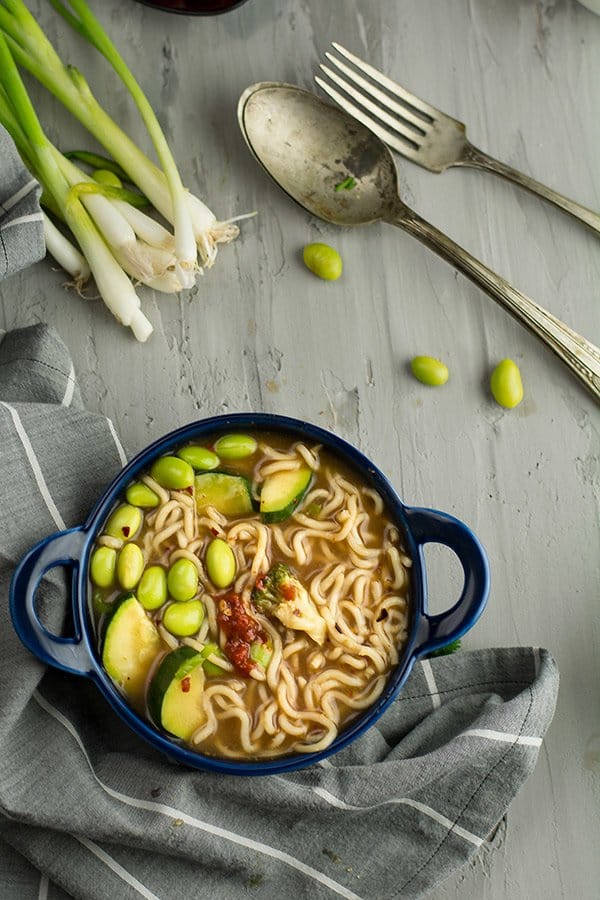 Jump to:
This vegan spicy noodle is spicy enough to your palette's capability. Adjust sauce to suit your individual tolerance and love. The dish tastes extremely good at whatever may be the spice level. So feel free to adjust that is appropriate for your family needs.
The bonding with Chinese food with the rest of the world is incredible(like this spicy Chinese chicken). And its flavors are getting popular every day, and our family is one among them hit by this tasty trend.
And we genuinely excite whenever we try Asian food at restaurants or whenever we make at home.
Want to know other easy hands-free Asian food? try this teriyaki chicken with bottled sauce recipe or homemade hibachi soup.
About this recipe
The flavors and the tastes always fresh and always turns out to be a great feast for us. And when we talk about the preparation work about this spicy ramen noodles recipe is almost nil.
If you have all the ingredients listed for this recipe handy, you are almost done. Just combine them one after the other. That's it, a homemade Asian feast is ready in front of you effortlessly.
Many of us keep postponing to try other cuisines recipes by concerning the recipe's requirements. But the good fact about the ingredients in this recipe-easily available in grocery stores anywhere in the United States.
I do not have any difficulty in finding out these in midwest states or in northeast states. So the important problem is solved, try making it at home this week.
Why you should make this spicy ramen noodles recipe
It is a super easy dinner to make without much strain.
Skinny, not loaded with fat or cooking oil.
The ingredients are easy to find.
A hands-free cozy dinner.
Finally, a delicious that you will always crave for.
What are Ramen noodles?
Ramen noodle recipe is a Japanese dish with Chinese wheat noodles. You may check wiki for detailed history for its origination.
How to make spicy ramen noodles
First, assemble all the items in the kitchen counter. This spicy ramen noodles recipe is super fast and you may need it one after the other in quick intervals.
So keep everything ready before you head of for cooking. This tip may find very simple but saves you from last-minute messes. This rule applies in general to all the recipes as well.
The ingredients
Ramen noodles. You may use instant ramen noodles or Chinese wheat noodles for making this spicy Asian noodles recipe. They type of noodles is a broad spectrum and use whichever is available to you.
Edamame. Go for frozen shelled edamame, which is very convenient to use. And you can use the leftover for snacking or append to any other Asian recipes. But this is optional, skipping this one will not ruin the recipe.
Soy sauce. Can we ever imagine an Asian recipe without Soy sauce? and it plays absolutely well in this dish as well. Dark or light soy sauce? Dark soy sauce is thick and has bold and intense flavors.
Whereas light soy sauce is thin and rich, blends beautifully with the other added ingredients. I prefer to use light soy sauce for this dish.
Chili garlic sauce. A very important ingredient to make this dish spicy and hot, which does also provides a pleasing red color. This store-bought sauce, loaded with vinegar and garlic already.
This is a bundle of flavor that is responsible for spicy ramen noodles recipe's taste and flavor. This is also available in a small container in any average grocery store.
Or you may also use sriracha sauce for more flavors. Instead, you may swap with Sriracha sauce, another good alternative to the Chinese chili paste.
But this option is super fiery hot. I do not want you to turn red, add a little quantity at a time after tasting.
And definitely this is not to be substituted with red pepper flakes. Since these two are completely different.
Green onion. Garnishing ingredient, the fresh green onion makes it refreshing in every sip unimaginably. Gives a professional chef's touches to the bowl of spicy ramen noodles recipe.
Soy sauce. It has sodium and balances all the ingredients together. It also brightens up the whole dish with a teaspoon of sauce.
Zucchini and broccoli. The vegetables like zucchini and broccoli pairs nicely well in any Asian style recipes. Personally, we like this combo well and feel free to choose your favorite vegetables that fit on this soup recipe.
The directions.
Cook the noodles and vegetables. Over the medium heat, add broth to a pan. Combine ramen noodles and vegetables. Cook until the ramen according to the package's instruction.
Add the flavors. To the same mixture, add soy sauce, chili garlic sauce, and stir until all the ingredients combine together.
Garnish. Transfer it to individual serving bowls. Garnish by sprinkling chopped green onion.
Serve. Serve hot. Choose flat-surfaced bowls for servings, this makes the dish cool as we eat.
The pro tips.
The vegetables would be crisp and perfect if it cooked for about minutes over medium heat. If your noodle's package instructions call for more cooking time, then add the vegetables when noodles have 4 more minutes for cooking.
This recipe is to bring down the processing and cooking time. When you are making for a crowd, cook the ingredients separately and assemble together at the final stages.
The heat of the chili paste varies with the brand, therefore test and taste are preferred. Before adding the entire amount specified in here spicy ramen noodles recipe.
If your spicy ramen noodles turn salty, then squeeze a lemon. This will neutralize the salt and enhances noodle's taste.
When you feel ramen noodles are super spicy, add a blob of butter, or add coconut milk, which can compensate the heat very much.
Alternatively, to balance the hot, add a teaspoon of brown sugar. This balances and enhances the taste of this spicy ramen recipe.
Add the noodles when the broth starts boiling, this makes the noodle to stay in its shape without being soggy.
Once the noodles start boiling, use a fork to separate them.
Add rice vinegar for more authentic Chinese flavors.
Drizzle a few drops of roasted sesame oil for original Chineses taste.
The variations.
Siracha sauce. Substitute this for chili paste to super spicy sriracha ramen noodles. This is fiery hot, a little is more here. So add it to choose your preference. If you like spicy food possibly you could like this variation.
Ramen Noodles Soup. Increase the quantity of the broth to make it serve as soup.
Hot sauce. Are you a huge fan of hot sauce? then replace the chili paste with hot sauce. But the taste varies from the original one, but this variation would be awesome for spicy ramen noodles recipe.
Chicken. Cook chicken in the broth to serve chicken ramen soup. Alternatively, use grilled chicken or meat to the dish.
How to store the leftover and reheat
You store the leftover ramen noodles soup in the airtight container in the refrigerator or in the freezer for use after a while. The refrigeration helps us to use 4 days from cooking. The freezers can help us to store the dish for about 3 months.
This is a freezer-friendly recipe. So you can make in large batches and store in individual pouches. You can reheat whenever needed.
To reheat, add to a pan and bring it to boil in medium heat. You may also microwave in the microwave-safe bowl for about 3 minutes which is depends on the size of the quantity.
Other soups,
Printable recipe card
Spicy ramen noodles recipe
Spicy ramen noodles recipe is easy and makes this delicious Chinese dish under 30 minutes. It is vegan and loaded with vegetables.
Print
Pin
Rate
Ingredients
Blanching
½

cup

edamame

shelled

1

cup

broccoli florets

½

cup

zucchini

slices
Making
2

cup

water

or vegetable broth-as required

1

ramen noodle

1

tablespoon

soy sauce

1

tablespoon

chili garlic sauce

2

tablespoon

green onion

chopped
Instructions
Blanching
Blanch shelled edamame, broccoli florets, and zucchini. And set aside.
Making
In a pot add 2 cups of water(or vegetable broth) and stir in ramen noodles.

Cook according to the noodle's package instructions.

In the same pot, add soy sauce, chili garlic sauce and switch off the flame.

Garnish with chopped spring onion.
Notes
Add your favorite vegetables.
You may also use the blanced water to cook ramen noodles.
Add water to make the noodles thin and runny.
You may substitute water with vegetable broth, chicken or bone broth. This adds nutrients to the dish.
Nutrition
Calories:
172
kcal
|
Carbohydrates:
23
g
|
Protein:
14
g
|
Fat:
5
g
|
Saturated Fat:
1
g
|
Sodium:
1098
mg
|
Potassium:
885
mg
|
Fiber:
7
g
|
Sugar:
7
g
|
Vitamin A:
811
IU
|
Vitamin C:
102
mg
|
Calcium:
108
mg
|
Iron:
3
mg