Tomato rice recipe is another must on Mondays, like wearing a formal dress and waking up with the alarm sound. The Spicy Indian rice is almost like breaking the weekend mood and returning to the routine work.
This Indian tomato rice can be prepared in many variations, but this one is easy and quick, which you will surely like.
I got this recipe from my mother-in-law; my son likes it a lot. He can have tomato rice in his lunch box for all the weekdays but with little variations.
I have prepared this countless times and can now do this by closing my eyes and with my left hand. Haha. Telling you this to make you understand how easy this is among other Indian rice recipes.
This tomato rice recipe is a spicy version of rice with tomatoes, with a strong flavor. But the ingredients can be adjusted as per your taste beautifully.
Have you checked another interesting Mixed rice variety, Capsicum Rice?
What does this Tomato rice recipe taste like?
This is an authentic South Indian-style tomato rice recipe, which is flavorful and tastes delicious. This rice is spicy with a bit of tang, with the aroma of cinnamon and cloves.
This rice is light and will not leave you heavy after eating it. So, it is the best food for the traveling and nondrowsy lunch box menu.
This spicy Indian rice is also called 'Thakkali sadam' in Tamil. Where 'thakkali' means tomato and 'sadam' means cooked rice.
What to pair with this Indian spicy rice?
Since this tomato rice recipe is hot and spicy. Do not overthink this; it simply is more in here. It would be great to serve with mild side dishes.
Hard-boiled Egg: A perfect combination I would ever think of while writing this recipe. The eggs can be boiled without any masala, which is excellent. Moreover, serving with egg is a way to add lean protein and is practically easy to handle. Check this Egg thokku(South Indian style spicy egg gravy).
Raita: Simple raita is splendid to serve with Cucumber raita.
Yogurt: Or serve with simple plain yogurt or curd.
Other rice recipes you may like,
How to store and reheat tomato rice
If you are thinking of making ahead of this tomato rice recipe, make the tomato base before the cooking day. You can store this tomato base for up to a week in the refrigerator and for months in the freezer.
You need to thaw the frozen tomato base before reheating. You may thaw it by transferring it to the refrigerator a day prior to cooking. Or microwave it for 2 or 3 minutes, depending on the quantity.
You can reheat the refrigerated tomato base on the stovetop. For this, add the base and half the quantity of water. Bring it to a boil and simmer the flame. Then mix with plain rice.
The tomato rice can be refrigerated and reheated by microwaving it. Or on the stovetop by stirring. But, in my experience, microwaving retains the taste and the flavor. The stovetop method is not up to my expectations.
Variations for Tomato rice recipe
Instead of fresh ginger and garlic, you may use readymade ginger garlic paste.
You may use garam masala powder also. This would be an aromatic variation and enhance the taste of tomato rice.
You can cook the rice in your regular method. You can use an Instant Pot, a pressure cooker, or a rice cooker, whichever you are comfortable with.
You can also make it with basmati rice or your regular long-grain rice.
How to make Indian Tomato Rice:
Make the tomato base: In a mixer grinder jar, add roughly chopped onion, tomato, ginger, and garlic. And grind it to a smooth, silky consistency. You do not need to add water; the water content of the tomato is enough for this.
A pro tip: To get the perfect combo of onion with tomato, Check the quantity of tomato should be a little more than the quantity of onion to get this rice's ideal taste and texture.
Seasoning: In the pan, add 3 tablespoons of cooking oil, cinnamon, cloves, and fry till it becomes golden brown and starts leaving out the beautiful aroma.
You might be wondering why we need this much oil. Tomato rice tastes excellent with more oil. The cooking oil keeps the rice grain separate and tasty.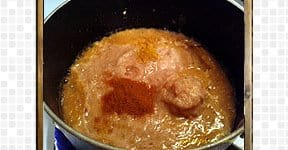 The spices: Add the ground paste, paprika, cayenne pepper, ground turmeric, and salt and cook on a medium flame.
If it sticks to the bottom of the pan, lower the flame further and add 1 teaspoon of oil to this mixer.
In medium heat, cook this tomato gravy in the oil till the oil separates and reaches a thick consistency. Now, the base should be golden red.
Remove from the fire before it reaches a darker color.
Mix: Let the tomato base and rice cool down to room temperature. Spread the cooked rice over a plate and allow it to cool down.
Then mix gently and carefully, as the rice tends to become mushy when handled roughly.
Garnish with coriander leaves/cilantro.
Other recipes you may like,
Printable recipe card
Tomato Rice Recipe(Thakali Sadam)
Tomato rice recipe is another must on Monday's lunch box. This authentic Indian spicy rice is easy to make and tasty to eat. A satisfying meal for lunch.
Print
Pin
Rate
Ingredients
For grinding
1

yellow onion

medium size

2

Roma tomato

medium size/ diced tomato 14 oz

1

inch

ginger

4

cloves

garlic
For the cooking
2

cups

cooked rice

/long grain or basmati rice

2

tablespoon

cilantro

for garnishing
Instructions
For grinding
To a blender jar add onion, tomato, ginger, and garlic.

Grind it to a fine mixture.
For seasoning
Over medium heat, in the pan add vegetable oil, cinnamon, and cloves.

Fry till it becomes golden brown and fragrant.

Then add the ground mixture, red chili powder, turmeric powder, and salt.
For the cooking
Stir occasionally. If the mixture starts sticking to the bottom of the pan, turn to low heat and add a teaspoon of vegetable oil. And cook further

Cook till the mixture thickens and turns rich golden red in color.

Switch off the heat and allow it cool down to the room temperature.

The sprinkle cooked rice over the tomato spice mixture.

Gently mix so that the rice coats well with the spicy tomato base.

Garnish with cilantro and serve hot with raita.
Notes
If it starts to stick to the bottom of the vessel, slower the flame further and adds 1 teaspoon of oil further to this mixer.
Make sure the paste should not go darker in color or burnt in the bottom, this will bring the bitter taste to the rice. This can be overcome by stirring it occasionally and maintaining the flame and by adding little oil.
To get the perfect combo of onion with tomato, Check the quantity of tomato should be little more than the quantity of an onion, to get perfect taste and texture of tomato rice.
Nutrition
Calories:
429
kcal
|
Carbohydrates:
56
g
|
Protein:
6
g
|
Fat:
21
g
|
Saturated Fat:
17
g
|
Sodium:
1183
mg
|
Potassium:
307
mg
|
Fiber:
3
g
|
Sugar:
4
g
|
Vitamin A:
744
IU
|
Vitamin C:
14
mg
|
Calcium:
46
mg
|
Iron:
1
mg
**Disclaimer: The nutritional information provided is an approximate estimate only.
Liked our recipes? follow us on Facebook, Pinterest, and Instagram.