Authentic South Indian breakfast food meets a easy variation. This wheat flour dosa is instant, soft, still crispy and inherited all the goodness of regular traditional dosa. Let's enjoy this quick Indian style breakfast with easy to find ingredients.
Let us feel active without compromising the taste, and do not judge me if I eat this wheat dosa for breakfast or dinner.
Choose whole wheat flour to make this as a wholesome food with more fiber than the regular dosa. It makes it an excellent breakfast to try now. The process of preparing and cooking is less, relieves you from the stress and provides you with a fabulous hearty dish.
Anyone who thinks that dosa is an elaborate recipe and you can eat only in the restaurants! I'm stressing that this whole wheat flour dosa is super simple to make.
Furthermore, the ingredients are pantry ready or available in the regular grocery stores in the United States.
To my non-Indian friends who wish to try Indian food at home, this Instant dosa recipe is what you want to try making. This wheat flour dosa is an ultimate easy healthy recipe, better than any store-bought boxed pancake mix. This is naturally vegan and a satisfying meal.
So what is wheat flour dosa?
Dosa is the south Indian breakfast traditionally made with fermented rice and skinless black gram batter where the preparation time is more and requires a particular wet grinding machine or powerful blender for grinding.
This wheat flour dosa retains the qualities of dosa by taste — furthermore, a modern twist to the conventional method of preparation.
Locally it is called as 'Godhuma Dosa' in Tamil, where 'Godhuma' means wheat. And 'atta dosa' in Hindi, where 'Atta' means wheat four.
Why make this Instant dosa?
This wheat flour dosa is one of the best Instant dosa varieties. We have got multiple reasons to say why to make this Instant wheat dosa today.
The first and foremost reason is you can make this straight away, no waiting time, resting time, soaking time, or fermenting time. All you need is to mix the flour with water and start cooking your meal.
It is an energizing food, as it is made with the whole grain. Involves less cooking oil, you can reduce the quantity of cooking oil substantially by using seasoned cast iron pan or nonstick tawa.
This dish is versatile, can adapt to any other variations and customizations.
If you do not have Idli dosa batter at home and crave for dosa, this wheat flour dosa is the best choice to make immediately.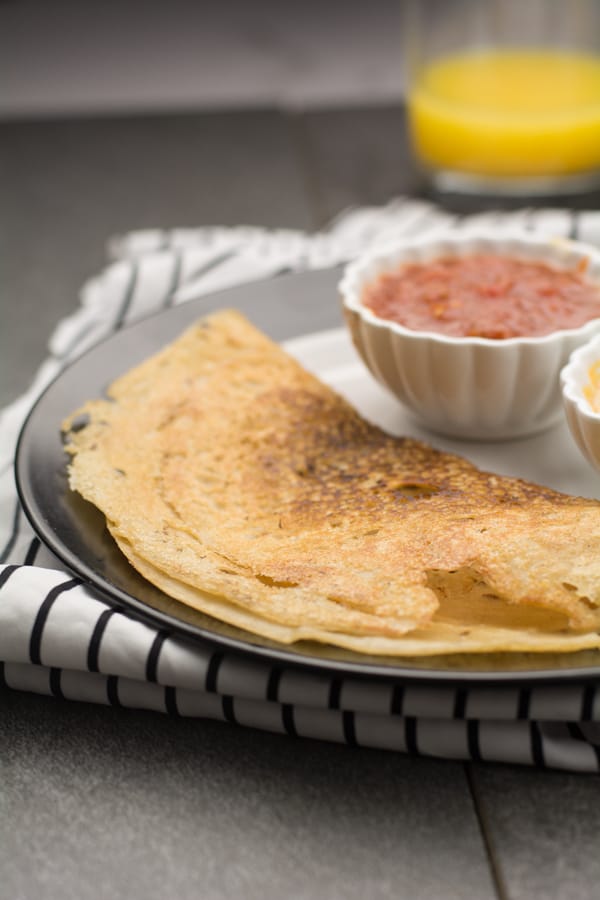 Other Dosa recipes you may be interested in
Variations for Wheat flour dosa
As we have discussed in the earlier paragraph, this dosa recipe is flexible to any add ons. But only this we need to understand the density of the batter. The batter is thin, and cannot hold the thick toppings. It can tend to be soggy and break down when added with weighing ingredients like chopped onion, green pepper.
Add in cumin seeds, black peppercorns, thinly sliced green chilies.
Sprinkle sparsely with minced cilantro or curry leaves.
Add finely chopped cashew nuts or walnuts.
Sprinkle finely chopped onion with minimum quantity if you prefer.
Add a tablespoon of curd to the batter. This adds a pleasant sourness to the dosa.
Add a quarter cup rice flour for extra crispiness.
Side dishes for Wheat flour dosa
Key ingredient
Wheat flour. This is not brand-specific. Buy whatever brand is available to you. But the only thing you need to make sure that the package says it is whole wheat flour. Because, at times, stores do carry the bleached or refined wheat flour, which will not serve our purpose of making fiber-rich Indian breakfast.
Water. Double the quantity of water to the wheat flour is usually needed for the crispy dosa. But add the water in batches to avoid thinning out of batter. The consistency of the mixture should be neither too thick nor too thin.
Cumin seeds. This aromatic ingredient makes the dosa burst with flavors in every bite. Which also neutralizes the wheat flour's raw taste
Black Peppercorns. These add a nice crunchy texture and mimics the taste of Rava dosa. The heat from peppercorns is mild. If you prefer, you may also crush them before adding to the batter.
How to make Wheat dosa
Prepare the batter- In a mixing bowl, add wheat flour, salt, cumin seeds, peppercorns, and water. Combine them till it becomes a smooth base.
Heat the pan- In the medium flame, heat the pan. Use seasoned cast iron pan or nonstick pan.
Make circles- Take a quarter cup of batter in a ladle and pour evenly over the pan. Keeping the ladle minimum of 6-8 inches away from the pan, helps the mixture spread evenly. Refer the video for better performance.
Make the dosa crispy- Drizzle cooking oil around and inside dosa. Allow it to cook until the golden brown spots seen on the top. Flip to the other side and cook further for 1-2 minutes in simmer flame.
Serve- Serve hot with coconut chutney, tomato chutney or garlic chutney.
Printable recipe card
wheat flour dosa
This wheat flour dosa is instant, soft, still crispy, made with simple ingredients. South Indian breakfast food meets a quick variation.
Print
Pin
Rate
Instructions
In a mixing bowl, add wheat flour, cumin seeds, black pepper, salt, and water.

Combine to make a smooth batter.

Heat a nonstick pan on medium heat,

Take a quarter cup of batter. Pour the batter at the distance of 6-8 inches away from the pan.

Drizzle a teaspoon of cooking oil over the dosa.

Cook until it is golden brown on both sides.
Video
Notes
Cook in low to medium heat for crispy dosa.
Nutrition
Calories:
311
kcal
|
Carbohydrates:
44
g
|
Protein:
8
g
|
Fat:
14
g
|
Saturated Fat:
10
g
|
Sodium:
886
mg
|
Potassium:
218
mg
|
Fiber:
7
g
|
Sugar:
1
g
|
Calcium:
28
mg
|
Iron:
2
mg