Quinoa dosa is the Indian crepe made with quinoa and black gram — one of the delicious ways of infusing quinoa into a regular South Indian breakfast.
The batter is fermented, thereby making it comfortable for all ages.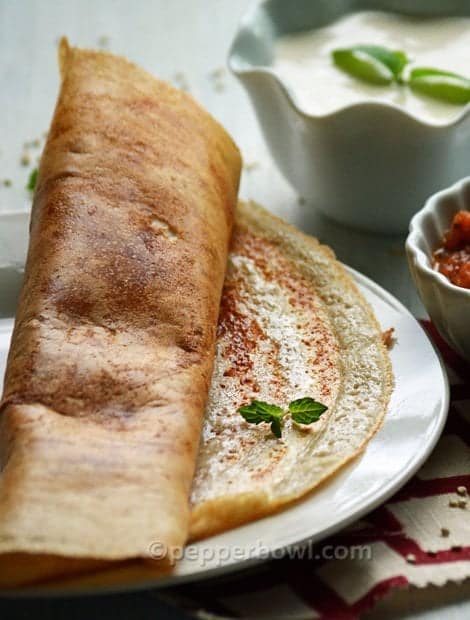 Another trendy variation of dosa is quinoa dosa, which is crispy and light that everyone will fall in love with. It tastes similar to regular dosa, with the mild flavor of quinoa.
A great way to start the day with a guilt-free breakfast.
The people have started moving towards a healthy way of living. It is blissful that the market nowadays is filled with a healthy alternative. Quinoa is one such ingredient that hit the Indian market with a bang. And to my surprise, there are few limited resources for using this.
The Quinoa Dosa Recipe is created to customize the new ingredient to our regular Indian menu.
The following paragraph is for those who do not know much about quinoa. Others may skip this and proceed with the next section.
What is Quinoa Dosa?
'Quinoa' is the Columbian grain, and 'Dosa' is the South Indian breakfast item. Though these are similar to the savory crepes in taste, they are entirely different in the preparation style.
Quinoa is versatile and can beautifully absorb any flavor when cooked. Dosas turned out super crispy.
Side dishes for Quinoa Dosa
The dosa is super crispy and a visual treat to the eyes. This tastes exceptionally good when served with mullangi sambar, chutney, and Idli Podi.
The chutney-like radish chutney, green mango chutney, mint chutney for dosa, coconut chutney, poondu chutney, celery chutney, Instant tomato chutney, cabbage chutney, and tomato thokku tastes incredible with this delicious quinoa dosa.
I like to have this healthy dosa with simple like coconut chutney for breakfast, which makes it perfect to start the day.
When I serve for dinner, I try to compliment with the chutney and sambar. Or with some spicy chutney like mint chutney or green mango chutney.
The ingredients for Quinoa Dosa
Quinoa
Quinoa is the main ingredient in this recipe. The Quinoa dosa batter ratio has no strict rules and depends on your affordability. Quinoa is a little pricy than regular grains.
But spending on these grains is worth its value. Quinoa naturally tastes slightly bitter; you can overcome this by rinsing multiple times until the water is clear.
Rice
Adding rice is to make Quinoa dosa is to make even stiff and crispy. But this is optional; quinoa dosa can also be made without adding rice.
If you are thinking about skipping the rice, substitute it with quinoa. Use two cups of quinoa for a half cup of urad dal.
Fenugreek
Another essential ingredient here is fenugreek seeds. This item is responsible for adding the robust flavor and the color. These bring color and taste and work as an excellent body coolant.
Storing Ideas
These healthy quinoa dosas are best to eat when they are made fresh. It is not a wise idea to save after the dosas are completed. So I strongly advise making it just before eating.
But the batter can be made well in advance and stored in the refrigerator for about a week.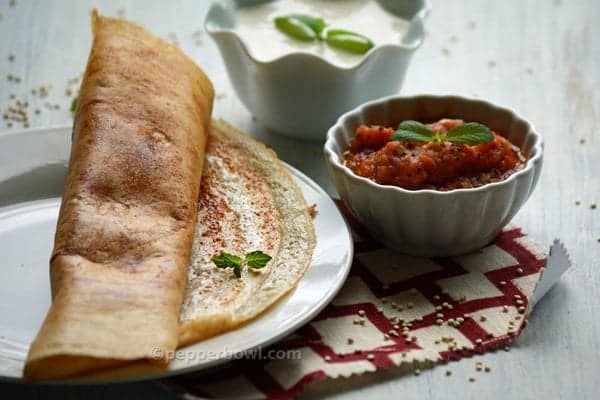 Printable recipe card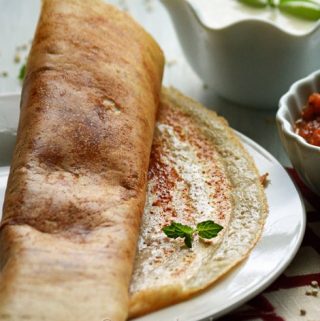 Quinoa Dosa Recipe (Fermented Crepe)
Quinoa Dosa Recipe, the trendy grain customized to Indian style breakfast/dinner dish. Tastes delicious and absolutely worth the efforts.
Print
Pin
Rate
Ingredients
1½

cup

quinoa

½

cup

rice

½

cup

urad dal

/skinless black gram

1

tablespoon

fenugreek seeds

½

teaspoon

salt

or as required

4

tablespoon

vegetable oil

as required
Instructions
Rinse and soak quinoa, rice, urad dal, and fenugreek seeds together for 4-6 hours.

Add it to the blender/grinder. And grind to a flowing consistency like dosa batter.

In a large bowl, pour the bater and salt. Blend them well wooden ladle or hand. I prefer to mix them with hand as fermentation process would be done quicker.

Rest them overnight or for 6 hours. The batter might have raised to 20% more when the fermented properly.

Heat griddle or dosa pan over medium heat. And spread evenly ⅓ cup of batter on to the pan in a circular motion.

Drizzle a teaspoon of vegetable oil to the dosa. Cook until it becomes golden brown on the edges.

Then flip to the other side and cook for about 2 min in low heat.

Now the super crisp Quinoa dosa is ready. Serve with tomato chutney and coconut chutney.
Notes
If the dosas are soggy, add little rice flour, to make the dosas crispier.
Nutrition
Calories:
351
kcal
|
Carbohydrates:
49
g
|
Protein:
11
g
|
Fat:
12
g
|
Saturated Fat:
1
g
|
Sodium:
198
mg
|
Potassium:
271
mg
|
Fiber:
6
g
|
Vitamin C:
0.7
mg
|
Calcium:
38
mg
|
Iron:
3.9
mg
**Disclaimer: The nutritional information provided is an approximate estimate only.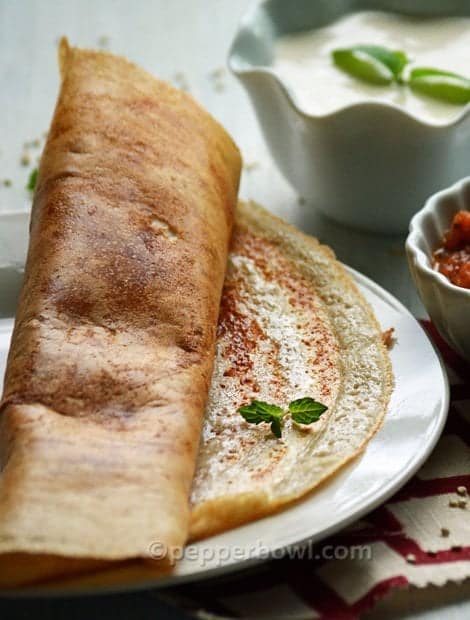 Serving Suggestions:
1. Serve them as breakfast. It can also be served for dinner.
2. Serve with Chutney, Sambar, Idly Powder.
Tips and Variations:
If the dosas are soggy, add rice flour to make the dosas crispier.
Source: Wikipedia
Likes Quinoa Dosas Recipe? Follow us on Facebook, Pinterest, Instagram