This spring dosa is irresistibly delicious and is easy to make with simple ingredients. This is a fusion recipe for South Indian and Chinese cuisine. It is a vegan, vegetarian, real food, and clean eating recipe.
Spring dosa is an Indian crepe with fermented batter and Chinese-style stir-fried vegetables. The vegetables sautéed in the hot sauce and soy sauce. This is amazingly delicious that we cannot stop eating after the first bite.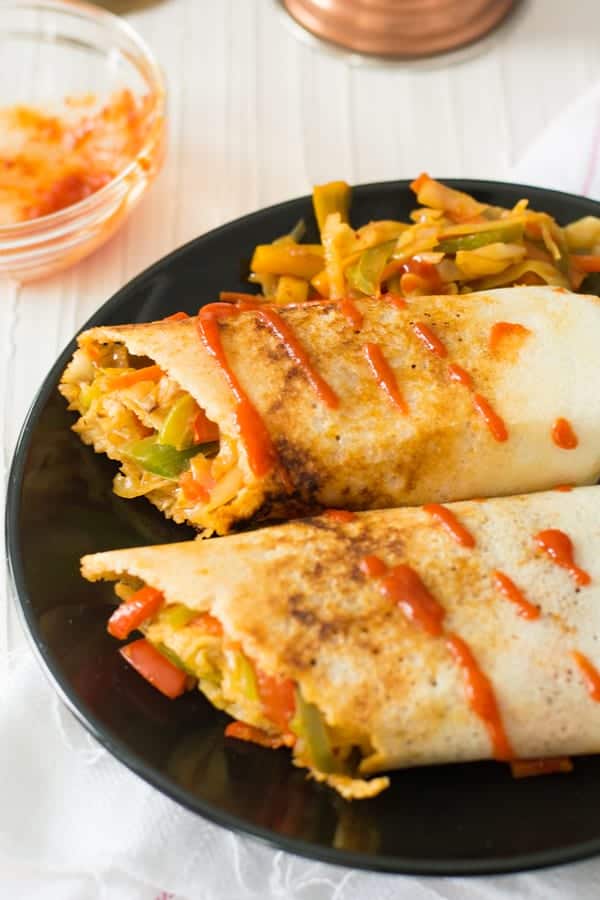 What is dosa?
Dosa is made with a fermented batter of lentils and rice. This is a vital everyday breakfast menu in South India—especially this prime food in the states like Tamil Nadu and Andhra Pradesh.
However, this is amazingly popular and inherited by the North Indian cuisines. This Chinese-style Dosa is also called Szechuan Dosa or Szechuan masala dosa. I cannot live without having dosa at least two to three times a week.
What is spring dosa?
This is a Chinese twist to Indian dosa. Rolling the vegetables in the Indian crepe(dosa) instead of the spring roll wrapper is Spring Dosa. I would say this is an Indo-Chinese recipe that is now becoming popular on the street-side stalls in India.
Due to its recent popularity throughout India, dosa is taking different avatars in different regions according to the local food and culture. And this spring dosa is recently gaining its momentum on the street-side stalls.
Spring dosa is believed to be developed when customizing spring rolls to the Indian liking. When I first tasted it, I was overwhelmed by its taste and thanked the unknown person who created it.
Other Dosa recipes you may like
Why spring dosa?
Dosa is considered as a breakfast or a light dinner. Since the base's batter is fermented, this is easy for the stomach to digest.
Those bored with the regular dosa or wanting to try exceptional food should make this fantastic fusion recipe of two countries.
Each bite gives you multiple layers of taste folded brilliantly. If you have not tasted or tried this recipe before, you should try it. Otherwise, you will miss super delicious food you have never tasted like this one.
How to make spring dosa
The ingredients
Dosa Batter. You can make your own; you may refer to homemade dosa batter for tips and tricks. This is a common ingredient in Indian homes. If you do not have it at home, you may get the batter from the Indian store's freezer section.
Pepper. I have added green, red, and yellow peppers. This vibrant color looks contrast and more appetitive. They would be loved by the children for their color combination. Depending on availability, you may opt for one or all of them.
Soy sauce. This gives a beautiful brown color and saltiness to the filling. You can use either light or dark soy sauce.
Chili garlic sauce. You may use either homemade or store-bought chili garlic sauce. You may also use Sriracha sauce as a substitute. But sriracha sauce is too hot and may not be for everyone. So be careful while substituting Taste and adjust the quantity according to your spice level.
Garlic sauce or red chili sauce is also a close substitute.
Cabbage. This is the most essential ingredient in this recipe. This adds the crunchiness and makes the dosa nice and chewy.
Carrots. Carrots are known for their bright colors. Not only that, but the carrot also adds beautiful crunchiness to the dosa. A guilt-free ingredient that everyone would agree with.
Cooking oil. I have used sunflower oil. Instead, you may use butter, olive oil, or any cooking oil you prefer.
Rice vinegar. This adds super Chinese flavor to the dish. Many ask me whether they can substitute rice vinegar with regular vinegar. My answer is rice vinegar cannot be replaced with vinegar. You may skip using it if it is not available.
Garlic. This is the most flagrant ingredient and blooms up its favor once it's been sautéed in the oil. Mince the garlic as it blends with the other ingredients, and you will not notice it while chewing.
The recipe directions
Sauté garlic. Sauté the garlic in 2 tablespoon of cooking oil until fragrant.
Sauté the vegetables. Add thin julienne-cut cabbage, carrot, red, green, and yellow pepper. Prepare them before you start cooking because the garlic burnt quickly in no time. So, keep all the ingredients ready to avoid any disappointments.
Sauté these vegetables until it is half done and slightly change their color. Vegetables need not be cooked thoroughly. Half-cooked vegetables with a crunchy texture would be great for the spring dosa.
Add soy sauce, chili garlic sauce, and rice vinegar. Combine them in high flame until the sauce coats the vegetables. This step will take one or two minutes, so always be next to the pan.
Set aside. Once you have made the vegetable, set aside.
Make dosa. Heat a flat-surfaced pan on the stove, then pour ¼ cup of batter over the pan. Using a flat spoon, spread the batter in a circular motion like a crepe.
Add drizzle cooking oil. Cook dosa until the bottom becomes golden brown.
Start Filling. Take a spoonful of vegetable mixture and spread it evenly over the dosa. Using a spoon, roll and cut into half.
And serve immediately. Serve with tomato ketchup or sriracha sauce.
What and when to serve
Tomato ketchup or sriracha sauce would be the best pair to serve with. However, I feel that the Spring dosa is a stand-alone recipe, and dosa does not require any side dishes to serve with. This can be a great evening snack, a perfect breakfast on the go, or a light dinner.
When the children return home after the tiresome day, this Chinese spring dosa magically satisfies their hunger. And a guilt-free dish for both mom and children.
If you plan to have this for the party, you can fill up to 6 hours.
Variations
Add thinly sliced paneer or cottage cheese to make this vegetable dosa.
You may add meat to be more protein-rich. Shredded chicken would be the best meat if you plan to include it. Sauté chicken in the garlic first and then add the vegetables.
Add mushrooms, which makes the filling more authentic and tastier. Slice them to the size of the match stick.
Add cooked noodles along with the vegetables. You may use rice noodles or Hakka noodles.
You may use Szechuan sauce instead of adding chili garlic sauce, soy sauce, and rice vinegar separately.
Other Indo Chinese Recipes you may like,
Printable recipe card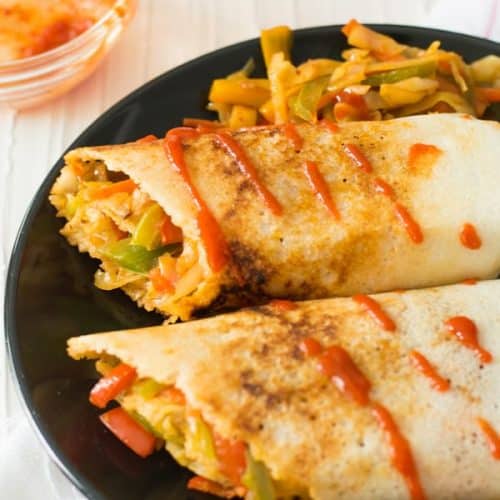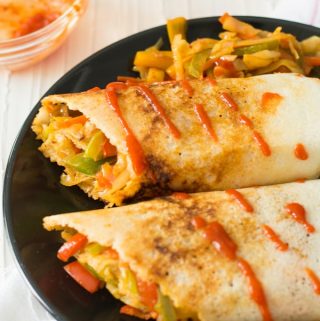 Spring Dosa
Spring dosa is Indian fermented crepe made with Chinese-style stir-fried vegetable filling. This is a delicious Indian-Chinese fusion recipe.
Print
Pin
Rate
Ingredients
For making the filling
1

teaspoon

vegetable oil

1

tablespoon

garlic

½

cup

cabbage

shredded

¼

cup

carrot

julienne cut

¼

cup

red pepper

julienne cut

¼

cup

green pepper

julienne cut

¼

cup

yellow pepper

julienne cut

1

tablespoon

soy sauce

1

tablespoon

chili garlic sauce

½

tablespoon

rice vinegar
For making Spring Dosa
1

cup

Dosa batter

2

tablespoon

vegetable oil

or ghee for drizzling
Instructions
For the filling
In a pan add a teaspoon of vegetable oil and minced garlic.

Saute until it changes its color slightly.

Add cabbage, carrot, red pepper, green pepper, yellow pepper, and saute until it half cooked.

Add soy sauce, chili garlic sauce, rice vinegar.

In the high flame, saute for few seconds until the vegetables coated well with the sauces.
For making dosa
Heat flat surfaced griddle on the stove.

Add ¼ cup of dosa batter, and using flat spoon spread evenly in a circular motion.

Drizzle half a teaspoon of vegetable oil. And allow it to cook until the bottom turns golden brown.

Start spreading the filling evenly over the dosa and then make a roll.

Cut into two halves and serve immediately.
Notes
You can make the vegetable mixture a day before and keep it refrigerated and you may use it whenever you need it.
You may also add rice noodles or Hakka noodles for more filling.
Normally 3-4 dosa can be made with the quantity of ingredients listed here.
Nutrition
Calories:
362
kcal
|
Carbohydrates:
24
g
|
Protein:
4
g
|
Fat:
28
g
|
Saturated Fat:
2
g
|
Sodium:
570
mg
|
Potassium:
280
mg
|
Fiber:
2
g
|
Sugar:
3
g
|
Vitamin A:
3365
IU
|
Vitamin C:
83.2
mg
|
Calcium:
24
mg
|
Iron:
0.6
mg
**Disclaimer: The nutritional information provided is an approximate estimate only.
Liked this recipe? Follow us on Facebook, Pinterest, Instagram.