This Saffron tea is warm and mild with a nourishing flavor, which is refreshing. I understand how it might be surprising that just a few threads of saffron can infuse the tea with such a rich aroma and freshness.
How to make saffron tea? Is this a common question that everyone has? Many of you have not heard of making tea with saffron.
Because saffron is the most expensive ingredient of all in the entire world, it is not affordable to use it every day in our daily lives.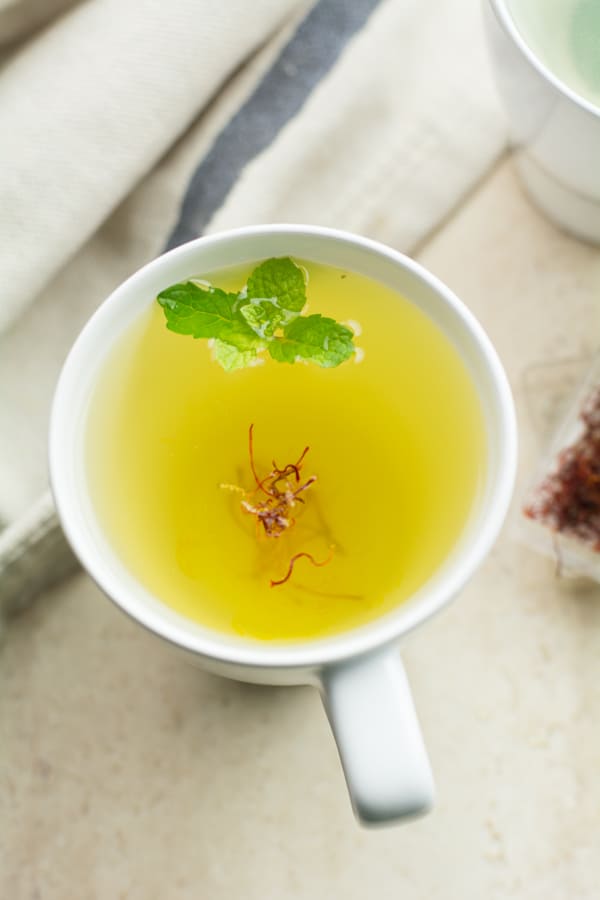 This warm drink has a few saffron strands, mint leaves, honey, and lemon wedges.
Saffron is one of the most expensive spices from the plant 'saffron crocus.' It is a threadlike stigma from the flower. It tastes subtle with a slight bitterness.
It brings out a bright yellow color to the food. It is generally used for decorating and as a food coloring agent.
In Indian Cooking, saffron is used as a garnishing ingredient, mainly in sweets and sweets.
This precious spice costs around $10 for 5 grams of saffron in the United States.
This saffron tea is elegant and luxurious; you will feel it every sip.
How does saffron tea taste like?
This Kashmiri saffron tea tastes classy and splendid, with a hint of mint and lemon flavors. Since saffron has a delicate flavor, this Indian chai tastes great when the other added spices are mild and subtle.
How to prepare saffron tea with green tea?
(This question may sound simple to many. But this may help those who wish to know the exact process.)
If you have green tea leaves, add them when boiling the water and strain before adding saffron.
Add green tea bags along the saffron strands if you use green tea bags.
Key Ingredients and their substitutions
Saffron. This is the prime ingredient and has a bitter taste. So often, it is wrapped with other ingredients to cover up its flavor.
Mint leaves. This gives a refreshing taste, making it fresh and clean. Suppose you do not have fresh mint leaves. Try adding dried mint leaves. If both are not available, you may add rosemary or lemongrass. But be aware that these are two unique ingredients with distinct flavors.
Lemon wedges. Lemon wedges or lemon slices? Both bring out different tastes. Lemon slices make the tea sour, while the wedges infuse lemon flavor into the Indian tea.
Honey. Combining honey is optional. I want saffron to get noticed in this saffron tea recipe, so I have mentioned ¼ teaspoon of honey, but adjust this according to your choice.
How to serve Saffron tea?
Saffron tea is excellent when it is warm. I prefer to have it in the evening without any meals or snacks. Saffron has a unique flavor; it is good and served this way.
Other saffron recipes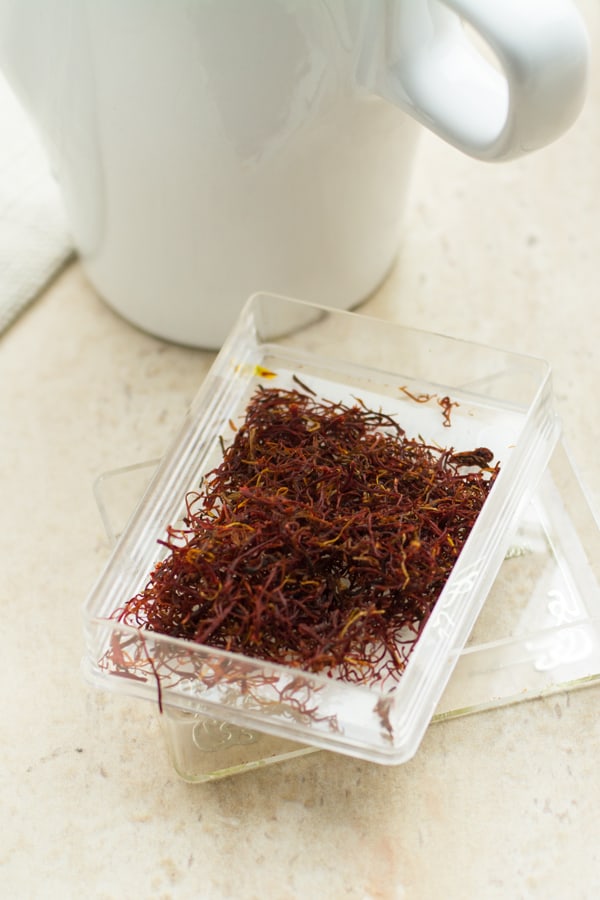 The variations for Saffron Tea
The recipe I discuss here is simple and basic(the same as this Rosehip tea).. This chai can be customized and altered to suit one's preference.
Add green tea; this gives another dimension to this beverage.
Make your regular tea and add saffron.
Add cinnamon stick while boiling water. This enhances the flavor with a hint of sweetness.
Substitute honey with maple syrup or any other sweeteners.
Have green cardamom at home? Remove the seeds and throw them in the skin alone while boiling water.
Have fresh holy basil? Add them just before serving. This ingredient makes authentic Indian chai.
How to store the leftover
This tea Tastes great when made fresh. You may prepare all the ingredients separately and add them just before serving.
It can be consumed within 2-3 hours of making when kept on the kitchen counter. This tea is made more for its medicinal value, so I would advise preparing the required amount of tea.
Other Tea recipes you may like,
Printable recipe card
saffron tea
This Saffron tea is warm and mild with the nourishing flavor, which is really refreshing. I know one would think like how could a few strands of saffron makes the tea aromatic and fresh.
Print
Pin
Rate
Ingredients
2

cups

water

6

mint leaves

1

teaspoon

honey

12

strands

saffron
Instructions
Boil. Bring water to a rolling boil. Switch of the flame.

Infuse. Add mint leaves and honey. Stir in until honey is completely dissolved in water. Then strain the liquid.

Add. Transfer to the serving cups, add one lemon wedge and 4-5 strands of saffron to each cup

Serve. Serve immediately when the tea is still hot.
Nutrition
Calories:
31
kcal
|
Carbohydrates:
7
g
|
Protein:
1
g
|
Fat:
1
g
|
Saturated Fat:
1
g
|
Sodium:
22
mg
|
Potassium:
103
mg
|
Fiber:
1
g
|
Sugar:
3
g
|
Vitamin A:
160
IU
|
Vitamin C:
5.8
mg
|
Calcium:
21
mg
|
Iron:
0.8
mg
**Disclaimer: The nutritional information provided is an approximate estimate only.
Liked this recipe? Follow us on Facebook, Pinterest, Instagram.