Treat yourself to the special jalapeno Mojito – it's hot, it's cool, and it's a fantastic combination to try out this summer.
You'll love how the jalapeno mellows down into the drink and provides a burst of flavor with the mint and the lime. Not to mention, that this jalapeno mint mojito drink is with the perfect balance of heat and sweetness(same as this Jalapeno lemonade).
Plus, this refreshing mocktail is quick and easy to make.
In just five minutes, you can put together this wonderfully delicious jalapeno mojito.
Now-what? Simple. Find a comfortable couch, sit back, relax, and enjoy sipping this sweet and spicy mocktail called the jalapeno mojito.
Furthermore, it's also perfect for parties, Cinco de Mayo celebrations, or for those who enjoy spicy food.
What is a jalapeno Mojito recipe?
'Mojito' is believed to be created first in Cuba during the late 19th century, and later spread throughout the world. Until then it's taking many transformations by brewing with different flavors and tastes.
Traditionally Cuban style mojito is made with white rum, fresh mint leaves, lime juice, sugar, and soda water.
In today's recipe we are making a non alcoholic version by combining the flavors of jalapeno.
How spicy is this drink?
Generally speaking, this drink has a medium level of heat, as the jalapeños are not completely crushed. However, heat tolerance varies from person to person.
The spiciness of the drink also depends on who we crush the jalapenos, gently tapping will release less amount of capsaicin(the oil that's responsible for the heat) and vice versa.
If you are sensitive to heat, start with a smaller quantity of jalapeño and adjust it later to match your personal heat tolerance.
In case you are thinking to add up the spice, this jalapeno syrup boosts up the flavors. It's a fiery yet delicious addition to any dish.
What is in this jalapeno Mojito?
My love for jalapenos never ends, and I try to incorporate it into most dishes(like this Chinese jalapeno chicken, jalapeno pickled eggs). And this jalapeno mojito is another trying out drink with bold jalapeno flavors to classic recipes similar to this, jalapeno popcorn, jalapeno ranch.
Jalapeno. Consider using fresh jalapeno for the robust flavor. However, if you don't have them available, use roasted jalapenos as an alternative.
If you are a beginner or have sensitive skin, wear a pair of gloves while slicing the jalapeno-to avoid skin irritations.
Lime juice. Fresh lime juice adds a refreshing taste to this spicy mojito, plus it enhances the overall taste. Freshly squeezed lime juice is always a fantastic option. Feel free to use lemon juice if you're looking for a substitute.
Sugar. Feel free to use any other sweetener you typically use in your kitchen, such as sugar, cane sugar, agave nectar, maple syrup, or any other alternative sweeteners.
Mint. It's fresh, delicious, and compliments the jalapeno and the lime juice perfectly. Just a couple of leaves are enough to enhance this jalapeno mojito's deliciousness.
Sparkling water. An excellent choice for this mojito suitable for the most in the family. And this is always my first choice when considering a drink to serve in a non alcoholic way. However, if you'd like to make an alcoholic version, use rum as the replacement.
How to make jalapeno mojito?
This is a simple and straightforward drink recipe without any fancy procedures or ingredients.
Place a tall glass on the kitchen counter. Add a couple of mint leaves, 1 or 2 thinly sliced jalapeños, lime juice, and sugar.
Using a wooden muddler, tap gently the jalapeños and mint to release their rich natural flavors.
Add ice cubes, followed by sparkling water.
Gently stir until all the ingredients are combined, making sure the sugar at the bottom mixes well with the sparkling water to create a unified drink.
Garnish with lime slices or jalapeño slices, or sprinkle some mint leaves on top by gently crushing them between your hands.
Voila, a wonderfully delicious drink is ready in a flash.
Serving suggestions
This hot and spicy, refreshing jalapeño mojito pairs perfectly with various appetizers(honey pepper wings, stuffed mini peppers).
Enjoy it alongside chips and salsa or other crunchy appetizers like this jalapeno nachos.
How about pairing with a cupcake? and this strawberry shortcake cupcakes is delicious too!!
If you're planning to serve it with a main course, consider dishes that complement the mojito's bold flavors like this,
How to store leftover jalapeño mojito
This drink tastes great when made freshly, however the leftover jalapeño mojito stays good in the refrigerator for up to two days. But make sure to remove any ice cubes, as it may dilute the flavors.
Alternatively, you can freeze the drink. Ensure that you use a freezer-safe container and store it for up to two weeks. To serve, place it in the refrigerator overnight to thaw before serving.
Variations
Make it with alcohol. If you are in a party mode, swap sparkling water with white rum.
Make it more spicy. Add a dash of red chili powder and salt for a dramatic flavor upgrade. On the other hand, rim the glass with this mixture and enjoy every sip.
Grapefruit. Replace lime juice with grapefruit juice for a tangy twist to the classic Mojito. The grapefruit pairs perfectly with the heat of the jalapeño in this jalapeno mojito.
Ginger. Add a pinch of grated ginger for an extra kick of heat and a tropical twist to the flavor.
Fruits. Fresh fruits like pineapple, mango, watermelon, add delightful fruity flavors to the jalapeno mint mojito. A great addition to your drink menu, when you're planning for a summer party.
Frequently asked questions
Can I use other herbs for this recipe?

Mint has a distinct flavor compared to other herbs like cilantro, basil, or rosemary. However, you may substitute mint with any one of these herbs. Keep in mind that while it will still be delicious, it will have a different taste from the original mint version.
Can you make a mojito ahead of time?

It's always best to serve a mojito as soon as it's made, as the freshness of the ingredients come together to provide the best results. If it's served after a while, the mint may lose its freshness and start to wilt, which may result in a less pleasing flavor.
Can I make a large batch of jalapeño mojito for a party?

I have provided the ingredient quantities for a single serving. If you're planning a party and want to make a larger batch for a crowd, simply scale up the ingredient quantities according to the number of servings you need.
What type of glass should I use to serve the jalapeño mojito?
These types of drinks are typically served in highball or Collins glasses filled with ice. Feel free to use rocks glasses or any other glassware you prefer.
Can I use other peppers?
Yes, you can substitute jalapeños with other peppers like habanero, Thai chili, serrano, and more. However, each pepper has its own heat level and flavor profile, so be aware of these differences when making substitutions.
Recommended tools for making this recipe
Measuring spoons. A good quality grip and that's magnetic too.
Cocktail kit. That includes the muddler-needed to muddle the jalapenos and mint leaves for enhancing its flavors. This kit is not needed but a good investment to have a drink at home.
Highball glass. To serve the mojito in a elegant way.
Printable recipe card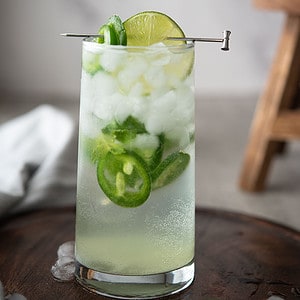 Jalapeno mojito
Savor a spicy twist on a classic with our Jalapeno Mojito recipe! Add in fresh jalapeno, mint, lime, and sparkling water for a zesty, flavorful drink.
Print
Pin
Rate
Ingredients
1-3

jalapeno slices

thinly sliced

3-5

mint leaves

3

tablespoon

lime juice

2

tablespoon

sugar

1

pinch

salt

2

cups

sparkling water
Instructions
In a glass, add thinly sliced jalapeno, mint leaves, lime juice, and sugar.

Using a muddle, crush them gently to make them leave out the natural aroma.

Now add ice cubes, followed by sparkling water.

Stir well until all the ingredients combine together.

And ENJOY immediately.
Notes
Feel free to experiment by adding cucumber, or fresh fruits like strawberry, or watermelon.
The leftover jalapeño mojito stays good in the refrigerator for up to two days.
To freeze, use a freezer-safe container and store it for up to two weeks.
To serve, place it in the refrigerator overnight to thaw before serving.
Nutrition
Calories:
106
kcal
|
Carbohydrates:
28
g
|
Protein:
0.3
g
|
Fat:
0.1
g
|
Saturated Fat:
0.01
g
|
Polyunsaturated Fat:
0.03
g
|
Sodium:
140
mg
|
Potassium:
80
mg
|
Fiber:
0.4
g
|
Sugar:
25
g
|
Vitamin A:
150
IU
|
Vitamin C:
14
mg
|
Calcium:
38
mg
|
Iron:
0.3
mg
**Disclaimer: The nutritional information provided is an approximate estimate only.