Personally, a rosemary tea recipe is an absolute must recipe in this winter season. A few sips of hot rosemary tea makes us feel relaxed and light.
This herbal tea recipe is super simple, easy and does not need any skills to master. A few years ago, my friend introduced this rosemary tea recipe for the first time, since then it becomes one of my routine activity in this kind of cold weather.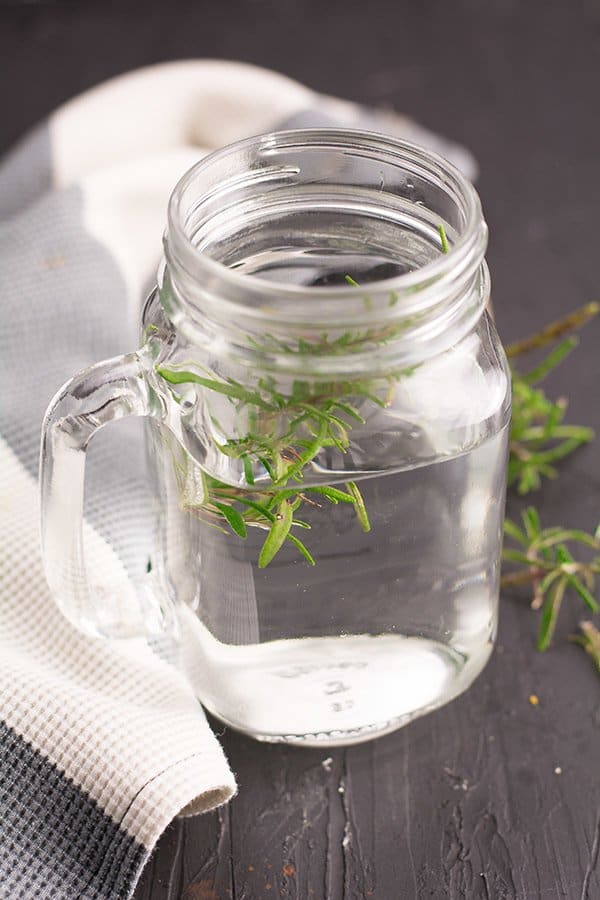 I have a pot of rosemary plant in my backyard, I used to bring them inside my home when the nights go to the freezing temperatures.
The rosemary plants are hardy and can withstand the cold weather. But, I do not want to take up any chances, moreover, I need them specifically for seasoning and make this tea during winter times.
Because of the freezing weather, I have not been stepped into my deck for a while, and most of my plants turned yellow and some shed its leaves already.
But the sage and the rosemary are still fresh and green. These two are I love the most, as they can flavor up anything from dinner to tea.
No matter what we cook, a small sprig of rosemary brings an extraordinary aroma that anyone will fall in love with.
Though it is not officially winter, here in Pennsylvania. However, we already started feeling the wintertime. Fleece pants and jackets are keeping us warm the entire day.
Additionally, the herbal tea like this rosemary tea recipe gives you extra warmth that's beyond your expectations.
The northeastern coast of the U.S is already started with the frosty temperature. The weather reports remind me of getting into my winter routine works.
Apart from pulling throws and jackets from the rear side of the closet, we made this herbal tea to welcome the winter here.
Other beverages recipe you may like
Why you should make this rosemary tea recipe
Very warm and comfortable drink.
The fresh rosemary tea has its own benefits. The Healthline, says the rosemary tea is high in antioxidants, also antimicrobial, and anti-inflammatory.
Super easy to make, ready under 10 minutes without any work.
Some say this tea is good for hair growth. But I have not observed this in my personal experience.
Its Side effects
Apart from its benefits rosemary tea recipe is also wrapped up with some side effects. Some may experience negatively when they are in medication. This So seeks your doctor's guideline regarding this tea.
I'm not a medical expert, I share this through my experience. So always consult your doctor when you are in medications.
How to prepare Rosemary tea
Making this drink is a breeze and does not involve any straining physical work. You can train your grown-up children to help you make this tea. The recipe for this easy herbal tea makes both the children and their momma happy. The children would feel achieved something better in the cooking. Alternatively, the mommy feels great for having her soothing tea from their children.
This shows how simple is the rosemary tea recipe is. We can make this recipe however we want to make. The main point is the infuse the flavors of the rosemary into the hot water. We can achieve this result in many ways.
We can prepare the tea with Stovetop, microwave method, or with the infusers. Likewise, we can use either fresh rosemary or dried rosemary. No matter what we use, it all tastes super delicious and soothing.
You may use the fresh or dried herb with the following methods.
Stovetop. Bring two cups of water to boil. Stir a small sprig of rosemary. Close the lid by allowing the water infused with the fresh herb. Strain the liquid and transfer it to serving glasses.
Microwave. Add two cups of water to the microwave-safe bowl and add the rosemary leaves. Set aside for 10 minutes until the water infused with the flavors.
Just make sure to be cautious when handling hot boiling water in the new ceramic bowls.
Infusers. You may also use tea infusers for easy usage. You dump either fresh or dried herb in the infuser place them in a cup of hot water. Wait for 10 minutes, remove the infuser.
When you want your tea to be bold with rosemary aroma, add them while boiling the water. And add it later when you keep it simple and light.
Finally, combine with honey and lemon juice. Stir well and serve.
The ingredients
Water. Boiling water is needed, you may use electric kettle, stovetop or microwave whichever is convenient.
Honey. This is optional, I would like to drink my tea without honey, but others in my family prefer with the honey. So adding honey depends on an individual's preference.
Lemon. Lemon juice compliments the taste of the honey and gives a refreshing flavor and taste.
Alternatively, you may use natural sugar like agave nectar or maple syrup.
The variations for rosemary tea recipe
This tea with rosemary flavors is basic and has lots of choices for improving and enhancing. Keep experimenting with the different ingredients until you find your soul hearted.
Ginger. A good addition to brightens up the aroma that spreads to the entire room.
Lime. Swap lime juice for the lemon juice. Both have a unique distinct aroma and choose your favorite.
Basil. Want to have a bold beverage? add few leaves of basil, this mixture of flavors is amusing.
Mint. Another choice that combines well in this delicious tea. Basil and mint leaves have bold flavors than the rosemary. So when you are opting for these combinations, always go with half the quantity of rosemary. This avoids any overpowering of flavors.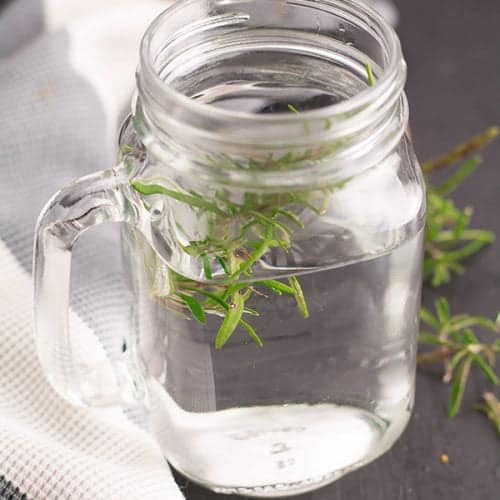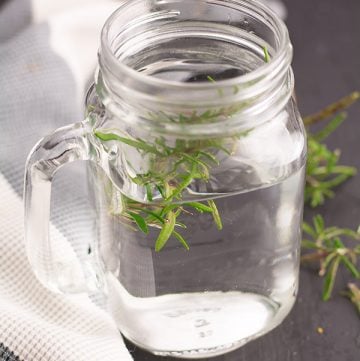 Rosemary tea recipe
Rosemary tea recipe-absolute herbal tea, must recipe in this winter season. A few sips of hot rosemary tea makes us feel relaxed and light.
Print
Pin
Rate
Ingredients
2

sprig

rosemary leaves

2

cups

water
Instructions
Bring water to boil. Switch off the heat.

Add a sprig of rosemary and close it with a lid.

Allow the water to get infused with this herb.
Notes
You may also use dried rosemary herbs as well.
Nutrition
Calories:
1
kcal
|
Carbohydrates:
1
g
|
Protein:
1
g
|
Fat:
1
g
|
Saturated Fat:
1
g
|
Sodium:
13
mg
|
Calcium:
8
mg