Looking to spice up your drinks, or looking for a pepper flavored syrup. You are right in the place. Here, learn how to make easy jalapeno simple syrup to make your cocktails, margaritas flavorsome with a spice kick-effortlessly and quickly.
Make this syrup whether it is mild, hot, or medium in less than 15 minutes. Made with jalapeno peppers.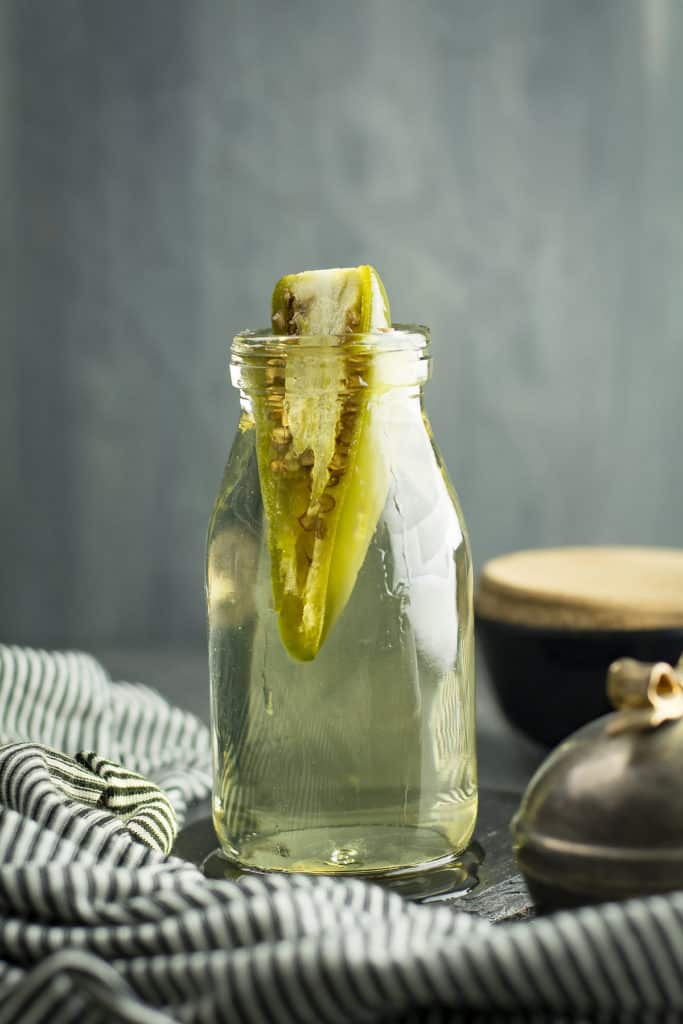 Jump to:
About this recipe
This spicy simple syrup is a quick step to give a facelift your drink, give a sweet and hint of spice kick to drinks including the simple lemonade. The recipe is such a simple one that you have never thought of.
Furthermore, it tastes sweet and hot with bright flavors of jalapeno still mild and comforting. This would definitely steal the show when served it a party.
Once you try this customized spicy syrup, I'm sure you will never return back to buy the readymade ones.
Ingredients
Jalapeno peppers. Jalapeno is available round the year in the stores. However, you may use frozen, roasted jalapeno if you have. But I would suggest to not to use the pickled jalapeno as it gives a distinct bold pickle flavor.
Sugar. Use, cane, raw sugar, light, dark brown sugar for a hot spicy version. White, granulated sugar for a mild version.
The idea behind using different sugar is to match the flavors of jalapeno. When you making a spicy version, cane or raw sugar makes the flavors and the taste wholesome. When making it mild, use granulated sugar because of its neutral flavor and taste, it will not contradict the flavors of jalapeno.
Water. The water and the sugar are in equal proportion, say 1:1.
How to make Jalapeno simple syrup?
Prepping. Cut the jalapeno into half. Deseed them for mild, leave the seeds on for hot syrup. Alternatively, leave the seeds on for the couple for the medium spice.
I cored and deseeded 3 halves and left one with seeds on. The syrup was mild to medium for me.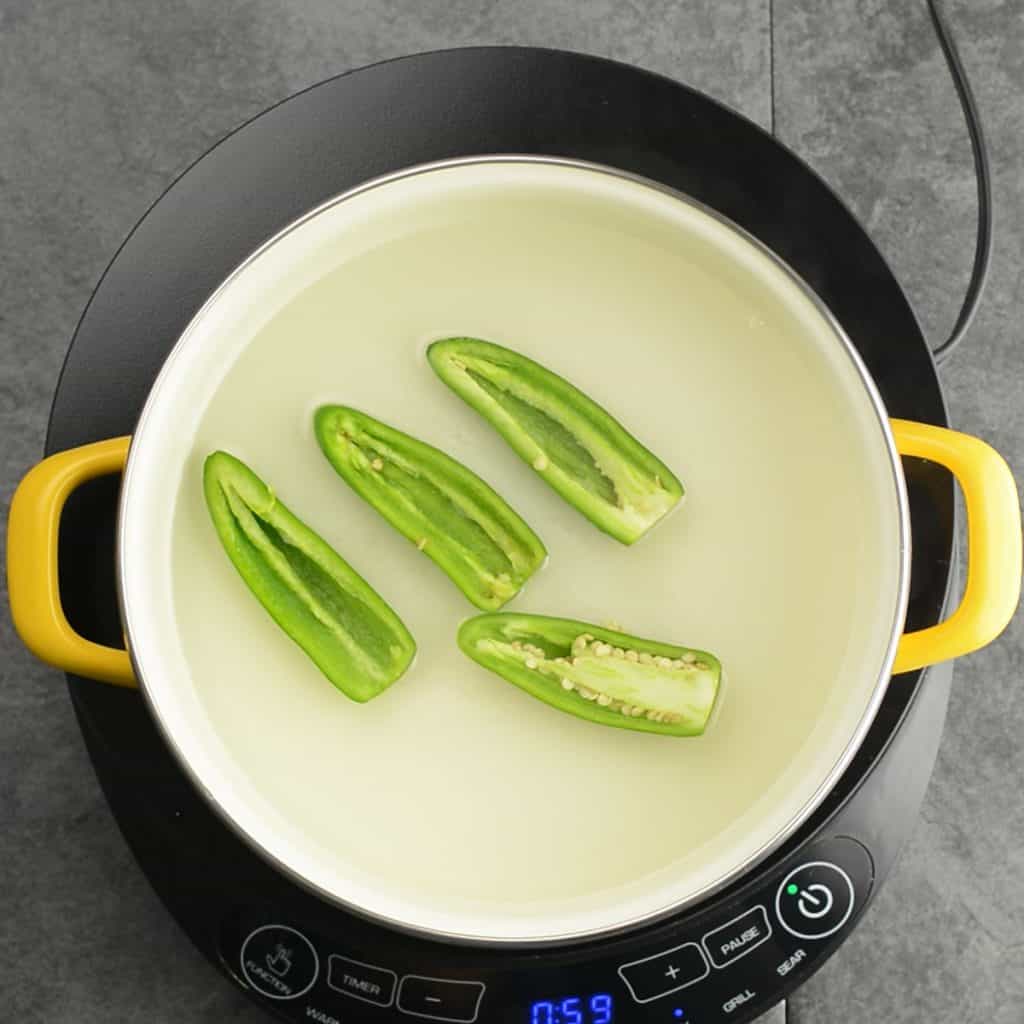 Stir. Over medium heat, place a saucepan. And add water and sugar. Stir continuously until sugar dissolves. Stirring till the sugar is dissolved is a must because the sugar may get burned and turns the color and the taste of the syrup.
Cook. Add jalapeno and reduce the heat to low and cook for 10 minutes. 10 minutes of low heat cooking is good for the simple syrup.
Cool. Remove it from the heat and allow it to bring down to room temperature.
Strain. Place a strainer over another bowl, and pour the syrup. Save the jalapeno to use in other recipes(few ideas of using it are below).
Transfer. Transfer to a bottle with a narrow mouth. And refrigerate.
How to adjust the spice level?
I know every one's view of the spice level is different. Some may find it super hot whereas others find it as mild. And it varies in every household.
The seeds of the jalapeno are the deciding factor of the heat in the syrup. And the jalapenos skin is responsible for its rich flavor. So, if you are concerned about the heat,
Before making. Deseed the jalapeno completely while adding to the syrup for the mild heat and vice versa.
After making. If you find the syrup is too hot to handle, no worries, make another batch of simple syrup-this time without jalapeno. Then combine them for the less heat.
Wear gloves. If you are a beginner, use kitchen gloves while cutting and deseeds. And some may sensitive towards the heat it brings on.
Serving ideas
Cocktails. If you are looking for an awesome transformation to your regular drinks like a nonalcoholic mojito, this jalapeno simple syrup is would be an interesting add on.
Party. Simply stir this and spice up your cocktails or mocktails. I would say it is the best way to entertain the guest at a party with their fiery cocktails.
Pancakes. Drizzle in over the pancakes, and give a jalapeno twist to your weekend breakfast. I served with the coffee pancake today, the combo was delicious.
Fruit Salad. Toss the tropical fruits and give the fruit salad deliciously unique.
Tea. Great addition while making flavored tea. But proceed with caution, use a little when using for tea, as the flavor of a jalapeno may be overwhelming in the tea.
Toppings. The saved candied jalapeno slices can be served as a topping or garnishing the drinks.
Salads. Chop the sweet candied jalapeno and toss it to the salad. It merges well with any salad, besides it provides a sweet and spice kick.
How to store
Always choose a bottle to store this hot pepper syrup, as it is convenient to pour or drizzle. It also indirectly increases the shelf life.
Once the syrup reaches the room temperature, store it in the refrigerator. It stays good for a month.
On a side note, always label the simple jalapeno syrup to avoid any misusages.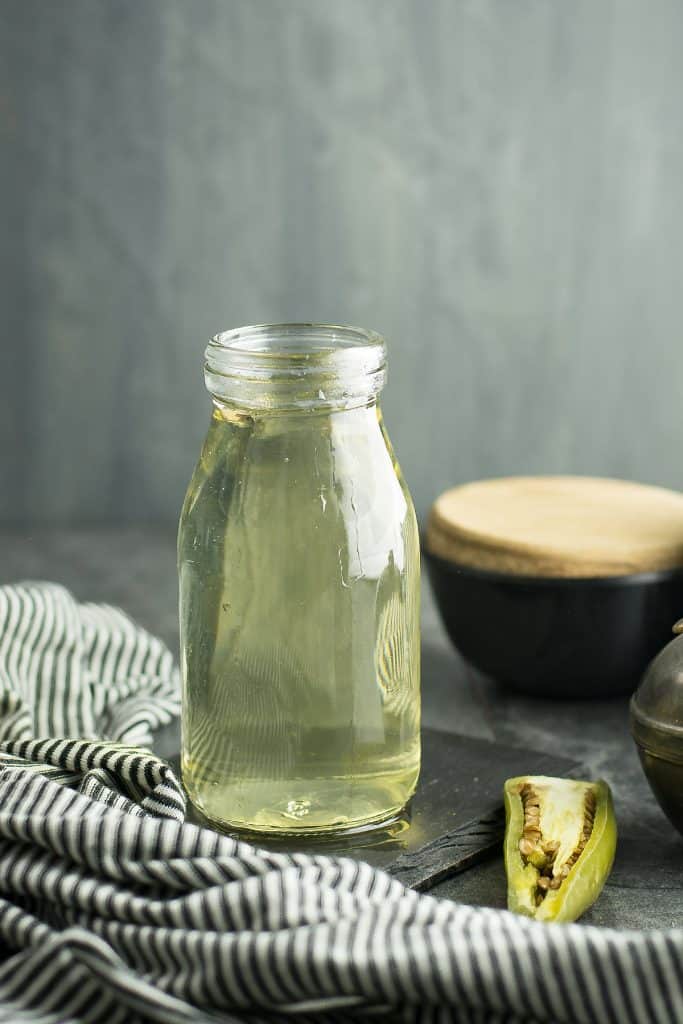 Variations
Make your custom flavored simple syrup by infusing with other ingredients that complement the flavor of jalapeno simple syrup.
Strawberry. Add ½ medium-sized strawberry when you are adding two jalapenos. As the strawberry's strong flavor can be overtaken by the jalapeno's original flavor.
Blueberry. It is also a good addition, which gives a beautiful color to the syrup.
Lemon zest. It also gels well with the jalapeno, but useless quantity as over main focus is to make chili pepper syrup.
Other types of pepper. You may use the same recipe to try out with your favorite peppers.
Other similar jalapeno recipe
FAQ
Why isn't confectioner's sugar suitable for making simple syrup?
I would not suggest using the confectioner's sugar for this recipe, as it has corn starch. And the result, we will end up in making an unwanted jalapeno simple syrup.

Cane sugar, raw sugar, brown sugar, even granulated white sugar works fabulously in this recipe.
Can I replace sugar with honey?
If you thinking to make with natural sugar like honey, you do need to boil as boiling may kill some goodness of honey.

For this, cook jalapeno accordingly as per this recipe but just with water alone. Allow it to cool, then combine jalapeno-infused water with honey and store.
Does this syrup go bad?
Yes, it does, like any other food this, if not stored properly. It stays with rich flavors for two days when kept in the room temperature and for a month when kept in the refrigerator. Later it slowly loses its flavor and becomes stale.
Printable recipe card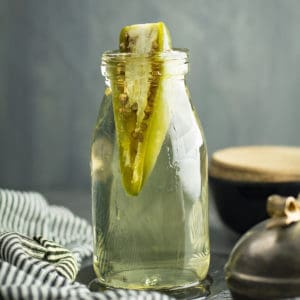 Jalapeno simple syrup
Learn how to make this jalapeno simple syrup to make your cocktails, margaritas flavorsome with a spice kick-effortlessly and quickly.
Print
Pin
Rate
Ingredients
1

cup

sugar

1

cup

water

2

jalapeno

cored and deseeded
Instructions
Over medium heat, place a saucepan. Add in water, and sugar.

Bring it to boil and stir until sugar dissolves. This would normally take 2-4 minutes depends on the type of sugar we use.

Slit jalapeno, remove the seeds and the pith according to the heat you prefer.

Add it to the boiling water.

Reduce the heat to low and cover with a lid. Cook for 10 minutes.

Leave it in the kitchen counter and bring it down to room temperature.

Place a bottle and a strainer over it. Pour the sugar syrup and strain. Reserve the jalapeno for garnishing or for other recipes.

Store the jalapeno simple syrup in the refrigerator for a month.
Notes
Wear gloves as handling jalapeno may bring the burning sensation to the hands for someone.
You may also add jalapenos as a whole for the mild flavor and mild heat.
Nutrition
Calories:
782
kcal
|
Carbohydrates:
202
g
|
Protein:
1
g
|
Fat:
1
g
|
Saturated Fat:
1
g
|
Sodium:
15
mg
|
Potassium:
69
mg
|
Fiber:
1
g
|
Sugar:
201
g
|
Vitamin A:
302
IU
|
Vitamin C:
33
mg