Indian ginger tea is one of the few recipes that I tried making in the kitchen. It is not only me, but almost many of the Indian children also start learning cooking by making tea. Ginger tea is considered as the basics of cooking.
This spiced Indian milk tea is rich, creamy with the hint of Ginger. Makes it 'spicy,' which does not mean it is 'heat' as in 'hot.'
The tea is spicy, that hits your throat and not your tongue, which is good to have at the time of cold and cough. The prime ingredients of this tea are milk, tea leaves, and Ginger.
The experience of sipping ginger milk tea on the rainy days and cold climate is ultimate. I hope everyone would love the taste, irrespective of the region. The tea tastes warm and cozy that soothes your throat for every sip.
You can follow your method of making. You can make this fresh ginger tea in the stovetop or the microwave. Are you planning for Indian style party? This recipe can entertain a large crowd.
Use a large pot to make and store and can be reheated quickly on the stovetop just before serving. Both your guest and you will not be disappointed by this drink.
Some of you wonder about how ginger and the tea combo will turn out. This Indian ginger tea tastes excellent with the addition of Ginger.
The milk mellows downs the strong ginger flavor and makes it drool-worthy. The recipe I shared here is easy and straightforward to understand that would be convenient for those who are preparing for the first time.
I do find the Indian restaurants here in the United States have ginger tea as the beverage in the buffet menu. Many of my friends said they liked it and asked for the easy ginger tea so that they make at their home.
So this recipe is for the people like my friends and hopes this post would be helpful for them.
Ginger tea recipe pairing ideas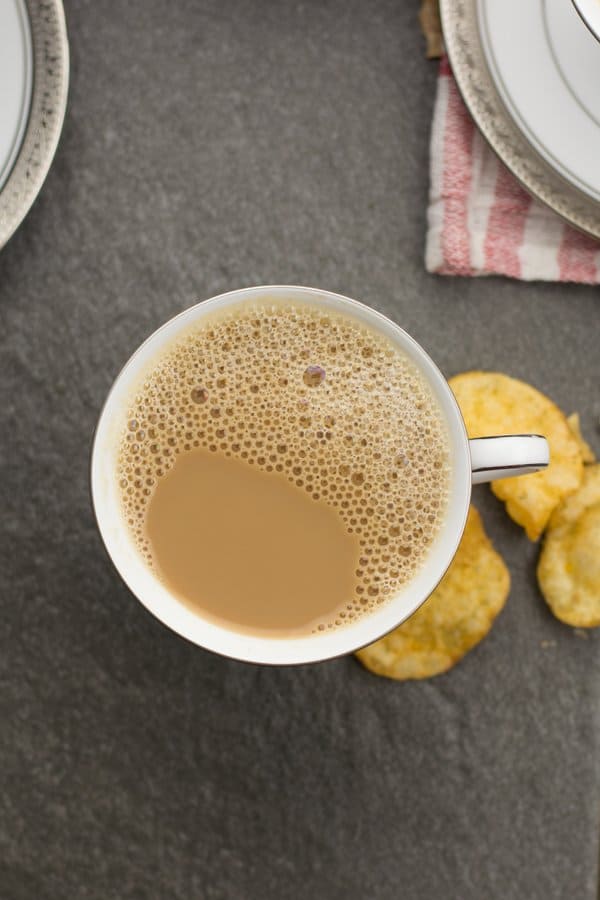 How to make ginger tea with milk
Ginger. Always fresh ginger is preferred for this Indian ginger tea. Now the leading grocery stores do carry this root in the United States. So locating them would not be a problem. Here I want to mention that ground ginger cannot work as a substitute for fresh Ginger, as they differ in taste and aroma.
Ginger has to be gently crushed, the point is to infuse the tea with the ginger flavor. If it is too much done, it could spoil the taste of the tea.
Tea Leaves. You may choose your favorite brand, tea leaves, or tea bags. Making chai with tea leaves is makes ginger chai tastes original. The flavor of tea made with tea leaves is intense than the tea bags. So, choose the type according to your choice.
Not a tea fan? Substitute with green tea. This version is very mild and healthy, as well.
Allowing the tea leaves to boiling in water will extract the flavor and the goodness of the tea. If you are using the tea bags, you can skip this step and add the tea bag to hot water.
Sugar. The regular sugar you use would be perfect. Use natural sugar or the other sugar alternatives to enhance the tea.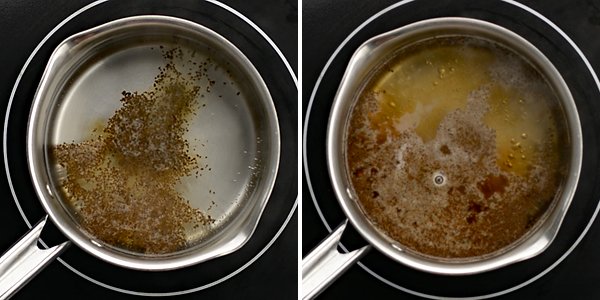 Milk. The milk you regularly use in your kitchen would work fine. There is no discrimination here, and it can be whole milk, 2% or low-fat milk. You can also swap with coconut milk, almond milk, soy milk for the vegan version. And these substitutions taste incredible as well.
Indian Ginger Tea-an Intro
Tea is one of the staple drinks throughout India and is culturally blended. Most of the Indians start the day with a chai.
Indian tea is usually made with milk and dried tea leaves. furthermore, tea made with exotic spices is also popular in all the regions. Likewise, the drink made with Ginger is famous and made when bored with the regular tea or whenever the tastebuds long for exotic refreshments.
In India, people call this drink as 'Adrak chai,' as Ginger is called as 'adrak' and tea as 'chai' in Hindi. Sometimes also known as 'adrak wali chai' in Northern India. And 'Inji tea' in Tamil, where 'inji' means Ginger (these sounds similar right!).
I heard some people call this a Ginger chai tea, I would say, naming them as ginger chai or adrak tea would be perfect as the words 'chai' and 'tea' means the same.
The variations ginger tea with milk
Like many of the recipes here in Pepperbowl, this Adrak Chai also customized and altered to choose an individual preference.
The first and best variation that came to my mind when I write this Indian ginger tea post-is adding cardamom. This addition is the most exciting variation I love making for my family.
Add in spices like a small piece of cinnamon, which people love for sure.
Try adding dry ground ginger. Dried Ginger and fresh ginger vary in the taste and flavor a lot. A pinch would be sufficient for a cup of tea.
Add a mint leaf at the last and strain. Which gives a refreshing feeling that makes you active for the rest of the day.
Skip adding milk, and make a spiced black tea.
Try substituting milk with coconut milk, almond milk, or soy milk.
Is masala tea and Indian ginger tea are the same?
No, the masala tea is made with various spices, where Ginger is the only spice used to make this flavored Indian chai recipe. Both tastes extremely different, the aroma of the masala tea would be intense than this recipe.
What is the best time to have Indian ginger tea?
There is no rule to adhere to, but in general, ginger tea is best to have in the evening time. Rainy days and winter days are the most preferred time for my family.
Other drinks to try,
Printable recipe card
Indian Ginger Tea
Indian ginger tea is one of the recipes that I tried making as a child. Most Indian children learn cooking by making this delicious, flavourful tea.
Print
Pin
Rate
Ingredients
½

inch

fresh ginger

2

cups

water

2

tablespoon

tea leaves

/tea bags

2

teaspoon

sugar

or as required
Instructions
Peel off the ginger skin. And gently crush the Ginger with the back of the spoon or with the flat surface of the knife. And set aside.

Bring water to a rolling boil.

Add tea leaves and allow it to cook for 2-3 minutes in medium flame.

Add milk and sugar. Bring it to boil.
Video
Nutrition
Calories:
18
kcal
|
Carbohydrates:
5
g
|
Protein:
1
g
|
Fat:
1
g
|
Saturated Fat:
1
g
|
Sodium:
13
mg
|
Sugar:
4
g
|
Calcium:
8
mg