Avocado bubble tea is a rich, creamy, delicious drink perfect for breakfast or a mid-day snack. This is skinny and a modern twist to the classic Tea. This filly and delicious makes you not feel hungry for the first couple of hours.
Stop spending your precious money and time waiting in long lines to order boba tea in the food court Mall. Why wait so long when you can make it at home effortlessly?
Just think about it: this Avocado bubble tea recipe could help as this is a foolproof homemade version of your favorite takeout.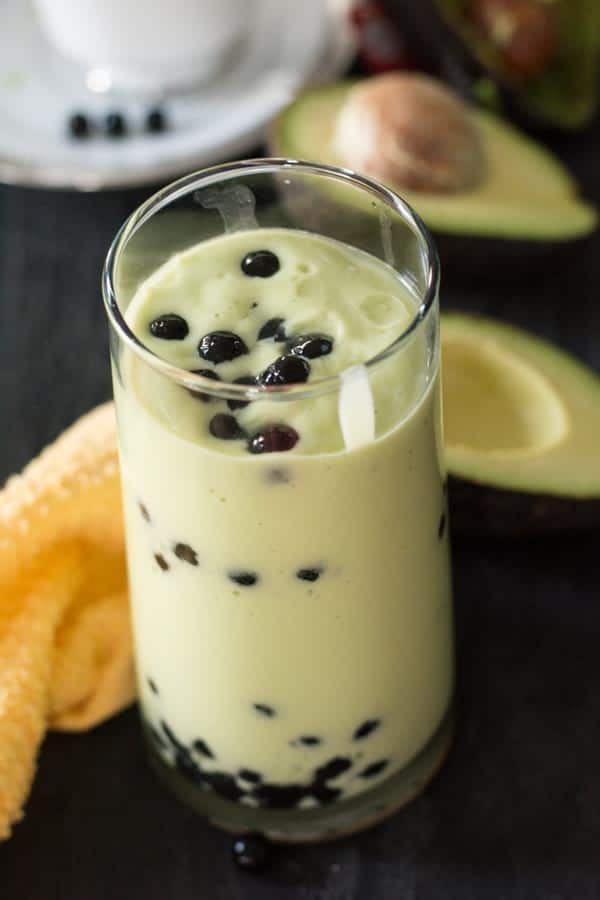 This is the follow-up recipe of my earlier Mango Boba smoothie with mango after it was most sought after on Pinterest. If you love this Berry smoothie bowl or this Mango pineapple smoothie, you also admire this avocado boba tea.
If you are a tea lover like my husband- you will enjoy this tropical style to your classic avocado smoothie. To put it all together, this avocado bubble tea is simple, easy to make, and tastes impressive where boba, like a jelly, glides in your mouth.
This avocado boba tea is made with avocado, milk, and condensed milk. I can hear you saying except for the one central ingredient; others are natural pantry available ingredients.
If you are a hardcore classic tea lover, substitute milk with your favorite green tea. And we love this variation as well. The condensed milk makes the tea taste creamy and fresh.
This avocado boba tea falls between a smoothie like this Strawberry Pineapple Smoothie and the tea category. I trust this will satisfy both the Smoothie and the tea lovers.
This avocado bubble tea naturally falls under vegan and vegetarian.
What is boba or bubble?
Boba is a tapioca pearl which is used to make the drink. In the United States, recently, this is gaining its popularity. Nowadays, it is not only limited to Thai restaurants but also widely available in other food junctions.
It is small in a spherical shape and has a texture like jelly, which is a great addition and a pleasing WOW factor to the juices and smoothies.
Many do not know what boba or bubble tea is. But those who are regular visitors to Asian restaurants, probably don't need this introduction. You may skip reading the next paragraph.
The boba tapioca pearls have a subtle flavor and combine well with their co-ingredients. It does not dominate the original aspect of the avocado and the milk. Hence, this tea tastes pure by retaining the natural flavor of avocado. Boba is the surprise factor that gently glides into the throat, which is exciting for every sip.
Where to get it?
Tapioca pearls are hard to find in regular American grocery stores. But you may get it in Asian stores like H Mart, or other local Asian stores.
Many of you asked for substitutes for this Boba to make avocado bubble tea. The closest alternative I found is Indian Sabudhana, which is smaller, lightweight, and transparent when cooked.
Boba is delicate to use and has to be consumed within 3-4 hours after cooking. And this is what the packaging information says. So, get everything ready if you plan to make this for breakfast.
Here is a caution notice if you are serving this tea for young children, as there are possibilities of getting choked. I'm not scaring you but I am letting you know the fact.
The processes
The process of making Boba avocado tea is straightforward, even for beginners. I know the people are growing along with knowledge of making tea and smoothies. I know these are the first two dishes we all made in the kitchen as a beginner.
The key ingredients of Avocado bubble tea
Avocados. Fully ripened avocados are great for making this tea as the texture will be smooth and silky, which perfectly matches the taste of the Boba to make tasty avocado bubble tea. Haze avocados work better because of their soft texture and bright color.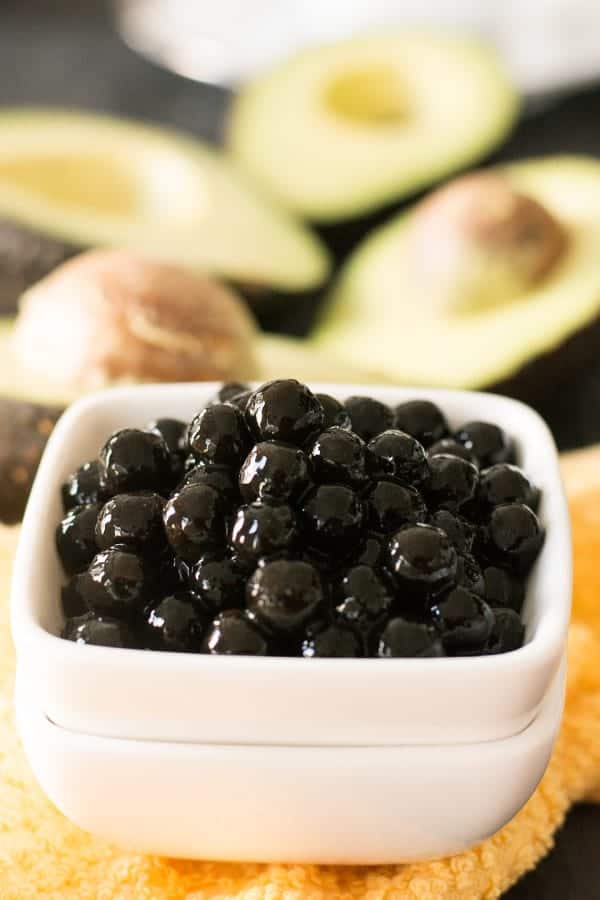 Boba. As we have already discussed, these are available in any Asian markets in the United States. And when talking about substitutes, the Indian Sabudana is the closest that I find.
Boba is available in different sizes and two colors. Black and white. When cooked, the large varieties would turn to the size of small marbles. The large black size is what you get in takeouts and restaurants. And you may choose the size depending on your preference to make avocado bubble tea.
Condensed milk. The condensed milk's flavor and color work great for the avocado boba tea. You may substitute this with green tea.
Or you may substitute with evaporated milk and add sugar to your choice.
Milk. Opt for whole or plant-based milk, like almond, soy, or cashew milk.
How to make avocado bubble tea
Cook Boba. Cooking Boba is like preparing pasta. Bring two cups of water to a rolling boil, then add a handful of tapioca balls. Cover it with a lid and cook it for 10 minutes or per the package directions. Once it is completely done, strain it. Soak it in a tablespoon of honey and set aside.
Make Puree. In that blender jar, scoop avocado flesh, condensed milk, and ice cubes. And then, pulse the blender until it becomes smooth and creamy in texture.
Serving. In the serving glass, Layer the tapioca bubbles and the puree alternatively.
Add 3 tablespoons of Boba, then fill half the glass with the avocado smoothie. Then add 3 tablespoons of boba and fill the glass with the smoothie. End with a tablespoon of boba at the top.
I made the avocado tea denser if you prefer a thin tea to add more milk. Layering is unnecessary if the drink is lighter, as the tapioca pearls settle down in the bottom.
The Leftovers and make-ahead preparations
The preparation time of avocado bubble tea is minimal and effortless compared to the taste and texture of the tea. If you want to reduce the preparation time, make the green tea in advance.
Avocado tends to change its color within a couple of hours after it is cut open. So I advise you to consume this rich bubble tea within an hour.
After reading the secrets and tips of this recipe, I know most of you may stop buying from these take-outs and start making your own cheaper and a lot tastier.
Possible variations for avocado bubble tea
The variations are limitless. You may add other fruits like mango banana, which has a smooth, creamy texture like avocado. These type of fleshy fruits significantly blends with the tea. And you may also make the color variations with strawberries or blueberries.
To make this special, add any one or combination of the following these. Crushed mint leaves, basil leaves, cilantro, or lemon juice.
Instead of adding condensed milk, you may add a quarter teaspoon of salt which is also a great alternative to the regular sweet tea. For someone, it may sound weird, but I prefer at times when the day is warm and bright.
More nonalcoholic drinks
Printable recipe card
Avocado bubble tea
Avocado bubble tea is a rich, creamy, delicious drink perfect for breakfast or a mid-day snack. This is a filly and delicious that make you not feel hunger for the first couple of hours.
Print
Pin
Rate
Ingredients
¼

cup

tapioca pearl

/boba

2

tablespoon

honey

to soak the tapiaco pearls

2

avocado

soft and ripen

1

cup

milk

in room temperature

⅔

cup

condensed milk

/substitute with 4 tablespoon of sugar

½

cup

ice cubes
Instructions
Cook tapioca pearl according to the package instructions.

Combine gently until the pearls are completely covered with honey. And Keep aside.

In the blender, add avocado, milk, condensed milk, and ice cubes.

Pulse until the mixture becomes smooth and silky.

In the serving glass, add a tablespoon of tapioca pearls at the bottom.

Then add avocado mixture and the pearl alternatively for one or two times.
Notes
You may use honey or sugar syrup to soak the cooked tapioca pearls.
You may add more ice cubes if needed.
Instead of condensed milk, opt for sugar or other sugar alternatives.
Add in plant-based milk like almond milk, soy milk or coconut milk for a creamy tea.
Do not look for denser tea? then dilute the mixture with ice cold water or vegan milk like the above.
Nutrition
Calories:
855
kcal
|
Carbohydrates:
113
g
|
Protein:
16
g
|
Fat:
42
g
|
Saturated Fat:
12
g
|
Cholesterol:
47
mg
|
Sodium:
200
mg
|
Potassium:
1514
mg
|
Fiber:
14
g
|
Sugar:
81
g
|
Vitamin A:
763
IU
|
Vitamin C:
23
mg
|
Calcium:
452
mg
|
Iron:
2
mg
**Disclaimer: The nutritional information provided is an approximate estimate only.
Do not miss the latest recipes and tips; follow us on Facebook, Pinterest, Instagram.