Best mango juice recipe homemade with fresh, locally available fruits. Best to be served at any time during the day, including breakfast. Moreover, the customization options are limitless.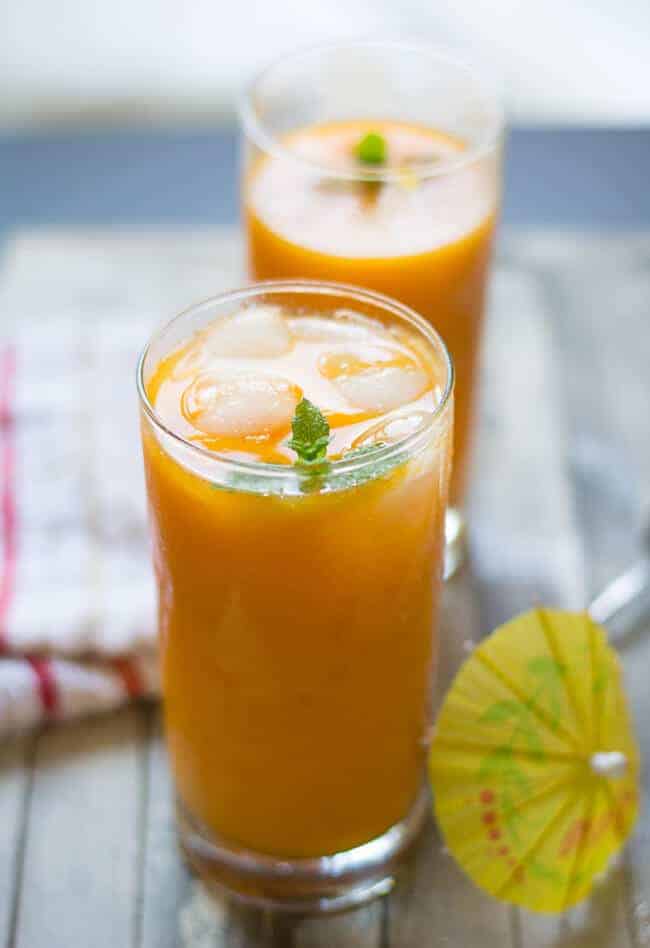 This mango juice recipe discusses tips and secrets for making good fresh juice. Moreover, we also talk about variation option ideas, the benefits of mango, and a few FAQs about this recipe. Hope you find it useful.
I know these vibrant fruits are meant for brightness and bring big smiles to our faces.
And now we have reached a stage where it is officially summer here. Mangoes are available abundant in this period. And I always prefer to eat them raw.
This brings sunshine, or sunshine brings Mangoes? I do not know the answer to this question. But all I knew was how to eat or enjoy it.
Everyone has their style of eating this fruit, like drinking the best mango juice. but I love slicing it into three sections, leaving the pit as the middle section.
I take a spoon and scoop out the flesh like ice cream. Yum, this method does taste great if the skin of the mangoes is firm.
What if the skin of the mango is not firm? no issues; squeeze them for this mango juice recipe. This drink is energetic and healthy, right made in your home, and not from concentrate.
Making a homemade mango juice recipe is not a difficult task. all that you need is fresh mangoes and a little bit of patience. And this task is much easier when the mangoes are ripe and pulpy.
If the mangoes are soft and tender, gently press them in your palm with the skin on. Subsequently, you can cut open the skin and pour it into glasses.
This is a simple trick for making a mango juice recipe for this healthy drink without using any blender or juicer.
This mango juice drink has only essential requirements without using a blender or juicer. That is, the mango should be pulpy and tender when touched.
FAQs about the Mango Juice recipe:
Can I add milk to mango juice? If you want to add vegan milk like almond milk or soy milk to the mango juice recipe.
Can mango juice be frozen? You can freeze the mango pulp, which stays suitable for about a month. But I never tried to freeze as it would vanish within a day. This mango juice recipe is to be consumed on the same day.
Can you juice the mango skin? This is a question I got from some of the readers. And my answer would be "No." I usually would not strain the mango juice. And I love to have all those fibers while sipping through.
But when we juice the mangoes with the skin on, it affects the texture, and you need to strain it before using. I generally juice this fruit and discard its skin.
How to make mango juice without a juicer? As discussed earlier, you can make the mango juice without the juicer if the mangoes are ripe and pulpy. If the mango flesh is very tender and soft to the touch, then you don't need any blender to make juice from the fruit.
Choose the mangoes that ripen and are softer when touched. Gently roll the fruit in between the palms by applying slight pressure. Then, cut open the mango and pour the pulp into the serving glass. Add water, sugar, and an ice cube, and enjoy the freshly squeezed healthy beverage. Avoid sugar if it is not necessary.
What if the mangoes are firm? Roll them into a paper bag, leave them on the counter for 2-3 days, and use them. You can also scoop the flesh and mash it up using a fork. It is ok to leave a few chunks as they would turn into surprise elements while sipping. Follow this mango juice recipe once the mangoes ripen enough to make the juice.
And in the winter, if I don't get fresh mangoes, another option is always available. Get a tin of mango pulp from your stores, and ensure it is "100% mango pulp".
Can I make a cocktail with mango juice? Of course, this is the basic recipe and suitable for making mango juice cocktails. Fresh juice tastes excellent for cocktails.
To your drink, add this along with mint leaves. Enjoy this delectable drink for dinner, and make your guests also feel happy.
Can I juice without sugar? Most of the time, the mangoes are sweet enough to require no extra sugar. But you may add sugar to the desired level according to the mangoes' taste. You may also use natural sweeteners like honey, agave nectar, etc.
I do not prefer adding sugar; my glass will have thicker pulp and less water. Without adding artificial sugar, I can still enjoy this tasty drink.
The mango juice recipe has a few variations: Combine orange, pineapple, or apple juice. Anyone or all of them. And drinking fresh juice is essential here, not the number of fruits added. So add any fresh juice to make it super flavor.
Looking for more Mango Recipes?
Want to make a mango juice recipe to be more party-friendly?
Add a couple of mint leaves. Gently crush them between the fingers before adding to the drink. The slight flavor of mint makes the juice great.
Fresh Basil leaves are also a tremendous complimenting ingredient.
Add some vegan milk to make a mango milkshake.
Adding yogurt to the fresh juice to make Mango Lassi.
Chop mangoes into small pieces without the skin and add that to the pitcher.
You may add a teaspoon of chopped ginger to give a little zing.
Thus, you understand how the preparation of mango juice is straightforward for the party.
Fresh juice is always better than store-bought bottled juices. So try making this pure mango juice recipe as often as possible at home.
And it is not a challenging task as you thought. Consuming them raw is more beneficial than drinking them in juice. So make your decisions wisely according to what suits you.
Many mango varieties are available in the market, and they all taste great for making this mango juice recipe.
Printable recipe card
Mango Juice recipe
Best Mango Juice recipe ever! A delicious homemade drink made with fresh mango pulp. Enjoy this quick and refreshing drink in this summer!!!
Print
Pin
Rate
Ingredients
6

mango

¼

cup

sugar

or as required

2

cups

ice cubes

2

cups

water

or according to thickness you prefer
Instructions
Wash and clean the mangoes.

slice them into three leaving pit in the middle.

Scoop out the flesh.

Add the flesh, sugar and water in the blender.

Blend them until it forms smooth pulp.

Strain it to filter fibers and small chunks.

Add required water, ice cubes, and sugar and combine.

Serve chilled in tall glasses.
Nutrition
Calories:
196
kcal
|
Carbohydrates:
49
g
|
Protein:
2
g
|
Sodium:
2
mg
|
Potassium:
415
mg
|
Fiber:
3
g
|
Sugar:
46
g
|
Vitamin A:
2680
IU
|
Vitamin C:
90.1
mg
|
Calcium:
27
mg
|
Iron:
0.4
mg
**Disclaimer: The nutritional information provided is an approximate estimate only.
Do not miss the latest recipes and tips, Follow us on Facebook, Pinterest, Instagram.