Recently, I took the challenge of making low-fat side dish recipes. However, I was skeptical about the results until I made this cucumber mango salad. It is healthy, fresh, skinny, nutrients nutrient-packed, and it is an easy and simple recipe that everyone can make.
This is a sweet alert if you have never tried a salad with ripened mangoes. It is rich and with a delicious combination of textures.
The soft texture of mango and the crunchy cucumbers are a pleasing contrast. You will fall in love with the cucumber mango salad.
This mango fruit salad is a part of my target to make a dish as simple as possible. But the variation and the choices for making this salad are extraordinary and platable for a crowd.
So take a break from regular cucumber relish and make this spicy salad instead.
I kept the ingredients as minimal as possible; my initial target was to make just three ingredients. But I wrapped it up with about 5 ingredients, including the salt.
Alternatively, we can add complementary ingredients that accentuate the cucumber mango salad's taste and texture. Now what? Keep thinking about your favorite elements to add to this spicy salad until we reach the end of this post.
Idea-think about your favorite lean protein to add to the salad. It can be shrimp, chickpeas, lentils, black beans, or chicken. Want to add more flavors? Drizzle in balsamic vinegar.
I find olive oil and a small addition of fresh herbs make this spicy mango salad remarkable.
Don't worry much about the serving; we can dig in as a midday snack or a side dish. This cucumber mango salad is a classic match for any main course. We can name it from seafood, meat, or rice.
Do not restrict yourself and enjoy the salad however you can. And the mango fruit salad has all the potential to keep you smiling and refreshed.
Other mango recipes
If you are looking for other mango dishes, the following would help.
Why cucumber mango salad?
It officially falls here in Pennsylvania, and the summer fruits and vegetables started disappearing from the stores. So, try this combination before the mango season ends.
It is delicious and looks very pleasing.
Great for the crowd or potlucks.
Mango cucumber salad ideas
Lean protein. Add lean protein with white meat like chicken breast, skinless chicken, turkey, seafood, and ground beef. The seafood, shrimp, and crab meat are also the best choices.
Vegan protein. If you are thinking of making a vegan dinner, try a mango salad recipe with vegan protein-like, beans and lentils, tofu, nuts, and seeds. Black beans and chickpeas are winning combinations for the salad.
Other tropical elements. Pineapple, kale, edamame, broccoli, lettuce, orange, papaya, and green mango are the interesting options for the cucumber mango salad that we should attempt.
Healthy fat. Feta cheese and paneer(cottage cheese) are some add-on options.
the dressing.
For a crowd. Marinate the meat with the spicy mango sauce and prepare the grill. Combine the grilled meat and this spicy mango salad. Voila, a filling, pleasing salad, is ready for a crowd.
Thai-style salad. Convert this to Thai mango salad. Add soy sauce, rice vinegar, roasted peanuts, and fresh ginger slices. Your guests are going to love this variation.
How to choose the mango?
The mango should be neither too soft nor too hard. It has to be precisely correct in between for the mango cucumber salad. Too soft mango is ripened and has a more sweet taste, which contradicts the cucumber taste.
The mango should be tender to touch, and if the skin of the mango crinkles when touched. Then it is too ripened for the cucumber mango salad cucumber mango salad. As it becomes more watery when mixed with cucumber.
The above are just the suggestions and there are no strict rules. Feel free to adjust with the compensating flavors and texture. If the mango is sweet, adjust the taste with the lemon juice.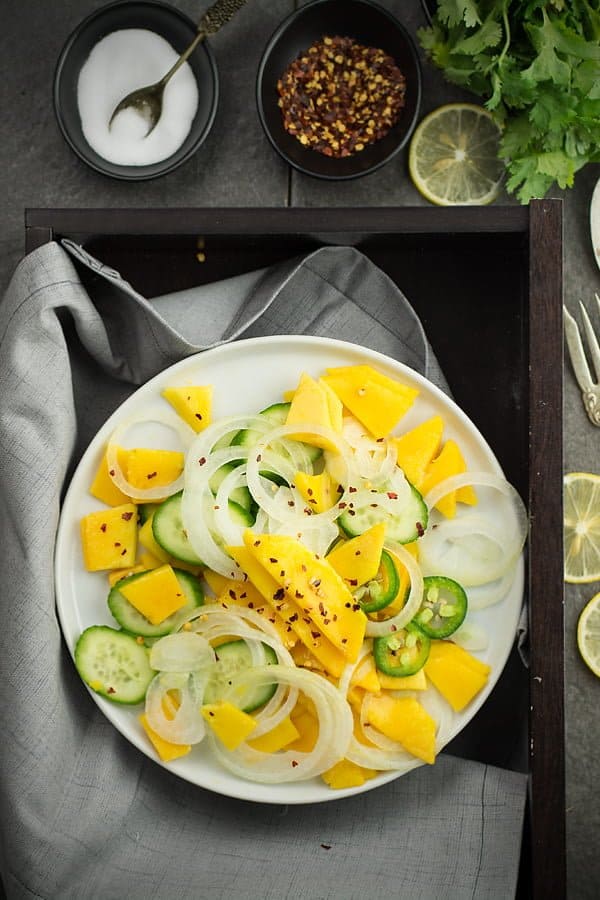 Cucumber Mango Salad prepping
Once all the ingredients are mixed, its shelf life is concise and can last up to a day when refrigerated. When planning to store this salad for a long time, I suggest cutting the mango and store in the refrigerator separately. And combine everything when required.
Other salad recipes
Printable recipe card
Cucumber Mango salad
A sweet alert for you, this cucumber mango salad is rich and delicious with a combination of textures. The soft texture of mango and the crunchy cucumbers are the pleasing contrast that you will fall in love with.
Print
Pin
Rate
Ingredients
1

cup

mango

cubes

1

cup

cucumber

slices

½

cup

onion

1

tablespoon

jalapeno

1

tablespoon

lemon juice

⅙

teaspoon

salt
Instructions
Peel the mango and remove the stone.

Cut the mango into bite-size pieces.

Slice the cucumber, onion, and jalapeno.

In a mixing bowl, add mango, cucumber, onion, jalapeno, lemon juice, and salt.

Give a gentle stir until salt and lemon juice coats the vegetables. And serve immediately.
Notes
Some of the cucumber may taste bitter. So, taste a small piece and the slice the rest.
Nutrition
Calories:
155
kcal
|
Carbohydrates:
37
g
|
Protein:
3
g
|
Fat:
1
g
|
Saturated Fat:
1
g
|
Sodium:
396
mg
|
Potassium:
612
mg
|
Fiber:
5
g
|
Sugar:
29
g
|
Vitamin A:
2043
IU
|
Vitamin C:
94
mg
|
Calcium:
55
mg
|
Iron:
1
mg
**Disclaimer: The nutritional information provided is an approximate estimate only.