Spicy Asian cabbage salad has been my sweetheart for a long time and I keep making it often as it is simple, healthy, and amazingly delicious. Loaded with fresh vegetables, and crunchy nuts.
This is a vegetarian, clean-eating, real food recipe. Best for mid-day snacking or a perfect side dish. All the ingredients are fresh vegetables, fruits, and nuts, except one. What is that? Keep reading. The answer is in the recipe.
Are you skeptical about cabbage in a salad, and how will this turn out on the dinner table? I know many of you have a love-hate relationship with cabbage.
To your surprise, this spicy Asian cabbage salad recipe will not disappoint you. Its co-ingredients would flawlessly balance and compensate bold flavor of the cabbage.
If you are a veggie-lover, you will love this recipe. And if you're not a fan of vegetables, you will still like this dish because of its simplicity and delectableness.
Asian cabbage salad is one of the side dishes our family loves to have most of the time. It is also easier for me, as I do not need to strain myself in gathering the ingredients where I can make it with the pantry-ready items.
It takes about 15 minutes, even if we make it from scratch. There is more room for customizing and more variations.
What does this spicy Asian cabbage salad taste like?
This Asian cabbage salad with ramen noodles tastes simple, fresh, and light. It gives you a feeling of not chewing raw vegetables. It is citrusy, sweet, and crunchy.
This has multiple folds of taste in each bite. You feel the lemon and crunchy veggies, nuts, and soft oranges. Each ingredient hits you with a splendid bundle.
Who said that Chinese recipes are always made with sauces? This salad can change your obsession. This salad does not require soy sauce or chili sauce but is made with all fresh ingredients.
Moreover, I have made little tweaks and healthy swaps to my salad from a Chinese restaurant.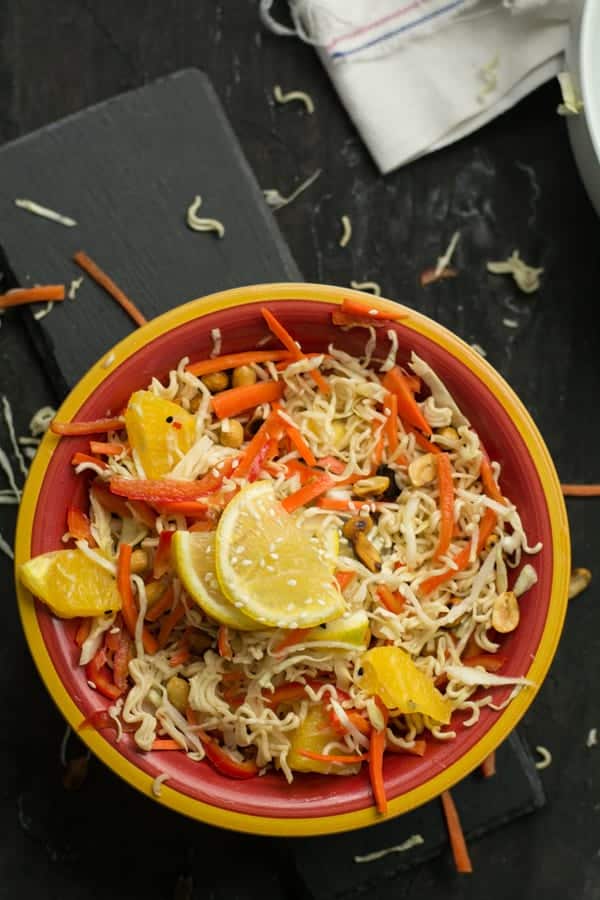 Spicy Asian cabbage salad ingredients
Cabbage
This is the main ingredient and you may use either green cabbage, purple cabbage, or a combination of both. The blend looks colorful and contrast and I highly recommend using these two if you're planning a party.
However, as I did today, you can make it with green cabbage alone. Anything with work.
Carrots
The next most important ingredient in the recipe. If it is a salad, we discuss the color to make it look appealing. And carrot plays the primary role in giving a pleasing look. Additionally, it is nutritious as well.
Furthermore, it contributes to the crunchy texture and perfectly balances the flavor of the cabbage. Cabbage and carrots are inseparable, and of course, the same in spicy Asian cabbage salad is also applicable here.
Top Ramen
I have mentioned that it is ready to cook Top Ramen noodles. Looks striking, adds a crunchy texture, and makes this salad loved even by kids. These are the Asian-style substitutions for the crotons in this Asian cabbage salad.
I enjoy adding these to the fresh salad; it is crispy and chewy. This is one of my latest kitchen discoveries and I'm relishing it so far.
Red pepper
You may add green pepper or yellow pepper instead. It is the color buster in the salad making it appetite. Likewise, it adds a flavor and mild sweetness. Alternatively, you may skip using it, if you don't have it handy.
Orange
You will not believe how fantastic the spicy Asian cabbage salad would be when combined with oranges. The combo is excellent, with the crunchy cabbage with the juicy oranges.
Munching the slices of oranges between the crunchy, chewy vegetables is an immense pleasure, making us fall in love with this cute addition.
Sesame seeds
I have chosen this for garnishing, giving an authentic Chinese look. But adding is optional, as this will not impact much. For better taste, pan-roast them until they change their color slightly and are aromatic.
Roasted Peanuts
This adds a good amount of protein to the salad. I know the people have openings between the roasted peanuts in the salad. But this adds a different dimension in addition, making the Asian cabbage salad recipe one of a kind. However, if you do not prefer, you can swap with sunflower seeds or almond slices.
Lemon juice
I have opted for lime dressing to make this salad as skinny as possible. Which is also would be perfect for any salad in the world. Freshly squeezed lemon would be good.
Rice vinegar
This one ingredient can potentially convert any regular dish to taste like Chinese. Getting them here in the United States is not that hard, do you think? I got mine from my local Walmart.
But in its absence, you replace it with apple cider vinegar, and the taste of spicy Asian cabbage salad will differ accordingly.
Honey
This complements the salad and makes the dressing denser to coat the ingredients evenly. And what's more? it is healthy and nutrient-rich as well.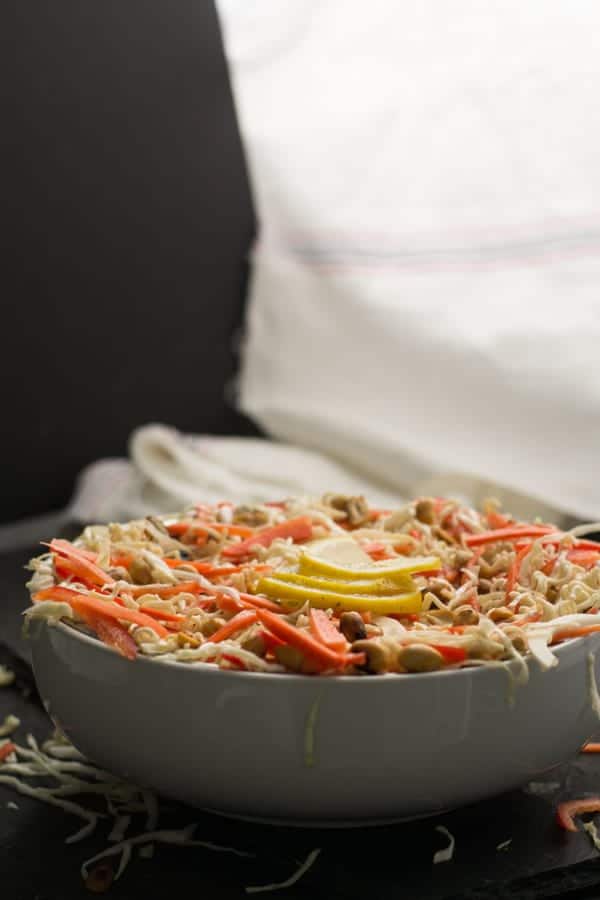 How to make a spicy Asian cabbage salad recipe?
Simply,
Chop the vegetables. Chopping them to the size of the match stick will make half of the work done. Cutting cabbage, carrot, and red pepper this way makes it authentic.
Spicy Asian cabbage salad dressing. Add lemon juice, honey, rice vinegar, and honey in a small mixing bowl. Stir until dissolved completely. To cut out the extra calories, I have not added any fat. But if you prefer, you may add any salad oil here.
Toss. Add julienne-cut vegetables, roasted peanuts, crumbled Top Ramen, and the salad dressing in a large mixing bowl. Give them a gentle mix until the whole thing is combined. Then, garnish with toasted sesame seeds.
Serve. Serve immediately in the small bowls along with your main course. This versatile salad can be served as an appetizer or a lean whole meal.
It is better to eat spicy Asian cabbage salad right away or at least within 3-4 hours. Top Ramen and the roasted peanuts will become soggy and may not taste good afterward.
Possible variations
This is the basic recipe and is made with straightforward ingredients. And the sky is the limit for customizing. Please feel free to add your favorites.
Add extra veggies- You can add vegetables like cucumber, green pepper, cauliflower, and broccoli. Every added ingredient brings a whole new appearance.
Add in Cheese- If you are feeling that you are missing cheese. You are most welcome to add grated cheese, which makes this an excellent fusion recipe.
How to store spicy Asian cabbage salad?
As I have discussed before, it is better to consume it immediately. If you plan to make it ahead, you may store the chopped vegetables, the dry ingredients, and the dressing separately. Combine them whenever needed.
What and how to serve?
Most often, I serve spicy Asian cabbage salad with steamed rice. This is additionally best to serve with white rice, brown rice, quinoa, bulgur, or barley.
Serving them with warm tortillas or other traditional Tapas would also work out. Since this turn better with any of your main course, you name it.
Printable recipe card
Spicy Asian cabbage salad
Spicy Asian cabbage salad is my sweetheart for a long time which I keep repeat making it often. As this is simple, healthy, and amazingly delicious. Loaded with fresh vegetables, and crunchy nuts.
Print
Pin
Rate
Ingredients
1

cup

cabbage

julienne cut

½

cup

carrot

½

cup

red pepper

1

tablespoon

lemon juice

freshly squished

1

teaspoon

rice vinegar

½

teaspoon

salt

½

teaspoon

red pepper flakes

1

tablespoon

honey

½

cup

Top Ramen

crumbled

¼

cup

peanuts

roasted

1

tablespoon

sesame seeds

roasted
Instructions
Cut cabbage, carrot, and red peppers to julienne. Keep aside.

In a small mixing bowl add lemon juice, rice vinegar, salt, red pepper flakes, and honey.

Give a quick stir until honey dissolves. And keep aside.

In a large mixing bowl, add the vegetables.

Break Top Ramen to small chunks and add. Add roasted peanuts, roasted sesame seeds.

Finally, add the dressing. Combine them until the vegetables coated well with the dressing.

Taste and adjust the salt. And serve mediately.
Notes
Serving with grains like brown rice, white rice, quinoa would be the best option.
Nutrition
Calories:
289
kcal
|
Carbohydrates:
33
g
|
Protein:
8
g
|
Fat:
14
g
|
Saturated Fat:
3
g
|
Sodium:
467
mg
|
Potassium:
435
mg
|
Fiber:
5
g
|
Sugar:
13
g
|
Vitamin A:
6545
IU
|
Vitamin C:
65.2
mg
|
Calcium:
94
mg
|
Iron:
2.6
mg
**Disclaimer: The nutritional information provided is an approximate estimate only.
Liked this recipe? Follow us on Facebook, Pinterest, Instagram.