It's Salad day today! time to incorporate light dinner with pantry stable ingredients-Indian Quinoa salad. Its a pack of flavors and with layers of taste. The lemon juice, fresh cilantro, and the chili peppers make all the difference that you crave for more.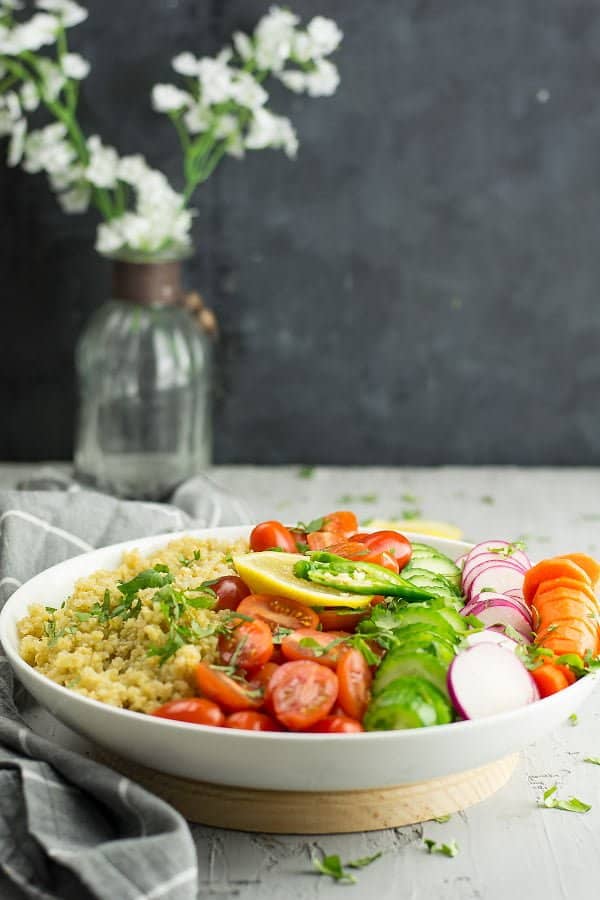 Off late I'm trying super easy to make dinners with the healthy ingredients as possible we can in this busy world. And this Indian style spicy quinoa salad is one of its kind. Though I call this salad as Indian because of the combination of tastes. But the recipe and its ingredients are universal that are available everywhere and almost everyone will love.
The good part? this light Indian quinoa salad is not loaded with fat. All it requires are fresh vegetables-yes garden fresh vegetables make it heaven.
This Indian quinoa salad recipe is a pleasant twist to our Mango cucumber salad which is our all-time favorite as it appreciated and approved by both grown-ups and the children. Both the recipes require just a few minutes to put it all together. And the process is so simple that you can instruct someone in your family on your way back to homes.
Or you can engage your children to make a delightful dinner under your supervision. When you like to enjoy Indian style salad recipe, this recipe is all yours, try making numerous recipes-the sky is the limit.
Other Quinoa recipes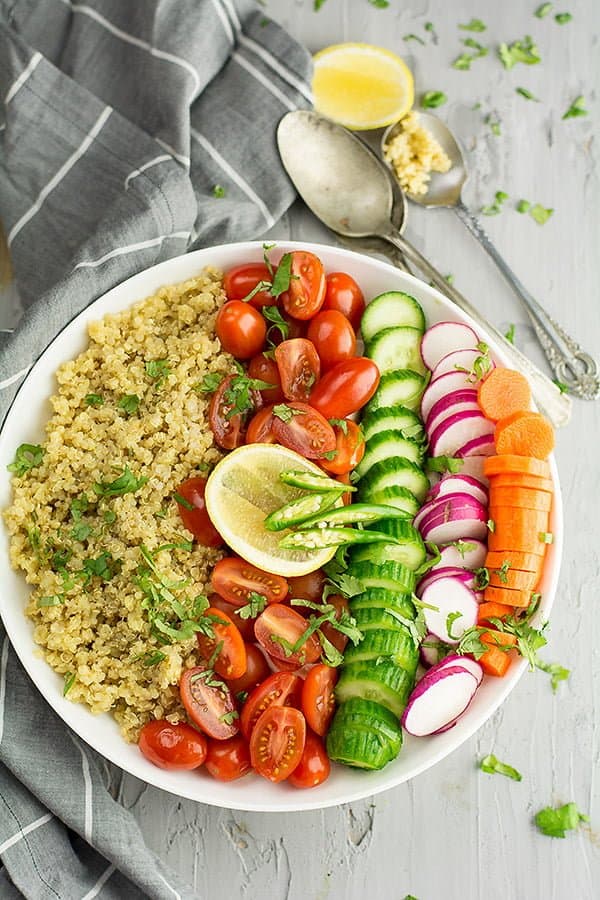 I personally find this as filling and love to have both as a dinner or as a side dish at a party. If you prefer to combine this spicy salad with some lean protein. A heartful comfort food is ready without stressing much in the kitchen.
The vegetables mentioned in this recipe plays well with the lemon juice and the cilantro. I have tried this blend multiple times and always been successful with awesome taste. These elements gracefully complement one another and perhaps, do not require anything extra to spice up more.
A little about Indian Quinoa salad
Do not come to any conclusion by seeing the title. This spicy quinoa recipe's ingredients are global and available at regular grocery stores in the United States.
The word 'Indian' got added to the title because it how the Indian salad tastes like. With all the natural's simple flavors and the taste. And Indian salad does not require cheese or vinaigrette.
I would call this as a fusion recipe, as quinoa is new to Indian cooking.
How to make Indian Quinoa salad
I'm embraced with salads these days, it helps my tummy feel light and fabulous. And this filling recipe, I could not resist myself from sharing.
The ingredients.
Quinoa. The primary ingredient. The mildness of the quinoa and the citrusy lemon intensifies flavor of the cucumber and carrot here. Both red and white quinoa works perfectly here. The quinoa is coated with bitterness naturally. Rinse multiple times to avoid tasting bitter. Soaking the grain for 10 minutes and then rinsing will also help to overcome this issue.
Cucumber. I can never imagine of serving any Indian salad recipes without cucumber. This adds a nice crunchy texture. Any type of cucumber tastes great here, including English, Persian cucumbers. It makes the salad refreshing and energetic.
Carrot. Another awesome ingredient to pair with the cucumber and lemon juice. The sweetness glorifies the salad and excellently performs well with quinoa. If children are against using them? No worries, grate them before adding to this Indian quinoa salad.
Lemon. After quinoa, I would say this the second important element here. Lemon juice can be substituted with lime juice. If you do not have these two, postpone the idea of making this salad to avoid any disappointments.
Garden Radish. Using them is optional, I used it as I have in my refrigerator. Furthermore, it adds color to the salad and provides an appetitive look.
Cilantro. Another secret weapon to bring the Indian flavor to the salad. I would highly recommend using this, as it makes the dish delightful.
Green chili pepper. Adjust the quantity according to individual preference. Deseed them before adding will bring down its hotness.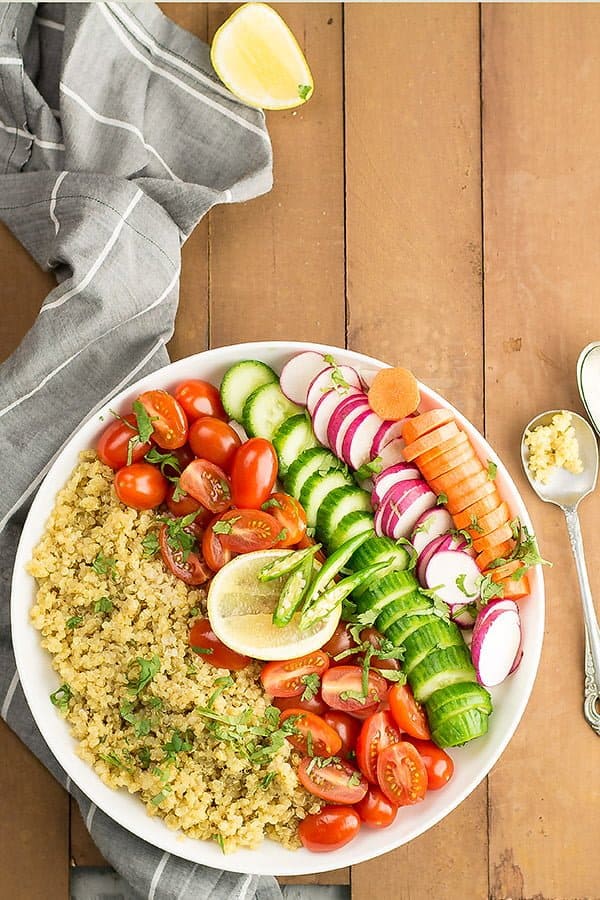 The Directions.
Rinse quinoa until water is clear.
Bring 2 cups of water to a rolling boil. And stir in quinoa.
Simmer the flame and close the lid.
And cook for 18-20 minutes. Stir in occasionally to avoid any burnt bottom.
Allow it cool to room temperature.
Peel the carrot and slice them.
Slice the cucumber, radish, tomato.
In a mixing bowl, add cooked quinoa, cucumber, tomato, carrot, radish, and green chili pepper.
Add salt, and lemon juice.
Combine all the ingredients together and serve immediately.
What to serve with Indian quinoa salad
The recipe variations for Indian style quinoa salad
Chicken. Add grilled chicken, or shredded chicken to make this Indian quinoa salad protein-rich and complete dinner.
Paneer. Paneer is the Indian cottage cheese, which is also protein-rich, creamy, and delicious. Add them as fried or grilled. This oven-baked paneer tikka would be an excellent choice when opting for this ingredient.
Chickpea. Chickpea is the vegan protein choice.
Tofu. Another vegan addition to enhance the salad.
Extra-veggies. Add choices vegetables according to the availability and your preferability.
Make ahead and storing ideas.
Make ahead. Cook quinoa ahead of time to put the dinner in lesser time. Quinoa stays good when stored in an airtight container for a week's time. And shop the veggies and store separately. Combine everything together just before serving Indian quinoa salad.
To store. Store the leftover in the sealed container in the refrigerator for a day.
Reheat. Microwave for reheating. Too much heat potentially spoils the texture and taste of the veggies.
Printable recipe card
Indian quinoa salad
Indian Quinoa salad-a pack of flavors and with layers of taste. The lemon juice, fresh cilantro, and the chili peppers make all the difference that you crave for more.
Print
Pin
Rate
Ingredients
1

cup

quinoa

2

cups

water

½

cup

tomato

chopped

1

cup

cucumber

chopped

½

cup

carrot

chopped

½

cup

radish

chopped

1

green chili pepper

green chili

2

tablespoon

lemon juice

½

teaspoon

salt
Instructions
Rinse quinoa until water is seen clear.

Over medium heat, in a saucepan add water. Allow it to boil.

When it is rolling boil, add quinoa and close the lid.

Turn to low heat, and cook for 18-20 minutes. Do stir in between.

Then remove it from the heat, and allow it to cool down to room temperature.

In a mixing bowl, add cooked quinoa, tomato, cucumber, carrot, radish, green chili pepper, lemon juice, and salt.

Combine all the ingredients together and serve immediately.
Notes
Add chicken, paneer, tofu, or chickpea to make the salad a complete meal.
Nutrition
Calories:
349
kcal
|
Carbohydrates:
63
g
|
Protein:
13
g
|
Fat:
5
g
|
Saturated Fat:
1
g
|
Sodium:
635
mg
|
Potassium:
827
mg
|
Fiber:
8
g
|
Sugar:
4
g
|
Vitamin A:
5704
IU
|
Vitamin C:
19
mg
|
Calcium:
75
mg
|
Iron:
4
mg