I have a spicy twist on the delicious classic appetizer recipe, it is Indian tomato salad. This one is loaded with tomatoes, onion, lean protein chickpea. Means, a light, easy, filling dinner for your busy weeknight.
Are get triggered for the word spicy in this easy Indian tomato salad? no worries-you are the cook and you have full control over the ingredients. Control it and enjoy the spice's natural taste without worrying about the heat.
The green chili pepper is the solely responsible element in this Indian summer salad recipe, increase or decrease the quantity however you prefer.
I believe that the salad should have layers of flavor, taste, and should be filling that is the potential to serve as a vegan dinner. And this aspect reflects in many of my salad collections-Indian quinoa salad, and mashed chickpea salad.
However, the other salad like Spicy Asian cabbage salad, Spicy carrot salad, and fresco salad, are also heavenly and capable to include protein.
In fact, you can serve this within a few seconds, as no huge preparation work is involved in this spicy Indian tomato salad recipe. The recipe is very simple as you can guess from the title. This is one of the easy beginner level Indian recipes with tomato. If you are thinking to explore the Indian cooking, here you are this is the perfect recipe to start with.
Another simple salad in the Indian subcontinent, I rely on this recipe to make quick Indian meal accompaniments. Added to its taste and it more easy to put it together. And the best salad to go with butter chicken. All you need is to roughly chop the vegetables and toss with the spices. That is it, a tasty dish appears before your eyes like magic.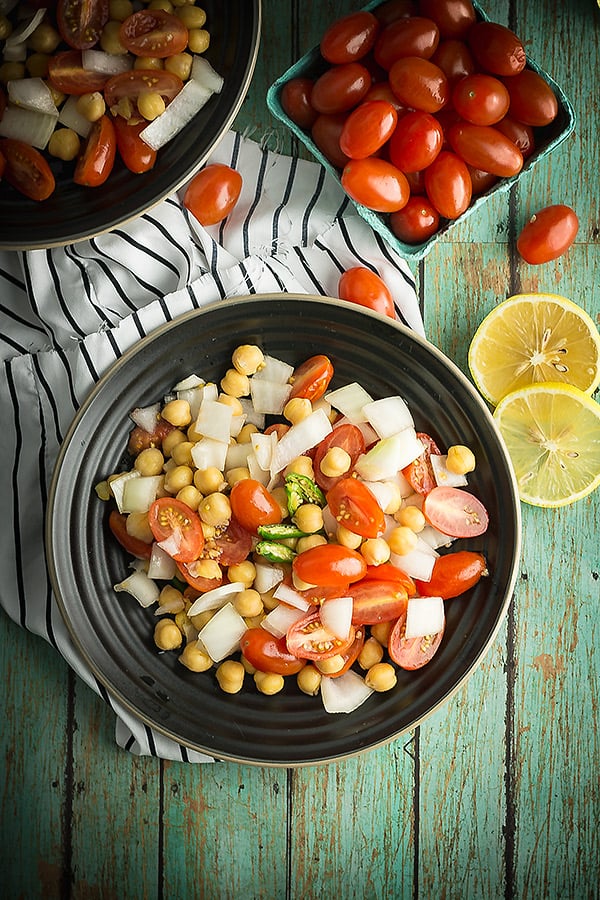 How does this Indian tomato salad tastes like?
This accompaniment salad tastes excellent with the right combinations of flavors. The tangy tomato is very balanced with the creamy chickpeas and tastes great with the hint of chili pepper and lemon's refreshing aroma. Since the ingredients are universal, and you can rightly guess how the end dish should taste like.
To put it in the simpler way this tastes similar to the Mexican salad but the ingredients are chopped as bite-size pieces.
Other salad recipes,
Making of Indian tomato salad
The recipe is remarkably simple and elegant and better to eat as fresh as soon as they made. The tomato loses its firmness and becomes watery as soon as it gets in contact with salt. So, always best to consume within an hour.
When lemon juice and the chili peppers combined together, it turns into an awesome India salad dressing. Hence, no pain of making the dressing separately in this spicy Indian tomato recipe.
Ingredients
Tomato. Any type of tomato is good for making heathy Indian tomato salad. Plum, Roma, Cherry or grape tomato tastes the best in this dish. If you have a backyard garden with fresh ripen tomato-you are the blessed. You can finish making a garden fresh salad, even before the dining table is set.
Onion. As usual, there is no discrimination for the type of onion used in here. Pearl, white, yellow, red onion does play perfect and get along with other ingredients here. But make sure that the size of onion matches with the size of a chickpea, making the cuts in even shape gives a pleasing look and easy bite.
Green chili pepper. The amount we required is just one or two. But the bang that brings is enormous. I have been kept asking about substitution for green chili peppers. Any thin-skinned peppers are ideal.
Lemon juice. Tomato tastes sour, then why do we need lemon juice? Well, the flavor of lemon is very refreshing and adds another dimension to the salad. It acts as a binder and brings all the vegetables together with its mesmerizing fresh aroma. This can be replaced with lime juice as well.
Chickpea. I always have boiled and frozen chickpea in our freezer. Why? helps me to make super quick dishes with no time. Usually, I soak a big batch of chickpeas and allow it sprout in the next 3 days. Next, I cook and freeze them later. It may sound like an elaborate process, but actually the physical work involved is minimal.
But you have got another easy option, to get them from the stores as canned.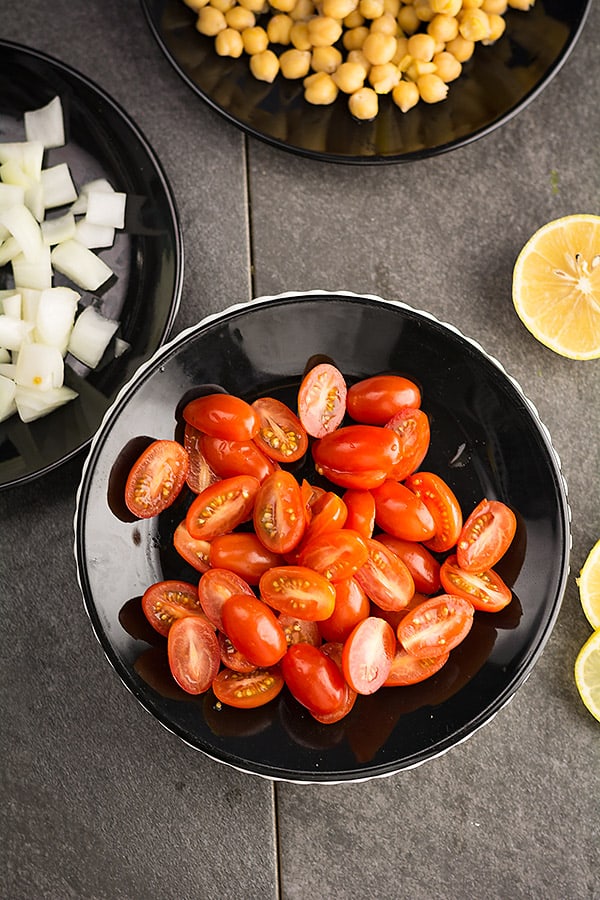 The Directions
Prepare. Prepare all the vegetables by washing, cleaning, peeling whichever is necessary.
Chop. Chop them evenly to the chickpea size. Finely chop the green chili peppers.
Toss. In a big mixing bowl, all the ingredients together and gently combine with ladles.
Serve. And serve immediately.
What to serve with Indian tomato salad?
The word 'spicy' in the recipe meant to be hot. Generally speaking, Indian recipes are known for their hot and spicy to the western world. And this dish falls into this category as well. But the heat is enjoyable when paired with creamy and subtle dishes, like serving tacos with spicy salsa.
We love serving with the following main course dishes,
Make ahead and storing ideas
Make-ahead Ideas. You may cook the chickpea ahead of time. And chop and refrigerate the vegetables separately. And mix them whenever needed.
For this Indian style salad, the veggies should firm and stay in their sharp. The vegetable's natural crispness is the highlight, and this is possible only when the salad is made fresh.
Storing ideas. The firm tomato increases the shelf life of this delicious Indian tomato salad. The leftover stays good for a day when refrigerated in an air-sealed container.
Variations Indian summer salad
Paneer/tofu. Are you thinking of any cheese in here, I would suggest Asian variations like, to paneer tikka in oven or spicy tofu steak.
Cheese. Add in your favorite cheese to make the dish creamy. Feta, Mexican queso fresco, blue cheese all fabulously pairs well.
Chicken. I have not tried with chicken, but guessing pulled chicken would be the best addition. You try with your favorite and let us know the results.
Cucumber. Cucumber is another pleasant addition. To retain the dish's taste, make sure to keep it lesser or equal to the quantity of the tomato.
Olive oil. Drizzle virgin olive oil for the shiny look and extra flavor.
Ground black pepper. To add the final touches, sprinkle ground black pepper. A little is too much here, as we have already green chili peppers into this spicy Indian tomato salad recipe.
Garnish. Garnish with cilantro or mint leaves for the robust flavors.
Other Spice mixes. But I personally feel, this variation is overpowering and takes away the natural flavors of all vegetables.
Printable recipe card
Indian tomato salad
Indian tomato salad is loaded with tomatoes, onion, vegan protein chickpea. Means, a light, easy, filling dinner for your busy weeknight.
Print
Pin
Rate
Ingredients
1

cup

tomato

roughly chopped

½

cup

onion

roughly chopped

½

cup

chickpea

cooked

1

tablespoon

lemon juice

2

green chili pepper

½

teaspoon

salt
Instructions
In a mixing bowl, add roughly chopped tomato, onion, chickpea, lemon juice, green chili pepper, and salt.

Combine and toss them gently till lemon juice coats all the ingredients.
Notes
The tomato salad tastes great when freshly made.
For the variations add olive oil, grilled paneer, or tofu.
Nutrition
Calories:
110
kcal
|
Carbohydrates:
21
g
|
Protein:
5
g
|
Fat:
1
g
|
Saturated Fat:
1
g
|
Sodium:
739
mg
|
Potassium:
354
mg
|
Fiber:
6
g
|
Sugar:
7
g
|
Vitamin A:
621
IU
|
Vitamin C:
22
mg
|
Calcium:
37
mg
|
Iron:
1
mg