This creamy, spicy, and hot Indian tofu curry has all the enticing flavors of traditional Indian cuisine. On top of this, it's vegan too!
A fabulous 30-minute dinner recipe designed to delight your taste buds tonight(almond milk curry has a special mention here). And if there are any leftovers, you've got a flavorful meal ready for tomorrow.
About this Indian Tofu Curry?
The highlight of this curry recipe is its adaptability. We've provided possible substitutions for several ingredients, allowing you to alter them to your preferences.
Plus, this Indian tofu curry is perfect for preparing in large quantities to use later. It stores well in the fridge and the freezer - making it a fantastic option for meal prepping your dinners.
Whether you prefer your tofu coconut curry to be spicy or mild, this recipe welcomes your personal touch. Adjust the heat, add your favorite vegetables, and swap out the coconut milk - everything is possible with this recipe!
Why we all love this recipe
A Delicious Fusion. Combining the traditional Indian curry base with the Asian staple tofu results in a delicious surprise.
Flavorful. This curry strikes the perfect balance between heat, sweetness, and creaminess.
Easy to Make. Have you ever thought of recreating your favorite restaurant curry at home? This recipe is for you! With simple and clear step-by-step instructions, the curry's cooking process feels like a breeze. This recipe is a perfect gateway to the world of curry(similar to this potato spinach curry, mung bean curry, and lima bean curry).
Perfect for Any Meal. Whether you're looking for a comforting weeknight dinner or a hearty lunch to keep you going, this curry is for you. Any leftovers? Even better - it tastes great the next day!
Ingredients & their possible substitutions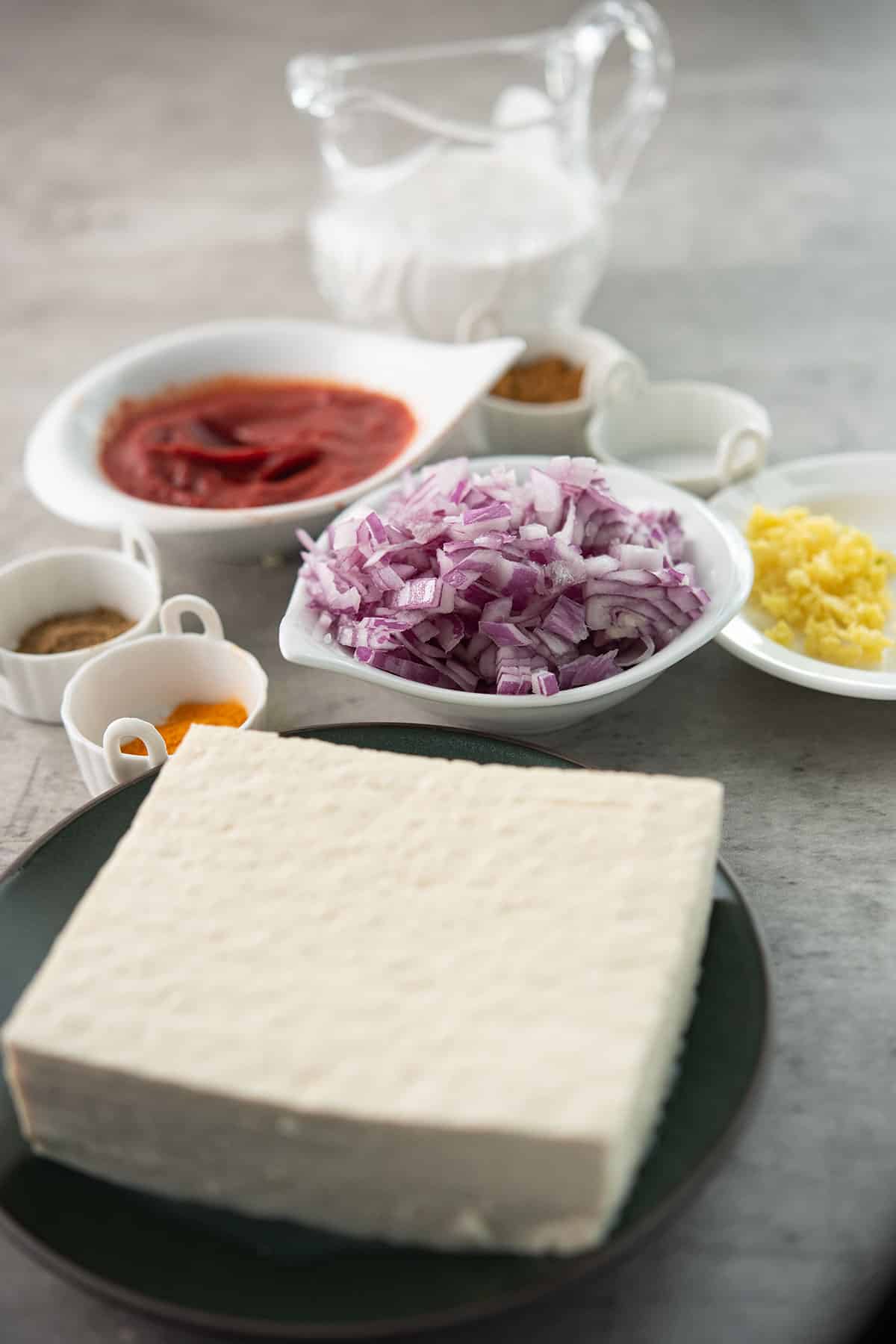 Tofu. This is the key ingredient with a silky texture that beautifully complements the creamy coconut milk-based sauce. Firm tofu adds a satisfying crunch. If you prefer a softer texture, use a more delicate tofu variety.
Onion. Provides a body to the sauce. Red onion or yellow onion both work great. Red onion gives a punch, and yellow onion adds a mild sweetness to the sauce.
Tomato. Gives a punch, acidity, and vibrant red color to the curry. I have used tomato paste as it yields a silky texture. However, pureed fresh tomatoes or canned diced tomatoes are good to use too.
Garlic and Ginger. Fresh ginger and garlic add a spicy kick to the dish. If you have bottled ginger and garlic paste, feel free to use that. Or make your own and freeze it so it's always handy when needed.
Spices. We need special spices for flavoring the curry, like cumin, garam masala, turmeric, and red chili powder. Each spice has its own unique contribution, bringing warmth and richness to the curry. Garam masala acts as a flavor booster. Turmeric brings color, while coriander acts as a binding agent and gives volume to the sauce. Cumin is added for its deep, robust flavor.
Coconut milk. This ingredient provides a creamy and silky texture to the curry, balancing the spiciness of other elements. You can substitute this tofu coconut curry with almond, soy, or fresh cream.
How to Make Indian tofu curry?
Firstly, drain the tofu, remove the excess water, and press it gently. This process helps the tofu absorb the spices and gives it a firmer texture.
Heat a large pan over medium heat chopped onions, and saute until the onion turns translucent.
Now add minced garlic and the grated ginger. And saute for 2-3 minutes or until garlic is fragrant.
Next, stir in the turmeric powder, ground cumin, and garam masala.
Turn the heat low and saute for 1 minute without burning the spice mix.
Now add tomato paste and water. Bring it to build and cook until all the ingredients are combined and mellow down. And the gravy gets thickened as well(This should take about 7 to 10 minutes).
Then stir the coconut milk, salt, and tofu. Turn the heat low and let it simmer for about five to ten minutes.
Cook until the curry sauce coats the tofu well.
Now finish it by garnishing it with chopped cilantro.
Finally, taste and adjust the seasoning as needed.
How to Store the Leftovers
In the Refrigerator. First, allow the curry to reach room temperature before transferring it into an airtight container. Once stored in the refrigerator, you can enjoy the leftovers for up to four days.
Freezer. For longer storage, portion the curry into freezer-safe containers. The curry is good to use for up to three months.
Thawing. Place the frozen tofu curry in the refrigerator overnight or use the defrost function on your microwave for a quicker option.
Reheating. Warm the curry on the stovetop over medium heat, stirring occasionally. If the sauce has thickened too much, add a splash of water or coconut milk to bring it back to the right consistency.
Alternatively, you can also reheat it in the microwave in 30-second intervals.
What to Serve With tofu curry
Rice. This Indian tofu curry is best served over a bed of rice(try this lemon rice or coconut rice). Basmati rice is a traditional choice, but Jasmine rice, long-grain rice, or wild rice would work wonderfully.
Naan Bread. Serving this curry with traditional, fluffy Indian naan bread is comforting.
Side Dishes. An onion or cucumber raita pairs well with this curry as a side dish. The tangy raita balances the rich flavors of the curry perfectly.
Salads. If you're looking for a lighter side, a simple salad with a mild salad dressing would be perfect(like these fresco salad, cucumber mango salad.
Pickles. Indian pickles or pickled vegetables may seem like a contrasting choice, but they work well with the curry.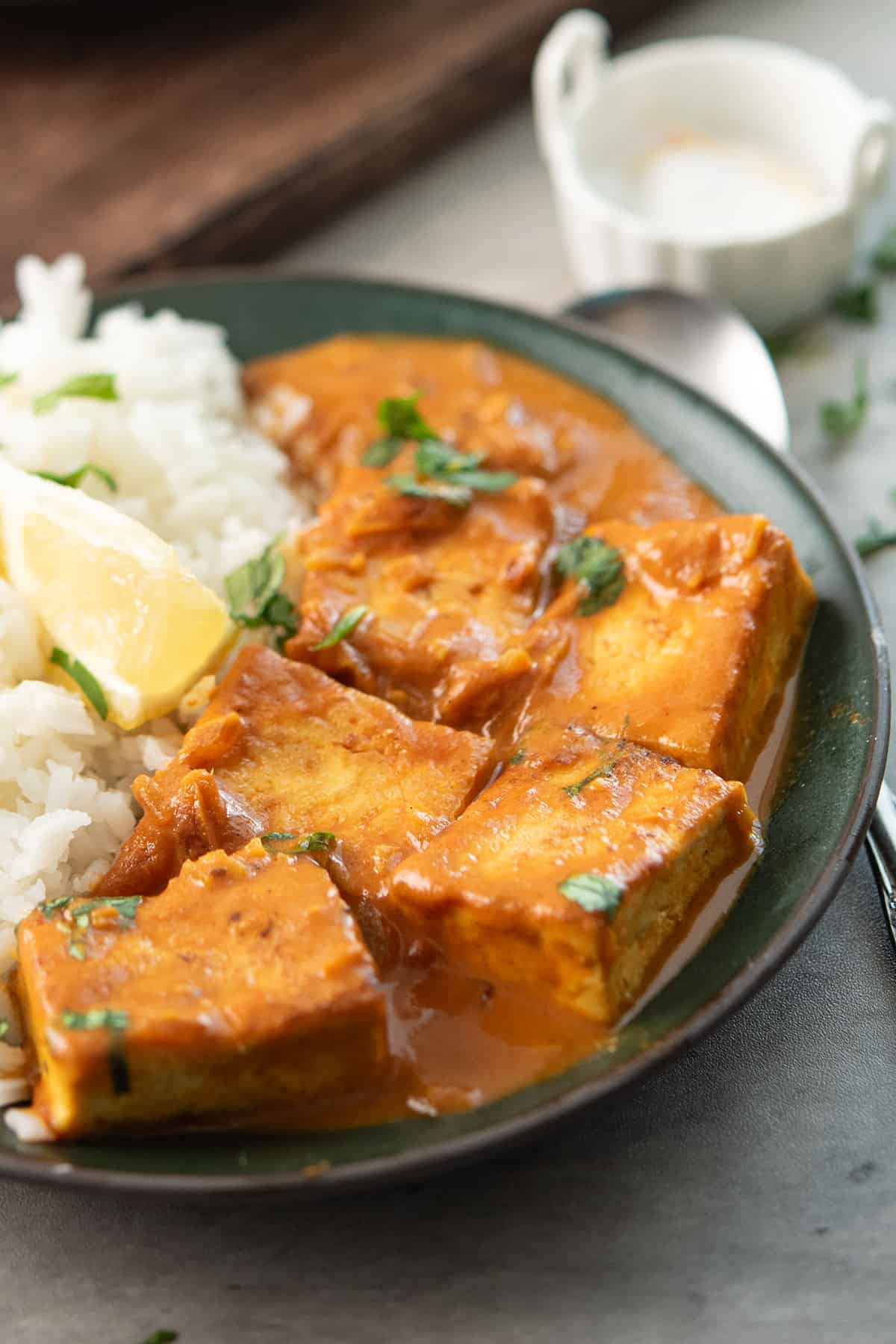 Variations for this tofu coconut curry
Tikka Masala Tofu Curry. For this variation, follow the same recipe but swap the tomato paste with tikka masala paste.
Vegetable-Infused Tofu Curry. For added crunch and color, stir in veggies like cauliflower, broccoli, carrot, and coconut milk.
Diced Onion/pepper. Along with tofu, add chopped onion or bell peppers to make the curry more flavorful and with textures.
Garnished Tofu Curry. Sprinkle freshly chopped cilantro for a refreshing taste, or finish by squeezing a few drops of lemon juice for a tangy twist.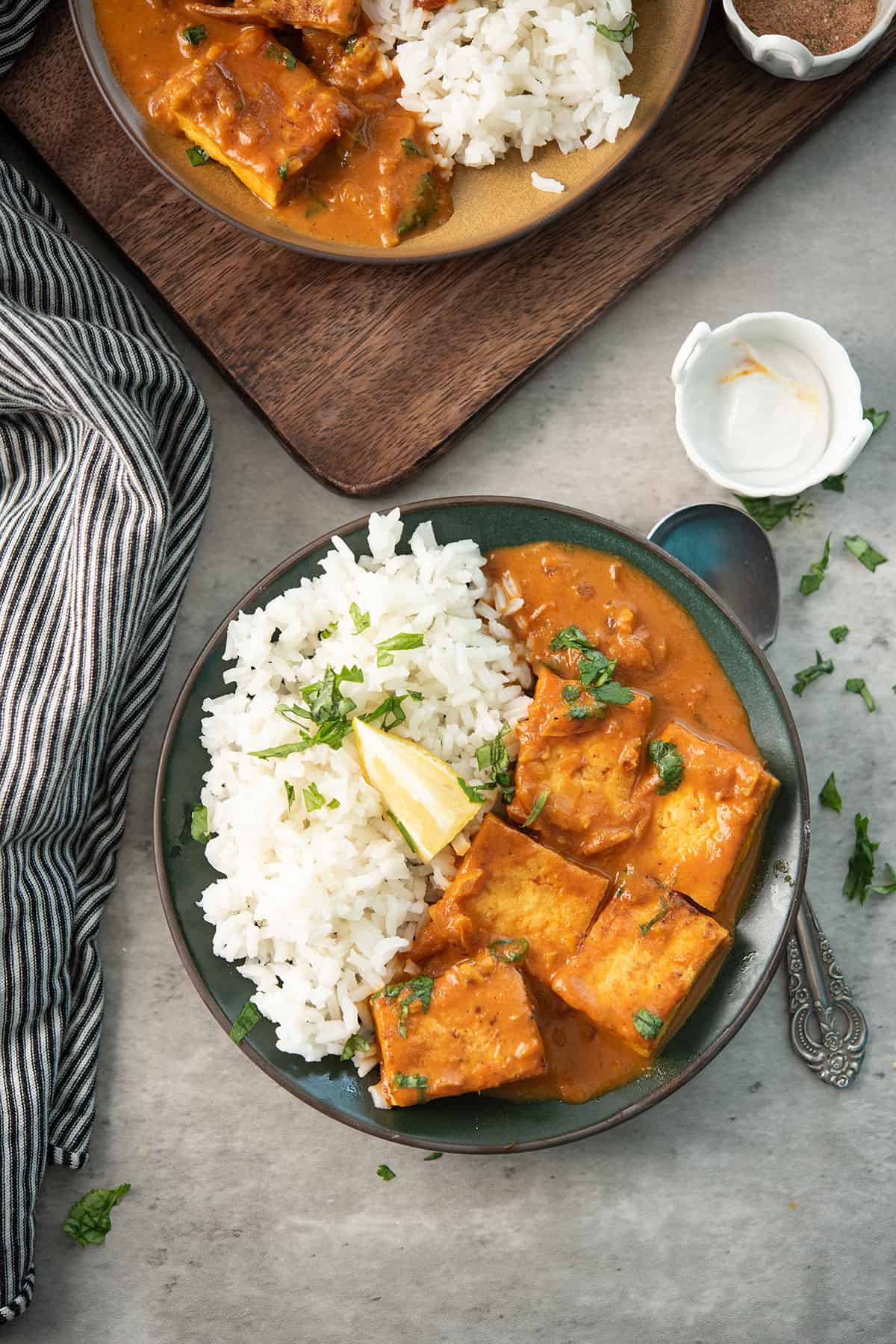 Frequently Asked Questions
Can I use frozen tofu?
Absolutely! Freezing tofu gives it a firmer texture, soaking up the flavors even better.
Can I make the curry in advance?
Yes, this curry is great for meal prepping and tastes better the next day.
How spicy is the curry?
The curry is mildly spicy as per the recipe, but feel free to increase the spiciness. Substitute the paprika with cayenne powder or add Thai green chilies for extra heat and flavor.
Printable recipe card
Ingredients
1

block

14 ounces of firm tofu, pressed and cut into cubes

2

tablespoons

vegetable oil

1

onion

medium sized and finely chopped

1

tablespoon

garlic

minced

1

tablespoon

fresh ginger

grated

4

tablespoon

tomato paste

½ cup freshly pureed tomato

1

teaspoon

ground coriander

½

teaspoon

red chili powder

or to taste

Salt to taste

11/2

cup

water

1

cup

canned coconut milk

2

tablespoon

Fresh coriander leaves for garnish
Instructions
Over medium-low heat, place a pan and add oil. Add the tofu cubes and fry until they are golden on all sides. Remove from the pan and set aside.

Add the chopped onions and sauté until they become soft and golden.

Add the minced garlic and grated ginger. And sauté for another 2-3 minutes or until the garlic is fragrant.

Turn heat to low, and add the ground turmeric, coriander, and red chili powder. Mix well and cook for another minute.

Add tomato paste and water and bring it to boil in the medium-high heat.

And cook for 5-7 minutes or until the sauce thickens(This allows all the ingredients to cook and meld together).

Add the fried tofu cubes and coconut milk. Mix well, cover the pan again, and let it simmer for 10 minutes.

Season with salt to taste, garnish with fresh coriander leaves.

and servethis Indian tofu curry with steamed rice or naan bread.
Notes
Storing Ideas:
Refrigeration: Before refrigerating, let the tofu curry cool to room temperature. Transfer it to an airtight container. The curry will stay fresh for up to four days.
Freezing: For extended storage, divide the curry into freezer-friendly containers. It remains tasty for up to three months.
Thawing: To defrost, set the curry in the fridge overnight or use your microwave's defrost setting for faster results.
Reheating: Reheat this curry on a stovetop over medium heat. Add a tad of water or coconut milk to adjust consistency if it thickens. For microwave reheating, use 30-second bursts, stirring in between.
Nutrition
Calories:
228
kcal
|
Carbohydrates:
15
g
|
Protein:
11
g
|
Fat:
15
g
|
Saturated Fat:
13
g
|
Polyunsaturated Fat:
0.3
g
|
Monounsaturated Fat:
1
g
|
Cholesterol:
7
mg
|
Sodium:
554
mg
|
Potassium:
544
mg
|
Fiber:
3
g
|
Sugar:
8
g
|
Vitamin A:
349
IU
|
Vitamin C:
8
mg
|
Calcium:
238
mg
|
Iron:
2
mg
**Disclaimer: The nutritional information provided is an approximate estimate only.