How could I ever skip mentioning this mung bean curry when I blog about curry? This is an Indian-style curry with ingredients readily available in the United States.
Mung bean curry
There are zillions of curry recipes already online; most have an authentic long list of ingredients that may frustrate beginners to stay away from Indian cooking. The rest talks about curry but fails in its main flavoring aspects.
And this mung bean curry recipe is an effort to fill the gap in between. This easy recipe is perfect for beginners, with the simplified procedure, but most importantly, it retains all the rich flavors and taste of the original curry.
Curry is not about dumping all the ingredients straight into the pan; it is all about enhancing all the original characteristics of those unique spices. If you understand this concept, you will never need a long list of ingredients or a store-bought readymade spice mix.
Each ingredient has its incomparable aroma; it's our responsibility to bring out its fragrance in the best possible way, like these spicy stir-fries. For example, let's talk about cumin.
Adding cumin seeds to a recipe will not result in delicious food. Instead, add cumin seeds to the warm oil at a low flame. Allow these to sizzle until it start browning, and notice that a few may crackle. These get infused with the oil. Furthermore, the oil changes its color, too.
Try this technique once and see the difference in the cooking, including this mung bean curry. This concept works with other closely related ingredients as well. Let me try to elaborate as far as I can.
What is a mung bean?
These are commonly used in the Asian continent, especially in Southeast Asia and India. Protein rice beans are widely used as plant-based alternatives to meat and egg. Getting this bean here in the U.S. is not difficult; this is the green-colored bean now available in many stores; you can locate them in the international aisle.
This is also called the moong bean or moong dal. It is also available in three forms: whole bean, split bean, and skinless(yellow mung bean). But the cooking time varies for each of these; let's see those in detail below.
What is mung bean curry?
This is creamy, delicious, flavorful, thick, flowy consistency food with all the tastes, like this pumpkin curry.
What to serve with?
This moong bean curry is best served with white rice, brown rice, wild rice, quinoa, naan, or other Indian flatbreads. This Indian-style curry has flavors, so a simple, plain side would perform the best. Here are a few suggestions, but not limited to,
How to make Mung bean curry
This recipe is compatible with stovetop, crockpot, Instant Pot, or pressure cooker methods. We will discuss them below.
The Ingredients
Mung bean. These are available in three forms, the whole bean, split, or skinless. This recipe is about the entire bean or split bean. The whole bean and the split bean do not vary much in the cooking process and the end product. But the skinless mung bean is quick to cook and the curry looks bright yellow.
Cumin seeds. This is the flavor booster. So, I would say this is a must.
Cooking oil. There is no exact requirement for the cooking oil. Any neutral-flavored cooking oil, like canola or vegetable oil, is okay. I have used vegetable oil here in this recipe.
Cayenne pepper. It is an excellent alternative to authentic Indian red chili powder. If you have red chili powder handy and are comfortable with its heat, please substitute this with full or half the quantity, according to your preference.
Turmeric powder. It gives a luscious golden color to the curry but will not impact the taste.
Bay leaf. Added for the fragrance alone, discard it before serving.
Garlic. Another must in this recipe is that it enhances the taste and the aroma. It is our family's golden rule of thumb, to use whole beans with ginger or garlic.
Cilantro. It gives the mung bean curry a refreshing flavor and a pleasing look.
The Recipe directions
Soak the mung bean
Soak for a minimum of six hours; however, soaking overnight is ideal. When soaked completely, it triples its original size. Soaking makes it easy for cooking, for the stomach health too.
Sauteing
Set the Instant Pot to saute mode. Add vegetable oil and cumin seeds.
Allow cumin seeds to sizzle until they turn golden brown.
Then add chopped onion, and sauté until it turns soft and translucent.
Add minced garlic and crushed tomato, and continue to sauté until the mixture thickens.
Now add red chili powder, coriander powder, and turmeric powder. And stir for 30 seconds. Ensure not to burn the spices, as the burnt spice powders can turn curry to taste bitter.
Now add water, and soak moong bean.
Give a gentle stir.
And close the lid. And set the cooking mode to manual. Set the timer to 12 minutes.
Once the timer is done, allow the pressure to release naturally. It would typically take 10 minutes.
Then open the lid, add in salt and chopped cilantro/coriander leaves. And a teaspoon of butter(optional).
And using a whisk, gently mash the beans. A couple of stirs with the whisk does its job. Do not mash it well, as the curry may have a paste-like texture.
And ENJOY with roti/flatbread, or steamed rice.
Can I make it without soaking?
I would recommend soaking the mung bean before cooking. But if you do not have enough time for soaking, roast dried mung beans over medium heat until they change color slightly. Dry roasting speeds up the cooking time.
Can I make mung bean curry with a slow cooker?
Yes, you can cook with the same recipe and method with a crockpot/slow cooker. For this, sauté the onion, and tomato with spice powder in a pan over the stove top.
Add the mung bean, onion+tomato spice mixture, and water to the slow cooker. and cook it high for 4 hours(the time slightly varies according to the size of the crockpot).
Is this recipe good to make with a stovetop?
Yes, absolutely. Follow the same Instant Pot method of making mung bean curry until sauteing onion and tomato. Then cook for 25-40 minutes on low to medium heat by adding 3 cups of water and covering it with a lid(stir occasionally and add water if needed).
I do not have cumin seeds. Can I skip that?
The mung beans have thick skin; some may find it difficult to digest. So, the cumin seeds and garlic lifesavers. Technically, cumin seeds will not heavily impact the mung bean curry, but I suggest using them. It is a good investment for better health. After using, throw the rest of the cumin seeds into the freezer, and it stay good for years.
Can I make it in advance?
Yes, this freezer is friendly and suitable for meal prepping as well. So, you can make them well in advance and store them in the refrigerator for up to five days and up to three months when frozen.
How to store?
An airtight container is always the best option, like any other food. Once cooked, allow it to reach room temperature., then store in individual single-serve portions.
How to reheat?
Whenever needed, thaw in the refrigerator overnight, and reheat using the microwave for about two minutes. Or boil a quarter cup of water when choosing to reheat over the stovetop.
Other curry recipes,
Printable recipe card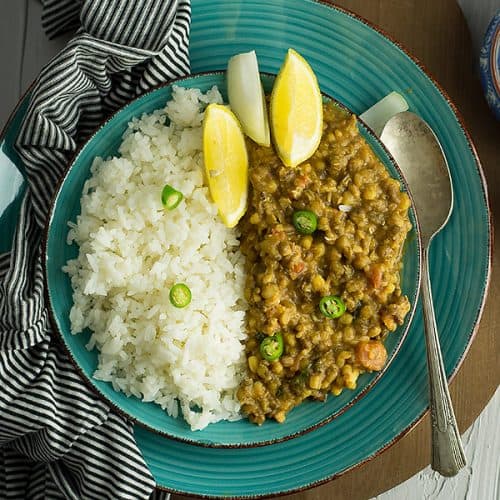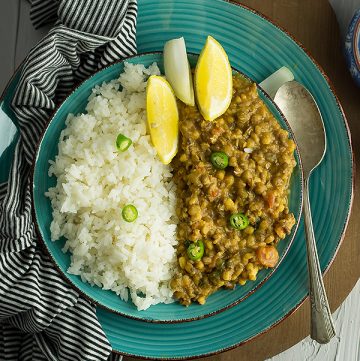 Mung bean curry
Mung bean curry is an Indian style curry and with the ingredients that are easily available here in the United States. Very flavourful side dish best to serve with rice or naan.


Print
Pin
Rate
Ingredients
Ingredients for soaking
1

cup

moong bean

Presoaked minimum for 6 hours

4

cups

water
Other Ingredients
2

tablespoon

vegetable oil

½

teaspoon

cumin seeds

onion

¼

cup

onion

chopped

2

tablespoon

garlic

7

oz

diced tomato

canned/fresh

1

teaspoon

cayenne pepper

or as required

½

teaspoon

ground Coriander

¼

teaspoon

turmeric powder

¼

cup

cilantro

chopped

2

cups

water

1

tablespoon

butter

optional or coconut milk or fresh cream
Instructions
For prepping
Soak mung bean in 6 cups of water for 6 hours. Then rinse and drain moong dal and set aside. Discard the water.
For seasoning
Set the Instant pot to saute mode.

Add vegetable oil, cumin seeds. Wait until cumin seeds slightly change its color.

Add onion and saute until it turns translucent.

Now add minced garlic, and saute till fragrance.

Add canned diced tomato. Saute for a minute

Add cayenne pepper, ground coriander, and turmeric powder.

Add soaked and drained mung bean.
For cooking
Set the Instant pot cooking timer for 12 minutes.

Wait for 10 minutes to release the steam naturally.

Open the lid, add salt, chopped cilantro and butter.

Use a whisk to slightly crush the mung bean.

Transfer to a serving bowl and serve hot with naan or rice.
Notes
Presoak the mung bean for minum of 6 hours to overnight.
More it soaks the better is the result.
If you do not have time for soaking, you may dry roast the mung bean to speed up the cooking time.
Nutrition
Calories:
283
kcal
|
Carbohydrates:
36
g
|
Protein:
13
g
|
Fat:
11
g
|
Saturated Fat:
8
g
|
Cholesterol:
8
mg
|
Sodium:
46
mg
|
Potassium:
764
mg
|
Fiber:
9
g
|
Sugar:
5
g
|
Vitamin A:
480
IU
|
Vitamin C:
9
mg
|
Calcium:
95
mg
|
Iron:
4
mg
**Disclaimer: The nutritional information provided is an approximate estimate only.