This Madras Lentils recipe would be the best companion for this negative Fahrenheit temperature. Which is easy and simple to make and, of course, tastes exceptionally delicious.
Loaded with protein-rich lentils and smothered in the smooth, creamy tomato sauce to lighten the weeknight dinner. A great meal prep recipe, it can be stored for a couple of months in the freezer.
We are hitting the maximum low temperature of the year, which is in negative Fahrenheit here in Pennsylvania. Currently, what do I do? Well, you know I'm hunting for all the warm, cozy easy-to-make delicious food.
I feel I'm fortunate that I always have a list of such recipes and keep making them frequently. And we are already in hibernation mode, eating warm, cozy comfort food all day long like this Madras Lentils.
This Madras lentils recipe that I keep making a lot and thought this moment would be perfect to share with you, as most of you might also be looking for.
Since it is heart throbbing cold outside, we really wanted to eat something tasty, light but power-packed dinner. And we are craving for some soup sort of thing in the evening and this Madras lentil would be perfect for today.
So I decided to go with Madras lentils as it is convenient for me to make as it requires minimal preparation time, which brings on a big smile. I'm in a happy mood and need not spend much time in the kitchen in this chilly weather. And also this a flavorsome delicious food loved by my whole family.
So if you are hunting for a new side dish for this season or if you need some nutrient-rich dish for meal planning, this recipe is yours.
Do not forget to save this recipe for future reference; include these curry recipes in your collection. Or look into spicy dinner ideas for more.
I first tasted the sample from Costco and after that, it was a non-stop affair for me. I find that sachets are convenient for storing and reheating. I buy them in packs so that we can make a full-course meal with the press of a button.
Sometimes I miss getting Madras lentils from Costco, Do I need to drive, or should I make it at home? I chose the second option and was very successful. I thought you would also relish the same way as I did.
What is Madras lentils?
Madras lentil is an Indian-style vegetarian chili. Plus, it is an Anglo-Indian recipe, where the lentil is made in the Madras style. Madras was a huge Province in India in the last century. That is known for its rich, light lentils and bean dishes.
For those who are not familiar with where the Madras is, this is one of the four Indian metro cities. Which was recently renamed 'Chennai', and is one of the popular Indian cuisines. How do I know all this? Well, I'm from Chennai. If it is not me, then who is going to explain so well here?
Generally, this recipe needs the overnight soaked lentils. And the whole family can relish the dish, including the kids.
Also, I made Madras Lentils less spicy to suit today's cold weather. But if you wish, you can add up or reduce the heat and the spices.
How do these Madras Lentils taste like?
This is a bundle of creamy and luscious tastes with perfectly balanced spices. The richness of the lentils and the spices added to enhance the flavor. You could feel the creaminess of the lentils, and tomato's rich flavor with the hint of ginger, garlic, and other spices.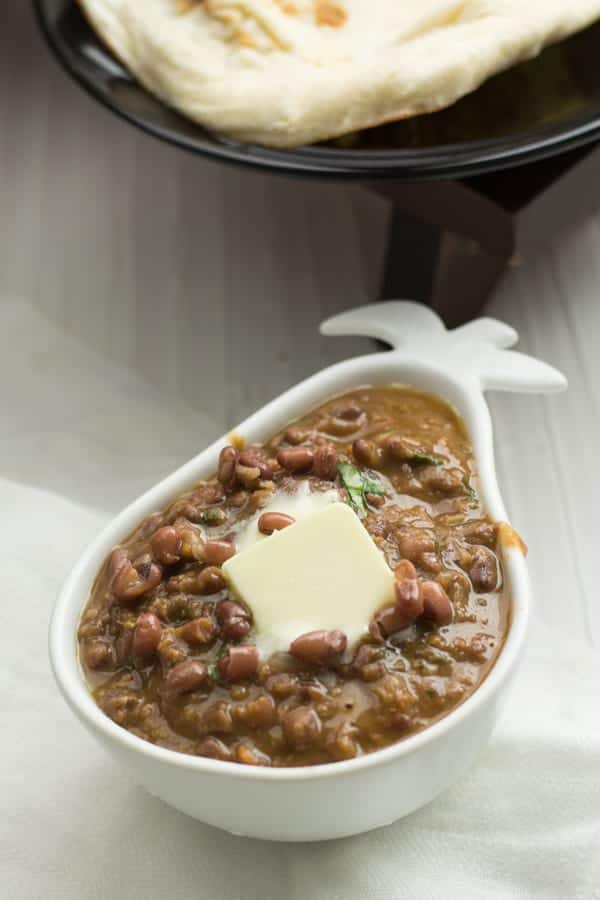 How to make Madras lentils
The ingredients
These are the basic ingredients required for making Madras
Lentils. This is a big topic to cover. To let you know in a simpler way, you can use any lentil of your choice. Generally, I make it with adzuki beans. But you can make it with regular lentils, red beans, or moong beans.
Soak for at least 8 hours before making the cooking process easier. I have sprouted lentils to make nutrient-rich Madras Lentils.
Normally the overnight soaked lentils and beans are good for cooking, as they bring down the cooking time. And this time, spouted the lentils
Sprouting. I sprouted the lentil with the help of salad spinner bowls. I soaked the lentil for 12 hours. Then drain and add to the inner bowl of the salad spinner. For every 12 hours, I take out the inner slotted bowl and hold it under the tap water. And return it to the main bowl. Cover it with a wet cloth. I repeat this process for three days. You would start seeing the small sprouts within 2-3 days.
And the lentils are sprouted evenly and perfectly. But sprouting is optional here in this Madras lentils recipe.
Onion. I went with yellow onions as I feel they blend well and bring all the ingredients together. But feel free to substitute with red or white onion according to your preference.
Tomato puree. Normally I use to puree from fresh tomatoes. But if you wish, you can use the canned tomato puree. The canned puree is slightly tart than the fresh tomatoes. So substitute ½ cup fresh tomato puree with ¼ cup canned puree.
Ginger and garlic. These are the essential ingredients in Indian cooking. It is added not only for the flavor but also the taste.
Butter. I have added the butter at the garnishing stage. Butter takes out all the sharp, tingling taste and makes the final dish round and wholesome. To make vegan Madras Lentils, you may opt-in for vegan butter, heavy cream, or vegan cream.
Red chili powder. This is the Indian red chili powder. You may use Kashmiri chili powder which enhances the color and less heat to the food. Or you can substitute red chili powder with the cayenne pepper smoked paprika, or a combination of both, depending on your preferred spice level.
Ground coriander. This is another staple ingredient of India. You can never see an Indian recipe without coriander. You may get the ground coriander from Indian, Asian, or online stores. Alternatively, you may grind the coriander seeds in a mortar and pestle.
Madras curry powder. This makes the dish aromatic in the Indian style. Without this, I would say the dish is not complete. Though we add, as little as 1 teaspoon, it works enormously on the final dish. But you may substitute with whole spices like cinnamon, cloves, and bay leaves. If you are replacing, fry the whole spices in cooking oil before adding. If you do not prefer this spice blend, swap it with Garam masala.
The recipe directions
Soak. Soak lentils for about 8 hours or until it is tender.
Saute. Keep the instant pot in the sauté mode. Add cooking oil and onion. Sauté until onion till it becomes translucent. And then add grated ginger and garlic and cook until it is fragrant.
Add puree. Add fresh tomato puree and sauté until it thickens.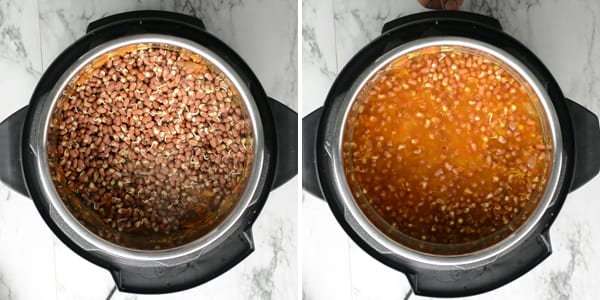 Add spices. add red chili powder and coriander powder and sauté for 2 seconds. Watch out; the spices should not get burnt.
Add lentils. Add lentils and water.
Set the timer. Set the manual timer for 15 minutes. And allow the pressure to release naturally.
Garnish. Open the lid and crush half of the lentil with the spoon gently. Garnish with chopped cilantro and serve hot.
How to make with a crockpot?
Reduce the quantity of the onion as I personally feel that the onion's flavor is over-powering. To combat this, I would advise you to saute the onion, ginger, and garlic before adding to the Crock-Pot.
Add all the ingredients together.
Then cover with the lid and cook on low for 6 hours or high for about 3 hours. This recipe will fit in either the 4-qt or 6-qt slow cooker.
Possible variations
Add beans and lentils- Like mung beans, regular lentils, or red beans.
Add in grain. To make a wholesome dish, add some carbohydrates. Adding grains like barley, quinoa, or bulgur would be an intelligent idea. Adjust the water according to the grain you are adding.
Add in nuts-You may add in soft nuts like walnuts or pecan. This adds crunchiness to the dish.
Add vegetables- Feel free to add more vegetables like potato, sweet potato, green and red pepper, and zucchini. Add more water according to the quantity of the vegetables.
Make it spicy- If you want to make this recipe spicy, add a jalapeno or Thai green chili. Adjust the heat by deseeding them.
How to serve
This Madras lentil is best served with brown rice or white rice or with flatbreads like naan. It is also great to have chips and salsa.
Pair this nicely with a non-alcoholic mojito or pomegranate punch or with homemade apple juice
How to store
Allow the lentil to cool down to room temperature. Then, pack them in airtight containers. Refrigerate them for up to 3 days and freeze them for up to 4 months.
Other Curry recipes you may like,
Printable recipe card
Madras Lentils recipe
This Madras Lentils recipe is easy and simple to make and tastes extremely delicious. Simply made with lentils and creamy tomato sauce.
Print
Pin
Rate
Ingredients
For prepping
2

cups

adzuki beans

/or lentils
For seasoning
2

tablespoon

vegetable oil

½

cup

onion

chopped

1

tablespoon

ginger

grated

1

tablespoon

garlic

grated

1

cup

tomato puree

fresh

2

teaspoon

red chili powder

/cayenne pepper

1

teaspoon

coriander powder
For making
3

cup

water

/until beans are submerged

1

teaspoon

salt

1

teaspoon

Madras curry powder

2

tablespoon

cilantro

chopped

2

tablespoon

butter
Instructions
For prepping
Soak lentils overnight or until it is tender.
For seasoning
Set the instant pot in the sauté mode.

Add vegetable oil and onion. And sauté until onion becomes translucent.

Add grated ginger and garlic, cook until it is fragrant.

Add tomato puree and sauté until it thickens.

Now add red chili powder, coriander powder and cook 30 seconds. Cautious the spice powders should not get burnt.
For making
Select manual button and set the timer for 15 minutes and cook.

And wait for 20 minutes to allow the pressure to release.

Open the lid, crush half of the lentil with the spoon gently.

Immediately add salt, Madras curry powder and test the taste.

Garnish with butter and chopped cilantro. Serve hot.
Notes
Check the consistency, and add water to adjust to your preference.
Refrigerate to use upto 3 days and freeze to use upto 4 months.
Nutrition
Calories:
152
kcal
|
Carbohydrates:
19
g
|
Protein:
5
g
|
Fat:
6
g
|
Saturated Fat:
2
g
|
Cholesterol:
7
mg
|
Sodium:
346
mg
|
Potassium:
477
mg
|
Fiber:
5
g
|
Sugar:
2
g
|
Vitamin A:
465
IU
|
Vitamin C:
4.5
mg
|
Calcium:
33
mg
|
Iron:
1.9
mg
**Disclaimer: The nutritional information provided is an approximate estimate only.
Liked this recipe? Follow us on Facebook, Pinterest, Instagram.