It is time to be in the high spirit, Instant pot potato curry. This Indian-style curry is loaded with potatoes in a thin, spicy onion, and tomato sauce, balanced well with red chili powder, coriander powder, and turmeric powder. Ready in 15 minutes effortlessly makes it worth trying on busy weeknight dinners.
This Instant Pot curry is simple and does not have extra frills or fancy ingredients. Most of the ingredients are commonly available in any of the leading grocery stores. No access to some of the ingredients? well, no problem at all, we will discuss all the substitutions and tips.
This spicy Instant Pot potato curry can also be adapted to stovetop or pressure cooker methods.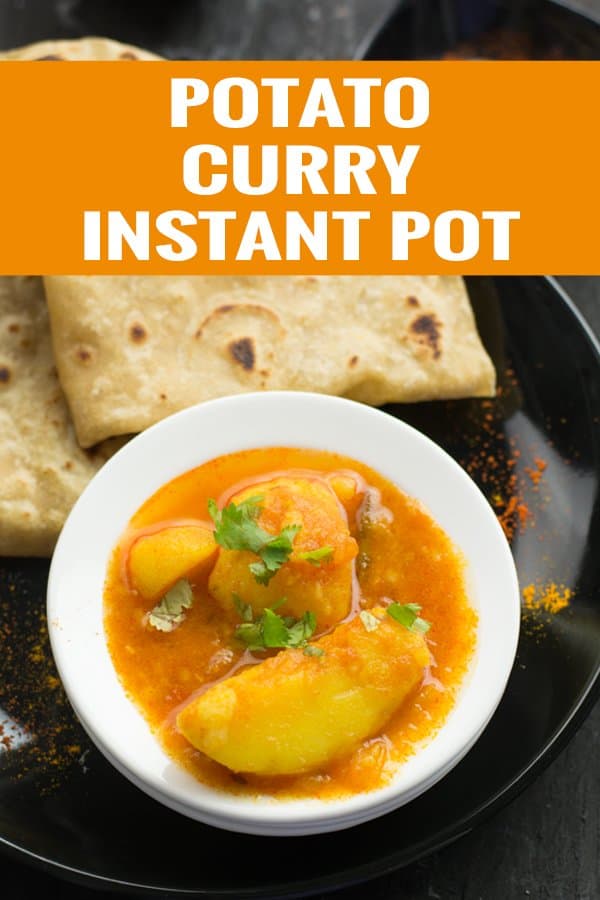 I know you well; you are already a busy person and doing multiple tasks at the same time. Because of its less preparative work, you do not need to spend much time in the kitchen and focus on other work, as this Instant Pot potato curry recipe is a lifesaver. It is no surprise this recipe became my favorite.
This is one of the easy Indian Potato curry recipes. It is tasty and can be made with minimal ingredients and quickly. If friends are coming over, consider making two or three side dishes. It would be the best choice for these occasions and one of the best Instant Pot Indian curry recipes.
My mom made this very often at home when we were young. She makes this dish when we return from a long trip and long for home food. She surprises us by making it in less time. And I should share this impeccable dish with tips and secrets.
Well, I'm hearing what you are asking now.
How does this Instant Pot potato curry taste like?
This does taste spicy but balanced well with the hint of tomato taste. It looks adorable in golden red, with the cream-colored potatoes popping between the tangy, thin gravy.
Other spicy side dishes you may find interesting
How to serve potato curry?
This easy, simple Indian potato curry is the best side dish to serve with Indian dishes like chapati, dosa, or poori/puri. In other words, this spicy dish goes well with the neutral main dishes like the above.
And this instant pot potato curry also perfectly matches naan bread or any flatbread. It can also be served as a vegan dip for your favorite appetizers.
Make-Ahead preparation
We always have this question when planning for cooking. Can I prepare anything in advance to minimize the pressure while cooking? And this question pops for all, from beginners to professionals. My serious answer would be, No, this recipe does not need a make-ahead preparation. This is the easy potato curry with the Instant Pot's comfort.
But still, you may peel the potatoes, ginger, and garlic a day before. And we do the rest of the steps directly in the instant pot.
How to store?
The leftovers can be refrigerated for us within 2-3 days and frozen for use within 3 months. But make sure you store in an air-sealed container to avoid contamination.
Indian Potato curry-Pairing Ideas
As we have already discussed, this simple Instant pot potato curry is excellent to serve with chapati, poori, dosa, and appam.
This is also good to serve with naan bread, paratha, or other flatbreads.
Raita would be the perfect sub-condiment for this spicy potato curry.
South Indian Potato-Variations
Add vegetables like peas, carrots, green beans, and cauliflower to make it more nutritious.
To make it Kerala-style potato curry, add ground coconut or coconut milk.
The recipe is an Andhra-style dish. To make it hot, add ½ teaspoon of red chili powder.
You can convert the instant pot potato curry recipe to the stovetop version. Follow all the steps. Instead of the Instant Pot, you may use a pan for cooking. And half a cup of water more to allow the potato to cook.
If you are using the pressure cooker, follow the same steps, but swap the Instant Pot with the pressure cooker. After the first whistle, simmer the flame and cook for 5-7 minutes.
The ingredients and their substitutions
Potato: Any potato variety is suitable for making this curry. But golden Yukon potatoes top with the priority. According to availability, choose the verity. Since it is a root vegetable, it comes with some unwanted bacterial friends. So wash them thoroughly before using them.
Ginger and Garlic: A small piece of ginger and garlic is sufficient to make this Instant pot potato curry. Using them fresh gives a robust flavor to the dish. But instead, you may use ginger garlic paste. Ginger is not tougher to get in the stores anymore. But in its absence, you may skip using it. And assume, garlic is universal, and you have it at home already.
Onion: Use any type of onion, red, yellow, or white onion. As this will not alter the taste of the potato curry.
Tomato: This is a taste enhancer. Plum tomatoes or Roma tomatoes are great for making this recipe. But you may substitute with diced tomatoes that are available in cans.
Cumin Seeds: This adds a hint of flavor to the dish. If you do not have it handy, you can skip or substitute it with fennel seeds.
Serrano peppers / Green chilies: Thai green chilies are available in our Indian store in Pennsylvania. You may substitute with serrano peppers, which have the same flavor.
How to make potato curry in Instant Pot
Prepare the ingredients. Wash and peel the vegetables. Peel of potato, onion, ginger, and garlic. Gently crush the ginger and garlic with the knife or the back of the spoon.
Season. Add cooking oil and cumin seeds. Cook until it splutters. The spluttered seeds are more aromatic.
Saute. Add onion and cook until soft and change to pink. Add crushed ginger and garlic. Add tomato and saute further.
A pro tip: Each ingredient has different cooking times, so add it to different paces. Add each one until it is aromatic.
Add salt while sauteing, making the vegetables cook evenly and faster.
Spice it up. Add red chili, coriander, and turmeric powder, and saute for 10 seconds. The spices should not get burnt; the Instant pot is hot now.
Combine- Add peeled potatoes and water. Taste now and adjust the salt here.
Cook- Close the lid of the Instant Pot. Set the timer manually for 7 minutes. Wait for about 10 minutes to allow to release the pressure.
Garnish- Open and Slightly mash ¼ of the potatoes. Transfer it to the serving bowl and garnish with fresh cilantro.
Printable recipe card
Instant pot potato curry
Instant pot potato curry is loaded with potatoes in a thin, spicy onion, tomato sauce, which balanced well with red chili powder, and turmeric powder. Ready in 15 minutes effortlessly and best for busy weeknight dinners.
Print
Pin
Rate
Ingredients
1 ½

cup

Potato

peeled

½

inch

Ginger

1

pod

Garlic

2

tablespoon

Vegetable oil

¼

teaspoon

Cumin seeds

¼

cup

onion

2

Serrano peppers

stilted

½

cup

tomato

roughly chopped

1

teaspoon

Red chili powder

¼

teaspoon

turmeric powder

1

cup

Water

1

teaspoon

Salt

2

tablespoon

Cilantro

chopped for garnishing
Instructions
Cut potato into wedge shape. Crush ginger and garlic gently with back of ladle. Set aside.

Set Instant pot to 'Sauté' mode.

Add vegetable oil and cumin seeds. Allow it to splutter.

Add chopped onion, and sauté until it becomes translucent.

Then add ginger, garlic, serrano peppers. Sauté for 30 seconds.

Now add tomato sauté until it becomes soft.

Add red chili powder and turmeric powder. Sauté for 20 seconds.

Add water,salt, and potato wedges. Close the lid.

Set the Instant pot manually for 7 minutes.

Once cooked, wait for 10 minutes to release the pressure.

Open the lid, gently mash 25% of the potato make the curry thicker.

Transfer to serving bowl, and garnish with cilantro.

Serve hot as a side dish.
Nutrition
Calories:
119
kcal
|
Carbohydrates:
12
g
|
Protein:
2
g
|
Fat:
7
g
|
Sodium:
605
mg
|
Potassium:
406
mg
|
Fiber:
2
g
|
Sugar:
1
g
|
Vitamin A:
395
IU
|
Vitamin C:
13.6
mg
|
Calcium:
24
mg
|
Iron:
2.9
mg
**Disclaimer: The nutritional information provided is an approximate estimate only.
Liked this recipe? do follow us on Facebook, Pinterest, Instagram