The Fall is finally here, and you know what that means? Try this butternut squash curry alongside pumpkin-spiced lattes, cozy sweaters, and rich butternut squash dishes. And today, we've got a real treat that combines the best comfort food with the vibrant flavors of global cuisine.
This vegan butternut squash curry is just creamy enough to enjoy with rice or naan bread, thanks to the coconut milk.
Why do we all like this butternut squash curry recipe?
Creamy Butternut Squash Curry: This curry is made creamy by adding coconut milk, creating a velvety and delicious base for the dish that complements the natural buttery texture of the butternut squash.
Vegan Delight: This dish is entirely made with vegan ingredients, making it an excellent option for those looking for a plant-based meal.
Meal Prep Friendly: Prepare this curry in larger batches over the weekend, and then portion it into individual airtight containers for easy and convenient grab-and-go lunches throughout the week. It's a grab-and-go lunch option throughout the week.
Perfect for Fall: I recently visited the local market and had more butternut squash than I needed for the week. So, here's a recipe to make the most of those butternut squash goodies and turn them into meals for the rest of the week.
How to make this Easy Butternut Squash Curry
The Ingredients
Coconut Milk: I highly recommend using coconut milk for its nutty flavor, which is ideally suited for this curry recipe. In case you have a coconut milk allergy or are looking for an alternative, you can try using almond milk. I have used full fat coconut milk. You can also substitute it by using light coconut milk, but remember this is slightly less creamy and tastes delicious.
Butternut Squash: It's one of our family's favorites, and like many other families, we love it, too. Butternut squash has a thick skin, so it's best to remove it using a peeler rather than a knife. If you prefer, you can also buy pre-cut butternut squash to save time.
Onions: Both red and yellow onions are suitable for use in this recipe, and each has unique qualities. Red onion offers a mild, savory flavor that complements the curry, enhancing its taste and adding depth. On the other hand, yellow onion have a gentle hint of sweetness that balances the curry's heat.
Garlic: Adding a professional aromatic brightness to the curry, freshly peeled cloves of garlic is always highly advisable. Garlic powder does not do justice to the curry.
Curry Powder: It's one of the flavor boosters that you can rely on to bring out all the beautiful Indian flavors. If you enjoy making curries at home frequently or are considering trying them, invest in this ingredient. You can find it in most grocery stores, specialty stores, Indian stores nearby, and online. On a side note, don't limit yourself to using curry powder only in curries; try experimenting with other marinades and sauces.
Cayenne Pepper and Paprika Blend: Authentic Indian recipes often call for red chili powder and ground cayenne pepper. For a perfectly balanced curry with just enough heat, you can use half a teaspoon of cayenne pepper combined with half a teaspoon of smoked paprika. If you find that too spicy, you can skip the cayenne pepper; it won't significantly affect the overall taste of the recipe.
Olive Oil: For added richness, use coconut oil. Any neutral-flavored cooking oil will work well for this recipe, such as canola oil or vegetable oil.
Optional: Grate some fresh ginger and garnish it with chopped cilantro leaves. Additionally, you may add a teaspoon of fresh lime juice before serving.
The Directions
Prepare: Preheat the oven to 400 degrees Farenheit. And carefully peel the butternut squash, remove the seeds, and cut it into pieces. Use a peeler to remove the squash's tough skin, as it can be challenging to do so with a knife.
Bake: Transfer the butternut squash cubes to a baking tray, and stir in a tablespoon of olive oil, and curry powder. Combine them well until the curry powder coat the veggie evenly. And bake for a 20-25 minutes or until the butternut squash is tender and charred at the edges. And set aside.
Sauté the Veggies: Meanwhile, heat a pan over medium-high heat. Stir in one tablespoon of olive oil, toss the chopped onions and minced garlic. And sauté them until they become soft and fragrant. This step is essential for building flavor.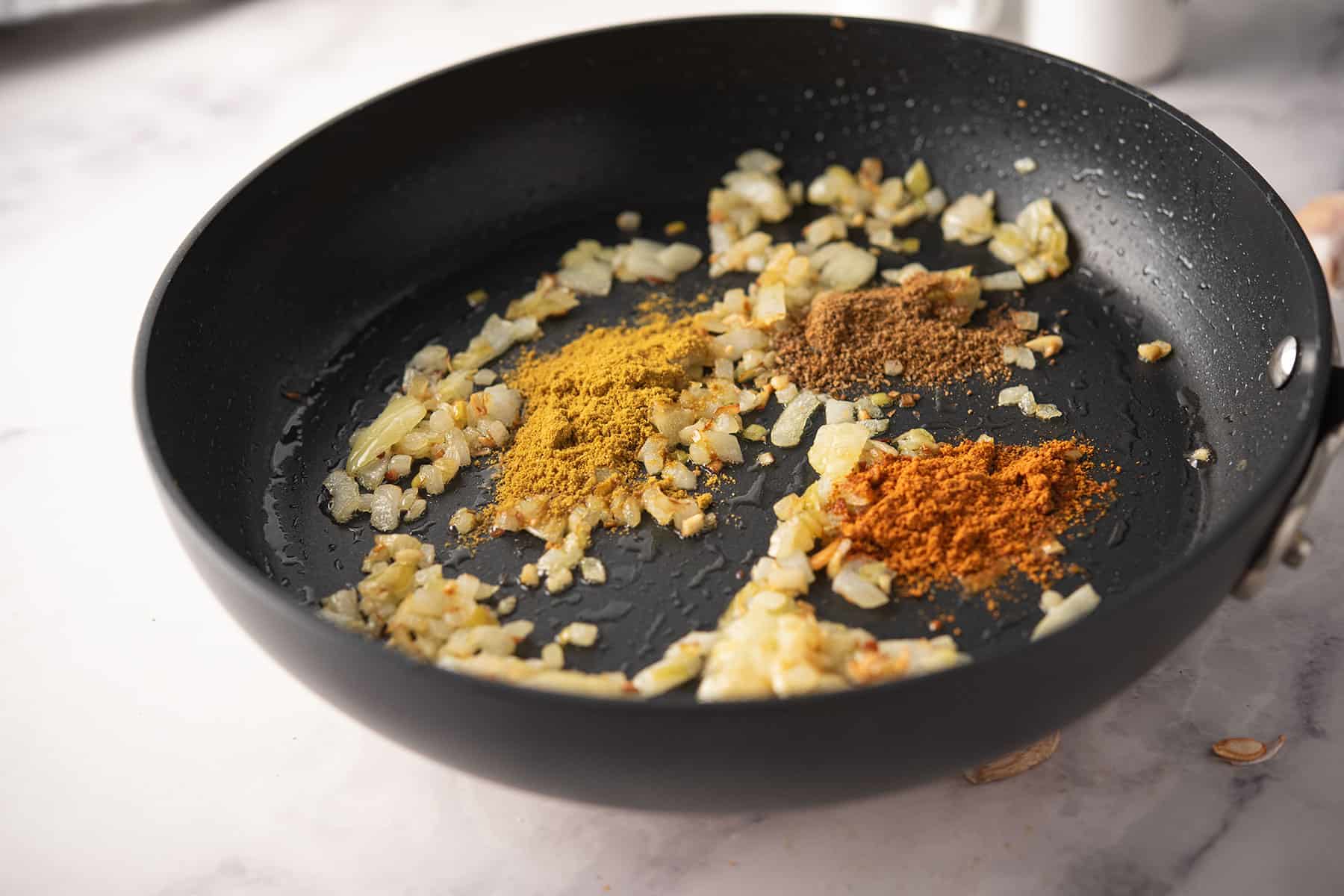 Add the Spices: Now, cumin powdr, coriander powder, and curry powder. Blend until all the ingredients combined evenly.
Cook the Squash: Pour in the can of coconut milk and the roasted butternut squahs. Then turn the heat to low. Add salt and cover the pot with a lid. And cook for 5 to 7 minutes or until the butternut squash cubes become fork-tender.
Garnish: Sprinkle fresh cilantro or coriander leaves with freshly grated ginger(optional); serve hot with rice or naan bread.
Best to serve with
Salad: A simple green salad with baby spinach or mixed greens provides a nice contrast to the warm and flavorful curry. Alternatively, if you're looking for a spicy complement, the Fiesta Salad would be an excellent choice.
Rice: A bed of jasmine rice, brown rice, or steamed white rice will complement the bold flavors of the curry. On the other hand, if you're in the mood for flavorful rice, try making cilantro rice by following the package instructions for cooking the rice.
Naan Bread: A soft and fluffy naan bread is perfect for scooping up the tasty curry. You can get it from grocery stores or make it yourself. If you want to try other bread varieties, consider making avocado paratha.
Cooling Side Dishes: To complement and balance the savory and warm flavors of the curry, enjoy it with cooling side dishes like raita or freshly cut cucumbers. Mixing this combo is a delightful choice.
Protein Side: For a complete and satisfying meal, you may serve protein-rich side dishes like mashed chickpea salad or raita loaded with yogurt.
How to store the leftover Butternut Squash curry?
In the Refrigerator: Transfer the remaining curry to an airtight container and refrigerate it. This action will maintain the freshness of the leftovers for 4-5 days and allow for convenient reheating whenever you choose to enjoy it.
In the Freezer: This recipe is freezer-friendly. Transfer the leftover butternut squash curry to a freezer-safe, sealed container or Ziploc bag. Store it in the freezer for up to 3 months, ideally in individual portions for easy and convenient thawing and reheating.
Thawing: To defrost the curry, leave it in the refrigerator overnight until it becomes soft. Alternatively, you can gently thaw it in the microwave in short intervals.
Reheating: After your curry thaws, you have two reheating options: stovetop or microwave. To reheat on the stovetop, transfer the cold curry to a pan over medium-low heat and stir it occasionally until it turns hot. If you opt for the microwave, place the curry in a microwave-safe bowl and heat it in one to two-minute intervals, stirring in between until it's hot.
Variations
Party Variations: If you're serving this butternut squash curry at a party, or if you want to make it richer and creamier, consider swapping the coconut milk with fresh cream. When using fresh cream, cook the butternut squash with water or vegetable broth. Combine the fresh cream at the end to retain its luscious texture.
Veggies: You can enhance the dish by adding vegetables like broccoli, pumpkin, sweet potatoes, or zucchini, whichever is available. Don't worry; the curry will taste perfect with the added natural flavors of these veggies.
Protein: For extra protein, add ingredients like chickpeas, mung beans, lima beans, tofu, or cottage cheese. When adding chickpeas, ensure they are pre-cooked, as their cooking time differs significantly from that of butternut squash. You have the option to include tofu and lima beans along with the coconut milk for added protein and texture. To gain a deeper understanding and find detailed instructions, refer to recipes like Tofu Curry or Lima Bean Curry.
Add Tomatoes: For authentic Flavors of Indian cooking, include diced tomatoes and butternut squash. If you're using fresh tomatoes, chop them finely and add them to the onion and spice mixture, sautéing until they turn mushy. Then, add the butternut squash cubes, followed by the coconut milk.
Thai Flavors: Add a tablespoon of Thai red curry paste during the final stages of the cooking process and allow it to cook in low heat for 1-2 minutes. And finish it by garnishing it with Thai basil.
For sweetness: Try the sweetener version of the Butternut squash curry by stirring in maple syrup or coconut sugar.
Tools recommended for this recipe
Knife: A short or sharp knife is a valuable investment in the kitchen that makes cooking effortless and enjoyable.
Peeler: As we've already discussed, using a peeler makes removing the skin more manageable, and this one has a comfortable grip.
Deep Pan: A deep-bottomed pan is ideal for sautéing. Its thick bottom ensures you can sauté the onions and other ingredients more evenly without burning them.​
Pro Tips for Butternut Squash Curry
Dutch Oven: Its thick bottom and even heat distribution make it ideal for sauteing the onion(its lowdown flavors are the must for this recipe).
Roasted Butternut Squash: Roast the butternut squash cubes before adding them to the curry. Roasting adds a delightful caramelized touch to the dish.
A Squeeze of Lime Juice: Drizzling freshly squeezed lime juice enhances and balances the richness of the curry.
Printable recipe card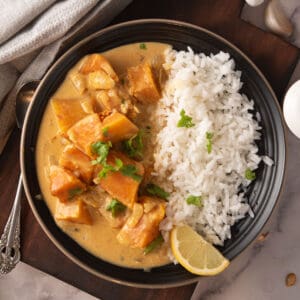 Butternut Squash Curry
Savor the sweet and nutty flavors of butternut squash curry! Perfect for weeknight dinners, this easy-to-make dish is packed with warm spices!
Print
Pin
Rate
Ingredients
1

butternut squash

about 2-3 lbs, peeled and cubed

1

14 oz

coconut milk

full fat/light

1

cup

onion

chopped / 1 large onion

2

cloves

garlic

minced

2

tablespoons

olive oil

2

tablespoons

curry powder

1

teaspoon

ground cumin

1

teaspoon

ground coriander

½

teaspoon

salt

2

tablespoon

Fresh cilantro

chopped

1

tablespoon

lemon juice

/lime juice
Instructions
Preheat Oven
First, preheat your oven to 400°F.
Roast the Squash
Toss the butternut squash cubes with 1 tablespoon of olive oil and salt. Spread them on a baking sheet and roast for 25-30 minutes or until they're tender and a little crispy on the edges.
Cook the Base
While the squash is roasting, heat the remaining olive oil in a large pot or skillet over medium heat. Add the diced onion and minced garlic. Cook until they're soft and smellin' good.
Spice It Up
Add the curry powder, ground cumin, and coriander to the pot. Stir it all together so the spices get mixed in.
Add the key ingredints
Add the can of coconut milk, the roasted butternut squash, and the salt to the pot. Stir it up so everything gets mixed.
Cook in low heat
Reduce the heat to low and let the curry cook for about 10 minutes. This helps all the flavors to develop.
Garnish and Serve.
Dish it up into bowls and garnish with fresh cilantro and lemon juice.
Nutrition
Calories:
89
kcal
|
Carbohydrates:
14
g
|
Protein:
1
g
|
Fat:
4
g
|
Saturated Fat:
1
g
|
Polyunsaturated Fat:
0.5
g
|
Monounsaturated Fat:
3
g
|
Sodium:
151
mg
|
Potassium:
396
mg
|
Fiber:
3
g
|
Sugar:
3
g
|
Vitamin A:
9991
IU
|
Vitamin C:
22
mg
|
Calcium:
63
mg
|
Iron:
1
mg
**Disclaimer: The nutritional information provided is an approximate estimate only.