The simple and delicious lima bean Curry is easy to make in under 20 minutes. Spoiler alert, this Indian-style curry can turn into a favorite dish for the whole family.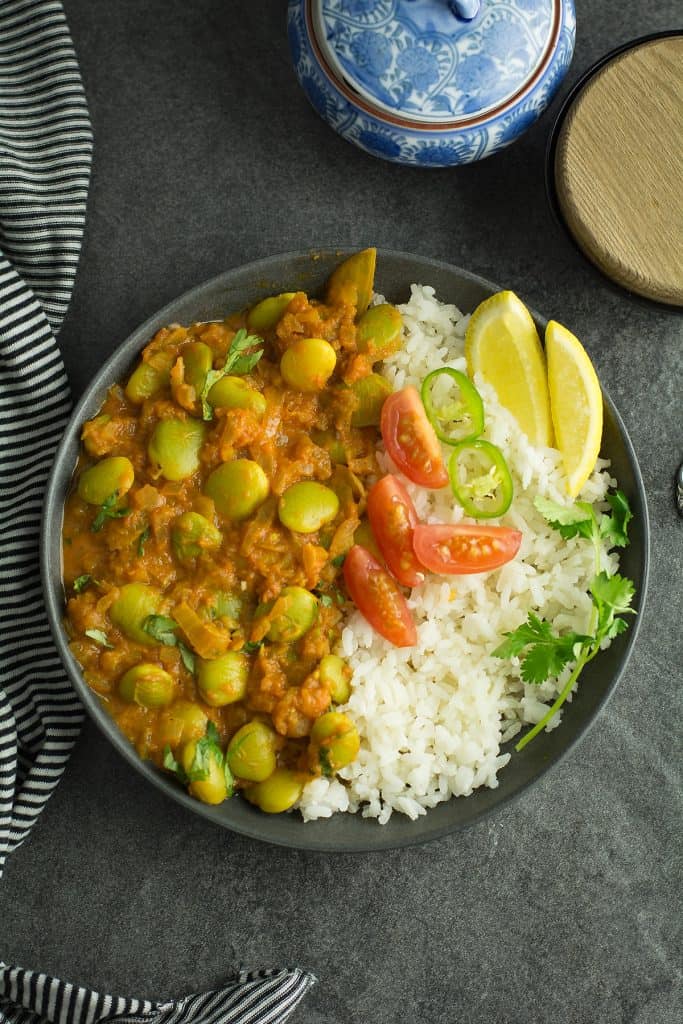 About this recipe
This is a vegan and protein-rich side dish that pairs nicely what we serve with. Made with easy-to-find ingredients, Wonderfully fits the weeknight dinner meals.
Like any other curry recipe, it is freezer friendly and tastes great even after storing. This lima bean Curry is a perfect recipe for your meal prep menu.
The process of making lima bean curry is suitable for any cooking method. Choose any cooking method you are comfortable with-instant pot, stovetop, or slow cooker. provides us with a full range of freedom to choose our own, and we will discuss the instructions for making each one below.
What is Lima bean curry?
Lima beans Curry is a side dish with spiced thick gravy and soft-cooked lima beans. It's made in the Indian style of cooking where the lima beans are cooked and simmered in the onion tomato gravy and infused with other warm spices.
This Indian-spiced Curry would be my all-time favorite choice when I crave something spicy. It is easy to put it together and the variations are unlimited.
Similar recipes,
How to make Lima bean curry
If you are familiar with Indian cooking or have made curry, the added bonanza recipe is like a cakewalk.
The ingredients
Lima beans. You have options: use canned, dry, or frozen lima beans. For dried-soak overnight. For canned-discard the water. For frozen, add directly to the pan, thawing is not required.
Onion. Yellow onion is my personal choice, it gives secret sweetness. However, use the onion that you usually use. Slicing thinly and chopping it further provides the curry with a silky texture.
Tomato. I made it with freshly pureed Roma tomato. Yet, plum tomatoes, and canned diced or crushed tomatoes are equally good.
Garlic. Finely grated garlic is the best.
Ginger. In Indian cooking, garlic and ginger always go hand in hand. These are not only the flavor enhancers.
Red chili powder. If you worry about the heat, substitute with cayenne pepper or paprika.
Ground coriander. Gives thickness and a wholesome flavor. If you are making Indian-style cooking, this ingredient is a worthy investment. A small bag costs about $3 and can last a year long.
Turmeric powder. Used for medicinal purposes for thousands of years, though it will not alter the taste of the curry, I would strongly recommend using it.
Cumin seeds. The best seasoning provides the curry a facelift.
Cilantro. Used for garnishing, it makes the curry with a refreshing aroma.
The recipe directions
Get ready. To make the lima bean curry, place a pan over medium heat. Add vegetable oil and cumin seeds. Wait for a few seconds to make it sizzle.
Make the base. Add finely chopped onion and saute until it becomes soft and tender.
Now add grated ginger and garlic. Stir further until they are fragrant but without burning them. Now add tomato and cook until the mixture thickens.
Add spice powders. Now add red chili powder, ground coriander, and turmeric powder.
Stir in for a couple of seconds in medium to low heat.
Stir in 1.5 cups of water and salt. And bring it to a boil.
Cook Lima beans. Add lima beans and cook by covering with a lid.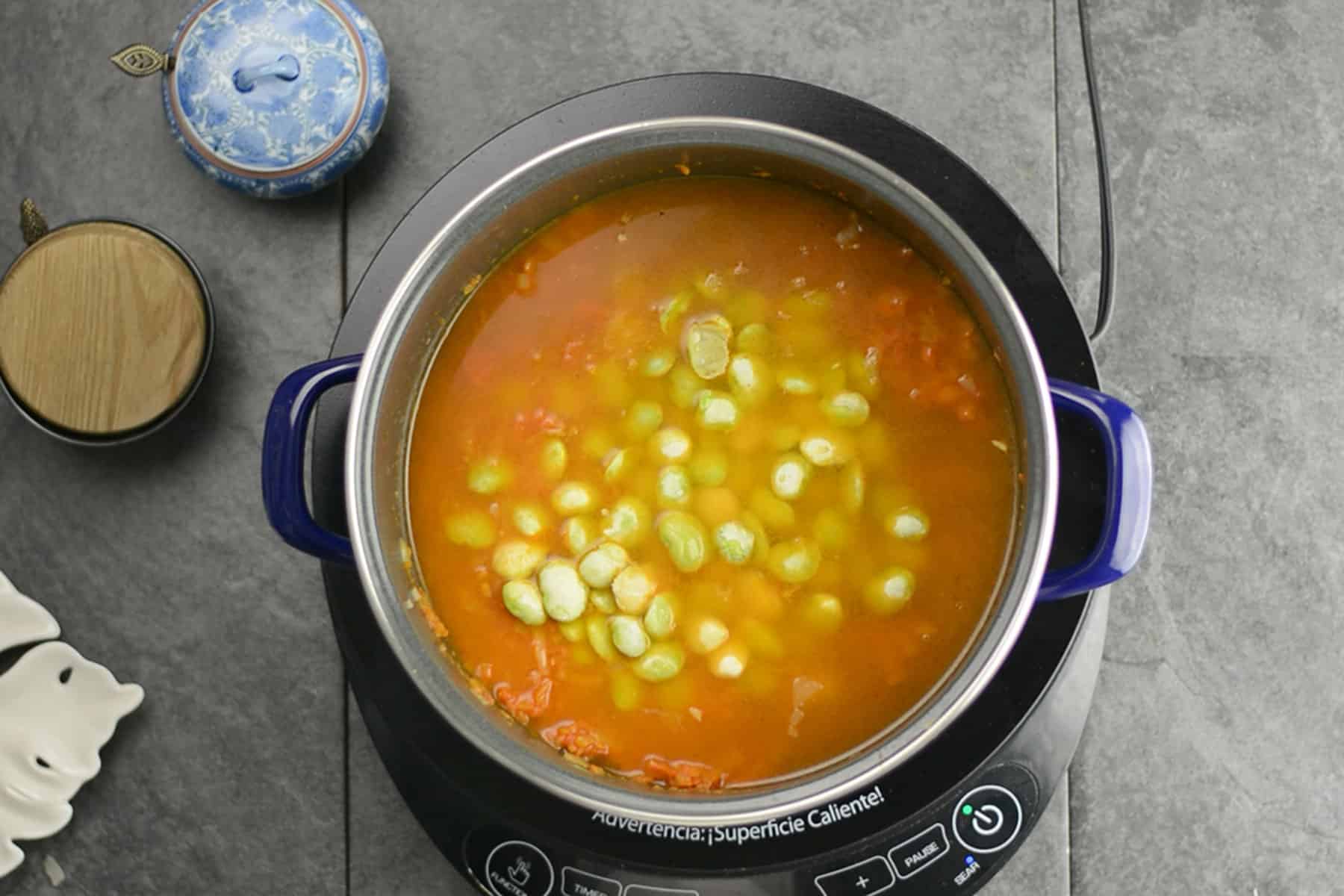 In medium flame, cook until the curry thickens to the desired consistency. If not, add water and cook until it's completely done.
Garnish. Garnish with chopped cilantro and serve.
What goes with Lima bean curry?
There is an unwritten rule somewhere that curry and rice are inseparable. I agree with this statement the same hello baby as a million out there.
Plain cooked white rice, brown rice, or quinoa are the best suggestions to serve with this spiced curry. However, it also tastes good with the slices of bread.
Variations and Ideas
Drizzling a teaspoon of lemon juice is optional, and I highly recommend it.
Green chili. Add slit green chili while sauteing onion for a more robust hot Lima bean curry, and discard before serving.
Garam masala. Can't imagine an Indian dish without garam masala. Go ahead and add it. It makes the curry with a restaurant-style finish.
Make ahead and store ideas.
This lima beans curry is a fantastic meal prep dish that fits into the refrigerator or freezer. Make the entire curry ahead of a couple of days prior.
Storing. Once cooked, allow the curry to reach room temperature. Transfer to the airtight containers, and freeze or refrigerate it. Usually, I make it in bulk and store it in small individual portions, and when needed, I take out the single pack. It's so much easier for me.
Reheating. Thaw by refrigerating overnight microwave for 2 minutes. If needed, stir and cook further. For the stovetop method, add lima bean curry to the pan, and with ¼th portion of water(like if you reheat 1 cup of curry, add a quarter cup of water). Bring it to a boil.
The recipe FAQ
Where to get Lima beans?
It is available as a dry bean and as a green bean(usually as frozen). Generally, the grocery stores used to carry dry beans in their International aisle and the green bean in the frozen vegetable aisle.
Lima bean is also called butter bean in Europe and double bean in India.
Both of these are equally good. However, the frozen green bean is more comfortable as you can use it straight away from your freezer.
On the other hand, you need to soak the dry bean overnight and precook it before adding it to the curry. The one advantage of using dry beans is storing unused beans for a couple of years.
Can I make it with dry lima beans?
Yes, but soak it overnight or, at minimum, for 6 hours, as the unsoaked dried lima beans take longer to cook.
Can I make the curry in Instant Pot?
Yes, follow the same recipe, Set the Instant Pot to saute mode, and follow the process the lima beans are added. Then, cover the lid set the cooking timer manually to 4 minutes, and allow the pressure to release naturally. Then garnish with the cilantro and serve.
Printable recipe card
Lima bean curry
The simple and delicious lima bean Curry easily to make under 20 minutes.This Indian style Curry can turn into a most favorite dish for the whole family.
Print
Pin
Rate
Ingredients
3

tablespoon

vegetable oil

1

cup

onion

finely chopped

1

tablespoon

ginger garlic paste

1

cup

tomato

roughly chopped

1

teaspoon

red chili powder

½

teaspoon

coriander powder

¼

teaspoon

turmeric powder

1

tsp

salt

11/2

cups

water

1

cup

lima bean

frozen
Instructions
Over medium heat in a pan, add vegetable oil and finely chopped onion.

Saute until the onion turns soft and transulancent.

Add ginger garlic paste and stir until fragrant.

Toss roughly chopped tomato and saute until they turn mushy.

Add red chili powder, coriander powder, turmeric powder, and salt.

Stir for few seconds without burning them.

Add water and lima beans. Cover with the lid and cook for 15 minutes in medium heat, or until the lima beans cooked thoroughly and the gravy reaches desired consistency.
Notes
Cooking & Storage Ideas
Sprinkle salt while sauteing onion and tomato to make them cook fast and even. But make sure to adjust the salt when adding it finally.
Storing. Once cooked, allow the curry to reach room temperature. Please transfer it to the airtight containers and freeze or refrigerate it.
Refrigeration. Suitable to use for up to 5 days.
Freezing. Choose freezer-safe containers or bags for best results; use for up to 3 months.
Reheating. Thaw by refrigerating overnight microwave for 2 minutes. If needed, stir and cook further. For the stovetop method, add lima bean curry to the pan, and with ¼th portion of water(like if you reheat 1 cup of curry, add a quarter cup of water). Heat until it turns warm.
Nutrition
Calories:
226
kcal
|
Carbohydrates:
21
g
|
Protein:
6
g
|
Fat:
14
g
|
Saturated Fat:
11
g
|
Sodium:
819
mg
|
Potassium:
531
mg
|
Fiber:
6
g
|
Sugar:
5
g
|
Vitamin A:
681
IU
|
Vitamin C:
11
mg
|
Calcium:
41
mg
|
Iron:
2
mg
**Disclaimer: The nutritional information provided is an approximate estimate only.