The healthy, skinny condiment recipe for all your main dish is Cucumber Raita.
This Indian yogurt sauce is a cool and refreshing side made with cucumber and yogurt that makes any meal more delightful and enjoyable. In this post, we will learn how to make the best raita with the simple pantry ready ingredients.
This Indian cucumber raita is a creamy, delicious and the best raita for Indian biryani. Furthermore, the recipe is very straightforward and easy to make.
If you want to recreate the Indian yogurt dip that you have recently enjoyed in the Indian restaurant, your search ends here. This recipe of raita is what you find commonly in Indian restaurants in the United States.
Jump to:
About this recipe
Cucumber has lots of medicinal values, its good source of Vitamin A, B1, B6, C, and D, it re-hydrate the body, it helps to reduce cholesterol it controls blood pressure, bad breath. I have listed out only a few and have more health benefits.
Cucumber is considered to be one of the best body coolants, it is great to add cucumbers in our daily diet to beat the forthcoming hot summer. So apart from its excellent taste it also helps us maintain our body.
And I forgot to mention, this recipe is easy to prepare. Just cut the cucumber and mix it with yogurt. That's it.
How easy is this right?
Today I prepared cucumber raita, as a combo for 'Biryani'. Nothing can win this combo of Spicy Biryani and raita. The good part? this cool side perfectly balances the hot Indian biryani.
What is raita?
Raita is an Indian condiment usually served with main dishes like Biryani or Naan bread. And made with yogurt and topped up with other ingredients like vegetables or fruits. The cool yogurt mixed with crunchy addons makes the dish awesome to pair with.
Surprisingly, this creamy cucumber yogurt sauce suits well with other global food as well. This rich, skinny condiment is great to serve as a dip with nachos or chips.
Give it a try! You will be loving it!
Best food to pair with Cucumber raita
It tastes fabulous when paired up with 'Biryani'(you can check 'Veg Biryani' )., any Indian flatbread like roti, paratha. The following would pairs up beautifully with this tummy coolant raita.
My Favorite Variations for the Indian yogurt sauce
Cucumber raita tastes excellent with other vegetables like onion, tomato, green chili, green apple, carrot, beetroot.
The fruits like mango, pomegranate, apple, pineapple, guava are some of the fruit contrasts that everyone will love.
And top with other crispy Indian snacks like the spicy mixer.
Grated coconut is one of the additives in South Indian cuisine, especially for its texture.
Sprinkle Indian spice powders like garam masala, Madras curry powder, or roasted cumin powder.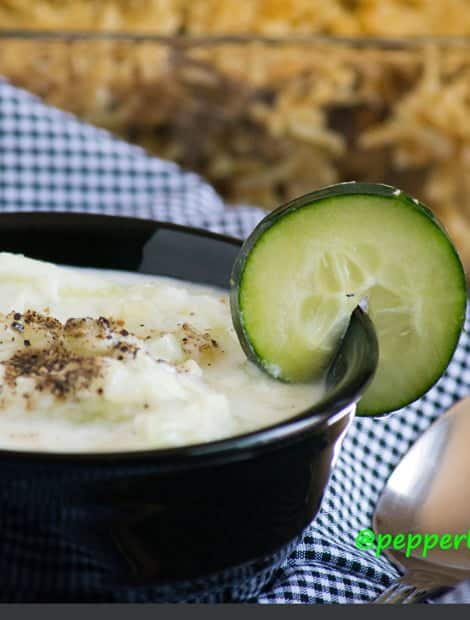 Pro Tips for cucumber raita
If you thinking to add other vegetables, think of salad friendly vegetables like onion, carrot, tomatoes.
Cucumber can be cut into desired shapes, it can be chopped, cubed, sliced or grated.
Chopped green chili, cilantro, are great to garnish and are very close to authentic cucumber raita.
Add a pinch of sugar, to enhance the flavors.
Fruits can also be added here in this raita sauce recipe. If you are thinking of complementing fruits, think about the fruits with a firm texture like an apple, pomegranate and, peach.
This dish tastes good if they are freshly made. So avoid cutting the vegetable before ahead of time.
Other condiments you may like,
Garnishing Ideas
Garnish with greens, like cilantro, mint, or dill.
Chopped chili peppers, ground black pepper, and red chili powder are the some gives a pleasant appetitive look. Additionally, these give heat to cucumber raita.
Indian crispy fried snacks like the spicy mixer, Boondi, gives a crunchy feel for every bite.
The Indian spice mixes act as flavor boosters for this simple spiced yogurt dip. Try sprinkling anyone of the following, garam masala, madras curry powder, or ground cumin. Each of these addition gives a whole new dimension in the flavor and in the taste.
How to make cucumber raita
The ingredients.
Yogurt. Plain, unsweetened yogurt is the must for making this recipe. The fresh curd/yogurt is the best for making these recipes. The curd should not sour and the thick consistency curd yields creamy raitha every time we make. You may refer this How to make homemade Yogurt recipe for making the best homemade yogurt every time you make.
Cucumber. Any type of cucumber works perfectly in this recipe. You may use, English cucumber, Persian cucumber, or green burpless. Slicing, chopping or grating acts well too.
Ground black pepper. This gives little heat and provides a contrast look in the raita. Optionally you may add red pepper flakes.
The recipe directions.
Cut the vegetables. Peel and grate the cucumber.
Mix. Mix yogurt, salt, ground black pepper, and cucumber. And serve.
Recipe FAQ
Can I make cucumber raita ahead?
Avoid making it in advance, as the cucumber becomes watery after a while. So it is always better to combine the ingredients with yogurt soon before serving.
How to make raita for Party?
When you are planning to make this dish for a large crowd and want to avoid the last-minute hassles, you may chop the cucumber store refrigerate in an air-sealed container. And combine them with yogurt just before serving.
What's the best consistency of cucumber raita?
There is no strict rule for consistency. It can be thick or watery depends on the main course they are served with. If it is served with flatbreads, thicker consistency is the best combination. And If it is served with rice, it can be a little thinner if you prefer.
Indian Curd or Yogurt what makes the difference?

Both are great for making this cucumber raita. You may choose either one of these according to the availability in the place you live in. Yogurt is commonly available in regular grocery stores in the U.S. Whereas in India, the people use Indian curd or Dahi(the Indian name).
When going for the store-bought yogurt always check the manufacturer's expiry date. As expired and poorly stocked yogurt gets sour and gets spoiled easily.
Can I make this raita vegan?
Yes, you may swap yogurt with non-dairy yogurt to convert the recipe vegan. And choose plain and unsweetened dairy-free yogurt for making this recipe.
Printable recipe card
Cucumber raita (Indian yogurt sauce)
Cucumber Raita is delicious and simple to make with more medicinal values. This condiment recipe is good to serve with Biryani, naan bread, chips, or nachos.
Print
Pin
Rate
Ingredients
1

cucumber

grated

1

cup

plain yogurt

/ curd

1

teaspoon

whole black pepper

crushed

½

teaspoon

salt

or as required
Instructions
In a mixing bowl, add grated cucumber, plain yogurt, salt, and crushed pepper.

Combine well until all the ingredients blends well.

Serve as the dip or as the side for spicy food.
Notes
Sometime cucumber tastes bitter.
So test for the bitterness of the cucumber before grating. Check with the center portion of the cucumber, if it tastes bitter, with no further thinking just throw them in the garbage. If they taste bitter only on the top and bottom, then generously chop off the head and bottom of the cucumber.
Nutrition
Calories:
48
kcal
|
Carbohydrates:
5
g
|
Protein:
3
g
|
Fat:
2
g
|
Saturated Fat:
1
g
|
Cholesterol:
8
mg
|
Sodium:
320
mg
|
Potassium:
197
mg
|
Fiber:
1
g
|
Sugar:
4
g
|
Vitamin A:
115
IU
|
Vitamin C:
3
mg
|
Calcium:
85
mg
|
Iron:
1
mg
Sources. Healthline