A big bowl of Quinoa Pongal is purely delectable comfort food. This South Indian Pongal recipe is ready in seconds with the goodness of quinoa. This Khara Pongal is delicious and made with ginger, black peppercorns, and moong dal. No Instant Pot? No problem! We'll also find the directions to make using the pressure cooker and the regular stovetop option.
Grab your plates! A tasty weekday meal is here. Serve this delectable Khara Pongal for breakfast or lunch. This is low in carbs compared to the regular rice version.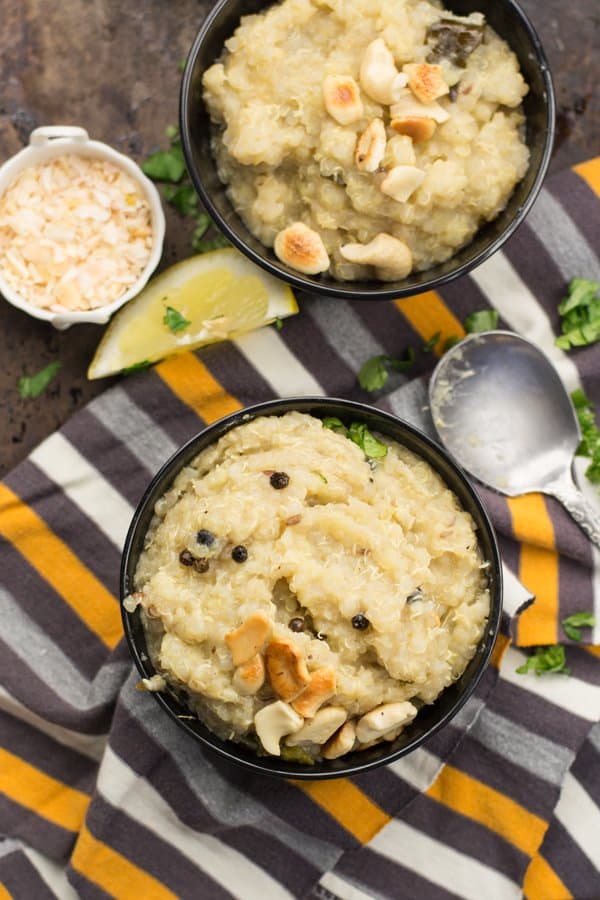 Quinoa Pongal is comforting and filling all at once. It is so much easier to prepare and cook. No fussy methods or long-listed ingredients. The recipe is simple, and the taste is more enjoyable than you think.
This hot quinoa Pongal stays with the same texture even at room temperature. So, there is no pressure to eat them hot like the regular Pongal. I need to say that the rice Pongal disintegrates in the texture and becomes like a hard cake once cooled.
No worries in here; the texture will never become mushy or gooey. So you can pack for lunch as well. It will leave us happy faces that we made a meal effortlessly in a busy morning. Try once; I guess you will agree with me as well.
What is Quinoa Pongal?
First, these two words are two separate terms.
Let us see the word 'quinoa' first. Most of you might have known about this grain and its use already—an excellent substitute for rice.
Pongal is an authentic South Indian food, especially belongs to the region of Tamil Nadu—a rice delicacy that is hot spicy, made with black peppercorns, cumin seeds, and ginger.
The history: This spicy South Indian breakfast dish is culturally associated with their tradition. The people of Tamil Nadu have their festive days for harvest exclusively for Pongal, similar to Halloween, by considering the importance of the New Year here in the United States.
Swapping rice with the quinoa is a revolution for me. I have made a couple of quinoa dishes before, but fusion Ven Pongal is my favorite, and I pat myself for its success.
How does this Khara Pongal taste like?
You could have guessed if you were reading this post so far. This quinoa Pongal is hot and creamy. This is not a spicy dish, like the word 'spicy' in any other Indian food.
The quinoa and the petite yellow lentil give the dish a creamy character and quality. On the other hand, the black peppercorns, the ginger root, and the green chili give a rich kick. These two different characters make this dish lovable.
This spicy Pongal recipe is so easy to make and tastes lovely. This will be the typical routine dish you keep making at least every other week.
The Best side dishes
Quinoa Pongal is creamy and hot. Therefore, the best companion would be other spicy side dishes.
Traditionally, Sambar and coconut chutney are the best pairs. This is also appreciable with the following,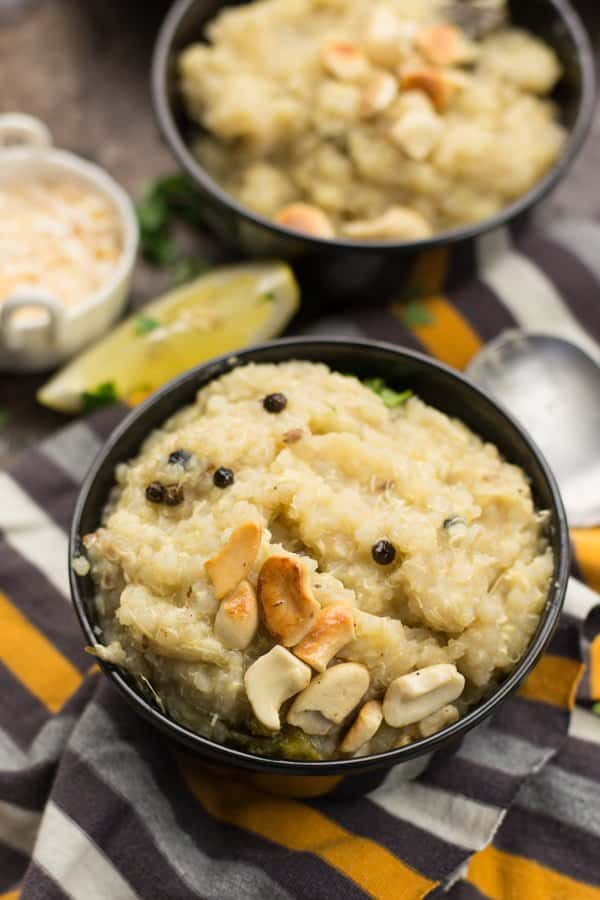 Key Ingredients
All the ingredients listed in this quinoa Pongal recipe are inseparable and balanced and blend each other well. So, each of them is a must and I do not find a close substitution.
Quinoa. This is the main element of today's show. Making Pongal is the perfect way to enjoy all these factors with the added value of deliciousness.
Because of its increasing popularity, it is now available everywhere. Our Costco stores sell huge bags, and I like the quality. And other grocery stores also carry smaller-sized packages, which is good to use for a couple of times.
This breakfast dish is a fantastic low-carb version for those looking for a substitute for rice.
Moong dal. Also called petite yellow lentils or 'pasiparuppu' in Tamil. Which is responsible for the creamy texture and the rich flavor. I prefer ⅓ quantity of quinoa, for its luscious and silky character. But ¼th proportional will also be correspondingly good.
Black peppercorns and cumin seeds. Rich in flavor and taste. A teaspoon of these spices will do wonders.
Ghee. I have made half of the quantity with the cooking oil and Ghee. But if you'd keep the quinoa Pongal rich, use ghee alone.
Ginger. The essential ingredient also makes the Pongal delicious. I strongly suggest using this and it also works as a flavor booster.
Asafoetida. A unique ingredient that you may find only in Indian stores in solid and powder form. Which also works the same way as ginger, a flavoring agent.
Green chili. This makes the hot Pongal more enjoyable. If you opt, you may deseed them before using it.
Curry Leaves. A unique ingredient exclusively for Southern Indian cuisine. You need 8-10 leaves, which greatly impacts the dish.
If you are searching for other Instant Pot recipes,
How to make Quinoa Pongal
Once all the ingredients are ready, we will make it in Instant Pot.
I have shown the Instant Pot option inside the video. But the pressure cooker method is also the same except for setting the timer. We will correspondingly see the settings for the Instant Pot and the pressure cooker.
A soft consistency is excellent for quinoa Khara Pongal. So, we are cooking slightly longer than the regular quinoa cooking time.
The Basic setting. Wash and rinse quinoa and moong dal.
Instant Pot. Set the Instant Pot to saute mode.
Pressure Cooker. Place the pressure cooker pan over the stove.
Seasoning. Add cooking oil and ghee. Next, stir in black peppercorns, cumin seeds, gently crushed ginger, slit green chili, asafoetida, and curry leaves. Let them sizzle in the oil until the cumin seeds splutter.
Combining the main ingredients. Pour water, quinoa, moong dal, and salt.
Cooking. Close the lid. And seal the vent.
Instant Pot. Set the timer manually for 12 minutes. And cook.
Pressure Cooker. Cook for 1 whistle on the high flame. Then, immediately simmer the flame and cook for 12 minutes.
Release the pressure. Wait for 10 minutes to allow the pressure to release naturally. Open the lid.
Prepare for serging. Using the back of the spoon, gently mash the Pongal until all the ingredients combine well.
Serve. Serve quinoa Pongal hot with Sambar or chutney.
Do you want to look into other quinoa recipes? check these,
Printable recipe card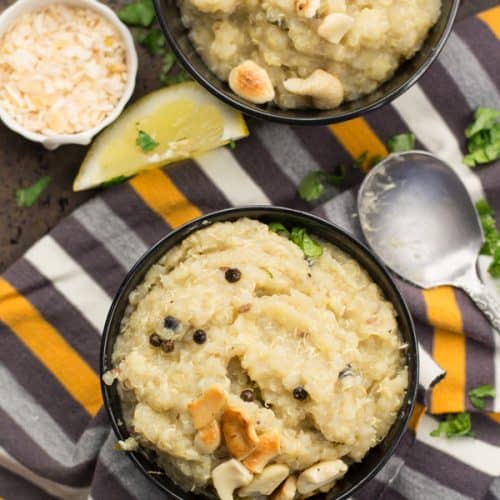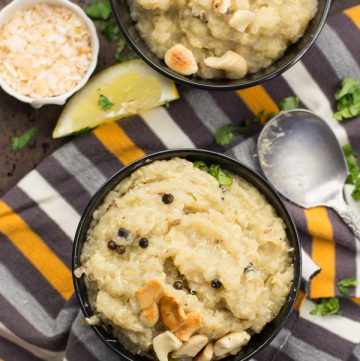 Quinoa Pongal Recipe
Quinoa Pongal recipe is delicious comfort food. This khara Pongal is ready in a flash of seconds with Instant pot and instructions for making using the pressure cooker as well.
Print
Pin
Rate
Instructions
For prepping
Wash and rinse quinoa and moong dal multiple times until clear water is seen.

Peel the ginger and crush gently.
For cooking
Set the Instant pot to saute mode.

Stir in cooking oil, ghee, black peppercorn, cumin seeds, asafoetida, crushed ginger, curry leaves, green chili.

Stir continuously until the cumin seeds splutter.

Combine water, quinoa, moong dal, and salt.

Cook by setting the timer for 12 minutes.

Leave for another 10 minutes until the pressure release naturally.

Open the lid, and gently mash until all the ingredients merge together.
Notes
Quinoa naturally comes with slight bitterness because of its husk. Washing and rinsing multiple times remove this bitterness, enhances the quinoa Pongal to be very delicious.
Nutrition
Calories:
393
kcal
|
Carbohydrates:
42
g
|
Protein:
11
g
|
Fat:
21
g
|
Saturated Fat:
4
g
|
Cholesterol:
10
mg
|
Sodium:
710
mg
|
Potassium:
273
mg
|
Fiber:
6
g
|
Sugar:
2
g
|
Vitamin A:
123
IU
|
Vitamin C:
44
mg
|
Calcium:
54
mg
|
Iron:
3
mg
**Disclaimer: The nutritional information provided is an approximate estimate only.