This orange punch nonalcoholic recipe is suitable for all occasions—another extraordinary drink for every day, kids' birthday parties, or baby showers.
It is a delicious, non-alcoholic summer drink everyone would love. The best-tasting punch ever! It is a simple, refreshing, and energetic drink for all seasons.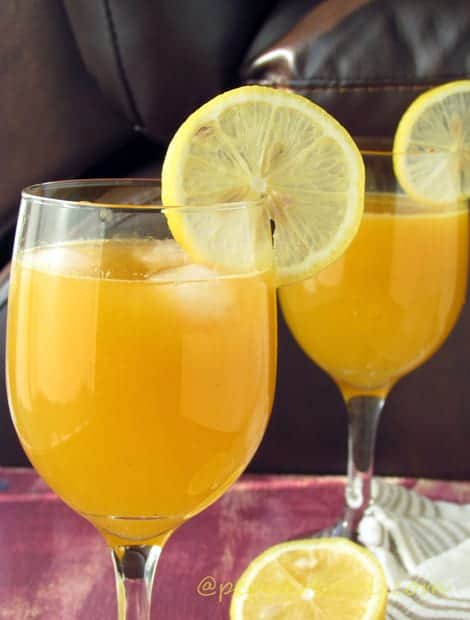 Orange punch nonalcoholic recipe is a super delicious drink in a Non-alcoholic way. But with the same fun and spirit.
It's an excellent energy refresher with fresh ingredients like oranges, ginger, and lemon. And these fresh ingredients make the drink beautiful.
They are always the best choice over store-bought bottled juices. And be sure to prepare a large quantity as your guest may be asking for more.
I could devise this orange punch nonalcoholic recipe when talking about quick and easy nonalcoholic punch like this. And before that, have you checked my other punch recipe? Watermelon punch and Orange spritzer recipes?
Like any other family, we usually stock orange juice at home. But I'm not a huge fan of store-bought orange juices; I feel it is a bit tangier. And also, I could not bear that spicy taste after my breakfast.
Furthermore, I do not wish to go with the sweeter versions of ready-made brands, worrying about the added sugar content.
Our friends gave us these tasty, juicy oranges. These oranges were juicy as I had squeezed them with my hands; I felt like a sponge. I am thrilled to make the fresh orange punch nonalcoholic that is not from any juice concentrate.
Planning for Christmas, New Year, or Thanksgiving parties? This recipe would be a lifesaver and gratifies everyone(similar to this jalapeno mojito). It is a massive satisfaction as it is simple to make.
Orange punch is an alcoholic recipe that is the perfect drink for kids, parties, and holidays. The refreshing, straightforward drink is made with fresh oranges, ginger, lemon, and ice cubes. Not made from juice concentrate. Best for making cocktails as well.
Moreover, Orange Punch's nonalcoholic recipe is a fabulous drink packed with readily available pantry ingredients. This is a big glass of cook delight.
It is so tasty, as I often treat myself and my family with this orange punch nonalcoholic drink. So whenever I visit the local market, I grab the most I can, especially to make this punch.
Like you, I, too, made only orange juice until I tasted it in one of the restaurants in Florida. I know Florida oranges are never comparable. But we get here similar quality fresh oranges in the stores of Pennsylvania.
I have included sugar in this orange punch nonalcoholic recipe. Instead, you may add natural sweeteners as well.
On the other hand, you may also add sugar syrup, making it more comfortable and straightforward during the preparations. Simple syrup cuts down the stirring time and does not cause any messes.
I could not forget an incident. I asked my son to help me in this stirring part. Of course, he did it. But messing a lot with the dining table.
And I had to work double-time before everyone could assemble on the table. This incident made me avoid seeking any help at the last minute.
I make this orange punch nonalcoholic many times with many variations. And every time it tastes different, with every new ingredient added.
Every ingredient brings a unique flavor and makes this a whole new drink. And every time, it surprises with its full fresh taste. And this is the most favorite of ours. The ginger gives a real punch, which you never expect by its look. This zing in it is an immense pleasure during dinner time.
The fresh oranges have their instinctive taste boost up this holiday drink. Today, I made the orange punch nonalcoholic drink with lemon, ginger, and sugar.
How does this Orange Juice Punch taste?
It is a bundle of flavors of orange and ginger. Since this drink is made from freshly squeezed oranges, it has all the fresh flavors and sweetness of oranges with a hint of ginger and lime. You could feel the tropical flavors and taste in the orange punch.
Tips and Variations for Orange Punch Nonalcoholic drink:
You can also use lime juice instead of lemon juice if you prefer your punch to have a sharp taste.
You can substitute sugar with sugar syrup to minimize the preparation time and reduce your work.
Add lemon zest for a more lemony flavor. We love this variation, too.
If you are serving for the party and looking for showy variation? Then freeze orange juice in ice cube trays. And stir in along with the punch in the pitcher. And this looks classy, with floating orange juice ice cubes in each glass. I'm sure your guests are going to love this.
No fresh oranges for orange punch nonalcoholic recipe? Try this recipe with store-bought orange juice. And this tastes yummy as well.
Want to add more fruit juices? Pineapple juice and mango juice are other good complimenting flavors with orange. These additions will not alter the color of the drink.
You may also add fresh-cut fruits like strawberry, blueberry, raspberry, and others. This looks cute and contrasts with the orange punch. And these are also great for the parties.
Running out of time for the party? Replace fresh orange juice with orange sherbet.
Adjust sugar according to the tangy taste of oranges. I prefer not to add artificial sugar to any fresh fruit juices.
Remove lemon juice from the ingredient list if oranges taste sour.
Add a pinch of salt, and this is also a tasty alteration.
Other drinks to try,
Printable recipe card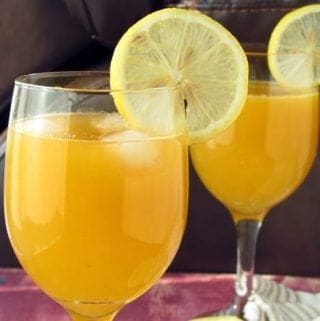 Orange Punch Non Alcoholic Recipe
Orange Punch Non Alcoholic Recipe a super delicious drink, made in Non-alcoholic way. It tastes refreshing and made with fresh oranges.
Print
Pin
Rate
Ingredients
6

oranges

1

tablespoon

lemon juice

1

tablespoon

ginger

thinly grated

3

tablespoon

sugar

1

cup

water

1

cup

ice cubes

2

slices

lemon
Instructions
Extract the orange juice with the help any citrus extractor.

In a pitcher, add the extracted orange juice, lemon juice, grated ginger, sugar, and water.

Taste and adjust the sugar. And our easy orange punch is ready.

Serve in tall glasses with the ice cubes and lemon slices.
Notes
the quantity of the sugar depends on the taste of the oranges. If the oranges are sweeter, then reduce the sugar.
If you do not want to feel the ginger bits while drinking, then strain it before serving.
Nutrition
Calories:
261
kcal
|
Carbohydrates:
66
g
|
Protein:
4
g
|
Fat:
1
g
|
Saturated Fat:
1
g
|
Sodium:
13
mg
|
Potassium:
711
mg
|
Fiber:
10
g
|
Sugar:
55
g
|
Vitamin A:
884
IU
|
Vitamin C:
216
mg
|
Calcium:
157
mg
|
Iron:
1
mg
**Disclaimer: The nutritional information provided is an approximate estimate only.
Did you like this recipe? Follow us on Facebook, Pinterest, Twitter, and Instagram