This Bagara Rice is a flavorful version of rice made with Basmati rice and fried onion. This recipe is from the popular Hyderabadi Cuisine from India. It is known for its unique flavored, nonvegetarian dishes. This cuisine has the influences of Arab, Mughal, and Indian cuisine.
The Hyderabadi Bagara rice recipe is so simple and easy to make that it tastes like a professional chef made it. This is not very popular in regular Indian restaurants in the United States. But of course, you may get it in the restaurants for Andhra cuisine or in the restaurants for Hyderabad cuisine.
You don't need to search for Indian restaurants to eat this food; you can make it yourself in your kitchen. In the comfort of adjusting the flavors to your preferences.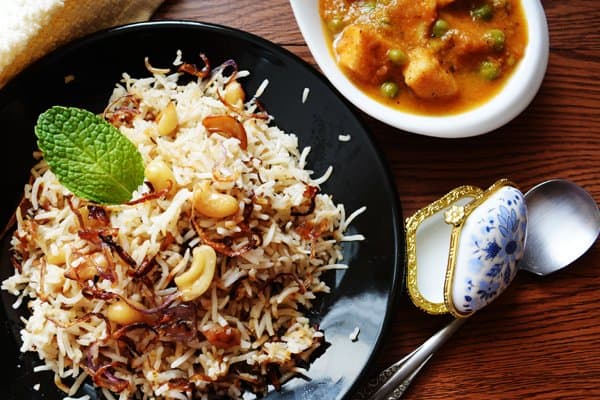 This rich spiced rice with sprinkled fried onions on the top... yum... Without any further thinking, I can surrender myself.
This simple rice could be a better dish for a weeknight dinner. The perfect Bagara rice combination curry would be Bagara Baingan(Indian eggplant curry) or this Instant pot potato curry. But today, I made Paneer mutter kurma, which is also super delicious to serve with. As you were expecting, my family waved their hands to say a Big Yes.
Bagara Khana would be awesome to eat with chicken curry or mutton curry. Other authentic side dishes for this simple Hyderabadi rice are Mirchi Salan and Tomato Salan.
If you want other rice recipes(easy khana) like this, check Capsicum rice, Szechuan Fried Rice, and Chitranna.
To get perfect results, a few things must be kept in mind every time and all the time- we see them all in the following.
What is Bagara rice?
A less spicy version of Indian Biryani-without vegetables, meat, or masalas. Which is also called Bagara Khana Bagara Annam or Bagara Chawal in Hyderabad, an Indian state known for its Mughal cuisine.
This is also one of the important dishes in their festive or wedding menu.
If you are running out of time or wish to make more straightforward everyday food, this recipe might be your best choice. Though it is simpler to make, it is equally good as Biryani. A spicy side dish upgrades the flavor of this lunch recipe.
According to Wikipedia, "Bagara rice is a spiced rice delicacy. A plain Biryani recipe made without spice or vegetables." And this is great for vegetarians who do not prefer to have non-vegetarian biryani.
It gives the full, satisfying feeling of having special biryani still made in a vegan way.
Key Ingredients
The main ingredients for this Bagara khana recipe are basmati rice, fried onions, and Shahi Jeera. I have not added ginger garlic paste, as I find it overpowering in this recipe.
Basmati Rice. Thanks to its increasing popularity, it is now available in almost all grocery shops. You can choose your favorite white or brown basmati rice, and both taste good.
Fried Onion. The onion is a staple in almost all the recipes of Indian cooking. I never can think of any Indian recipe without onion. This recipe requires a lot more onion than any regular rice recipe. I love the flavor of fried onions here, which does bring a beautiful smoky flavor. This also makes Bagara rice Andhra style so DELICIOUS!
Feeling tired, or do you have less time for dinner? You may skip frying the onion instead; use fried French onions.
Shahi Jeera. A unique seed that belongs to the family of cumin. You may get it in your nearby Indian stores or online store. Or you may skip it.
How to make Bagara Rice:
Clean and wash basmati rice. Washing just 2 times helps in retaining the flavor of the rice. Soak basmati rice for 20 minutes. Do you need to soak the rice? Yes, soaking the rice would help to get elongated and soft rice. We always soak the rice before it's cooked. Thus, we get long grains all the time.
Meanwhile, In a nonstick pan, liberally add oil. Followed by thinly sliced onions. Fry them till they become crisp and golden brown. Do not crowd the pan and fry them in batches.
Then, fry broken cashews at the end as the final batch. Drain the leftover used oil, if any.
In a medium flame and a pan, add oil and butter.
Then add shahi jeera, cinnamon, cloves, bay leaves, black cardamom, and green chilies. Once all these ingredients become golden brown, add ginger garlic paste.
Saute for a few seconds. Now add mint leaves. Again, saute for a few seconds. Ensure that nothing gets stuck at the bottom of the pan, and adjust the heat accordingly.
Add 2 cups of water along with salt. Once the water started boiling, add rice. Allow the rice to get cooked for 5-7 min.
Once the rice ¾th is done, add fried onions and cashews. Cover an airtight lid. And in low heat, allow it to cook for 10 minutes.
Remove the lid and serve with spiced side dishes.
Tips and Variations for Bagara Rice:
Our family loves fried onions. If you wish, you can reduce the quantity of fried onion, too.
Add vegetables like peas, potatoes, carrots, and cauliflower, which makes it a healthy variation.
Instead of basmati rice, you may substitute it with brown rice, jeera rice, or your regular rice.
The recipe FAQ
Can we make it in the electric cooker?
Yes, you can. And the result would be fantastic. Making Bagara rice with an electric rice cooker is a foolproof method. You always get that long-grain rice without messing or straining too much for perfection. Follow the same principle and practice for cooking plain rice to make this Hyderabadi recipe.
Electric cookers are the same as instant pots, so I do all the frying parts on the Stove. I allow the rice to cook in the rice cooker.
You can skip the essential and crucial cooking part, "DUM, " using the electric rice cooker." This is a foolproof method of making biryani without worrying about Dum.
Can I make Bagara rice using Instant Pot?
I have recently discovered that making rice recipes is the easiest thing to do in the Instant Pot.
Cooking the Hyderabadi Bagara rice recipe is the same as cooking regular rice. The exact water measurement and cooking time would also be perfect for this.
Like any other rice recipe, you can also make this in the instant pot, where all the frying parts should be done over the stovetop. This way, you can achieve uniformly crispy onion.
I hate frying anything on the Instant Pot because of the fumes that it creates while frying. And this cooking oil flavor is overpowering and fills the entire home. I really cannot withstand the smell. And this is the only reason to avoid anything in the instant pot.
I always find easy ways are shortcut methods. And I've been searching for easy solutions for a long time. If I find anything successful, I'll just come here and will let you know to let you all know about this.
Can you use coconut milk?
Yes, you can include coconut milk in the recipe. Adding coconut milk yields richer and more flavorful rice. If you plan to use coconut milk, substitute half of the required water with coconut milk. For instance, if you add two cups of water, add 1 cup of water and 1 cup of coconut milk.
Looking for other Indian rice recipes? check out,
Printable recipe card
Hyderabadi Bagara Rice
Bagara Rice is from famous Hyderabadi Cuisine, very flavorful and tastes delicious. Made with basmati rice and fried onion. This recipe is quick and easy made under 30 minutes.
Print
Pin
Rate
Ingredients
For prepping
1

cup

basmati rice

1

cup

vegetable oil

for frying onions slices

2

cups

onion

thinly sliced

¼

cup

cashew nuts
For the making
4

tbsp

vegetable oil

2

teaspoon

shahi jeera

1

inch

cinnamon

4

cloves

1

black cardamom

2

green chili

or serrano peppers

¼

cup

mint leaves

2

cup

water

1

teaspoon

salt

or as required
Instructions
For the prepping
Rinse basmati rice. Soak the rice for 15-20 min.

In a nonstick pan, add vegetable oil and thinly sliced onion.

Fry them till they become crisp and golden brown.

Then add cashew nuts and fry till golden brown. And keep aside.
For the making
In the same pan, add four tablespoons of vegetable oil.

Then add shahi jeera, cinnamon, cloves, black cardamom, green chili.

Fry till these ingredients become golden brown.

Add mint leaves and continue to saute for few more seconds.

Now add 2 cups of water along with salt.
The cooking
Once the water started boiling add rice. Allow the rice to get cooked for 5-7 min.

Once the rice ¾th done, add fried onions and cashews. Cover an airtight lid.

And in simmer flame allow it to cook for 10 minutes.

Remove the lid and serve hot.
Notes
First, while frying onions, make sure it should not get burnt. There is a thin line between crispy onions and burnt onions. So be careful in this part.
Second, getting a perfectly cooked basmati rice, though it depends on the quality of the rice most of the time.
Nutrition
Calories:
678
kcal
|
Carbohydrates:
83
g
|
Protein:
9
g
|
Fat:
35
g
|
Saturated Fat:
5
g
|
Cholesterol:
10
mg
|
Sodium:
1221
mg
|
Potassium:
511
mg
|
Fiber:
7
g
|
Sugar:
9
g
|
Vitamin A:
230
IU
|
Vitamin C:
12
mg
|
Calcium:
64
mg
|
Iron:
3.8
mg
**Disclaimer: The nutritional information provided is an approximate estimate only.
Did you like this easy recipe? Then, follow us on Facebook, Pinterest, and Instagram. Do not miss the latest recipes and tips.