Tomato Rasam literally means the extract of tomato. Usually, it is served with steamed rice. But I love to have to sip warm after my heavy meals. This simple Tomato Rasam recipe is great to serve with rice.
Standing behind the blurry window, watching raining, having a sip of warm Tomato rasam....oohoo..its a poetic moment. Unknowingly, I emptied the cup of rasam. I was there standing still for more than half an hour.
And still, it is pleasantly raining outside. I do not want to miss this, again going to the kitchen to grab more tomato rasam soup. Both the rain and this tomato rasam recipe, cannot be missed from my life.
Do not forget to check out other interesting recipes like Pineapple Rasam, Andhra Style Tomato Dal.
The temperature is becoming colder now!! Yayy it's time to take out all the cuddly blankets and flannels from the storage. And it is also the time to kindle the soups like this tomato Rasam recipe.
Tomato Rasam is the South Indian style soup made with tomatoes pepper garlic and cumin.
Seasons and food go together. Good food makes the weather to be more enjoyable. In addition to this South Indian, tomato rasam recipe is the topmost in my list for this type of weather.
I was waiting to make this tomato soup for all this week. As every sip of this warm soup gives me more confidence, courage, and soothes me from inside out.
Making this Andhra style tomato rasam recipe is also an easy task. If you have store-bought rasam powder or homemade rasam powder, your work is much easier, and can skip the roasting and grind the spices.
Another important factor to keep in mind is the rasam should not get over boiled. This is one of the first tasks, every south Indian girl learns from her mom.
This tomato rasam recipe is to make tomato rasam without rasam powder.

The key ingredients of tomato rasam recipe:
Tomatoes
Roma tomatoes are great for this recipe. As this has got the naturally rich sour taste. Which enhances the soup to the next level.
Toor dal
Toor dal or split pigeon pea. You may get it in your nearby Indian stores or online. But I would not recommend you to buy Toor dal just to make this dish.
Because we need just a tablespoon but you will be getting around your pound for about to $3. A pound of dal is so huge for this tomato rasam recipe.
So, no worries you can skip this ingredient as it will not impact much in the flavor or that taste of this Tomato Rasam.
You can skip it if you do not have in your pantry. Tomato rasam without dal is equally tasty when comparing to the original version.
Coriander seeds
This is a flavoring agent I would strongly recommend using this and coriander seeds are available in the spice aisle in any grocery stores or you may also get it online.
Herbs
The next important ingredient needed for this tomato rasam recipe is Curry leaves and coriander leaves. Though curry leaves are important for this recipe. But you may skip it if you do not have access to this wonderful herb.
If you have access to Indian stores or Asian stores, I would recommend getting coriander leaves. Although coriander leaves and cilantro look similar coriander leave's flavor is more intense than the cilantro.
Cilantro is a close substitute for coriander leaves.
Few tips for making tomato rasam recipe:
Roma tomatoes are great to make this recipe.
Ready-made rasam powder is available in the Indian stores.
You may use the homemade rasam powder or the store-bought rasam powder.
If you prefer to use the store-bought rasam powder you may skip the part of dry roasting and grinding the spices.
Instead of dry roasting and grinding the spices in this tomato rasam recipe, you can straight away add readymade rasam powder mixture.
Do not boil the tomato soup for a long time as the tomatoes may lose its bright flavor.
Refrigerate the leftover in the sealed container. It stays good for a week if stored properly.
On the other hand, you may also freeze the rasam to store for a longer time.
Rasam does have more shelf life. It stays good for a day even in the room temperature.
How to make tomato rasam:
Soak tamarind ball in half cup of warm water. Extract the juice and reserve the tamarind water. Strain it and discard the impurities.
Blanch tomatoes, remove skin and puree it (For blanching-cook tomatoes in boiling water for 2 min, remove it from water, allow it to cool. Now tomato skin can be peeled off easily, grind them to form thick paste.. )
Dry roast coriander seeds, cumin seeds, peppercorns, toor dal, and Bengal gram. Fry till it becomes golden brown. Allow it to cool for some time. Grind them to a coarse powder.
In a bowl, add the tomato puree, tamarind extract, salt, and spice mixture.
Meanwhile, In a pan, add 1 teaspoon of clarified butter(ghee) and mustard seeds. Wait till mustard splutters, add asafoetida, curry leaves, and coriander leaves. Add this tempered seasoning to the tomato mixer.
Bring this mixture to boil for 2 minutes. When it starts boiling remove rasam from the flame immediately.
This tomato rasam recipe is simple right? Serve this tomato rasam hot with rice. Or transfer to a soup bowl, if you prefer to have tomato rasam like a soup.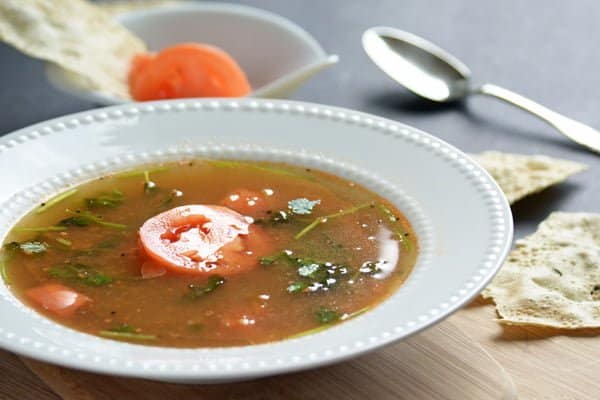 Other recipes you may like,
Printable recipe card
Tomato Rasam Recipe
Tomato Rasam literally means the extract of tomato. Otherwise, can also be termed as Indian Tomato Soup. This simple tomato rasam recipe is great to enjoy with rice.
Print
Pin
Rate
Ingredients
Prepping
1

lemon size

tamarind

1

cup

hot water

for soaking the tamarind

2

tomato
Instructions
For prepping
Soak tamarind in hot water for 15 minutes.

Squeeze and extract the tamarind juice. Discard the impurities.

Blanch tomatoes and remove skin.

Puree the tomatoes with the help of blender.
For grinding
Over medium heat, place a pan. Add black pepper, cumin seeds, toor dal, chana dal, and coriander seeds.

Dry roast them until it is fragrant and reaches golden brown color.

Allow it to cool. And grind them coarsely.
For the making
In the meantime, over medium heat, place a pan, add 1 teaspoon of ghee and black mustard seeds.

Wait till mustard splutters, then add asafoetida.

To the same pan, add tamarind extract, ground spice mix, water, turmeric powder, curry leaves, coriander leaves, and salt.

Bring this rasam mixture to boil. Allow it to boil for 2 minutes.

Remove it from the stove. Serve hot with rice.
Notes
Serve with white rice. Or serve as a soup before your food.
Add cooked and mashed toor dal to make this richer.
Nutrition
Calories:
119
kcal
|
Carbohydrates:
23
g
|
Protein:
5
g
|
Fat:
2
g
|
Cholesterol:
3
mg
|
Sodium:
331
mg
|
Potassium:
930
mg
|
Fiber:
4
g
|
Sugar:
11
g
|
Vitamin A:
1455
IU
|
Vitamin C:
132.7
mg
|
Calcium:
224
mg
|
Iron:
7.5
mg
Do not miss the latest recipes and its tips, Follow us on Facebook, Pinterest, Instagram.