If you think, all the party appetizers are rich and heavy? you're mistaken. This vegan jalapeno pinwheel convinces you to rethink your conception.
This spicy jalapeno pinwheel is an easy, skinny, and light appetizer, with homemade hummus. A pleasant-looking lunch idea and the super party-friendly recipe has make-ahead options as well.
The main ingredients are store-bought tortilla, chickpea hummus, jalapeno, and other fresh veggies. A wholesome, grab-to-go dish, suitable to serve in lunch or as an appetizer.
Jalapeno brings all the flavors and chickpeas for the protein source. Undoubtedly, chickpea comes first as the rich vegan protein source and tastes extraordinarily delicious and creamy. Chickpea, jalapeno, and cilantro are an unbeatable combination and we witness this vegan appetizer.
If you have explored my website, you may have noticed my love for veganism. I'm not 100% vegan, but mostly our family remains vegan for most of the meals. We feel lighter and more energetic when we follow the vegan diet.
When discussing vegan recipes, most of the online world modifies the existing recipe with vegan substitutions like vegan butter or nutritional yeast. This vegan pinwheel appetizer will not leave you cheated.
This hummus wrap jalapeno pinwheels comfort you if you are thinking like me. There is no substitution for cheese or milk in here. It is all bundled with natural flavors and tastes with crunchy vegetables and buttery chickpeas.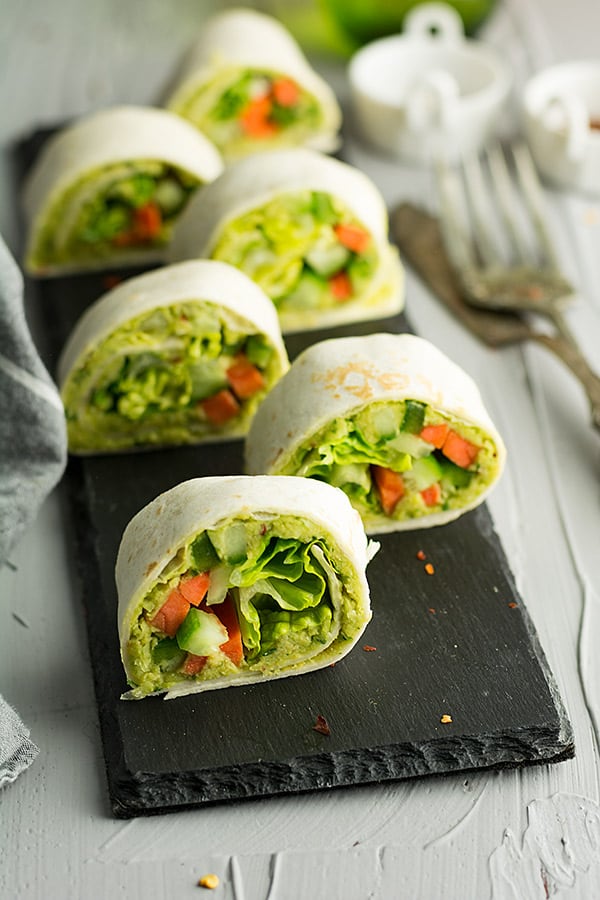 This jalapeno pinwheel is a wholesome, standalone vegan dish that we crave periodically. It's one of the best vegan appetizers that I have eaten so far.
I love this raw vegan pinwheel for three reasons. First, it's light, the next, it's delicious, and finally, it's easy to put it together. These reasons are good enough to bookmark this page unquestionably.
I wanted to make these vegan appetizers to be as simple as possible and as easy as possible. My main focus is to minimize the preparation time and with minimum skill level. The advantage is that when you are busy arranging the home for the guest, ask your partner or the kids to roll up the appetizers.
It is as simple as this!
Are you worrying about the spice level? Deseed them to your tolerance level.
Furthermore, I'm obsessed with wholesome gourmet food and follow it strictly as I can. And this Indian tomato salad and Indian Brussels sprouts are some to portray my ideology.
Other delectable recipes
How to make Jalapeno Pinwheel
Learn more about the ingredients
Tortilla. The readymade ones are special and save tremendous work. Every variety has its remarkable taste, and each one is classic here. Want to make a colorful platter? Choose white or corn tortilla or spinach tortilla. The colors complement one another, which is gorgeous to the eyes.
Optionally, choose homemade whole wheat flatbread like Indian roti or whole-grain tortilla.
Chickpea. As discussed already, chickpea is one of my favorite plant-based protein. Use either the homemade or store-bought cooked chickpea according to your convenience. I usually soak, sprout, and cook a large batch of chickpeas at once. And I freeze them to use later. I thaw it by leaving it in the refrigerator for a day or microwave it for quick usage.
Jalapeno. Usually, jalapeno can make any dish more delicious and awesome. And the same magic happens here as well. Core and deseed it to eliminate its heat. Instead, you may use frozen or roasted jalapeno.
Cilantro. To me, chickpeas and cilantro are married to each other. And when I think about including chickpeas, cilantro comes to mind subconsciously. It boosts the flavors and brings out the refreshing taste to the vegan tortilla pinwheel.
Red pepper flakes. It's critical but gives a nice kick in every bite. Add to suit your individual preference. Roasted red pepper flakes, my all-time favorite, act as a dual purpose. Increase the heat with the robust flavor.
Lemon juice. It brings all the ingredients together and balances them rightly. Substitute with lime juice instead of lemon juice.
Lettuce. I love my vegan pinwheel to be crunchy; the green color denotes its freshness and crispness. I went with romaine lettuce optionally you may swap it with spinach or spring mix.
Green pepper. The deep green color contrasts the lettuce and provides an extra depth of flavor to the finger food.
Carrot. Always my choice of an ingredient when making any fresh, raw vegan recipe. I'm guessing it's everyone's favorite, too.
Cucumber. A significant body coolant, and an excellent addon in here. Choose English cucumber, Persian cucumber, or others, according to the region you live in.
The recipe directions
Use salted and cooked chickpeas. Discard any liquid that comes along with it.
Add cooked chickpea, jalapeno, cilantro, lemon juice, or salt in a high powder blender jar or a food processor.
Blend it to a smooth consistency. It needs not to be velvety. It is ok to have a few chunks here and there.
Slightly warm the tortilla on both sides(If stored in the refrigerator).
Spread the ground chickpea as a thick layer, leaving half an inch outside(this makes it easy to roll).
Drizzle red pepper flakes.
At the ⅔ length of the diagonal, arrange the jalapeno stripes, cucumber, carrot, and lettuce.
Roll gently and tightly by securing all the veggies intact. Then, slice into two-inch thicknesses. And serve.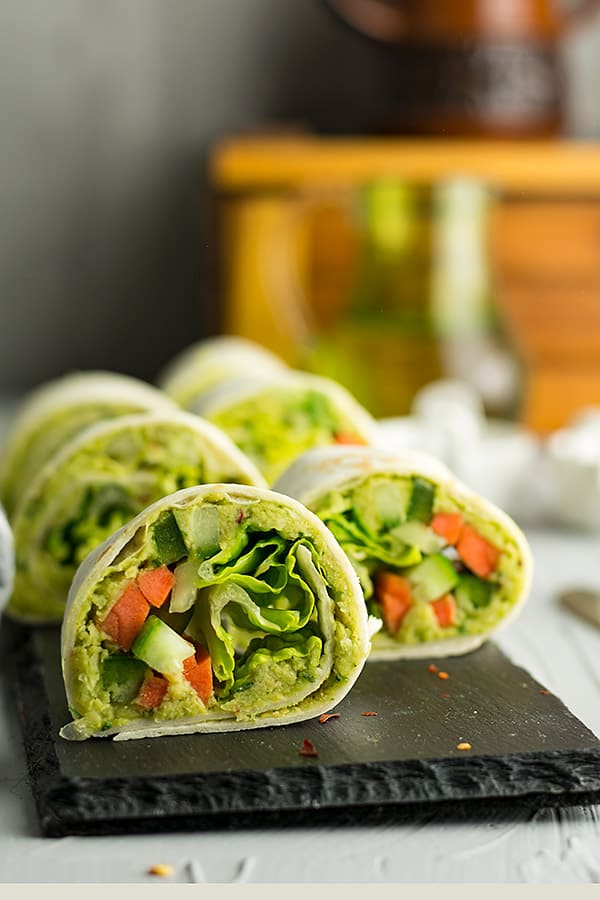 Jalapeno pinwheel is the party appetizer.
These are customizable according to your preference and the ingredients in the pantry.
It is a delicious finger food for a large crowd and sophisticatedly fits your lunch box.
Want to make it more palpable by the crowd? Stick a toothpick on each; your guest will praise you.
To cut down the time, we made a store-bought tortilla wrap. It's convenient and has more varieties, wholewheat tortillas or spinach tortillas. Choose the best to suit your palette.
Or, if you have an opportunity, make your wholewheat Indian flatbread, roti. It is slightly time-consuming when comparing the store-bought tortillas, but it's worth every second you spend.
Diet variations
Vegan. This game day appetizer has no animal products and is naturally a vegan and vegetarian recipe.
Clean eating and Whole30. Choose homemade wholewheat tortilla or Indian roti for wrapping the veggies.
FAQ for Spicy pinwheel
Can I make a jalapeno pinwheel ahead of time? Every task can be made in advance, or this vegan pinwheel is a make-ahead crowd-pleasing recipe. It can be performed in two ways.
Make the filling ready and chop the veggies.
Roll the wraps.
Make the hummus spread and the veggies in advance and store them separately. And assemble whenever needed. Alternatively, Make the long rolls advanced and cut just before serving.
Can I add cheese if I want? Not needed. The chickpea is creamy and silky, just replacing the cheese quality in here. So, adding cheese will not do justice.
Any suggestive toppings? The choice of toppings is endless: finely chopped green onions, and dry tomato.
Other jalapeno recipes you may like,
Printable recipe card
Jalapeno Pinwheel
This Vegan jalapeno pinwheel, an easy delicious appetizer, with homemade hummus. A light, grab a to-go dish, best for the lunch or party appetizer.
Print
Pin
Rate
Ingredients
1

cup

chickpea

or garbanzo bean/cooked

1

tablespoon

lemon juice

¼

cup

cilantro

½

teaspoon

salt

¼

teaspoon

red pepper flakes

1

tortilla wrap

store-bought

¼

cup

jalapeno

core, deseed, and thinly sliced

3

cup

lettuce

ears¼

¼

cup

carrot

thinly sliced

¼

cup

cucumber

thinly sliced
Instructions
In a food processor, combine cooked chickpea, lemon juice, cilantro, salt, and red pepper flakes. And set aside.

Place a tortilla wrap over the cutting board.

Spread chickpea mixture generously over tortilla wrap.

Arrange the jalapeno, carrot, cucumber, and lettuce vertically and slightly away from the center of the tortilla.

Roll tightly and gently by securing all the veggies inside.

Cut them to 2-inch in lengthwise.

And arrange it in the serving plate.
Notes
Store in the refrigerator for 2 hours, if you want to serve them as chilled.
You may also use pickled jalapeno instead of the fresh ones.
Nutrition
Calories:
210
kcal
|
Carbohydrates:
37
g
|
Protein:
10
g
|
Fat:
3
g
|
Saturated Fat:
1
g
|
Sodium:
718
mg
|
Potassium:
520
mg
|
Fiber:
9
g
|
Sugar:
8
g
|
Vitamin A:
3493
IU
|
Vitamin C:
24
mg
|
Calcium:
81
mg
|
Iron:
3
mg
**Disclaimer: The nutritional information provided is an approximate estimate only.