Jalapeno vinaigrette is quick and simple to make that explodes with rich flavors. Additionally, it's incredibly delicious and endlessly customizable. And great on salads, sandwiches, wraps, or the lettuce cups.
Recently, we are always on the hunt for spicy dressings for the salad. Having jalapeno grows in our backyard, started exploring more ways to use it. And this Jalapeno vinaigrette is one of our latest findings that we are really proud of.
About this recipe
I heard people saying they love the chili peppers and keep avoiding them, worrying about handling the heat.
Why stay away from these adorable nature gifts when there are numerous ways to enjoy them without being hurt? Check this Jalapeno recipes collection for more ideas.
Making a spicy vinaigrette is not as complicated as you think(like my favorite jalapeno cilantro dressing). You need just 10 minutes. Also, discard the seeds and the pith of the jalapeno to your spice tolerance.
Do you like the robust flavors of jalapeno and are worried about how to adjust spice levels? no problem, we will dig deeper into this topic in more detail in the following.
What does this taste like?
This jalapeno vinaigrette brims with olive oil, and lime juice, with the bright flavors of jalapeno and cilantro. This is mildly heated and can be customized to low heat or fiery heat. Either way, it tastes excellent.
Moreover, this straightforward dish fits on BBQ nights, picnics, family dinners, and cookouts as well.
The key ingredients
Olive oil. The star ingredient in this spicy jalapeno vinaigrette recipe. It's rich in monosaturated fats, antioxidants, and anti-inflammatory properties. To know more about its benefits, check out here.
However, you may substitute with Greek yogurt to cut down on calories. But note that, swapping affects the texture and color of the vinaigrette.
Jalapeno. I wanted to keep the heat moderate by removing most of the seeds and the pith. If you prefer, you may leave some seeds on. This will not heavily impact the overall taste except the heat.
Lemon juice. The best ingredient that associates well with the chili peppers. The sourness brings everything together and gives an addictive punch.
White wine vinegar. Just a little to balance the lemon juice; it's mild but worthwhile.
Cilantro. A refreshing flavor buster that tingles the tongue. Further, it finishes up the vinaigrette with a bright, appetitive green color.
How to make Jalapeno vinaigrette
Add olive oil, lemon juice, white wine vinegar, jalapeno, fresh cilantro, and salt in a food processor jar or a blender jar.
Blend until olive oil combines with lime juice and forms a smooth, creamy texture.
Transfer to a bowl, and serve.
Pro tips.
Always wear gloves while chopping jalapeno, to avoid any skin irritation.
The seeds determine the spiciness of the jalapeno vinaigrette. So, decide how much is needed to suit your palate.
If you are sensitive to the heat, remove the entire seeds and the white membrane.
The olive oil and the lime juice have to emulsify well for the best texture(Emulsification is the process of oil and water).
So, pulse the blender till the olive oil and the wet ingredients blend well.
If you have stored roasted or frozen jalapenos, feel free to use them.
Best to serve with
As a salad dressing. Drizzle over the salad like spicy kale salad, or fresco salad.
As a dip. Plays as a pleasing dip for nachos, chips, crackers, and other salty appetizers.
Taco. It would a delicious option to serve as a topping over seafood tacos.
Sandwiches and burgers. This spicy vinaigrette converts regular dishes to an awesome meal. Get ready for the change!
Grilled and BBQ. The jalapeno vinaigrette pairs excellent when served with BBQ meat or grilled chicken. The following are my personal picks, cedar plank grilled salmon, cedar grilled lemon chicken.
Make ahead and storing tips
Make ahead. This jalapeno vinaigrette is a make-ahead friendly recipe. When planning for a party or a family dinner, make a day prior and refrigerate in an air-sealed container. Then leave it over the kitchen counter for 2-3 hours to make them return to room temperature.
To refrigerate. You may refrigerate the leftover in an airtight container to store up to 3 days.
To freeze. It is good to use up to 2 months when frozen.
To thaw. Let it thaw the frozen dish overnight in the refrigerator. And leave it in the kitchen counter for 2-3 hours until the olive oil melts to the room temperature. Alternatively, microwave for 20 seconds in intervals until it is room temperature.
To reuse. Always whisk again before serving to make the liquid creamy.
Variations
Low-calorie. The olive oil increases the calorie factor in this spicy lime vinaigrette recipe. Hence, reduce the amount of olive oil with yogurt. But adding yogurt will alter the taste and the texture, but notably a pleasing variation.
Low-heat. Instead of jalapeno, you may use mild pepper varieties like serrano peppers.
Mint. Add in few fresh leaves of mint, and the freshness it brings is impeccable.
The recipe FAQ
What if it is too spicy?
Once made it is tough to take away all the heat. However, add a blob of butter to mellow down the heat. Plus, add sugar to hide the spiciness.
Can I make with other chilipepper as well?
Yes, this jalapeno vinaigrette recipe is adaptable to other fresh peppers as well.
Can I use Jalapeno infused olive oil?
Yes, if it is available.
Other jalapeno recipes,
Printable recipe card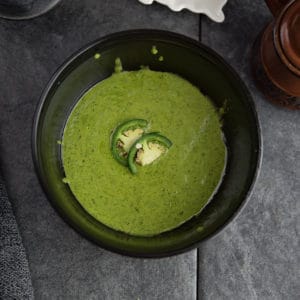 Jalapeno vinaigrette
Jalapeno vinaigrette is quick and simple to make that explodes with rich flavors. Plus, it's incredibly delicious and endlessly customizable.
Print
Pin
Rate
Ingredients
½

cup

olive oil

1

jalapeno

2

tablespoon

lemon juice

1

tablespoon

white wine vinegar

¼

cup

cilantro

2

tablespoon

Dijon mustard

¼

teaspoon

salt

or as required
Instructions
In a blender jar, add all the ingredients.

Pulse until the olive oil combines with the lemon juice and forms a creamy texture.

Enjoy serving as dreassing over salad or as a quick marinade for meat.
Notes
Always wear a gloves while coring the jalapeno.
Remove the seeds and the white membrane for less spice.
Remove the seeds and leave the pith for a spicy version.
Leave the pith and some seeds on for hot and spicy jalapeno vinaigrette.
Nutrition
Calories:
247
kcal
|
Carbohydrates:
1
g
|
Protein:
1
g
|
Fat:
27
g
|
Saturated Fat:
4
g
|
Sodium:
232
mg
|
Potassium:
10
mg
|
Fiber:
1
g
|
Sugar:
1
g
|
Vitamin A:
105
IU
|
Vitamin C:
7
mg
|
Calcium:
4
mg
|
Iron:
1
mg
**Disclaimer: The nutritional information provided is an approximate estimate only.
Other Jalapeno recipes you may like,