Roasted jalapeno salsa is a smashing success in our home. This delicious salsa is easy to assemble using stored roasted jalapeno and fire-roasted tomato. And ready in minutes, of course, they are also gone immediately.
This is a low-carb, low-fat, effortlessly accessible, satisfying, flavorful spicy condiment. A few shortcuts make this roasted jalapeno salsa recipe like a breeze, and feel the magic of a delicious platter unveiled in a flash of a second.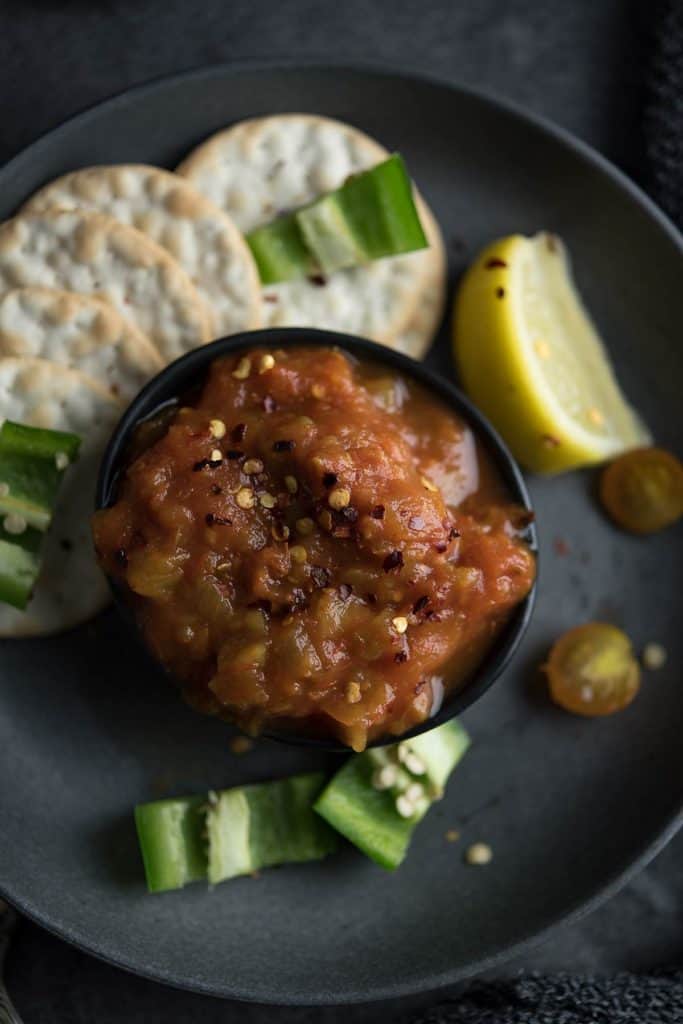 A crowd-pleasing, tastiest recipe, excellent to serve at a game day party or for family chillouts. Out of many recipes, this one is the most accessible and most delicious, with the proper heat and the zing that you expect.
Great to enjoy as a dip with chips or nacho, as a salad dressing, or drizzle over the burger or sandwich as a top layer. The tomato and jalapeno salsa are versatile, and relish it the way you like. We discuss more ideas about serving this delicious salsa.
This is a follow-up recipe after my roasted tomato salsa got lots of attention on social media. Moreover, I had a massive bag of frozen roasted jalapeno last month.
It is more convenient for me to roast a massive batch of jalapenos once and store them for the rest of the year. And saves a ton of time, in planning and preparing for food.
I wanted to keep this roasted jalapeno salsa recipe as minimal as possible and with the same punch as the classic jalapeno salsa. I used the hand blender for the right texture consistency. However, you may use your favorite kitchen tool.
The ingredients.
Roasted jalapeno. I used the roasted tomato I preserved in the last month. I always roast in a large batch and use it for the following months. This comes in handy when making quick salsa or spicy sauces like this. Furthermore, these are flavorful with the right amount of heat.
I would highly recommend preserving the chili peppers during the season. This saves time and wallet.
If you plan to make fresh peppers, you may also use them. We will see how to process roasting jalapenos in the following paragraphs.
Fire-roasted diced tomato. My family adores this option for its rich, and smoked flavor. These are pantry-friendly and more convenient for quick recipes like this roasted jalapeno. Canned diced tomato is perfect to substitute with.
Onion. White onion and yellow onion are best here. This adds body, texture, and mild hidden sweetness to the salsa. It beautifully brings the tomato and the jalapeno together.
Cilantro. A handful of fresh cilantro is the flavor booster.
Lemon juice. Adds a depth of flavor, and enhances the taste of the tomato. Lime juice is a good alternative.
Garlic powder. Its natural flavors make the spicy fire-roasted jalapeno salsa an ultimate dip. Feel free to use roasted cloves of garlic, if you have.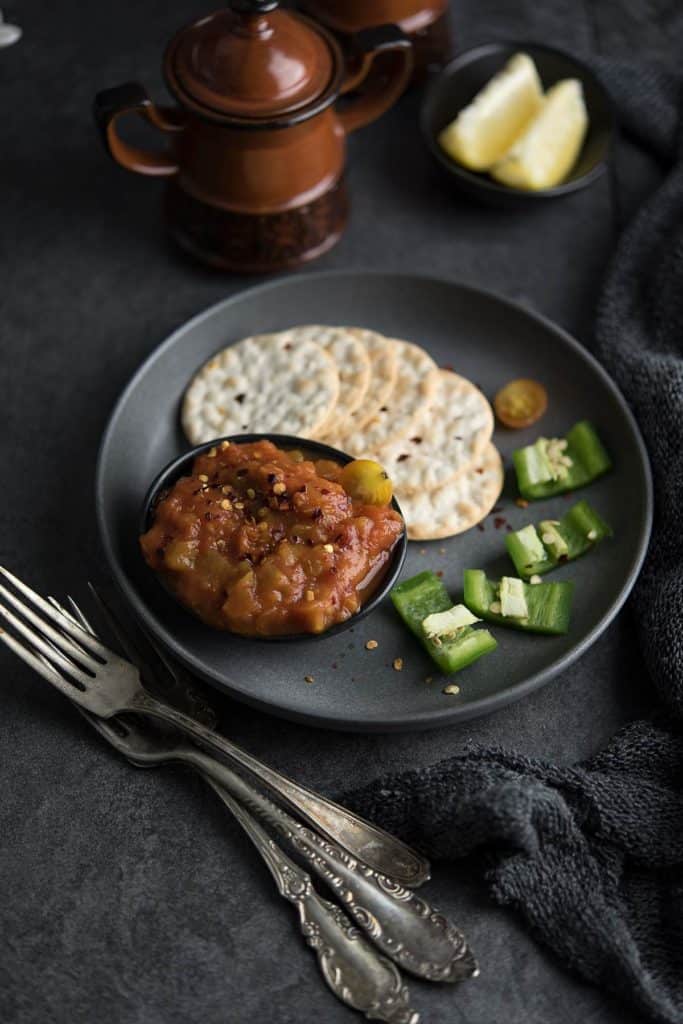 How to make roasted jalapeno salsa?
Using roasted and preserved jalapeno and canned diced tomato is a simple shortcut for quick serving. You can skip the next step and skip to the prepping step.
Roasting. If you use fresh jalapeno, you may roast over the stovetop for easy preparation, or refer to how to roast jalapeno for a detailed description.
Prepping. Remove the jalapeno seeds to keep the spice level of the salsa low. Leaves some seeds on to increase the heat. On the good side, always reserve the seeds and add them later to increase the heat.
Combine. Add jalapeno, canned fire-roasted diced tomato, onion, cilantro, lemon juice, garlic powder, and salt in a mixing bowl.
Blend. Blend it to a chunky texture using a hand blender or food processor. Test for the salt and the heat.
Transfer. Pour it over to a deep serving bowl along with chips or nachos.
Serving Ideas.
With Chips and Nachos. Serve your roasted jalapeno salsa with spicy tortilla chips, or with chips. Nothing can beat this ultimate combo.
With Salad. This salsa is a perfect blend of spice and sour. Toss it over the salad and serve a simple comfort meal for dinner.
With Sandwiches and burgers. Thinking of pushing up the flavors? This roasted jalapeno tomato salsa could turn into your reliable topping. Drizzle this sala as a topping.
With pasta. Toss it over pasta or ravioli. This simple skinny sauce would be a pleasing add-on.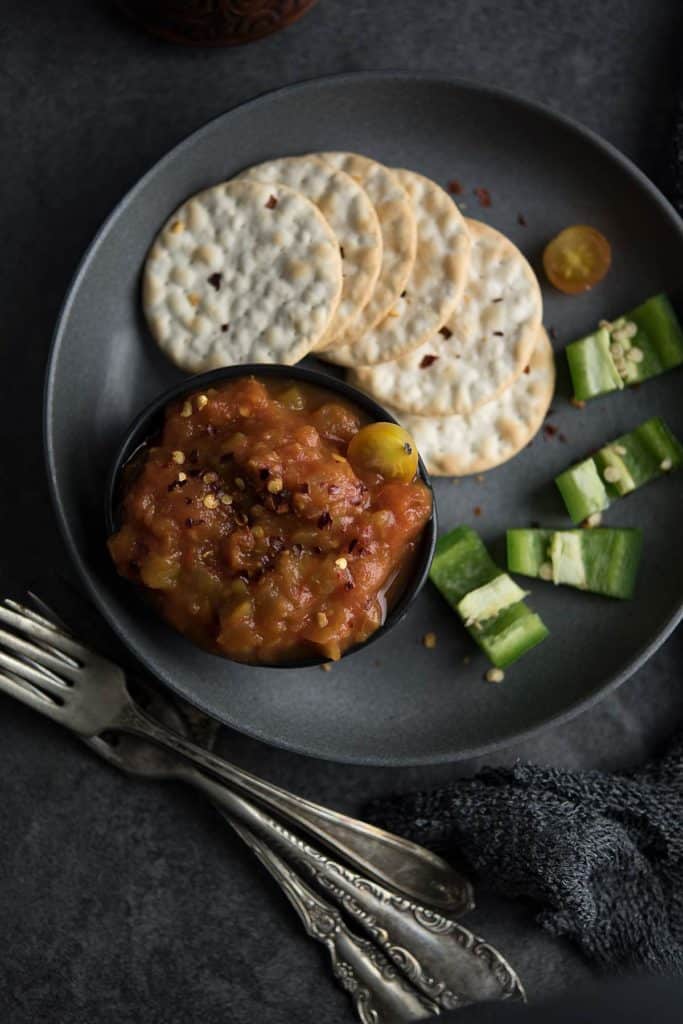 Make ahead, Storage, and reheat options.
Make ahead. There are not many things for prepping for a make-ahead option. You may roast the jalapeno, deseed, and keep them ready in the refrigerator. Blend it just before serving.
Storage ideas. Store roasted jalapeno pepper salsa in an airtight container for the better results. Refrigerate to use for up to 2 days. And freeze to use for up to 2 months.
Reheat. Thaw the jalapeno salsa by keeping them in the refrigerator overnight. Gently warm up in the microwave for 30 seconds or until it reaches room temperature.
Variations.
Roasted. When making the salsa from scratch, arrange the jalapeno, tomato, and garlic, in a baking sheet. And bake it in the oven for 10 minutes until the edges are charred. Then follow the recipe for the remaining steps; this roasted tomato and jalapeno salsa is a great choice when doing it from scratch.
Peppers. Each pepper brings out different flavors and heat. Try swapping jalapeno with chili peppers like habanero, poblano, or green bell pepper.
Vinegar. Substitute lemon juice with lime juice or apple cider vinegar for robust flavors.
Why is the salsa bland?
Bland and spicy depends on individual preference. However, if you feel the salsa is bland, it might be for three reasons. Salt, lemon juice, and the jalapeno seeds.
For the heat, add in the seeds we have reserved while deseeding. Or you sprinkle red pepper flakes, for the intense heat.
Sprinkle lemon juice and salt for more action. Add a little until the roasted jalapeno salsa reaches the desired taste.
How to spice up the salsa?
We have already discussed, that spicing up is much more straightforward than reducing the heat. So, I would always recommend starting with low heat so you have more room to adjust it later. You may increase it in many ways.
Add the set-aside seeds and the pith.
Add chili flakes.
Add chopped fresh jalapeno.
If nothing works out, add a hot sauce; let's keep this as a last effort, as it alters the original taste of roasted jalapeno salsa.
Other Jalapeno recipes you may like,
Printable recipe card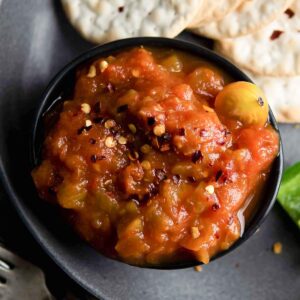 Roasted jalapeno salsa
Roasted jalapeno salsa is delicious, ready in minutes. This spicy dip is low carb, low fat, with most satisfying flavors, great with chips.
Print
Pin
Rate
Instructions
Remove the seeds and the pith of jalapeno. Reserve the seeds, to add later to adjust the heat.

In a large mixing bowl, add jalapeno, fire roasted tomato, onion, cilantro, lemon juice, garlic powder, and salt.

Using hand blender, crush them into a chunky texture.

Transfer to a dipping bowl, and enjoy with chips or nachos.
Notes
Refrigerate. Refrigerate to use for up to 2 days.
Freeze. To use for up to 2 months. Use a zip lock bag or air sealed container.
Reheat. Thaw the jalapeno salsa by keeping them in the refrigerator overnight. Gently warm up in the microwave for 30 seconds or until it reaches room temperature.
Nutrition
Calories:
42
kcal
|
Carbohydrates:
9
g
|
Protein:
1
g
|
Fat:
1
g
|
Saturated Fat:
1
g
|
Sodium:
169
mg
|
Potassium:
68
mg
|
Fiber:
2
g
|
Sugar:
3
g
|
Vitamin A:
573
IU
|
Vitamin C:
5
mg
|
Calcium:
35
mg
|
Iron:
1
mg
**Disclaimer: The nutritional information provided is an approximate estimate only.
Recommended tools for making this recipe
Baking tray. The stage where jalapenos get their charred, smoky personality. Nothing screams rustic more than a well-used baking tray.
Food processor. The heart of roasted jalapeno salsa-making. This magic machine will blend your ingredients into the perfect, chunky salsa.
Rubber gloves. Safety first! Jalapenos are fiery, and these gloves protect your hands while handling these spicy beauties.