Who says you cannot make a condiment in seconds, show them how to make jalapeno aioli with simple ingredients. This spicy aioli sauce is easy enough for a quick dressing and a fabulous dip for the barbeque nights.
Jalapeno aioli is creamy with mild spiciness but with tempting flavors. Moreover a low carb and a keto-friendly dip. Also a satisfying aioli for your favorite snacks and made with garlic, jalapeno, and mayonnaise.
Jump to:
What is jalapeno aioli?
It's nothing but a fancy-flavored mayonnaise. This is a spicy, pungent, finger-licking good condiment. It's a fusion recipe of France with America's popular jalapeno pepper. This complements the dish that is served with, think about a salad or fried chicken. It perfectly balances with its rich flavors.
How to make jalapeno aioli sauce
It is a super easy and straightforward recipe that requires 10 minutes to make. Just whip up the mayo with the minced jalapeno and other pantry staple ingredients(much like this cilantro jalapeno dressing). And in a flash, you are ready to enjoy your food.
If you are new to the kitchen, wear gloves when handling the jalapeno to avoid any skin irritation.
The ingredients
Mayo. Use the mayo of your choice. It can be vegan, low fat, or original version. I made with low-fat mayo which I always use. Homemade mayo also works fine if you prefer.
Garlic. I would strongly suggest staying with fresh garlic. As nothing can beat the elegant flavors and the texture when the garlic is unpreserved. Mince it as fine as possible, as it might not interrupt the tastebuds while enjoying you main dish.
Fresh Jalapeno. Gives a fabulous kick that can never be compromised. However, you may skip if it's not in season. To make the aioli flavorsome and with less heat, remove the seeds and the pith-the white membrane inside the pepper. You may leave some seeds on depending on you heat tolerance. Or if you have preserved jalapeno like this roasted jalapeno, feel free to use it.
Pickled Jalapeno. Adding a tablespoon of finely chopped does wonder in jalapeno aioli.
Black pepper. I have added to add a zing, though it's optional.
The recipe directions
In a bowl add mayo, minced garlic, fresh jalapeno, pickled jalapeno, and crushed black pepper.
Use a whisk to blend everything until combined.
Transfer to a small bowl and serve as dipping or as dressing.
Best to serve with
The fried chicken. This duo is unbeatable, the crispy fried chicken dipped with this spicy jalapeno aioli is very much addictive.
The seafood. It is fantastic to pair with salmon, shrimp, or crab cakes.
Potato. Great to have with spicy potato wedges, sweet potato fries, or spicy plantain chips.
Tacos. Drizzle over a fish taco or shrimp taco. I would say this as a perfect addition.
Food with cheddar cheese. Jalapeno and cheddar go hand in hand. So any food that is topped with cheddar works fine with this spicy jalapeno aioli.
Salad dressing. Makes a simple salad like Greek yogurt chicken salad, black bean corn avocado salad to an extraordinary one.
Make ahead and storing ideas
This jalapeno aioli is the best make-ahead friendly recipe. This is good to whip up two days prior to the date of your event. Choose an air-sealed container to retain its freshness and flavors.
The leftovers are also good to store up to 3 days when refrigerated.
Other dipping sauces you may like,
Variations
The choice of variations for jalapeno aioli is immense. And the following are my favorite and I have tried. Additionally, it can give you an idea to make and customize your own.
Oregano. Add a pinch of oregano for an enhancement. Fresh or dried oregano is equally great in here.
Olives. Chopped olives are also awesome to add.
Lime juice and lime zest. Add a teaspoon for a kick and refreshing aroma. But on the downside thins down the dipping sauce. So adding a little quantity would be a wise decision.
Cilantro. If you prefer bold variation, add a tablespoon of chopped cilantro and feel the difference.
Other jalapeno recipes you may like,
The recipe FAQ
How to make spicy jalapeno aioli?
The fresh jalapeno is responsible for the heat in this spicy aioli recipe. If you want to make it spicy, leave the seeds intact while mincing them. But decide to be cautious as a little more can become too hot to handle.
If you want to still hotter, replace black pepper with red pepper flakes. Which is also pairs up well.
The aioli I made became too hot?
Did you made jalapeno aioli and find too hot to handle. No worries, you can bring down the spice level in a couple of ways. You may add one or a combination of the following.
Mayo. Combine until it's not spicy anymore.
A blob of butter. It brings down the heat immediately.
Lime juice. Overcome the spiciness and also gives a sour taste.
Printable recipe card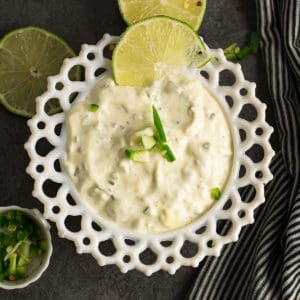 Jalapeno aioli
This spicy jalapeno aioli sauce is easy enough for a quick dressing and a fabulous dip for the barbeque nights. Made with simple pantry staple ingredients.
Print
Pin
Rate
Ingredients
½

cup

mayonnaise

1

tablespoon

garlic

minced

11/2

tablespoon

jalapeno

minced

2

tablespoon

pickled jalapeno

minced

½

teaspoon

whole black pepper

crushed
Instructions
In a small mixing bowl, add mayonnaise, minced jalapeno, pickled jalapeno, garlic, and black pepper.

Using a whisk, whip up gently until all the ingredients combined together.

Transfer to a serving bowl and enjoy.
Notes
For spicy jalapeno aioli. Add the jalapeno along with its seeds.
For extra spice. Add in red pepper flakes.
For less heat. Remove the seeds and the pith of the jalapeno before adding.
Always work with gloves when handling jalapeno.
Nutrition
Calories:
805
kcal
|
Carbohydrates:
10
g
|
Protein:
3
g
|
Fat:
84
g
|
Saturated Fat:
13
g
|
Cholesterol:
47
mg
|
Sodium:
1049
mg
|
Potassium:
243
mg
|
Fiber:
3
g
|
Sugar:
6
g
|
Vitamin A:
1302
IU
|
Vitamin C:
102
mg
|
Calcium:
14
mg
|
Iron:
1
mg