The fusion recipes, integrating two cuisines together-stays as popular recipes forever. This green chili hummus is a delectable blend of Middle Eastern cooking with spicy Mexican green chili.
Ready in less than 10 minutes without using traditional tahini sauce(it's rare to find in regular stores).
Even those skeptical about making intercontinental fusion recipes, will not dispute this rich, creamy, spicy, citrusy, finger-licking, addictive Mexican-flavored hummus dip. This is naturally a vegan, vegetarian, clean eating, Keto, and Paleo food.
This green chili hummus is super easy and quick to make and the ingredients are easy to find in the regular grocery stores in the United States.
Although we love the store-bought traditional authentic hummus, I prefer creating our own as the trailer-made blend is rare. Not all the packaged food suits our taste; we alter it to suit our palette. The work involved varies from sprinkling salt to sauteing with a spice coat.
Why must we create our own where the stores are loaded with various hummus? First of all, it's budget-friendly.
Secondly, to conveniently meet our spicy cravings, or to overwhelm the guest with easy DIY recipes like this green chili hummus.
Furthermore, most of the products available in the market are loaded with preservatives and chemicals, which destroys the purpose of opting for clean food.
Before buying any so-called fresh food from the market, always check the package for its ingredients and the expiry date. You often feel bummed; I bet you will follow in my footsteps to make your own.
If the process involved in cooking is huge, then it is quite acceptable to get it from the stores. And what if the work involved in alteration equals creating a whole new dish? And this spicy green chili hummus recipe is like this.
Since we wanted to serve our family fresh food, I made our appetizer pair despite the store.
Other easy dip recipes,
What is Hummus?
Hummus is a velvety, light, fluffy dip meant to be served as an appetizer or a spread. Made with chickpeas, authentic tahini sauce, and other flavoring agents.
In recent days, hummus has entered the global limelight and can be found in supermarkets and convenience stores. It's known for its creamy texture and health factors in the United States. More and bigger giants are involved in the hummus trade. Hence, we are lucky to see many brands with various flavors.
How does this green chili hummus taste like?
This is a beautiful blend of all flavors, like spicy, creamy, and tangy.
The Mexican green chili is very aromatic and mild in heat. We made today's dish with store-bought canned green chili stored in vinegar. This brings a citrusy taste and adds mild warmth to the dip.
Recipe ideas for Green Chile hummus
We have already started replacing cheese and peanut butter with this plant-based vegan dip wherever possible.
As a savory spread for the breakfast toast.
As topping for salad.
I believe serving as a dip for finger food is the ultimate choice.
Sometimes, I toss it with pasta and veggies to make a quick weeknight dinner.
Nachos and tortilla chips are the best companions that one can ever forget.
How to make green chili hummus?
Surprisingly, this Mediterranean Hummus is such an easy dip that it can be made in minutes in the blink of an eye.
The ingredients
Chickpea. In this recipe, I have used canned chickpeas for easy usage. However, soaking and cooking chickpeas saves more money than we spend on cans. So, you may use either canned chickpeas or homecooked chickpeas.
When using homemade or canned chickpeas, always drain the chickpeas. Discard or use the water for making or diluting the soups.
Green chili. It's available in the store canned form; I got mine from our local Walmart. They are available in mild, medium, and hot variations; choose according to your family's needs. Alternatively, use fresh green chili pepper.
If you fear about the spiciness, deseed before using.
Garlic. This does not only act as a flavor enhancer and it's our family tradition to use wherever chickpea is used.
Lime juice. To transform hummus into the Mexican style, we use lime juice. It makes the dip refreshing and tasty. You may substitute it with lemon juice.
Cilantro. Garlic, lime, and pepper are the three inseparable in Mexican cuisine, and they also play perfectly here. Fresh cilantro is excellent and delightful.
The recipe direction
Combine cooked chickpea, green chili, garlic, lime juice, cilantro, and salt in the blender jar or the food processor.
Pulse until it turns to a creamy, thick paste.
Transfer to a serving bowl. And serve as a pairing dish for vegetables or finger food.
The recipe FAQ
Can I make it in advance? Yes, it's an easy make-ahead recipe that stores well when refrigerated. It's good to make it two days prior.
How to store? Made with all the fresh ingredients, it retains its natural taste and flavor and always chooses the best air-sealed container.
Can I use Tahini sauce? Yes, you can. We have skipped this chili lime hummus recipe as it is not accessible to many of us in the United States. If you have a pantry, you are more welcome to use it.
What are the other variations I can think of? Use cayenne pepper or red chili powder to make it spicy. Roasted Hatch chile is also good to use.
Finally, you may also use tahini sauce.
Other pepper recipes you may like,
Printable recipe card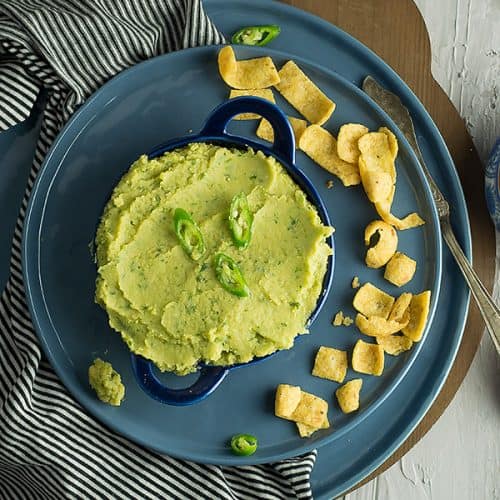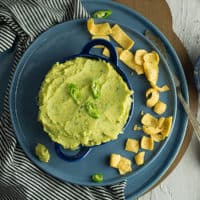 Green Chili Hummus
This green chili hummus is the delicious blend of hummus from the Mediterranean and Mexican cuisine, party-friendly dip is made in 10 minutes.
Print
Pin
Rate
Ingredients
1

cup

chickpea

Canned / home cooked

¼

cup

cilantro

chopped

2

tablespoon

green chili

3

tablespoon

lemon juice

1

clove

garlic

4

tablespoon

water

/or as required
Instructions
In the blender combine all the ingredients.

Pulse until it becomes a smooth consistency.

Transfer to serving bowl along with Nachos or chips.
Notes
To cook the chickpea at home, soak for minimum of 6 hours and cook with salt for 10 minutes in Instant pot.
Test and adjust the salt.
Nutrition
Serving:
1
g
|
Calories:
146
kcal
|
Carbohydrates:
26
g
|
Protein:
7
g
|
Fat:
2
g
|
Saturated Fat:
1
g
|
Sodium:
59
mg
|
Potassium:
262
mg
|
Fiber:
7
g
|
Sugar:
5
g
|
Vitamin A:
135
IU
|
Vitamin C:
13
mg
|
Calcium:
40
mg
|
Iron:
2
mg
**Disclaimer: The nutritional information provided is an approximate estimate only.