This homemade jalapeno salsa is an inspiration by branded salsa's taste. Learn how to make this spicy salsa with fresh tomato and jalapeno.
The fresh jalapeno and tomato salsa is hot, spicy, and incredibly delicious. Plus, the recipe does not require any preservatives, food colors, flavor additives, but tastes better than the store-bought.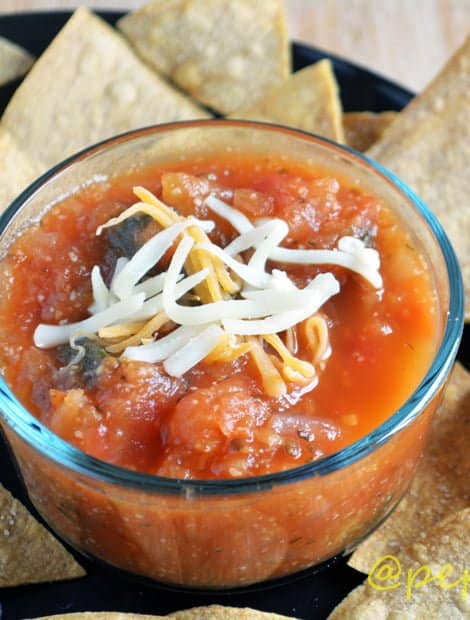 My son always pulls a big bag of Tortilla chips and a huge bottle of salsa from the stores. I really didn't know, munching them always is good for health or not.
But I'm 100 percent sure that homemade is always the best when comparing the 'ready to eats' available in the market.
Jump to:
About this recipe
This homemade jalapeno salsa is quick to whip up with a simple and straightforward recipe. It is fabulous to spread as a topping sauce for pizzas or tossing with pasta.
Homemade recipes are all about making the dish with minimal ingredients and with minimal cooking steps. And this spicy salsa is true kind recipe.
And it tastes perfect with spicy tortilla chips.
Tomatoes are in season now, we got them today from our recent visit to a local farm, here in Pennsylvania. They were sweet and juicy, which enhanced the taste of our fresh jalapeno salsa, just like my roasted green tomato salsa.
Secrets for the best jalapeno salsa
Tomato. Ripen Roma tomato are great in my opinion. However, feel free to use any verity of tomato. Each verity brings up a different taste and they make the homemade jalapeno salsa delicious.
Jalapeno. Fresh jalapeno is great, and you may also use the preserved ones like this roasted jalapeno. Seeds decide the heat level in this dish. Remove the seeds for the mild heat and leave few seeds for more heat.
Onion. Sweet onion or yellow onion compensates the heat of the jalapeno. Red onion makes the salsa a fiery one, prefer red onion if you prefer a spicy salsa.
Garlic. The flavor booster, one clove will bring all the flavors that make everyone tempt. Fresh garlic is the best for delicious salsa. And garlic powder is also great to use.
Lime juice. A teaspoon of lime juice will completely balance out the acidity of tomato and jalapeno.
How to make jalapeno salsa?
Place a saucepan over medium heat, add 4 cups of water.
Add tomato, jalapeno, and onion. Cook for 10 minutes. Then remove them from the water and allow it to get cool.
Once cooled down, peel off the tomato skin.
Half the jalapeno and remove the seeds for mild heat. Leave some seeds-on for a hot and spicy salsa.
In a food processor, add the blanched tomato, jalapeno, onion, garlic, lime juice, salt, and pepper,
Pulse, until it becomes a chunky consistency. Add water little at a time to reach your desired consistency.
Transfer this is to a serving bowl and enjoy it.
Best to serve with?
Tortilla chips. Nothing can beat the combo with homemade jalapeno salsa. This spicy tortilla chips would be delicious with this.
Roasted veggies. A big bowl of roasted veggies gets vanished in minutes when served with this. (These spicy roasted vegetables are totally addictive.)
Protein. A great topping for the protein of your choice. This spicy salsa would turn into a simple topping.
Sandwich. Spread a layer of this inside the sandwich for a rich taste and bold flavors.
How to store?
Refrigerate. This homemade jalapeno salsa is great to consume within a day if stored on the kitchen counter. If it is in the refrigerator it stays good for about 5 days. When frozen it lasts for months.
Freezing. The Homemade salsa with fresh tomatoes can be frozen in a sealed airtight container for the longer use. And it stays for months if stored properly.
The only disadvantage of freezing is that the container occupies some space in your freezer. Other than this it has got no disadvantages. And absolutely, freezing is my most preferred method of storing their leftovers.
Thawing. There is no strict thumb rule. But if time permits, transfer the frozen salsa to the refrigerator a day before using it. On the other hand, for instant use, you may also thaw it in the microwave.
Tools that make the recipe easy
Food processor. My favorite for my homemade jalapeno salsa, that's easy to clean up after every use.
Serving bowl. A deep dipping bowl is great for scooping and mess-free as well.
Saucepan. A thick-bottomed saucepan works well to cook evenly.
Other Jalapeno recipes you may like,
Printable recipe card
Homemade jalapeno salsa
This homemade jalapeno salsa is an inspiration by branded salsa's taste. Learn how to make this spicy salsa with fresh tomato and jalapeno.
Print
Pin
Rate
Ingredients
2

cups

water

3

tomato

1

jalapeno pepper

seeded and veined

½

cup

sweet onion

/yellow onion/roughly chopped

¼

teaspoon

garlic powder

1

tablespoon

lime juice

½

teaspoon

salt

or as required
Instructions
Over medium heat, in a sauce pan add water, tomato, jalapeno, and onion.

Allow it to cool down, and peel the skin of tomato(Discard the water or reserve to thin down the salsa).

In the food processor, add peeled tomato, cooked tomato, and onion.

Add in lime juice, salt, and garlic powder.

Pulse until the salsa becomes chunky.

Transfer it to deep serving bowl, and enjoy with chips or nachos.
Notes
To make the salsa spice, add the scooped out jalapeno seeds.
Refrigerate. This spicy salsa stays good for about 5 days the refrigerator.
Freezing. It is good to use up to 3 months when frozen.
Thawing. Transfer the frozen salsa to the refrigerator overnight. Or, you may thaw it in the microwave for quick seconds.
Nutrition
Calories:
26
kcal
|
Carbohydrates:
6
g
|
Protein:
1
g
|
Fat:
1
g
|
Saturated Fat:
1
g
|
Sodium:
303
mg
|
Potassium:
242
mg
|
Fiber:
1
g
|
Sugar:
4
g
|
Vitamin A:
806
IU
|
Vitamin C:
19
mg
|
Calcium:
17
mg
|
Iron:
1
mg
Do not miss the latest recipes and its tips, Follow us on Facebook, Pinterest, Instagram