It is the time to bring authentic Italian flavor to your dining table, even on busy weeknights! This spicy Pomodoro sauce is tangy-savory with the rich aroma of fresh tomatoes, basil, and olive oil. The sauce is mild, and light, making the pasta dish taste delicious.
This easy Pomodoro sauce is vegan and skinny, not loaded with cheese like other regular pasta recipes. And that makes it worth trying, even if you are not vegan.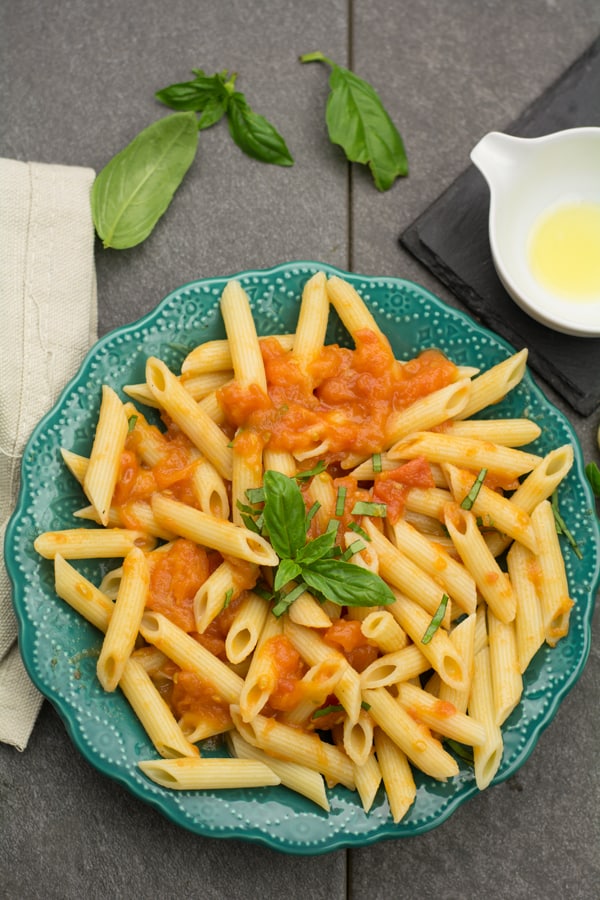 This post of spicy Pomodoro sauce is one of the follow-up series of my vegan pasta recipes, which is most prevalent in our blog. Most of these are made with commonly available ingredients, and most require less than 30 minutes of cooking, with minimal prepping work.
If you are looking for an easy and simple pasta dish, this 5 ingredients spicy sauce recipe is yours. The intense flavors make you get addicted to this delicious Pomodoro sauce, and make you start craving it.
What is spicy Pomodoro pasta?
This Italian vegan pasta is a main course dish, usually made with commonly available fresh ingredients like tomato or basil. Which is also otherwise called Pasta al Pomodoro. Wikipedia says
" It is intended to be a quick light dish, rather than a dish in a heavy sauce."
Between the Lines, we can read that the Pomodoro sauce is simple, mild, comfort food possible on long, tiresome days.
How do you make this sauce cheesy and still vegan?
The recipe I shared here is naturally vegan. We have not added any form of cheese here. I find this way: tomato sauce's flavors are more robust and natural.
Add a teaspoon of nutritional yeast if you want to stay vegan and still prefer cheesy flavors in this spicy Pomodoro sauce. Adding this vegan cheese or nutritional yeast will not disappoint you without compromising the taste or fragrance of rich pasta recipes.
How many cups of water should I put in 1 cup of pasta?
There is no strict rule for cooking the pasta. But 3-4 cups would be ideal for cooking the pasta. All you have to do is make sure that the pasta is submerged in the water while cooking. I suggest keeping the water level to a minimum of 2 inches above the pasta.
Best dishes to pair with spicy Pomodoro sauce pasta
If you are searching for protein-rich meat side dishes, the following would be perfect for serving: Lemon Grilled chicken, Lime chicken recipe, Garlic pepper Shrimp, Cedar plank grilled salmon, and pan-fried garlic chicken.
If you are thinking of the vegan and skinny version of side dishes, these would be working fine. tofu steak recipe, Hassel back potatoes, Fresco salad.
The ingredients
The spicy Pomodoro sauce requires minimal ingredients you might have stocked in the pantry already.
Pasta. I prefer making my dinner healthy and choosing whole wheat pasta or multigrain pasta(which is more fiber than regular white pasta). Choose gluten-free pasta if you have dietary restrictions.
Convert this spicy Pomodoro to a low-carb dish by substituting pasta with store-bought, ready-made, low-carb pasta.
Tomato. Fresh tomatoes are great to use for this Italian recipe. Roma tomato or plum tomato is perfect for making this spicy Pomodoro recipe.
Roma tomatoes add a rich, tangy taste, and the ideal sauce texture can be achieved with plum tomatoes. Alternatively, you can also use canned diced tomatoes.
Olive Oil. For me, olive oil and pasta are inseparable. I find olive oil makes the pasta more authentic and delicious.
Basil. Fresh basil is the flavor store for this vegan penne pasta recipe. A small quantity makes the pasta warm and comfortable.
Pro Tips
I wanted my spicy Pomodoro sauce to be chunky, so I mashed the tomatoes in the pan. But you can pulse it in the blender for a few seconds for a smooth texture.
Add a teaspoon of olive oil when cooking; make it nonsticky and stay fresh longer.
Ensure the tomatoes are fresh and ripe - Since this summer, farmers' markets are loaded with fresh produce at nominal rates. Support the local farmers. On the other hand, you can also talk with them about the chemicals used for growing their vegetables.
Stir- This is the main mantra while cooking the chunky sauce, as it will quickly stick to the bottom of the pan. To provide proper care and stir them occasionally.
Use a big pot to make the sauce, as the sauce would splutter while cooking.
How to make spicy Pomodoro sauce
Cook the Pasta. Cook it according to the package instructions. It usually takes 12-14minutes for the pasta to cook. When it is done al dente, drain the water and set it aside(we need it at the final stages of cooking).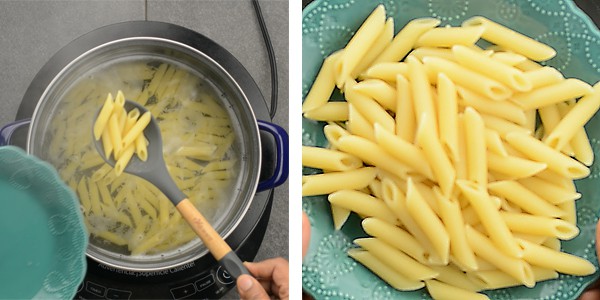 Make the tomato sauce. In a pan, add roughly chopped onion, tomato, and garlic. And bring it to a boil. Cook until they are fork-tender. Then, transfer to the blender and grind it to a smooth paste. And keep aside.
Combine. In a pan, add olive oil, followed by the sauce. Simmer and cook until it thickens. Then add cooked pasta. Combine them gently and sprinkle fresh basil. And serve hot.
Other dinner recipes you may like,
Printable recipe card
Spicy Pomodoro sauce
This spicy Pomodoro sauce tastes tangy, savory with the rich aroma of tomatoes. The sauce is mildly hot and light, making this sauce tastes delicious.
Print
Pin
Rate
Ingredients
1

cup

pasta

4

tomato

2

tablespoon

olive oil

4

basil leaves

fresh

2

teaspoon

salt
Instructions
In a pan add water and bring it to boil.

Add pasta and cook it according to the package instructions.

Strain the pasta to a bowl and set aside.

Slit tomatoes at the bottom with the mark X.

In the same pan and in the same boiling water, add the tomatoes.

Cook it for 8 minutes or until the skin started to peel off.

Strain and peel off the tomatoes and remove the core once you can manage to handle the heat.

Mash it with the potato mashes or run it in the blender to smooth consistency.

In a pan, add olive oil and the tomato sauce.

Add salt and cook until it thickens.

Add pasta and sprinkle basil leaves.
Notes
Use a big pot for cooking to avoid splatters.
Or you may also use splatter guard to avoid the messy.
Nutrition
Calories:
280
kcal
|
Carbohydrates:
32
g
|
Protein:
6
g
|
Fat:
15
g
|
Saturated Fat:
2
g
|
Sodium:
2340
mg
|
Potassium:
650
mg
|
Fiber:
4
g
|
Sugar:
7
g
|
Vitamin A:
2090
IU
|
Vitamin C:
33.7
mg
|
Calcium:
31
mg
|
Iron:
1.1
mg
**Disclaimer: The nutritional information provided is an approximate estimate only.