Today, we have a modern twist to our favorite dish; it is all-new spicy penne pasta with Instant Pot. Super quick, easy, and the most straightforward recipe that never fails.
Al dente Penne pasta drenched in marinara sauce with Italian herbs. A completely healthy Italian dinner is ready within minutes.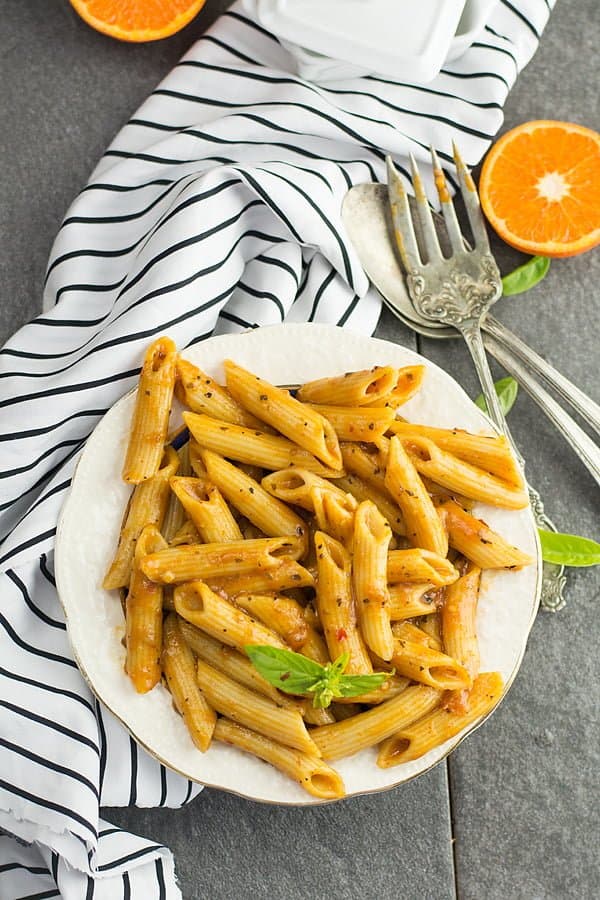 Our recent trip to Italy activated our family's tastebuds towards the Italian flavors. now, what? I'm throwing in the Italian herbs wherever I can.
And this simple trick brings a big smile to my family's face. What does it mean? This very tiny step makes me happy and my guys at home happy.
What next? Guess your family's pulse and step forward to it. Even a small step makes a whole lot of difference.
I made Penne Pomodoro a few weeks ago, which I have already shared with you. Today is one step further to make this hot pot penne pasta with a more accessible method and recipe.
No Instant Pot? Nothing to bother. You may also use your pressure cooker or the regular stovetop option. For your convenience, we are discussing all three below.
This spicy penne pasta recipe needs only a few ingredients. That is penne pasta, marinara sauce, dried oregano, and basil.
I have worked out the Instant Pot penne pasta recipe with homemade marinara sauce. But if you prefer, you can purchase the store-bought marinara sauce. This is a time-saving factor and helps for effortless cooking simultaneously.
Cooking with the Pressure cooker
The cooking methods and processes are similar in cooking pasta in a pressure cooker and penne pasta in an electric cooker.
All the following instructions and suggestions apply to cooking pasta in a pressure cooker.
Other variations that taste delicious
Marinara sauce and the penne pasta are made for each other. Furthermore, the best results are assured if these ingredients are together, like this spicy penne pasta. But you can use the same recipe with many other alternatives.
Swap penne pasta with spaghetti.
Substitute marinara sauce with alfredo sauce.
I made the pasta without cheese. But stir in cheese for cheesy, creamy penne pasta.
Combine vegetables for a nutritious, rich diet.
Enhance the flavors with your favorite herbs, whatever works for you.
Convert to a wholesome dish by enriching it with meat.
Chicken, meatballs, and seafood taste delicious with this spicy penne pasta.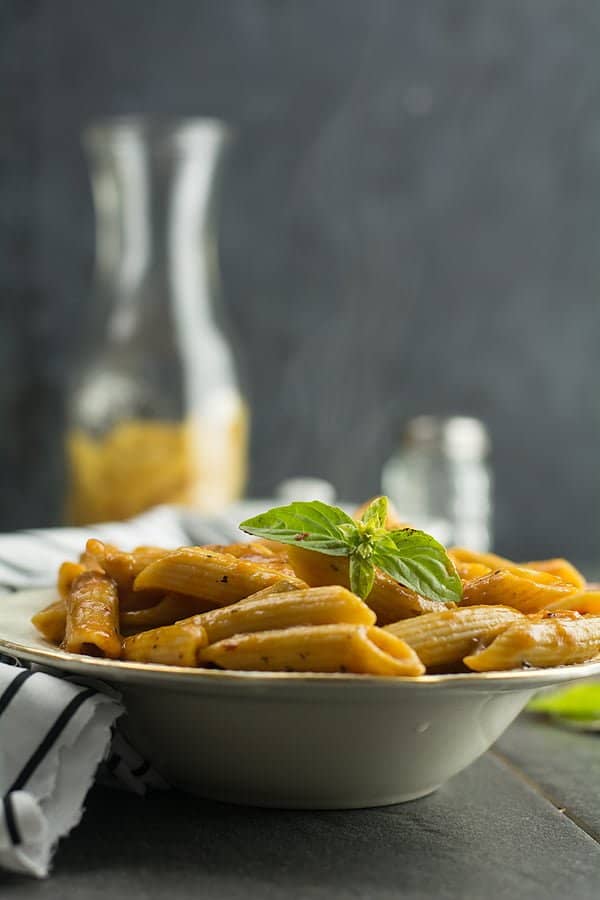 Pro tips for cooking penne pasta in Instant Pot
Choose pasta.
Choose your penne pasta from the varieties available in the market. I did not realize that this penne pasta was available in the market. I was surprised to see many apart from the broad varieties like whole wheat, multi-grain, and gluten-free. Here are a few to name: chickpea, red lentil, brown rice, protein-rich, and ancient grain penne pasta.
Choose the sauce.
We have used the homemade spicy marinara sauce for this Instant Pot penne pasta, which I have in my refrigerator. I made this sauce in large quantities from the last batch of tomatoes harvested from my garden. I find this combo is an all-time favorite of my family. If you choose this option, you may compose either with homemade or store-bought sauce, depending on your schedule.
You may also try testing with other vegan pasta sauces, such as,
Or on the other hand, you may also try this Instant Pot pasta with readymade jar sauce.
Choose the herbs
Oregano and basil are my ultimate choices when talking about penne pasta, as they coat well and give immense flavor in every bite. Or, to put it more straightforwardly, you can use mixed Italian herbs. A quarter teaspoon of this herb goes a long way in the recipe for spicy penne pasta.
The timer
The average cooking time for regular penne pasta is 3 minutes for the perfect Italian style al dente texture. But cook for 4 minutes if you prefer soft pasta.
Please note that each pasta entity has its cooking time per the package. So, the cooking time is not standard and varies in Instant Pot cooking.
The general rule of thumb for cooking pasta in Instant Pot is,
Check for the cooking time in the package's instructions.
Take the minimum cooking time mentioned in the instructions. Divide it by two and subtract by 1.
For example, if the package says cooking time is 12-14 minutes. Take 12 minutes, divide by 2, which is 6, and subtract it by 1. The answer is 5. So cook for 5 minutes.
We can also create a formula for easy remembrance. That is,
Instant pot pasta cooking time=[(X/2)-1], where X is the minimum cooking time in the instruction manual.
This calculated cooking time is for perfectly cooked penne pasta for the Instant Pot and pressure cooker.
If you prefer extra firm, reduce the cooking time by 1 minute.
If you prefer the soft texture, add the cooking time by 1 minute.
. I would suggest checking the calculated cooking time and adjusting the cooking time according to your preferences at the following time. Make a note of the adequate time for future use.
Pressure Release
Whether you use an Instant Pot or pressure cooker, release the pressure once cooked. If we leave it in the oven unattended, the pasta may get soaked in the sauce and become soggy.
Some of the pasta brands and some of the variations tend to foam while releasing the vent. So, the intermittent release will help us with Instant Pot penne pasta.
The intermittent release. Once the cooking cycle is over, turn the knob to the vent position when you see large droplets and return the vent to the sealing position. Wait for 20-30 seconds. Repeat the process until the pressure is completely released. A safety tip: Be cautious in doing this as the steam is hot.
Soft release. You may also slightly open the vent, but watch an eye as it may lather up on the top.
Instant pot pasta water ratio
I prefer the sauce to coat my pasta well, neither watery nor thick. For this type of texture, the right proportion of liquid is 2 times more than the pasta. I mentioned it as a liquid portion, including sauce and water.
For example, in this recipe, we have made 1 cup of pasta, 1 cup of marinara sauce, and 1 cup of water. Increase or decrease the water according to your liking.
Side dishes for spicy penne pasta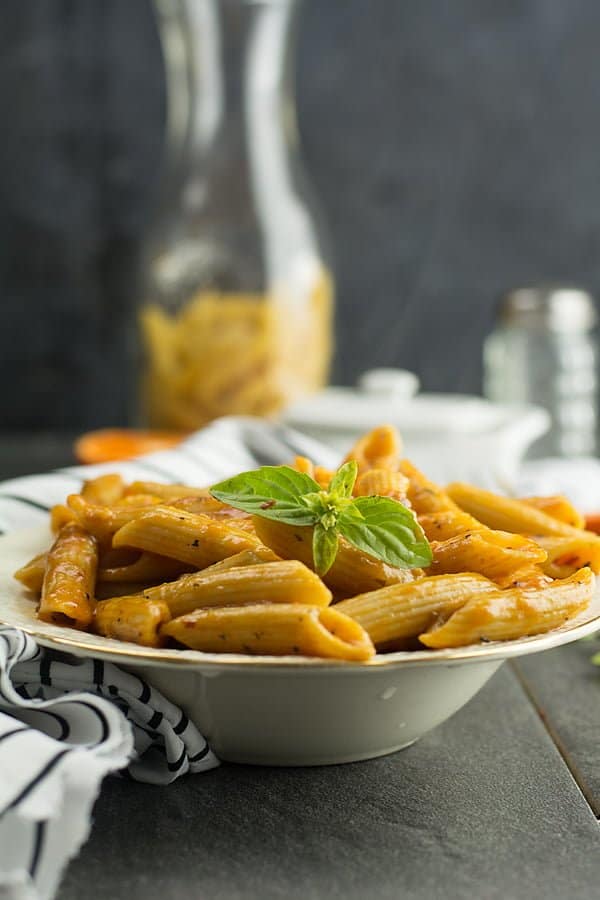 Know about the key ingredients
Penne pasta. You are much blessed if you can find fresh penne pasta in the stores to make Instant Pot penne pasta. But I'm unfortunate enough always to get them in my area. However, I'm happy with readymade penne pasta available in the nearby stores. I enjoy these while cooking and dining.
Marinara sauce. We use homemade marinara sauce that I always have in my refrigerator. And it gets finished more quickly than I estimate, as veg penne pasta is handy for most busy night dinners.
I also want to mention that I sometimes use store-bought marinara sauce, depending on the availability. There are many brands and flavors available in the market, with garlic, pepper, and olive oil.
Choose your favorite, and I love the garlic and olive oil sauce. This combo is the winning as it is already packed with a rich bundle of flavors, which efficiently fulfills half of the cooking of this vegan penne recipe.
Garlic. For me, no Italian cooking is complete without the garlic. One of our readers asked where she could use garlic powder instead of fresh garlic. Garlic powder or garlic flakes are not an absolute substitute for fresh garlic in the Instant Pot penne pasta recipe.
Fresh garlic is flavorful and brings out the dish very deletable. Minced garlic, helps the sauce to maintain a smooth texture as it disappears in the sauce once cooked.
Oregano and Basil. As mentioned, these two herbs are my all-time option when making any Italian recipes. You may substitute with readymade mixed Italian herbs, too. You may swap with other herbs like sage or rosemary.
Red chili flakes. I have added ½ teaspoon of red chili flakes; this adds a nice flavor and heat to the pasta. If you like to be genuinely spicy, increase the quantity. And minimize when you prefer nonspicy rich penne pasta.
How to cook Instant Pot penne pasta
You will be surprised to know how easy it is to make Instant Pot penne pasta.
Start by setting the Instant Pot to 'Saute' mode.
Add olive oil and minced garlic. Let the garlic sizzle in the oil for a few seconds; this releases the garlic's fragrance and makes the pasta taste rich and succulent.
Combine penne pasta, marinara sauce, water, dried basil, oregano, and red chili flakes in the same pan. Test the taste and add salt if needed.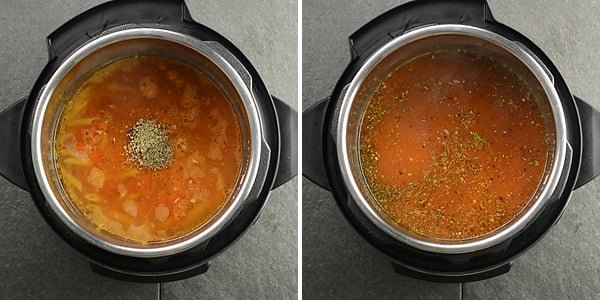 Close the Instant pot with the lid, and set the cooking timer for 4 minutes.
Next, do the intermittent release. This is nothing but, to release the pressure manually until large water droplets are seen. Then, return the vent to the sealing position. Wait for 30 seconds and repeat the process by removing the pressure again until the pressure is released ultimately.
Open the lid and serve hot.
Printable recipe card
Spicy penne pasta
Spicy penne pasta recipe is super quick, easy and the most straight forward recipe that never fails. A complete healthy Italian dinner is ready within minutes.
Print
Pin
Rate
Ingredients
2

tablespoon

olive oil

1

tablespoon

garlic

minced

1

cup

penne pasta

1

cup

marinara sauce

1

cup

water

¼

teaspoon

basil

¼

teaspoon

oregano

1

teaspoon

red chili flakes

¼

teaspoon

salt

or as required
Instructions
Set the Instant pot to saute mode.

Combine olive oil and minced garlic.

Saute until the garlic becomes fragrant.

Stir in pasta, marinara sauce, water, basil, oregano, red chili flakes, and salt.

Close the lid.

Set the cooking timer for 4 minutes.

And release the pressure by intermittent method.

Serve hot.
Notes
Reduce the red chili flakes if you prefer.
Nutrition
Calories:
369
kcal
|
Carbohydrates:
50
g
|
Protein:
9
g
|
Fat:
15
g
|
Saturated Fat:
2
g
|
Sodium:
941
mg
|
Potassium:
531
mg
|
Fiber:
4
g
|
Sugar:
7
g
|
Vitamin A:
605
IU
|
Vitamin C:
10
mg
|
Calcium:
35
mg
|
Iron:
2
mg
**Disclaimer: The nutritional information provided is an approximate estimate only.