Have you tried roasted Shishito peppers before? This recipe is truly incredible same as your restaurant. They come out tender, delicious and burst with flavors.
Shishito peppers are mild and sweet, and won't hurt you with this heat. And you can munch on as a snack on the game days or on the party nights. Your friends would love you for serving these oven roasted Shishito peppers.
These are fabulous soft and chewy peppers that are very mild in heat topped with pleasant peppery flavors. If you are a pepper lover, this recipe is a must try.
If you have stopped by these Japanese peppers in the farmers market and are searching for recipes with shishito peppers, this baked shishito peppers recipe would be perfect for you.
You may opt to roast peppers with an oven or over stove top. Drizzle a few drops of oil and bake it until it starts to blister. Sprinkle some kosher salt, a super smoky snack is ready in a blink of seconds like these roasted mini peppers and roasted jalapeno.
Shishito peppers are sweet peppers and do not hold much heat in their seeds like green peppers. Hence you do not require removing the seeds or the ribs. We prefer to roast them as whole peppers.
Shishito peppers are sprinkled with kosher salt and baked to perfection. These oven roasted shishito peppers are pretty much a no-brainer appetizer dish that you can easily put together even for a crowd.
Why I like this recipe
My local store, Wegmans, in central Pennsylvania carries bags of shishito peppers throughout the summer. Which always tempts me to grab some.
Initially I was hesitant to pick up looking at its crinkled skin and its size(made me feel that it is super hot). But my opinion was shattered when I first had it in an Asian restaurant.
Now, guess what? I get these peppers from every other visit to the store. And started including in our menu with multiple recipes. Over and above, this oven roasted shishito became one of our favorites and started making it too often.
Though you can eat them raw, roasting them over the oven enhances its smoky peppery flavors. Additionally, the work involved in this process is easy and effortless.
My family prefers this roasted shishito peppers for it's fabulous taste, I prefer it for it's easy prepping work.
The Ingredients
Shishito peppers. These are sweet, smoky Japanese peppers. And may be available in leading grocery stores in their produce section during summer and fall seasons.
Mostly these peppers taste sweet and mild. But every pepper it's different from others, even if it's from the same plant. So always be cautious that some pepper may taste slightly hot.
Kosher salt. It compliments and highlights the aroma of the roasted shishito peppers. You may substitute with sea salt or rock salt. The combination of pepper with salt is a pleasant surprise and delectable.
Olive oil. These provide an earthy taste and complex aroma. You may choose light olive oil, vegetable oil for subtle flavors.
How to make
Preheat the oven to 450 degree fahrenheit. And set the rack to the middle of the oven.
Wash and rinse the shishito peppers thoroughly.
Place them over the baking tray or an oven safe pan. Drizzle olive oil and toss until the peppers are coated evenly.
Sprinkle kosher salt.
And bake the peppers for approximately for 7 minutes or until it starts blistering.
Remove them from the oven, and serve with any spicy sauce.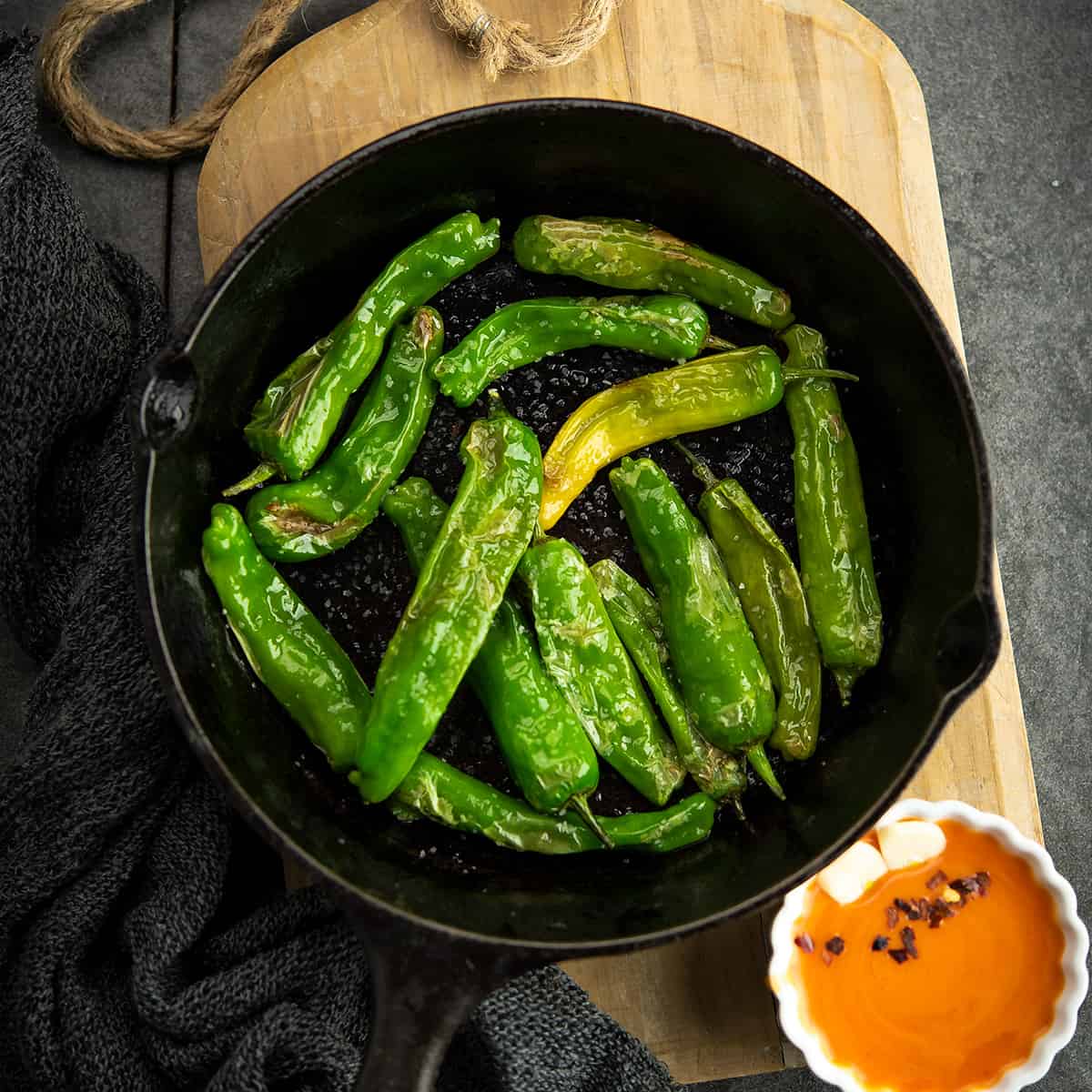 How to serve?
This roasted shishito peppers swells when it's hot, and flattens when cooled down. Hence it's best to serve immediately.
As an appetizer. Like roasted jalapeno, these baked Japanese peppers are also excellent to serve as an appetizer. Dunk into hot and spicy condiments like,.
As a side. Spice up your grilled steak, barbequed meat, or grilled salmon, or grilled chicken. And you have an incredible meal in no time.
As a topping. Add up a layer for your burger, sandwiches, or throw them in the salad like these, spicy kale salad, or fiesta salad.
Can I store the leftovers?
These taste excellent when they are hot or warm. Shishito peppers are tender and have a thin wall. And does not hold its structure well when storing for a long time. Additionally, It turns soggy and loses its texture when reheated. So, I would highly suggest making it whenever needed.
How to roast the shishito peppers over stove top?
Follow the same recipe. But instead of placing them in the oven. And sauté in medium heat for about 7 minutes or until it turns pale and starts blistering. Sprinkle some salt and enjoy.
Tool suggestions
Cast iron pan. Excellent for heating the peppers evenly.
Baking tray. This baking sheets are also perfect in roasting the peppers.
Roasted Shishito peppers
Roasted Shishito peppers are mildly sweet, and flavorful. An excellent snack on the game days or great side for steak or grilled meat..
Print
Pin
Rate
Ingredients
1

lb

Shishito peppers

1

tablespoon

olive oil

1

teaspoon

kosher salt
Instructions
Preheat the oven to 450 degree Fahrenheit. And set the rack to the middle of the oven.

Wash and rinse the Shishito peppers thoroughly.

In an oven safe baking pan, place these Shishito peppers and drizzle olive oil.

And toss them until the oil coats the pepper well.

Sprinkle kosher salt.

And let them roast in the oven for about 7 minutes or until the Shishito peppers starts blistering.

Then take them out from oven, and serve with a spicy sauce.
Notes
Storing tips. These Shishito peppers does not store well after roasting. Hence serve it as soon it's made.
Nutrition
Calories:
305
kcal
|
Carbohydrates:
40
g
|
Protein:
8
g
|
Fat:
16
g
|
Saturated Fat:
2
g
|
Polyunsaturated Fat:
3
g
|
Monounsaturated Fat:
10
g
|
Sodium:
2367
mg
|
Potassium:
1461
mg
|
Fiber:
7
g
|
Sugar:
24
g
|
Vitamin A:
4318
IU
|
Vitamin C:
652
mg
|
Calcium:
65
mg
|
Iron:
5
mg