Get ready to break your routine with these delicious tofu-stuffed peppers. Thanks to the peppers stuffed with tofu and rice recipe, it is better than any takeout. Loaded with spices and a meat-free choice to the classic appetizer.
This wholesome vegetarian dinner, ready effortlessly, can steal your family's heart even if they favor meat. And the perfect addition to your freezer meal-prep routine. Furthermore, this tofu stuffed bell pepper recipe is open to limitless variations.
Are you making stuffed peppers for the first time or looking for a robust flavored alternative to your regular stuffed pepper recipe?
This post is a one-stop solution for beginners and experienced like these vegan jalapeno poppers. Below, we discuss all the customization options, the pro tips to make them perfect with smaller efforts, the best side dishes to pair with, and much more.
Made with tofu, it is rich in protein and other essential vitamins and minerals. This creamy ingredient is also considered a vegan substitute for meat.
If you are planning a vegan dinner with robust flavors, this vegan stuffed pepper is one of your beloved comfort meals (same as this turkey stuffed peppers).
The best vegan stuffed peppers
Making this tofu stuffed peppers recipe is not complicated anymore. With a few simple tips, we can achieve excellent textures.
Fast prepping. We do not need hours of preparation and waiting time. Having the ingredients handy is what we need here.
Flavorful and delicious. This is the first criterion for sharing a recipe here. The filling is done with the right combination of flavors and taste, that lingers in the mouth for a long time.
Ingredients and possible substitutions
Bell pepper. Any colored bell peppers are the best for this tofu stuffed peppers recipe. However, feel free to use poblano, Anaheim, or other mild peppers like Cubanelle peppers. If possible, choose short and wide peppers for easy stuffing the ingredients.
Tofu. Tofu is light, vegan, rich in protein, and adopts well with the spices. We have used extra firm tofu, which adds a great texture once cooked. You may use the leftover to make a tofu steak.
Brown rice. I opted for brown rice, which is rich in fiber and protein. However, this can be swapped with white rice, cauliflower rice, or cooked quinoa.
Corn. Holds up great with the tofu and adds a nice crunchy in every bite.
Marinara sauce. This adds up great flavors and complements the tofu well. In its absence, substitute with canned diced tomato or a fresh tomato. These will not alter the final taste of the dish.
Swiss chard. Opted for this green to increase the nutrients naturally in the recipe. Spinach or collard greens are great alternatives.
Spices. I have used fiesta seasoning, which is easy and straightforward. You may substitute it with cajun seasoning or your favorite seasonings.
How to make tofu stuffed peppers
Prepping. Half the peppers lengthwise. Remove the seeds and the membrane. Place them over the tray facing up.
Drain the excess liquid in the tofu package and place it in a mixing bowl. Using a fork, break them into crumbles.
Thaw corn kernels if they are frozen.
Cook the rice according to the package's direction.
The filling. Heat oil over medium heat in a large pan.
Add tofu crumbles, corn kernels, cooked brown rice, and salt.
Let it simmer for 2 minutes.
Then add the canned fire-roasted diced tomato and cook until the rice absorbs the liquid.
Add in half a cup of grated cheese, but it is optional.
Remove from the heat.
The stuffing. Start filling the peppers with the tofu mixture, and top it with the cheese layer.
Baking. Pour water over the baking tray, just enough to cover the tray's surface. Make sure the water level should be thin.
Bake for 25-30 minutes uncovered until the cheese is melted and the peppers are tender.
Serve. And enjoy your dinner.
Best to serve with
This is a stand-alone, well-balanced full meal recipe. But especially fits into the appetizer category at the party table. Choose your option the way you like.
As the main course. When you plan this for the main course, serve it with spicy tortilla chips and salsa. And this combo is incredible that no one can resist.
As appetizer. A sriracha aioli or cooling ranch makes the tofu stuffed peppers super delicious.
Sour cream and avocado. How can we skip listing this authentic way of serving? Furthermore, the creamy sour cream and the avocado are the correct matches.
Beans. Serving with green beans, this Balsamic green bean, or this spicy Chinese green bean. Choose your mildly spiced vegetables.
Storing and make-ahead Ideas
Store. Transfer the leftovers to an airtight container and refrigerate for 3 days.
Freeze. Store the tofu stuffed peppers in air-tight bags or containers for up to 2 months. To thaw, leave them in the refrigerator overnight. The peppers may lose shape once thawed, but retain the same delicious taste.
Reheat. Gently reheat the stuffed peppers in the preheated oven at 350°F or gently reheat them in the microwave in 1-minute intervals until they turn warm.
Make-ahead. Make the filling and the roast the peppers ahead of the day. Stuff the filling and bake them when needed.
Variations-the limitless options
Vegetables. The corn mentioned here is a basic guideline for vegan stuffed peppers. You may swap with zucchini, mushroom, sweet potato, and more.
The sauce. I have added marinara sauce, just enough to coat the ingredient mix. However, you may swap with canned fire-roasted tomato for a rich flavor. On the other hand, diced tomato or tomato sauce is also a good option.
Salsa. Another special mention for the sauce alternative. Adding jalapeno salsa, this dish fabulously converted to Mexican tofu stuffed peppers. Even a tiny swap evolves into a whole new word.
Greens. Make this dish differently each time with simple alternatives. Feel free to use, collard greens, spinach, or kale, or omit them entirely. Nothing breaks the dish and its taste.
Printable recipe card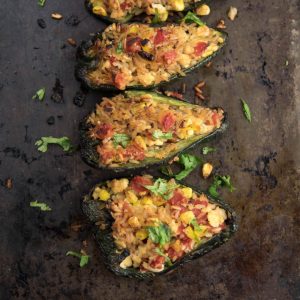 Tofu stuffed peppers
Tofu stuffed peppers are loaded with spices and meat-free. An excellent dish to enjoy as a classic appetizer or as a vegetarian dinner.
Print
Pin
Rate
Ingredients
3

poblano peppers

/other other peppers

1

cup

tofu

½

cup

corn kernels

thawed

½

cup

cooked brown rice

/other choice of rice

1

tablespoon

vegetable oil

¼

teaspoon

salt

¼

cup

fire roasted tomato
Instructions
Prepping.
Roast the pepper over the high flame, and roast until the edges are lightly charred.

Allow it to cool for about 10 minutes.

Divide the peppers into two lengthwise. Deseed and remove the ribs.

Arrange halved peppers in the tray facing upwards. And set aside.

Drain the excess liquid of the tofu, and crumble them using a fork. Set aside.
For the filling.
Heat oil over medium heat in a large pan.

Add tofu crumbles, corn kernels, cooked brown rice, and salt.

Let it simmer for 2 minutes.

Stir in fire-roasted diced tomato, and cook for 5 minutes in low-medium heat or until the liquid is absorbed by the rice.
Baking.
Scoop the filling and stuff the peppers.

Bake them in 350°F for about 15 minutes or untul the peppers is soft.

And broil for 3-5 minutes for the appealing finish.

Serve hot with ranch or spicy mayo.
Notes
Storing Ideas:
Store. Transfer the leftovers to an airtight container and refrigerate for up to 3 days or in the freezer for up to 2 months.
Reheat. Gently warm them in the preheated oven at 350°F or gently reheat them in the microwave in 1-minute intervals until they turn warm.
Nutrition
Calories:
195
kcal
|
Carbohydrates:
21
g
|
Protein:
10
g
|
Fat:
9
g
|
Saturated Fat:
4
g
|
Sodium:
285
mg
|
Potassium:
272
mg
|
Fiber:
4
g
|
Sugar:
4
g
|
Vitamin A:
527
IU
|
Vitamin C:
97
mg
|
Calcium:
122
mg
|
Iron:
2
mg
**Disclaimer: The nutritional information provided is an approximate estimate only.
Recommended tools for making this recipe
Measuring spoons. It's not a secret weapon but essential for easy cooking.
Chef's Knife: Ideal for cutting open peppers and dicing tofu. This works great in this tofu stuffed peppers recipe.
Baking Dish. This is where the magic happens, transforming your stuffed peppers into a baked masterpiece.