Meet my favorite recipe - turkey stuffed peppers. These peppers are delicious and satisfying with the multiple layers of flavors - they're simply too good to resist!
This turkey stuffed bell pepper dish is quite simple and loaded with spinach, rice, and cheese.
My family loves stuffed peppers, so I keep making wide verities of variations often like this eggplant stuffed peppers and seafood stuffed peppers. The key is to making this primary dish feel fresh and exciting with a simple twist.
Not to mention, the star ingredient in this turkey stuffed pepper recipe is, of course, the ground turkey. It has a subtle flavor that compliments the other ingredients included in the dish.
Additionally, it provides the body to the filling, making it more satisfying and enjoyable to eat.
What is in this turkey stuffed pepper?
Ground turkey. I have opted for lean ground turkey, which mellows well with the spices and other ingredients. Feel free to substitute ground turkey with beef, ground chicken, or even mushrooms, depending on your preference.
Rice. You can also use other grains like quinoa or brown rice as alternatives. Just make sure to cook them according to the instructions before adding them to the filling. You can use the leftover cooked rice straight from the refrigerator. But avoid adding the hot rice, as it may turn mushy.
Tomatoes. I used canned diced tomatoes as it is very convenient. You may use fire-roasted diced tomatoes for an extra hint of flavor or opt for fresh tomatoes instead.
Peppers. Bell peppers are the ultimate choice for making this turkey stuffed peppers recipe, as they can hold the filling well. Choose multiple colors to make the dish more visually appealing. Other mildly hot chili peppers, like poblano peppers, banana peppers work well too.
Spinach. You can use fresh or frozen spinach in this recipe. If you're looking for alternatives, other vegetables like zucchini, mushrooms, or squash can also be used.
Garlic powder. A reliable flavor booster in this peppers stuffed with turkey dish. Garlic powder can be swapped with freshly minced garlic too.
Paprika. This spice adds subtle heat and a bright color to the filling. If you prefer a spicier stuffed pepper recipe, feel free to use cayenne pepper instead.
Cilantro. Cilantro provides a refreshing flavor that melds well with the other ingredients.
Sharp cheddar cheese. Cheddar cheese complements the pepper flavors nicely, but you're welcome to use other similar cheeses as well.
How to Make Turkey Stuffed Peppers.
The stuffed pepper recipe may seem complicated at first glance, but it's actually quite simple to make.
Most stuffed pepper recipes share common steps, so once you understand the basics, you can easily experiment with different varieties of stuffed peppers similar to this barley stuffed peppers and lentil stuffed peppers.
Prepare the peppers
Preheat the oven to 350 degrees Fahrenheit.
Slice the peppers in half vertically and remove the core and seeds, creating a hollow space inside each pepper half, like a bowl.
Pre-cook the peppers
Boil a pot of water and add the pepper halves, cooking them for 2-3 minutes until they slightly wilt and change color.
Remove the peppers from the boiling water and arrange them in a baking dish with the hollowed-out sides facing upwards. Set aside.
Prepare the filling
Place a pan over medium heat and cook the ground turkey until fully cooked.
Add garlic powder, paprika, cilantro, rice, spinach, and diced tomatoes(along with its liquid).
Stir occasionally and cook the filling until no liquid is seen.
Add sharp cheddar cheese and cook for one more minute before removing from heat.
Stuff the peppers
Scoop out the turkey mixture and fill into the pepper halves.
Sprinkle remaining cheese over the top of the stuffed peppers.
Bake the stuffed peppers
Bake for 20 minutes, or until the cheese is melted and the edges of the peppers turn crispy.
Serve
Remove the stuffed peppers from the oven and Enjoy!
Do you have to boil peppers before stuffing them?
Pre-cooking the peppers makes it easier to assemble this turkey stuffed bell peppers. Additionally it cuts down the baking time too.
Uncooked peppers hold their shape better and retain their vibrant colors. But takes longer time for making the complete dish ready.
On the other hand, pre-cooked peppers require less time, which reduces your overall time spent in the kitchen. This can be especially helpful if you're short on time or want to streamline your meal preparation process.
So precooking the peppers is a personal choice. Experiment it and find yours favorite.
How to Serve Turkey Stuffed Peppers
Side salad. Pair the stuffed peppers with a simple side salad and a vinaigrette dressing. This combination complements the flavors of the stuffed peppers, creating a balanced and refreshing meal.
Vegetables. Serve the stuffed peppers alongside roasted or steamed vegetables like broccoli, snow peas, or carrots. This addition makes the dinner even more satisfying and wholesome.
Soup. Enhance the dining experience with a warm and comforting soup. Tomato, chicken noodle, or vegetable soups pair well with the stuffed peppers, adding depth to the meal.
Bread. Complete the meal with a side of bread, such as French bread, garlic bread, or pull-apart bread. The bread serves as the perfect accompaniment for savoring the delicious flavors of the stuffed peppers.
Salsa. For extra depth of taste, consider drizzling salsa-like this tomatillo red chili salsa over this turkey stuffed peppers.
How to Store and Reheat Turkey Stuffed Peppers.
The quantity of ingredients mentioned in the recipe is sufficient to make about three whole peppers or six pepper halves.
However, pepper sizes may vary, and you might end up with leftovers. These leftovers can be easily stored and used for your next stuffed pepper dish.
Storing. Both the filling and the turkey stuffed pepper are freezer-friendly. Use an airtight, freezer-safe container to store in the refrigerator or the freezer.
The filling is good to use after four days when refrigerated and up to four months when stored in the freezer.
For the best results, allow them to return to room temperature before prepping for storage.
Thawing. To thaw, place the stuffed peppers in the refrigerator overnight or gently reheat them in the microwave.
Reheating. You may reheat by oven or microwave method.
For the oven method, place place them in an oven-safe dish. Cover the dish with aluminum foil and bake for 25 minutes in the preheated oven at 350°F. Bake until the turkey stuffed peppers are heated through and warm at the center.
For the microwave method, place them on a microwave-safe plate, cover with a microwave-safe lid, and heat on medium power for 2-3 minutes, or until the center is warm.
Tools recommended for making turkey stuffed peppers
Baking dish. To bake the stuffed peppers. A good quality tray lasts longer.
Skillet. Very convenient to cook the turkey filling.
Chef's knife. Perfect tools makes the cooking easier. And this is one of our favorite.
Printable recipe card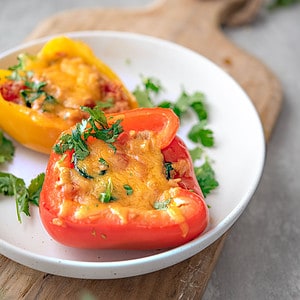 Turkey stuffed peppers
Meet my favorite turkey stuffed peppers. These peppers are delicious with the multiple layers of flavors - they're simply too good to resist!
Print
Pin
Rate
Ingredients
6

bell peppers

any color

1

pound

ground turkey

½

cup

cooked rice

14

oz

diced tomato

1

cup

spinach

tightly packed

1

teaspoon

garlic powder

1

teaspoon

paprika

¼

cup

parsley

/cilantro-minced

½

teaspoon

salt

½

cup

sharp cheddar cheese

grated
Instructions
Prepping
Preheat the oven to 350°F.

Chop off the top portion of the bell pepper.

Remove the core and the seeds gently. And place them in the baking tray by keeping the hollow side facing up.
Make the filling
Place a pan over medium heat. Add ground turkey and cook until it is done.

Stir in a can of diced tomato(14oz) along with this liquid.

Now add spinach, cooked rice, chopped parsley, salt, and paprika.

And sauté until non-liquid is seen.

Remove it from the heat. And now toss in ¾ quantity of the sharp cheddar cheese.

And mix them gently.
Assemble
Next, fill the peppers with the turkey mixture by packing it tightly.

Now sprinkle the remaining ¼ quantity of the cheese over the top.
Baking
And bake the peppers for about 20-30 minutes or until the edges wilt and the center of the stuffing turns warm(until it reaches 165°F).

ENJOY!!
Notes
This recipe is good to make for 6 bell peppers of medium size.
Store the leftovers in the refrigerator or freezer depends on how long you prefer to store.
Nutrition
Calories:
187
kcal
|
Carbohydrates:
15
g
|
Protein:
22
g
|
Fat:
5
g
|
Saturated Fat:
2
g
|
Polyunsaturated Fat:
1
g
|
Monounsaturated Fat:
1
g
|
Trans Fat:
0.01
g
|
Cholesterol:
51
mg
|
Sodium:
311
mg
|
Potassium:
666
mg
|
Fiber:
4
g
|
Sugar:
7
g
|
Vitamin A:
4760
IU
|
Vitamin C:
163
mg
|
Calcium:
109
mg
|
Iron:
2
mg
Tools needed for this turkey stuffed peppers
Cutting board. A quality cutting board provides a stable surface for preparing ingredients, making the cooking process a breeze.
Knife. A sharp knife is essential for slicing the peppers and chopping the ingredients.
Baking dish. Choose a baking dish that can accommodate six pepper halves by allowing the stuffed peppers to cook evenly and maintain their shape.
Measuring spoons. High-quality measuring spoons make it effortless to add the correct amounts of ingredients to the recipe, eliminating guesswork.