Transform simple dinner recipes to flavor-packed delightful meals with rich vibrant colors from cilantro. This spicy jalapeno pesto sauce is a vegan, low carb, and dairy-free recipe.
Same as the classical version, this spicy sauce great to toss over the grilled chicken, in the pasta, the shrimp, the pizza. And this list never ends. And to mention specially, Jalapeno pesto pasta and the aioli are bliss in my humble opinion.
Jump to:
Allow me to shout a little about the simplicity and the minimalism of this cilantro jalapeno pesto recipe. This recipe requires a few easy to find ingredients and surprisingly, some of you might have stock in the kitchen already.
We absolutely fall in with jalapeno peppers and use them as the delightful heat source for most of the recipe. And this spicy pesto is our recent find.
Feeling that you are missing some ingredients? no worries we will discuss all the substitution opportunities in detail below.
How hot is this jalapeno pesto?
This vegan sauce is moderately hot but has the potential to convert to a mild version or with more heat. the jalapeno seeds decide the heat in this pesto sauce. Remove the seeds completely for the mild heat. And leave some of the seeds if you prefer hot. And use entire seeds for a flaming hot.
I prefer spicy food but never used the jalapeno as a whole. So, always it is a good idea to proceed with caution when handling the hot peppers.
The key ingredients and possible substitutions
Cilantro. Do you feel the cilantro's flavor will be overpowering? not at all. All it brings a bright aroma and color. I know some of you might feel intimidated by the cilantro. The good news is, you are welcome to swap with fresh basil leaves, which also brings authentic Italian flavors.
Jalapeno. These peppers are rich vitamins A, C, and potassium. The heat of the jalapeno is never guessable. Sometimes it's super hot and other times it turns out to be plain. Many factors decide about the heat of the jalapeno. We do not want to go deeper into this topic now. All we wanted to make sure it is at the right temperature for our pesto.
So, decide the number of seeds you are planning to leave on while coring the pepper. If you have roasted jalapeno stored already, feel free to use it.
Pine nuts. Pine nuts give great body to the pesto, by keeping it thick and flowy. And this property makes them easily coats well with other ingredients. and this makes an unbelievably great dip or jalapeno pesto pasta. Whole almond seeds or almond slivers are also excellent alternatives.
Garlic. A flavor and taste enhancer. A little does all the wonders, I would strongly suggest using the fresh garlic cloves. However, garlic granules are the next option in case you want to use your pantry staple ingredient.
Extra virgin olive oil. Why? because its creamy, nutty. The main ingredient to call this recipe as pesto, I do not have any other replacements. If you have anything in mind, do share within the comment box.
Ground black pepper. Added for extra punch. An optional ingredient, you may skip using this.
How to make?
The process of making jalapeno pesto sauce is quick and simple and with no cheese.
Prepping. Half the jalapeno and core the seeds and pith. Remove seeds and the white membrane completely for mild sauce, release the pith and couple of seeds for mild hot, and add some seeds for a hot sauce. And finally, add entire jalapeno for a fiery sauce.
I highly advise you to start from the least, while chopping, its a good idea to reserve some seeds, you have an option to add it later.
Remove the hard stems of the cilantro and rinse thoroughly.
Blend. Add all the ingredients to the food processor and pulse until all the ingredients combined. It is good to have visible bits of nuts, this gives a great texture to the pesto.
Serve. Serve as a dip or toss them in pasta, or drizzle over pizza.
Best ideas to enjoying the sauce
Dip. This can be a stand-alone dip. But if you prefer to be more velvety and dense. You can make jalapeno pesto aioli by adding a cup of mayo to the sauce.
Pasta. Our favorite one. Toss the hot jalapeno pesto into cooked pasta. For extra indulgence, top it with shredded parmesan cheese.
Pizza. Turn up the heat of pizza by drizzling over it.
Chicken. Baked, grilled, fried chicken works well, like this Cedar plank chicken or cedar plank salmon. For plating, place the chicken over a plate and top with a blob of the spicy pesto. You may also sprinkle scallion for extra depth.
Pork chops. The same way as chicken, place a dollop of pesto over the pork chop and drizzle olive oil.
Storing and make-ahead tips
Spicy jalapeno pesto is an amazing freezer-friendly recipe., can be made 3 days earlier.
Refrigerating. Refrigerate to use within 3 days. Always store in an air-sealed container for the best results.
Freezing. Good to use up to 3 months. Ziplock bags are convenient for freezing, as it occupies less space.
To thaw. Allow them in the kitchen counter for 30 minutes. If it still chilled, microwave for 10 seconds, stir, and repeat if necessary.
Other Jalapeno recipes you may like,
Printable recipe card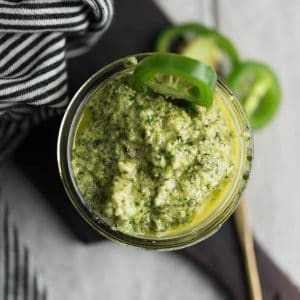 Jalapeno pesto sauce
This spicy jalapeno pesto is a vegan, low carb, and dairy-free recipe. This cilantro flavored sauce great with pasta, shrimp, pizza, and more.
Print
Pin
Rate
Ingredients
1

jalapeno

½

cup

pine nuts

1

cup

cilantro

1

clove

garlic

¼

cup

extra virgin olive oil

½

teaspoon

black pepper

ground

¼

teaspoon

salt
Instructions
In the food processor, jalapeno, pine seeds, cilantro, garlic, and salt.

Then run the machine and add the olive oil slowly.

Blend until olive oil blends and incorporates well with other ingredients.

Transfer to the container, and enjoy the sauce with pasta or grilled chicken.
Nutrition
Calories:
236
kcal
|
Carbohydrates:
3
g
|
Protein:
2
g
|
Fat:
25
g
|
Saturated Fat:
3
g
|
Sodium:
148
mg
|
Potassium:
122
mg
|
Fiber:
1
g
|
Sugar:
1
g
|
Vitamin A:
308
IU
|
Vitamin C:
5
mg
|
Calcium:
5
mg
|
Iron:
1
mg