Are you fond of crunchy snacks and worry about the unwanted fat tied with them? Then, this popped quinoa is the perfect answer for you.
These quinoa pops are a crispy, crunchy, perfect standalone snack, or you can enjoy them as a topping for yogurt, cereal, or salad. This is a clear indicator of cooking good food. Alternatively, it is guilt-free, and you can munch on the movie times.
Customize this popped quinoa with your favorite choice of flavors. One of the best tips is to drizzle some melted butter and garlic powder to have a savory taste. Caramel sauce and chocolate shavings will also play absolutely. So the choices are many and choose you artfully.
And are you searching for a satisfying topping from grains? Here you go; this easy recipe is good to make in under 15 minutes and can be right on your table when you crave munching.
I'm on a mission to eat good food as much as possible. This popped quinoa recipe makes me feel comfortable in writing and sharing. This could also be your alternative to popcorn. The only difference you will judge between the popped corn and quinoa is the SIZE.
In the same way, you can pop barley, amaranth, sorghum, and other millets; you also can pop quinoa. Make popped quinoa granola or start loading to your breakfast cereal.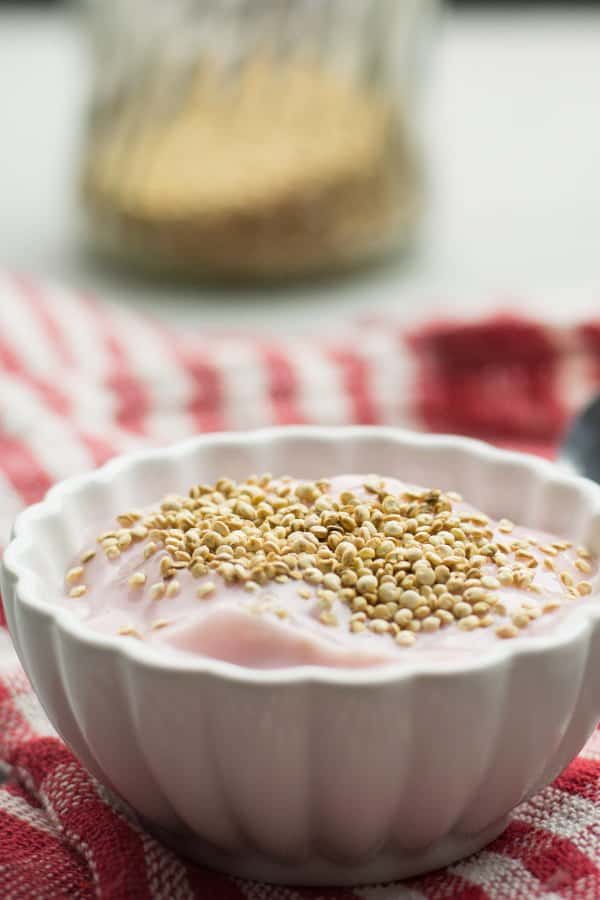 Now, another question would be, can quinoa be popped like popcorn? Yes, Of course, they can. Once popped, they are tiny and granular and are super crispy. To make popped quinoa, you only need a pan and quinoa. And nothing else. This sounds fantastic, right?
This homemade puffed quinoa turned out to be our new travel companion. These little friends engage throughout our long journey. This was the first thing I packed while preparing for our recent Cincinnati trip.
You may find other delicious snacking recipes interesting if you search for other delicious recipes. Masala Peanuts, Corn Cutlet, Paneer Cutlet, Potato Cutlet.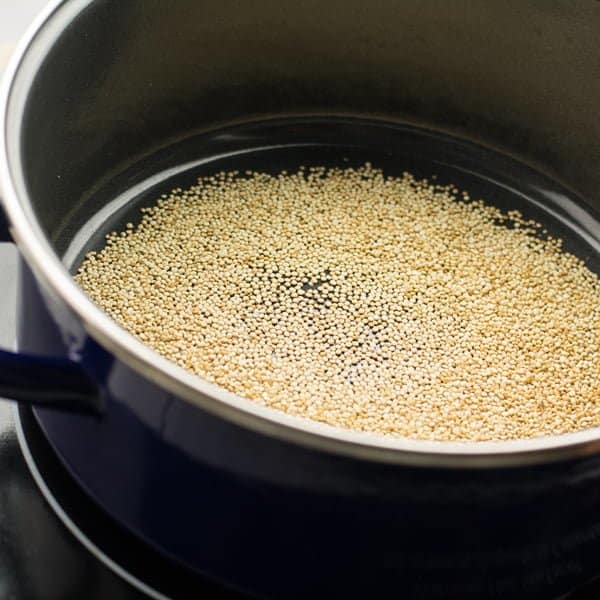 Out of many snacks, this popped quinoa is a simple, stress-free, and tasty snack. Furthermore, I like that I fulfill my cravings within 10 minutes, which is unimaginable in many dishes. Moreover, I can easily adjust the quantity when making a single serve or a large amount.
Another great advantage of this quinoa pop is storing it on the kitchen counter for at least two weeks. So you can make this store in an airtight container, which is handy to top your cereal, salad, or yogurt.
And you can also use this as the main ingredient to make popped quinoa bars or homemade granola.
FAQs about Popped Quinoa
Do you have to rinse the quinoa before popping it?
Yes, it has to be rinsed well before using it because it comes naturally with a pest deterrent, which gives a bitter taste. So rinsing them before is advised. But nowadays, most of the packaged quinoa come as rinsed and prewashed. So, watch your package, whether it is pre-rinsed or not.
Mine was prewashed and rinsed. Hence, I use them straight away. But if your package instructions do not say so, wash and rinse quinoa several times. Drain and spread it on a baking sheet with parchment paper.
You can use an oven to make it dry. Set the range to a minimum of 170 degrees F. Place the baking sheet in the middle rack and close the door until completely dry. Stir occasionally, and this process would take 2-3 hours. This makes them pop evenly.
Can you pop quinoa in an air popper?
I have not tried it, but using quinoa in an air popper is not feasible as they have tiny structures. It may be struct to its filter. If anyone has tried this, then please share your experience with us. One of our readers updated us that the air popper is throwing the quinoa because of its lightweight. So, popping quinoa with this machine is not working as of now.
Can you pop quinoa in the microwave?
This method is possible and theoretically working. However, I feel the stovetop method is more reliable and successful. And the stovetop method needs less effort, and everything comes together in less than 10 minutes.
Taste and serving Ideas of popped Quinoa
This tastes plain; hence, you can convert it according to your time and mood. Add it to your breakfast in the morning, like granola, cereal, or yogurt. If you want spicy, then toss in butter with chili flakes. Tossing with butter, salt, and pepper is the ideal way to enjoy it.
To store
When stored in an airtight container, this stays crispy for at least a few weeks. It does not require any special instructions for storage. You may leave it at room temperature.
How to pop quinoa?
Popping quinoa over the stovetop is simple, and does not require any kitchen skills. All you need is a thick-bottomed pan, and that is it. The pot and the quinoa are the only two necessary to make this dish.
The only pro tip that I can think of sharing with you is-
Always go for medium to slow flame to achieve the best results.
While popping, when you start seeing fumes, lift the pan and gently shake it back and forth until no fumes are seen.
Tips for perfect quinoa pops
There are only a few seconds between perfectly popped quinoa and burnt pops. So provide all your attention while popping. No worries, the popping works takes a few minutes.
Heavy-bottomed pan. A cast-iron pan or any other pan with a thick bottom that ensures even heat is a must here.
Heat. Low to medium heat is the best.
Shake for even heat. Quinoa is the only ingredient here, and the improper heat source directly affects the quinoa and makes it burnt. Adjusting the heat temperature within the little time frame is highly impossible.
So, always shake in sideways. This makes the quinoa's surface get even heat. At times, lift the pan and shake sideways when smoke starts to develop.
Ensure the even, moderate heat makes the most crunchy and crispy quinoa pops.
Printable recipe card
Popped Quinoa Recipe
These popped quinoa are a crispy, crunchy perfect standalone snack or you can enjoy as topping for yogurt, cereal or salad or you can munch on the movie times with your favorite flavors.
Print
Pin
Rate
Ingredients
½

cup

quinoa

pre-rinsed and dried
Instructions
In medium to slow flame, heat a heavy bottomed pot.

Once it becomes hot, add quinoa.

Wait until you start seeing quinoa pops.

Then gently shake back and forth to avoid quinoa scorching to the pan.

Continue to do so, until all the grains popped completely.
Notes
If you see fumes or when quinoa starts scorching, then lift the pot and continue to shake back and forth until you see no fumes.
Then keep over the stove and toss it.
Nutrition
Calories:
52
kcal
|
Carbohydrates:
9
g
|
Protein:
2
g
|
Fat:
1
g
|
Saturated Fat:
0.1
g
|
Polyunsaturated Fat:
0.5
g
|
Monounsaturated Fat:
0.2
g
|
Sodium:
1
mg
|
Potassium:
80
mg
|
Fiber:
1
g
|
Vitamin A:
2
IU
|
Calcium:
7
mg
|
Iron:
1
mg
**Disclaimer: The nutritional information provided is an approximate estimate only.
Liked this recipe? Follow us on Facebook, Pinterest, Instagram.