These spicy Cajun deviled eggs are excellent to serve as appetizers or as a smacking snack. Spice up your holiday, party, or potluck with delicious, effortless finger food. Get ready for a standing ovation from your friends and families.
This is the most reliable recipe; a simple twist to the classic recipe makes the moments delectable. Simple ingredients and a few kitchen tools are all that you need to make Cajun deviled eggs.
Made in just 5 minutes of prepping time. Hard boiling the eggs is the central part of this simple recipe, and the remaining amount is just mixing and scooping, which your children can help you with.
This recipe is that simple; you can focus on other factors that need your attention. Like most egg recipes, this spicy cajun deviled eggs recipe also comes as a last-minute rescue.
Furthermore, its pleasing look makes it easier to place at the center of the dining table. Whether it's a family dinner or a large gathering, these hot deviled eggs get gobbled quickly.
The highlights of Cajun deviled eggs
The recipe is super simple.
In less than 20 minutes, an eye-catching appetizer is ready in a comfortable and effortless manner.
Requires a few ingredients that you might already have in the kitchen.
Make a friendly recipe, and prepare the base a day before. So there is less tension when hosting a party at home.
Most of all, it tastes delicious and needs no reason for making and enjoying.
The ingredients
Dijon mustard. Dijon provides a luscious yellow color and also covers up the compliments yolk's natural character. Also, it has a rich tint that enhances the filling in Cajun deviled eggs. Substitute with yellow mustard
Mayonnaise. A classic ingredient in any deviled egg recipe, it works appropriately here fabulously. Greek yogurt and sour cream are the closest substitutions.
Hot sauce. My all-time favorite taste enhancer. It's complex taste and intense heat balance all other components in this egg bite. Sriracha or tabasco sauce are my other favorite replacements.
Cajun seasoning. A reliable ingredient with brilliant flavors, it provides an instant facelift to any food. Opt for a combination of onion powder, garlic powder, and paprika to mimic this Cajun seasoning.
Cayenne pepper. Amplifies the heat and makes the egg taste vibrant. If you prefer to keep the spice level low, add in paprika.
How to make
Hard boil. In a saucepan/pot, add eggs and fill with water till one inch above the eggs. Bring it to a boil for about 12-14 minutes.
Peel. Using a slotted spoon, remove the eggs from the pan and run them through ice-cold water. And then peel gently.
For the filling. Using a sharp knife carefully, slice each egg into halves vertically. Using a spoon, remove the yolk, and add them to your mixing bowl. Repeat the same procedure for the remaining egg halves.
Arrange. Arrange that half egg whites in a serving platter, and set aside.
For the feeling. Using a fork on a potato masher, mash up the yolks. Add chopped green onion, Dijon mustard, mayonnaise, hot sauce, Cajun seasoning, cayenne pepper, salt, and pepper.
Make them as a smooth mixture(add in more mayonnaise to smooth the mix further).
Using a spoon, scoop the yolk mixture. And place them gently over the hollow of egg whites(we arranged on the serving platter earlier).
Complete filling all the remaining egg whites.
Seasoning. Sprinkle Cajun powder seasoning. And optionally garnish with chopped green onion.
What to serve with?
Soup. Something liquidy and slurpy mild soup(like these, clear tomato soup, roasted tomato soup) is the ultimate to pair with. In between bites of Cajun spicy deviled egg while enjoying the hot soup is a delight to experience.
Sandwich. Serving with a nice sandwich(like a grilled veggie sandwich, Bomaby toast) makes the menu complete and satisfying.
Grilled meat. Thinking of making a wholesome dinner, what would be the best other than a protein-rich pairing dish? Grilled chicken, salmon, vegetables, pork, or beef anything grilled would taste perfect.
Salad. Planning for a party and searching for a dish to serve along with spicy eggs, salad(like this spiced kale salad, jalapeno tuna salad, or Indian tomato salad) is the best choice.
Rice. Makes a wholesome meal when served with rice dishes similar to Cajun Rice and Beans.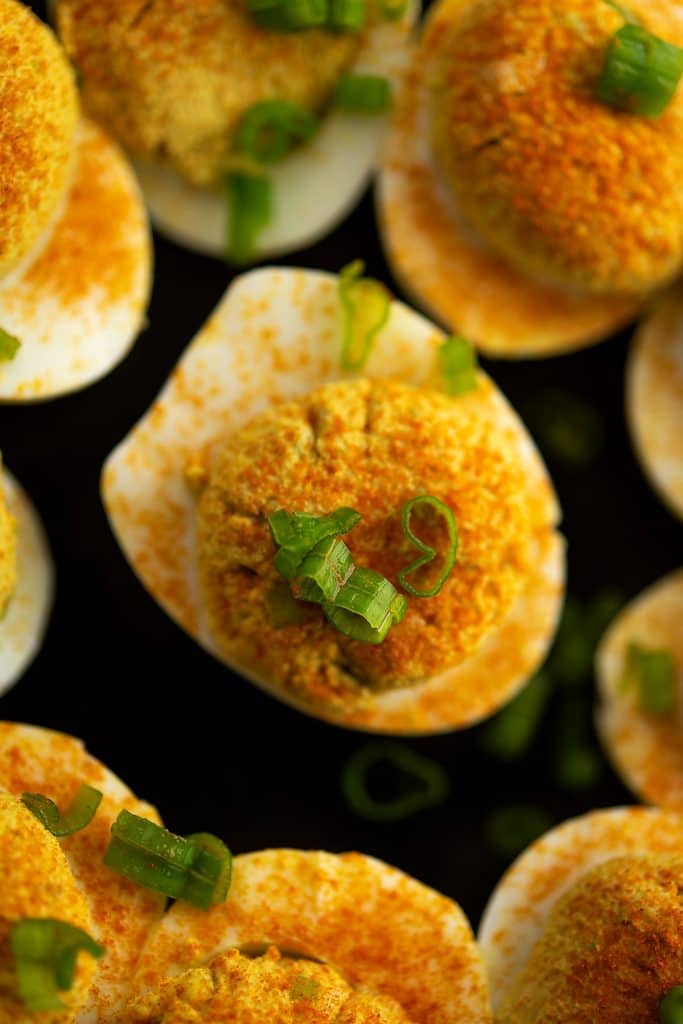 How to store?
Refrigerate. Store the Cajun deviled eggs in the refrigerator as soon as it's made to use for up to 24 hours. Eggs are highly perishable, and should not be left on the kitchen counter for a long time.
Make ahead. Hard boil the eggs and slice them into halves. Store the egg whites and the yolk separately. And make the spicy yolk mixture when needed.
Variations
Bacon. Along with the yolk mixture, add bacon crumbles.
Shrimp. Add chopped shrimp for the enhanced seafood flavors.
Cream cheese. Substitute mayonnaise with cream cheese rich, smooth texture.
Cilantro. A herb variation that everyone would love.
Tools suggested for this recipe
Sauce pan. Perfect for boiling eggs for a family.
Measuring tools. Easy to use measuring instruments with a good grip.
Printable recipe card
Spicy Cajun deviled eggs
These spicy Cajun deviled eggs are excellent to serve as appetizers or as a smacking snack. Spice up your holiday, party, or potluck with delicious finger food recipe.
Print
Pin
Rate
Instructions
Prep the eggs
In a sauce pan and add eggs and water. Water level should be at least 1 inch above the eggs.

Bring it to boil in medium to high heat for 12-15 minutes until the eggs are fully cooked.

Run the eggs through cold water. And peel the eggs.

Gently slice the eggs into two halves.

Repeat the same process for the remaining eggs as well.
Make the filling
Using a spoon remove the all egg yolks and place them in a bowl.

In the mixing bowl, add egg yolks, mayonnaise, Dijon mustard, hot sauce, Cajun seasoning, cayenne pepper, finely chopped green onion, and salt.

Using a fork mix thoroughly until the mixture turns to smooth consistency. And set aside.
Arrange
In a large serving platter, arrange all the egg whites by having the hollow side facing upwards.

Scoop egg yolk mixture and place them in the white egg's hollow portion.

Complete this procedure for the remaining eggs as well.
Serve
Optionally sprinkle chopped green onion and cayenne pepper for garnishing. And serve immediately.
Notes
Eggs are highly perishable and use the leftovers within a day.
Nutrition
Calories:
157
kcal
|
Carbohydrates:
2
g
|
Protein:
6
g
|
Fat:
14
g
|
Saturated Fat:
3
g
|
Polyunsaturated Fat:
7
g
|
Monounsaturated Fat:
4
g
|
Trans Fat:
1
g
|
Cholesterol:
169
mg
|
Sodium:
382
mg
|
Potassium:
110
mg
|
Fiber:
1
g
|
Sugar:
1
g
|
Vitamin A:
968
IU
|
Vitamin C:
2
mg
|
Calcium:
33
mg
|
Iron:
1
mg
**Disclaimer: The nutritional information provided is an approximate estimate only.